Crash Bandicoot is the fastest casual runner game to reach the 20 million download milestone
Crash Bandicoot: On the Run surpassed 21 million downloads on the 28th of March on its fourth day after its global release, making it the fastest Runner game among the Casual genres to reach this milestone. On its first day, the console-turned-mobile game surpassed 9.1 million downloads.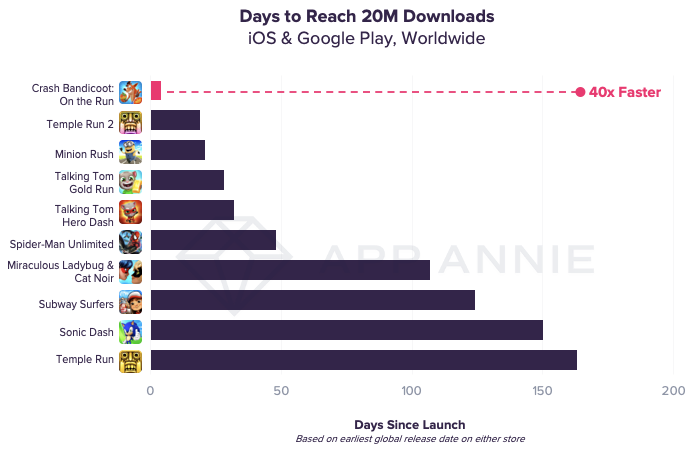 Crash Bandicoot achieved 20 million downloads faster than some of the leading runner games including 5x faster than Temple Run 2, 7x faster than Talking Tom Gold Run and 31x faster than Subway Surfers. While Subway Surfers first launched in 2012, 8 years later the game ranked #3 by global Game downloads in 2020, and the #8 among Games by global average monthly active users (MAU)  in 2020, indicating their longstanding popularity. It is important to note that given maturity in the mobile market and the growth in appetite for mobile gaming during the pandemic, there is a larger potential audience of mobile gamers for a game launching in 2021. 
Crash Bandicoot on mobile is both familiar and fresh. It features the same characters and gameplay mechanic familiar to console fans, yet the game also takes cues from other popular runner games like Subway Surfers and Temple Run — with simple gesture controls making it accessible for both fans of the console titles and mobile gamers.
King has leveraged their expertise in incorporating social and online features, such as survival mode where players can race with other players. They have also added additional hooks for repeat engagement and community building. Given King's proven experience in running live operations from their Candy Crush series — with seasonal content plans, new characters, and challenges — players can look forward to fresh content and deep progression possibilities, which will drive future consumer spend.
For more on the State of the Mobile Gaming Market in 2021, read our latest gaming report:
Looking to make more of the mobile opportunity? Talk to an expert today.
DISCLAIMER: 
App Annie is a mobile market estimate service provider. App Annie is not registered in any investment advisory capacity in any jurisdiction globally, and does not offer any legal, financial, investment or business advice. Nothing contained in this communication, or in any App Annie products, services, communications, or other offerings, should be construed as an offer, recommendation, or solicitation to buy or sell any security or investment, or to make any investment decisions. Any reference to past or potential performance is not, and should not, be construed as a recommendation or as a guarantee of any specific outcome. You should always consult your own professional legal, financial, investment and business advisors. Additionally, by providing the information herein, App Annie does not make any representations or warranties and does not undertake any legal or contractual obligations whatsoever. No liability may accrue to App Annie as a result of providing this information to you.