Cracking the code: an analysis of how Free Fire drove gaming revenue through localization.
A guest post by Liquid and Grit, the market-leading product insights firm in mobile gaming. The opinions and views expressed in this blog article are Liquid & Grit's own.
Strong localization allows apps to create new opportunities for growth, even in highly competitive genres. To understand the keys to effective localization, we analyzed Free Fire, one of the most extensively localized apps in any market. Free Fire consistently ranks among the top-grossing shooter games worldwide despite lagging some of its competitors in western markets.
Because of Free Fire's exceptional localization, it significantly outperforms its closest competitors in India, Brazil, and Indonesia — three of the largest emerging markets. So far this year as of 15th August 2023, Free Fire has brought in $55M from these three geos compared to $16.5M for Call of Duty: Mobile and $13.5M from PUBG MOBILE.This is in contrast to the USmarket, which is dominated by Call of Duty: Mobile. In the US, Free Fire has earned $86.3M so far this year compared to $154.2M for Call of Duty: Mobile and $91.2M for PUBG Mobile.
Three Key Lessons Gamer Developers Can Learn from Free Fire's Localization Strategy
There are three key lessons from Free Fire's localization: 
Because localization is relatively rare in emerging geos, it's also a big opportunity to capture new audiences.

As markets continue to tighten, the ROI on localization in underserved markets is going to increase for many apps and games. Although these markets have lower spend per user, they also have lower UA costs. 

Apps and Games should provide localized events for key geos (beyond just language translation).

Free Fire

offers events inspired by local holidays and skins based on local celebrities, which we analyze later in this article.

Apps and Games can free up localization resources to target developing geos by skipping localization for smaller Western European countries with high rates of English.

Free Fire

is not extensively localized in Western and Central Europe, notably not providing Italian language support or any localization for Scandinavian or Central European countries.
Combined Consumer Spend Overtime for India, Brazil, and Indonesia in Free Fire, Call of Duty: Mobile and PUBG MOBILE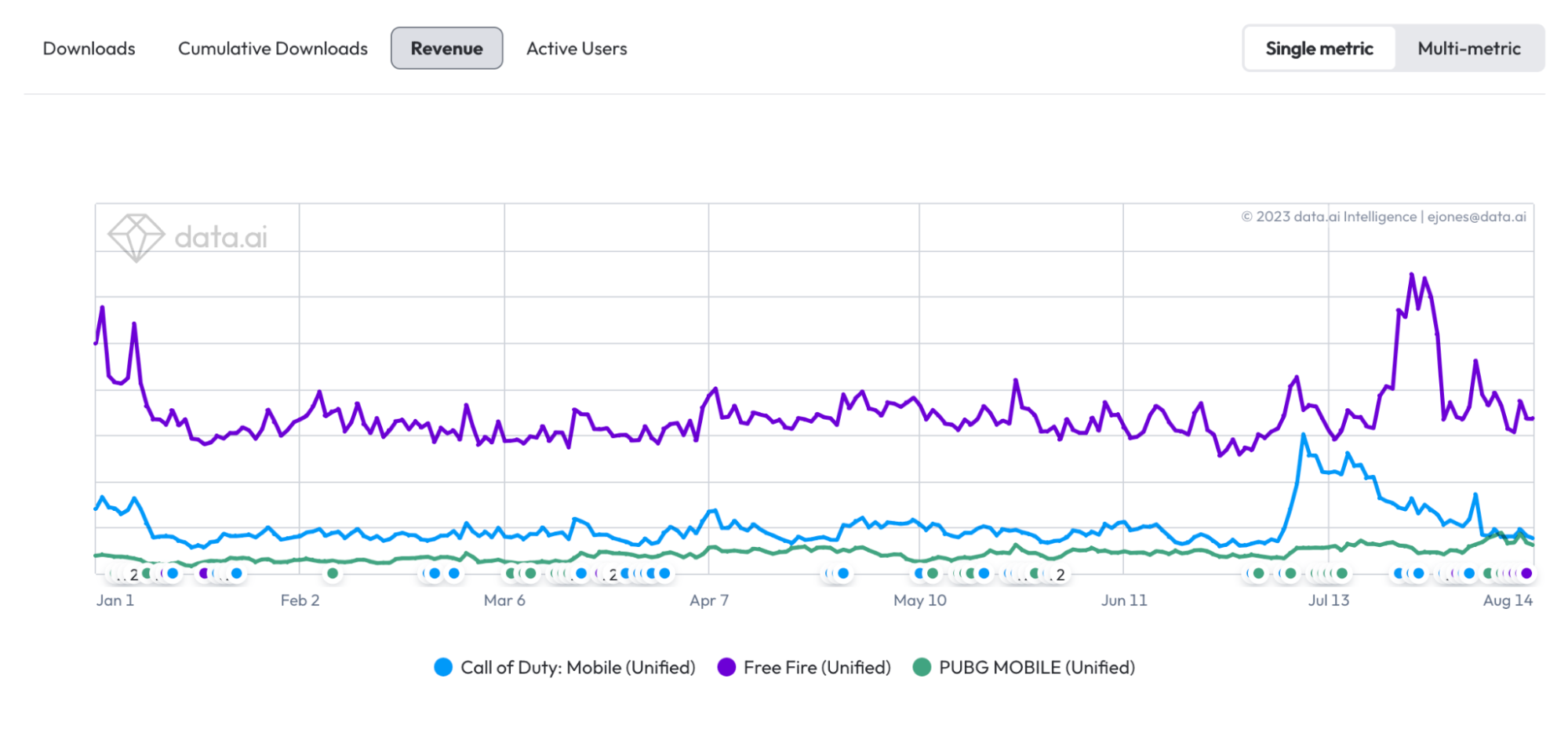 View regional performance of monetization strategies across competitors and industry leaders like Free Fire. Sign up for a free data.ai account today.
Gaining a Competitive Edge by Prioritizing Localization: Accessing 413 Million People with Three Languages
Free Fire is localized in three languages not targeted by any other top 10 shooter titles: Bengali, Burmese, and Urdu. Bengali is the national language of Bangladesh (and the second most common language in India besides Hindi), and Urdu is the national language of Pakistan (in addition to having a large number of speakers in India). Together, these three languages are spoken by 413 million people. Free Fire is also localized in several languages that are rare but not exclusive to Free Fire: Arabic, Hindi, Indonesian, and Vietnamese. Finally, Free Fire has extensively targeted Brazil with language options, events and local collaborations.
Localization Is More Than Just Translation
Localization can boost engagement and revenue in specific markets, but doing it properly takes significant time and resources. The extent to which mobile apps are localized differs widely by market: Core apps are the most widely localized, casual slightly less so, and casino the least by far. Across markets, localization tends to focus on Western Europe, East Asia, Russia, and Brazil. Localization in other geos is significantly rarer.
Proper localization requires a dedicated team that specializes in the target region. Effective localization goes well beyond language translation and includes being aware of cultural customs, slang, and other components of a spoken language that won't come up on Google Translate. It also includes a knowledge of local celebrities, and even the types of phones and other tech platforms commonly used within a region. 
Because of the deep cultural knowledge required, localization is best done in consultation with people who live or have lived in the target region. Garena Free Fire employs local teams from each region to better familiarize itself with the target geo.
Most apps and games will have to be selective about their target geos. Localization affects many aspects of the game, such as events, cosmetics, design, IAP prices, and technical specifications. This can make localization both expensive and time consuming. For most apps and games, it's more practical to test a geo for localization and assess the revenue impacts before making further investments. 
How Do You Decide Where to Target Localization? Look to Potential Revenue Impacts and Market Trends
Potential revenue impacts are the biggest consideration when deciding where to target localization. One way for developers to estimate these impacts is to look at their close competitors' revenue based on geo and market. This can provide some idea of which geos could give the biggest ROI when targeted for localization. But if no competitors are targeting a specific region, apps should consider the percentage of young people that own smartphones and don't speak English, the amount of internet access, and the amount of money potential players have to spend on leisure.
With growth slowing in established markets, emerging markets such as Brazil and India are promising target geos. Mobile gaming has become massive in Brazil, with revenues expected to increase by almost 30% between 2023 and 2027. Similarly, the Indian mobile game market is currently valued at $2.6 billion, with an expected increase to over $8 billion by 2027. 
In the past year alone, India's Free-to-Play (F2P) mobile gaming revenue has grown 31%, Indonesia's 19%, and Brazil's 6% — all at a time when the US's revenue has shrunk by 8%.
Monthly F2P Revenue for Brazil, India, and Indonesia July 2021 – June 2023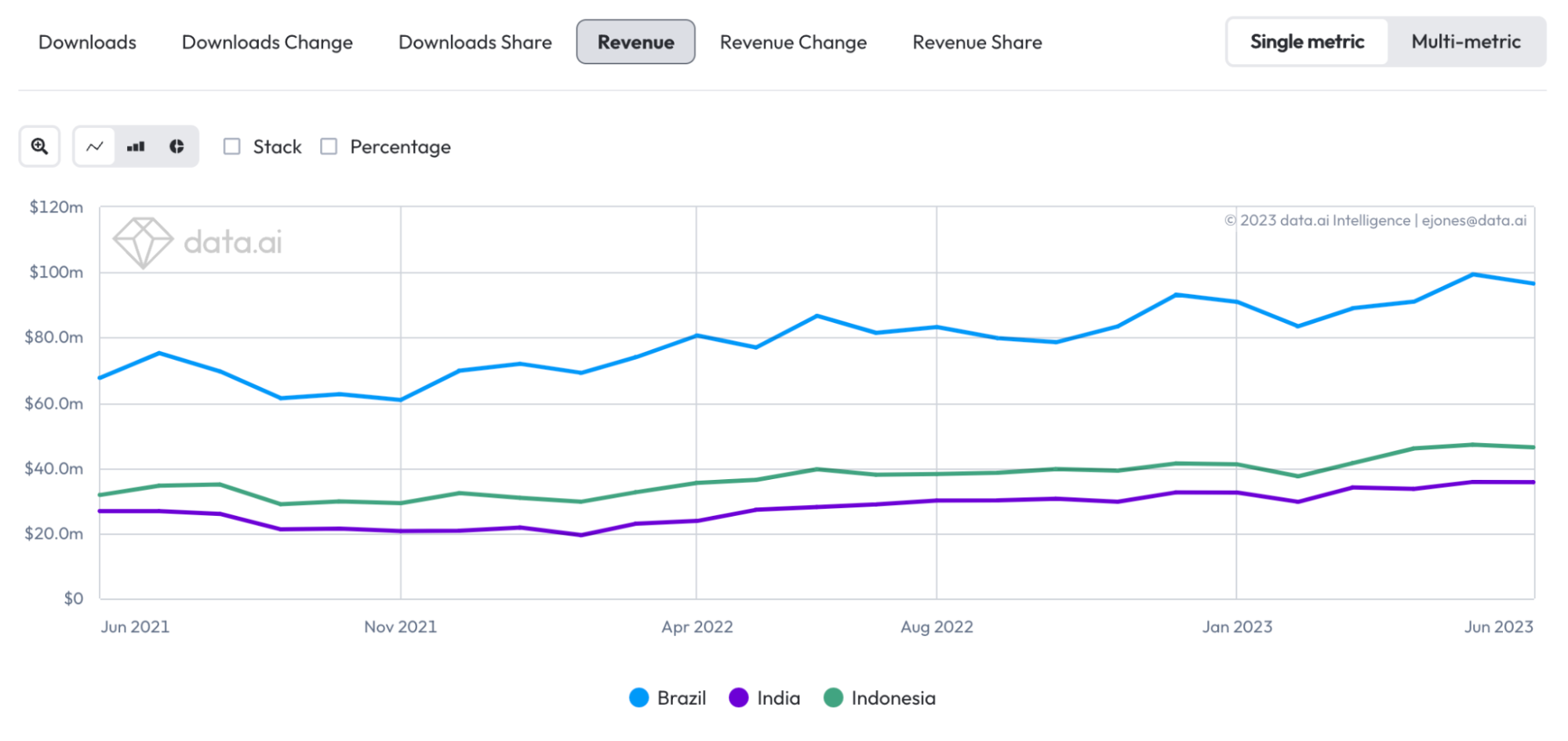 Track the latest monetization performance in high-growth markets for target games and competitors. Sign up for a free data.ai account today.
Because only about 5% of Brazilians and about 14% of Indians can speak English, localization is a must for developers who want to get the most out of these markets. And this barrier to entry makes the opportunity that much more promising for developers who can effectively localize. Free Fire targets both these markets with above-average language localization, including Brazilian Portuguese (which is different from the Portuguese spoken in other countries), as well as Urdu and Bengali, the two other major languages spoken in India besides Hindi.
Free Fire Accelerated User Acquisition in New Geos By Activating Partnerships with Local Celebrities, Streamers and Esports Team
Localization produces better results when apps and games use streamers and esports to gain a foothold in the local gaming community. When Free Fire started gaining popularity in Brazil, the developers directly reached out to local streamers and influencers to build hype around the game.
One streamer, Bittencourt, had his subscriber count double after he began focusing on the game, leading to more exposure for Free Fire and attracting even more streamers to the game.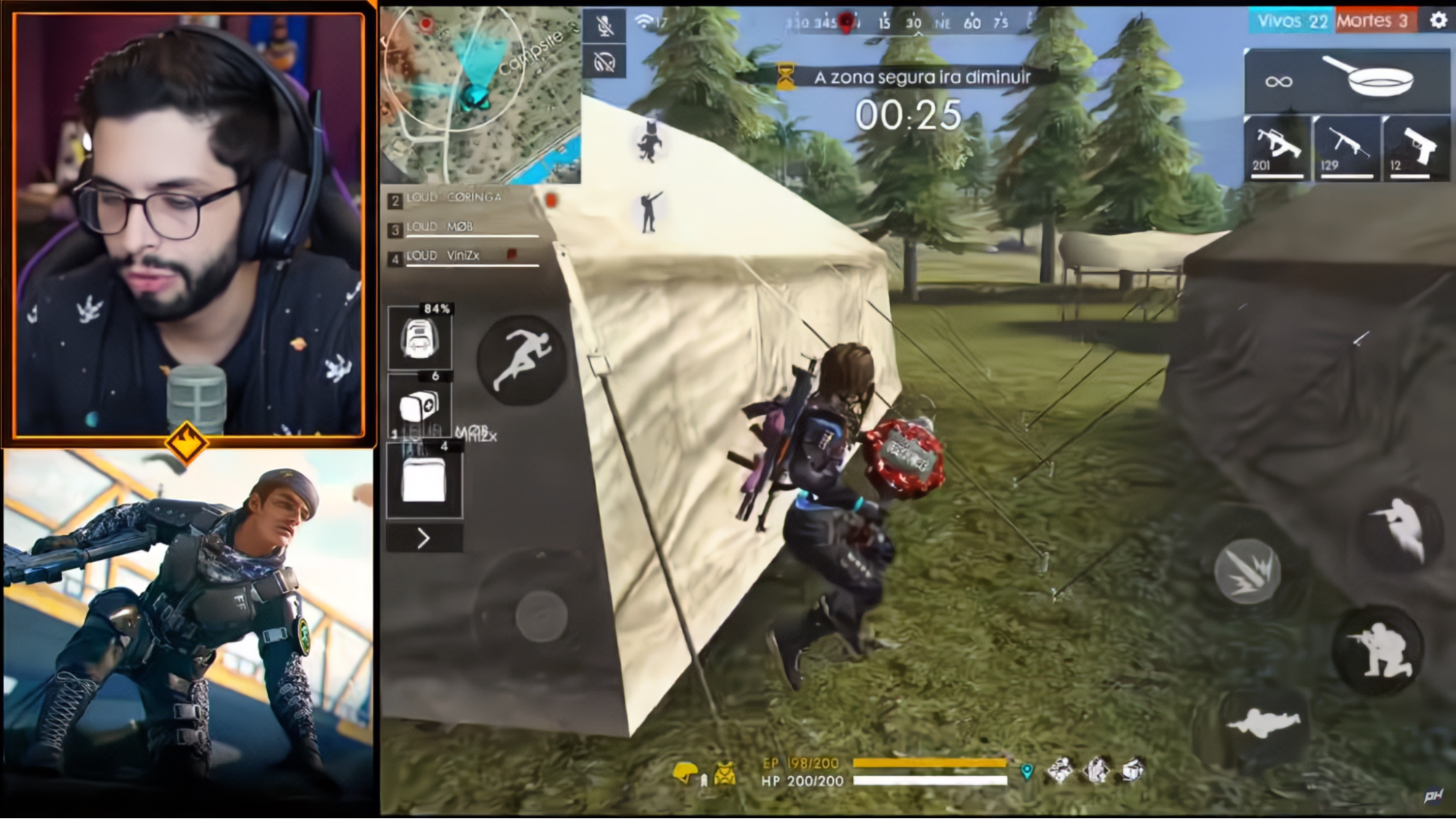 Bittencourt, a Brazilian gaming streamer, saw strong growth in followers after playing Free Fire.  
In 2019, the Free Fire World Series was held in Rio de Janeiro, reaching a peak of 2 million viewers on YouTube worldwide. The following year, Free Fire launched its Brazilian esports league, the Liga Brasileira de Free Fire. As a result of these efforts, Free Fire has become the most popular game among Brazil's esports fans.
In India, Garena teamed up with Tanmay Baht and other top Indian streamers in 2020 for a Free Fire retreat. They collaborated with the streamers on content and received feedback and valuable insights on gameplay as well as India's Free Fire player community.
In addition to this, there's a significant variety of Indian-exclusive tournaments and leagues, all with considerable prize pools. These tournaments are available with Hindi language commentary, which is also provided when Indian teams are participating in international tournaments. Partnering with local celebrities and cultural institutions is an effective way to raise an app or game's profile. Free Fire launched a popular local DJ as a playable character, hosted Brazilian popstar Anitta on their Booyah streaming platform, and even became a sponsor of the country's national football teams.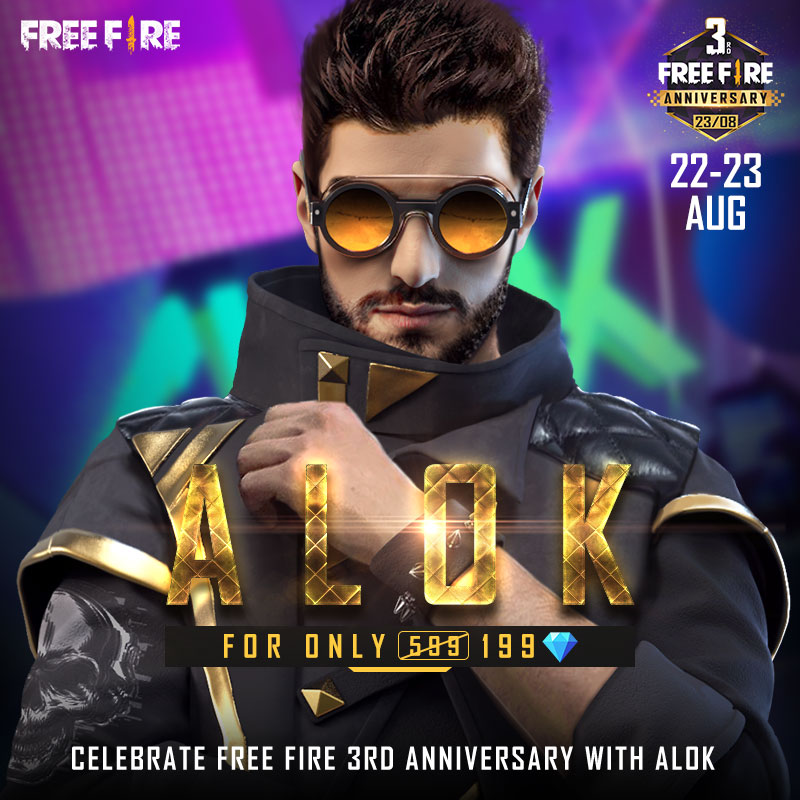 DJ Alok, a popular DJ in Brazil, was released as a character in Free Fire on November 11, 2019. 
In India, Free Fire teamed up with celebrity Amol Parashar for a promotional campaign. As part of the #IndiaKaBattleRoyale campaign starring celebrity Amol Parashar, Free Fire launched a series of three YouTube videos explaining the value propositions for playing the game: memory, battery and time. 
Optimizing for Device Compatibility and Reach
Successful localization takes the technical limitations of the target geo into account. To reach the widest possible audience in countries like Brazil and India, Free Fire was designed to run on low-end phones. The promotional campaign in India emphasized this point with its 'Low Memory? No Problem!' and 'Low Battery? No Problem' YouTube videos. 
Lower-end graphics may not be a dealbreaker for many players, as the recent runaway success of Battlebit: Remastered suggests. This low-spec shooter sold over 1.8 million copies on Steam within two weeks of its launch. It was able to outperform even AAA titles, despite its simplistic, low-poly graphics. It looks like players are generally willing to forego higher-quality graphics in favor of fun and functionality.
Garena Free Fire is massively successful in both Brazil and India because of its effective localization. In Brazil, Garena Free Fire is currently the top-grossing mobile game on Google Play (Free Fire is currently unavailable in Apple's App Store) for the last 24 weeks ending August 12, 2023. The game's higher-spec version, Free Fire MAX, is the number one top-grossing mobile game in India during the same time period.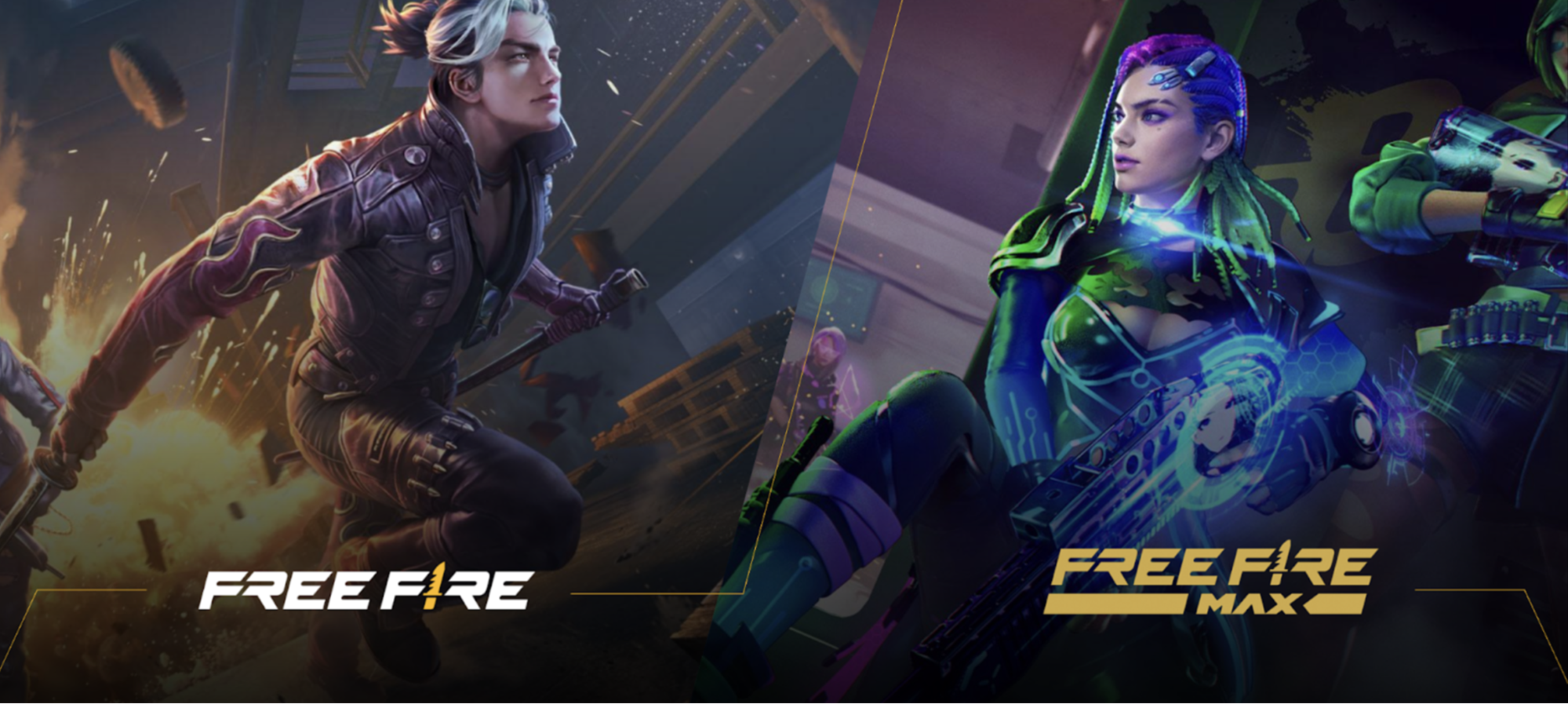 Free Fire Max caters to players looking for higher-end graphics and allows for full cross-play with the standard version of Free Fire.
But Free Fire's experience in India highlights some of the risks of investing a lot of resources into a single market. In 2022, Garena Free Fire was banned by India's Ministry of Home Affairs for unknown reasons after the developers had already invested a considerable amount of resources in localization efforts for the country. Luckily for the developers, the higher-end version of the app, Free Fire Max, continues to be available. However, it remains unknown if Free Fire Max will also be facing a ban in the near future, leaving Free Fire's future in India uncertain.
With competition over emerging markets looming, apps may want to start taking the first steps toward localization now. Due to the lengthy process involved in localization, developers should get a head start on finding a suitable emerging market for their app. In addition to looking at competitors' revenue figures, developers can also look at which genres are most popular in specific geos to find the best fit.
Looking for More Mobile Gaming Insights?
Download data.ai's State of Mobile Gaming Report to get a clear view of the state of play in 2023.