Gameloft's arcade racing game shows the power of moving from 'traditional' gaming formats to mobile
A Simulation Racing game, according to App Annie's Game IQ, published by Gameloft under Vivendi, Asphalt 9: Legends has surpassed the major milestone of seeing over $100 million spent by players in its mobile game across the world in just 3.5 years. The game first launched in 2018, and the top markets by spend include the US, South Korea, China, Japan and Germany.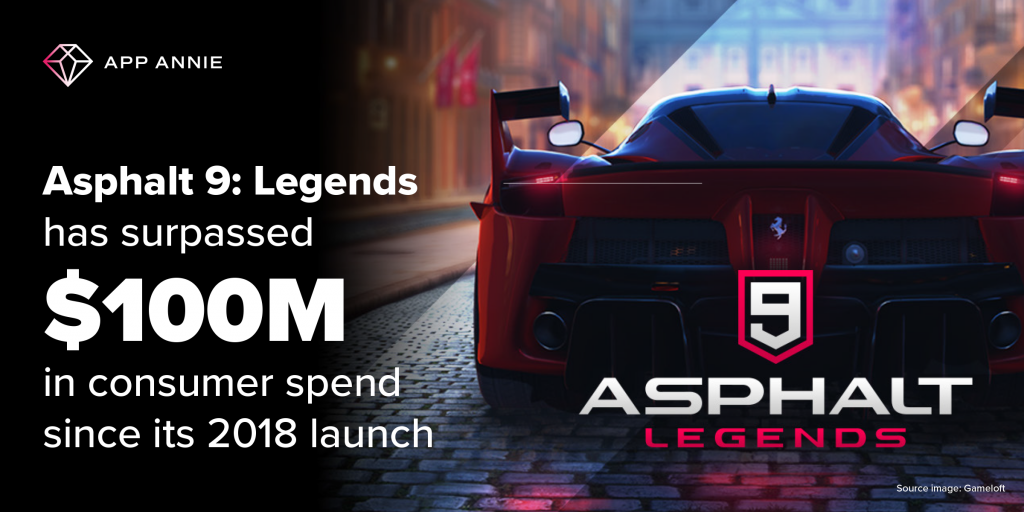 The game brings the feel of arcade racing games to your smartphone with a heavy emphasis on customization for the player. It features single and multiplayer mode, the ability to form clubs and compete with a team of players, leaderboards, events and many customizable features (your car, the tracks you drive and whether you use smart or manual controls - a feature similar to racing games in a physical arcade. These types of features are known to drive engagement and keep players coming back particularly through timely events and leaderboards. It's another example of how 'traditional' console (or in this case, arcade) games have moved to mobile and finding strong traction with consumers looking for games they love and can play wherever they are. 
Looking at recent months Asphalt 9: Legends ranked 3rd among the top Simulation Racing Games by global consumer spend in H1 2021 behind Zyngas' CSR Racing 2 (#1) and Electronic Arts' Need for Speed: No Limits (#2), both of which were launched in 2015, about 3 years prior to Asphalt 9: Legends.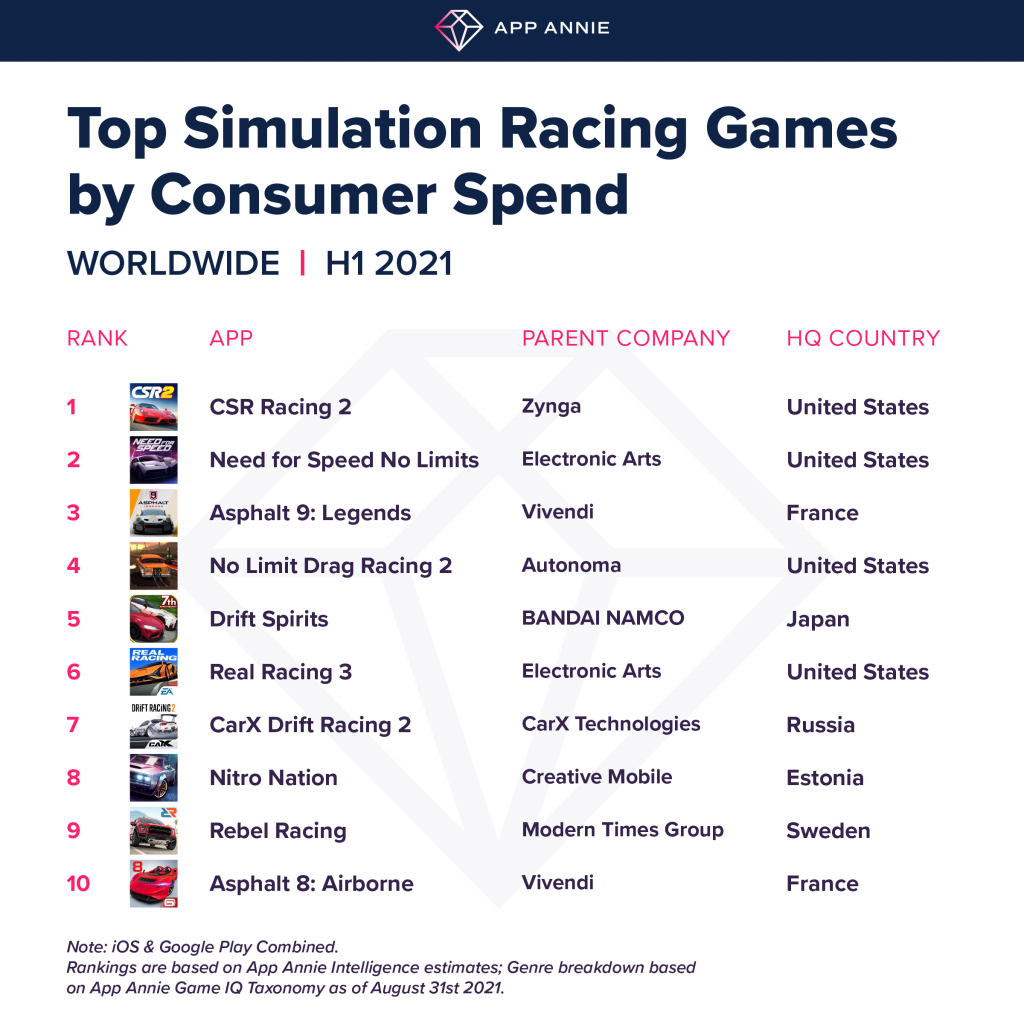 Ready to uplevel your mobile gaming performance? Read App Annie's 2021 Mobile Gaming Tear Down:
DISCLAIMER: 
App Annie is a mobile market estimate service provider. App Annie is not registered in any investment advisory capacity in any jurisdiction globally, and does not offer any legal, financial, investment or business advice. Nothing contained in this communication, or in any App Annie products, services, communications, or other offerings, should be construed as an offer, recommendation, or solicitation to buy or sell any security or investment, or to make any investment decisions. Any reference to past or potential performance is not, and should not, be construed as a recommendation or as a guarantee of any specific outcome. You should always consult your own professional legal, financial, investment and business advisors. Additionally, by providing the information herein, App Annie does not make any representations or warranties and does not undertake any legal or contractual obligations whatsoever. No liability may accrue to App Annie as a result of providing this information to you.