New feature enhancements to App Annie Game IQ bring a whole new level of granularity for market sizing and growth strategies.
App Annie Game IQ is a market and competitive intelligence tool for mobile gaming that allows publishers to identify hidden growth opportunities, tie features to performance KPIs, and help you make difficult roadmap decisions.
Game publishers and strategists today are facing various key challenges like:
Determining what features will provide lift

Making roadmap decisions based on accurately modeled expected outcomes

Discovering how competitors lifted performance through feature releases

Benchmarking performance against competitors 

Confidently focusing on the highest potential genre for a new game release
With the enhancements we've made to App Annie Game IQ including Feature Tagging, Genre Summary and Tag Trends,  you can now effectively solve these challenges. 
A Data-Driven Approach to Help you Identify Areas of Growth and Build Better Games
The enhancements we've made allow you to combine performance estimates with feature and tag insights to identify areas of growth and opportunity and understand how to build successful games.
Craft your Roadmap with App Annie Game IQ Feature Tag Insights
Gameplay features, monetization mechanics, and payment types are quickly evolving across genres and geographies. The Compare Report offers side by side comparison of in-app features so you can deconstruct a game without playing it. This report will help you understand the features that competitors have implemented and how those features have impacted game performance. You can quickly deconstruct any genre with a few clicks, easily identify new opportunities and apply competitive product insights to your roadmap.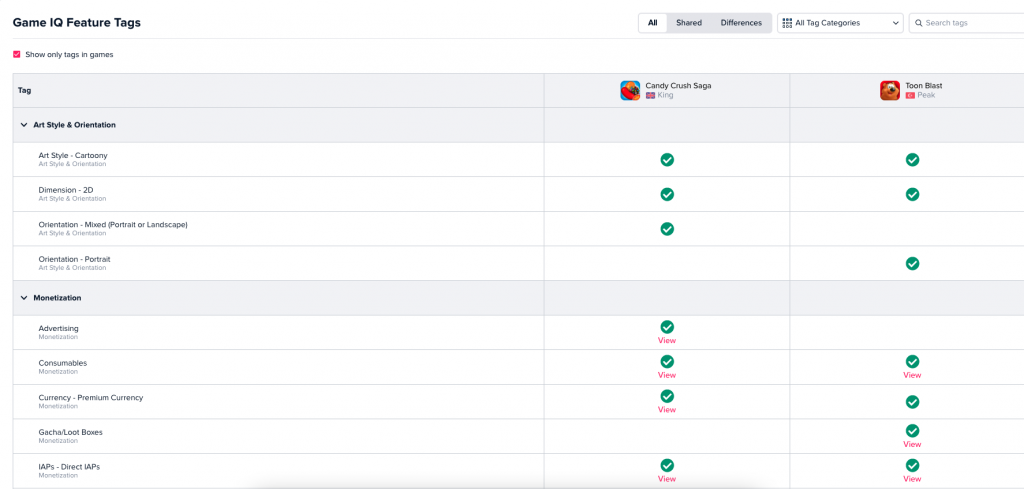 Identify Emerging Trends with the Genre Summary Report
Genres are evolving with new features quicker than ever. Manually monitoring genres for trends and new competitive threats is difficult because the data is scattered across various sources and reports. With App Annie Game IQ and the Genre Summary Report, you can track and compare the top-performing games within each genre so you can see which features are growing in popularity and engagement, and how they track to our downloads and revenue channels.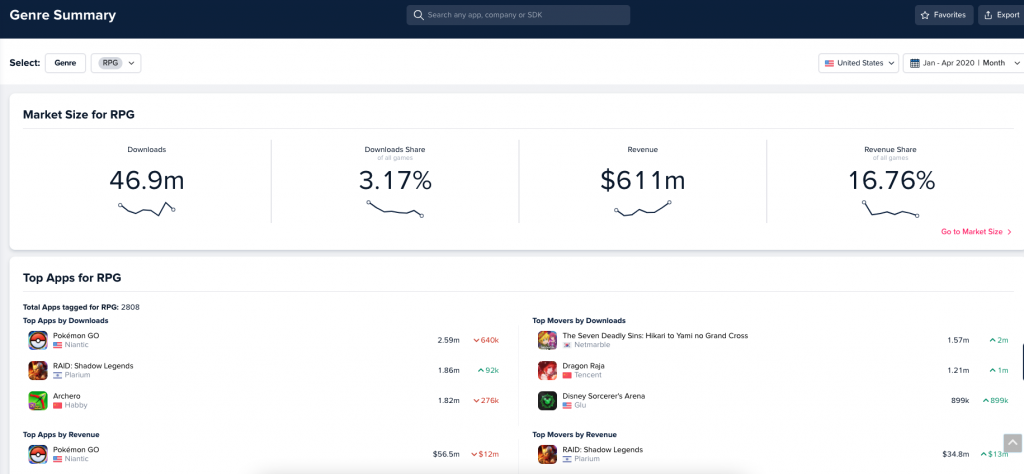 Find Strategic Opportunities using Feature Tag Trends
The Feature Tag Trends Report allows you to deconstruct an entire genre from the tag perspective without volumes of manual research. Having this level of granularity means you can confidently benchmark against competitors so you can prioritize feature development and find strategic opportunities for growth. You can view the tags that are becoming more and more prevalent across your competitors in a specific genre so you can understand which tags are most impactful for the top performers.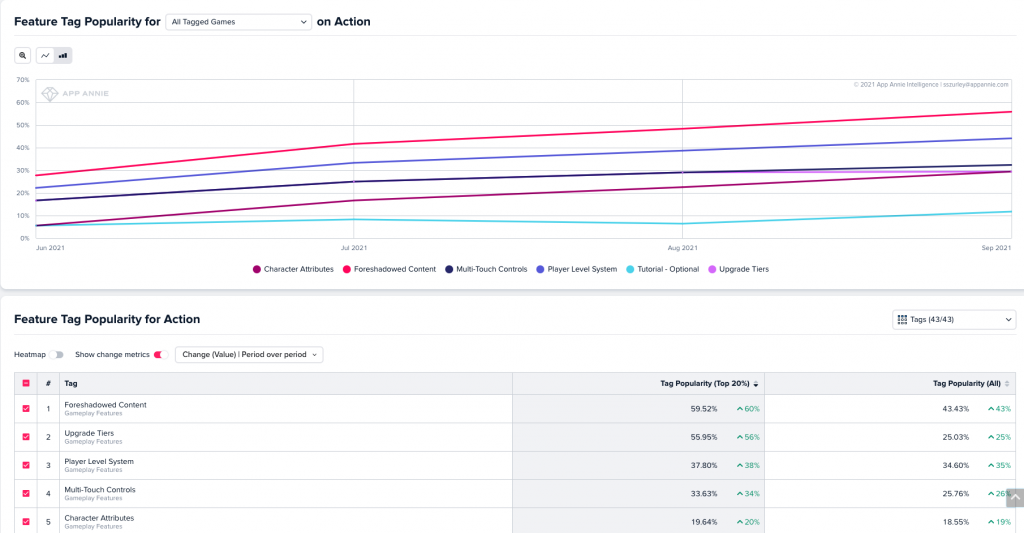 To learn more about the new enhancements to Game IQ, join our demo.
DISCLAIMER: 
App Annie is a mobile market estimate service provider. App Annie is not registered in any investment advisory capacity in any jurisdiction globally, and does not offer any legal, financial, investment or business advice. Nothing contained in this communication, or in any App Annie products, services, communications, or other offerings, should be construed as an offer, recommendation, or solicitation to buy or sell any security or investment, or to make any investment decisions. Any reference to past or potential performance is not, and should not, be construed as a recommendation or as a guarantee of any specific outcome. You should always consult your own professional legal, financial, investment and business advisors. Additionally, by providing the information herein, App Annie does not make any representations or warranties and does not undertake any legal or contractual obligations whatsoever. No liability may accrue to App Annie as a result of providing this information to you.