Japan is a notoriously tough market for overseas publishers to crack. So how has EA Mobile kept Apex Legends in Japan's Top 10 Games by Downloads chart for 54 days?
data.ai and Gamemakers teamed up to deconstuct how Apex Legends launched to mobile success in 2022.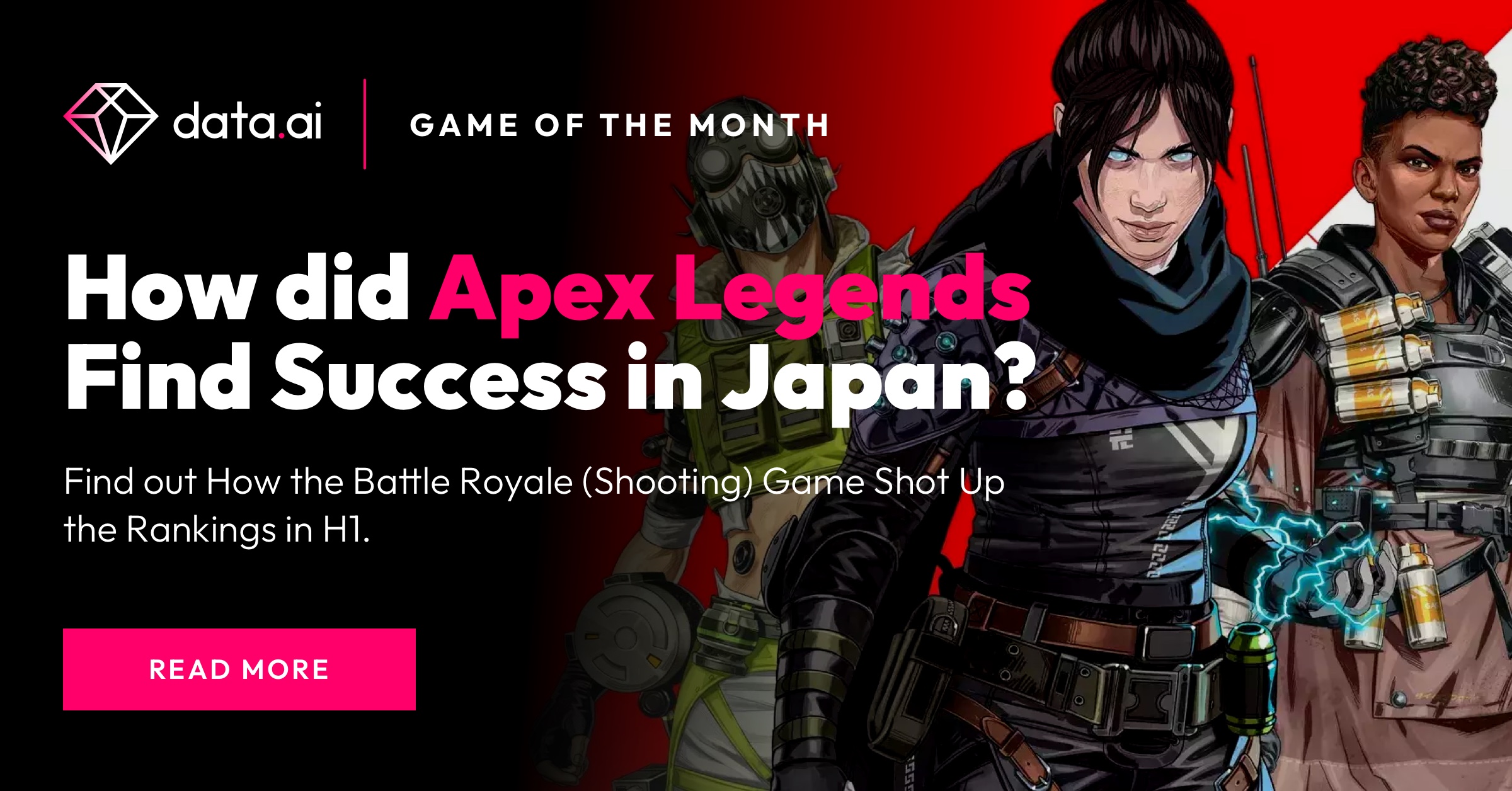 Apex Legends: a Free-to-Play Blockbuster All Over the World
Apex Legends is a free-to-play Battle Royale/hero shooter game developed by Respawn Entertainment and published by Electronic Arts. It was originally released for Microsoft Windows, PlayStation 4, and Xbox One in February 2019, with more console launches following later. 
The game challenges players to choose from a range of characters (legends) and then form themselves into two or three player squads. The squads then drop into an island where they compete against each other.
Apex Legends: The Mobile Launch
After such a triumphant run on PC and console, it was little surprise when EA confirmed that a mobile version of Apex Legends would launch on May 17, 2022. The impact was immediate: 15 million people pre-registered for the game.
Despite being released in May, Apex Legends ended H1 2022 as the top Battle Royale/Shooter game by download, active users and consumer spend, among newly released games in 2022.
The Rise and Rise of the Battle Royale Genre
One of the reasons for Apex Legends stunning success is the consumer appetite for Battle Royale/Shooter games. According to data.ai metrics, the Battle Royale genre has seen explosive growth since 2018, with heavyweight titles such as Fortnite, PUBG Mobile, Free Fire, and Knives Out driving adoption.
Indeed, of the 153 unique game sub-genres that data.ai's Game IQ tracks, Battle Royale/Shooting is at #19 (as at H1 2022). Collective downloads are at 329 million (up from 221 million in 2021) with consumer spend at nearly $1.9 billion.
Well-Executed Adaptation: Joseph Kim Breaks Down Apex Legend's Gameplay Mechanics: Why it Works and Opportunities for Growth
Joseph Kim joined data.ai to unpack the gameplay features that drive Apex Legend's success among Battle Royale and First-Person Shooter games — genres that have made the leap from PC/ Console to Mobile.
We asked Joseph: What is working really well in Apex Legends? What features and gameplay mechanics have they employed that has fueled gamer adoption? 
His responses are below:
---
"Apex Legends Mobile is exceptionally well polished, well balanced, and has excellent gunplay and feel. Many of the design choices for mobile have been excellent. For example, a simple auto-looting system, aim-assist accommodation, optimization to help support lower-end devices, a robust training mode, and a mobile-only perks system. The perks system adds a progression vector and gives the game more of an RPG game feel. Most importantly, the game prioritizes progression for mobile players over high skill-cap and competitive gameplay, which is more relevant for PC titles. Two areas in which I believe Respawn + Lightspeed could have improved the game is the level of core loop fragmentation they introduced into the game and taking too conservative of an approach to monetization."

— Joseph Kim, CEO, LILA Games & GameMakers
---
Well Polished, Well Balanced, and Has Excellent Gunplay and Feel

- One of the biggest challenges for any shooter game is making the game feel good. The gunplay, in particular, and making guns feel great to shoot and feel good when you've hit an enemy is difficult to get right. With so many high-quality mobile shooter games in the market, entering an existing shooter game sub-genre sets a very high standard for the level of polish and game feel that is required. The execution of gunplay in this regard has been excellent. On top of that, by making the game a hero shooter, support for different abilities and balancing the powers between heroes is vitally important.
Mobile Design Choices

- Lightspeed did a great job adapting Apex Legends to mobile. The developers made the right call in favoring progression and "feeling good" over skill cap. Further, adding TPP (which doesn't exist in the PC game version) in addition to FPP was clearly a decision to help mobile game players switch more seamlessly from other mobile battle royale games to Apex Legends Mobile. Finally, optimization to help support lower-end devices was well done, which likely required significant effort given development using Unreal engine.
Prioritizing Progression

- Generally, mobile players favor progression over skill-cap and competitive gameplay relative to PC gameplay. Therefore, extensive bot integration to help players feel good about early/mid and perhaps even late game progress was executed very well. Fairly aggressive aim assist also suggests the developers prioritize player feeling over focus on skill. 
Core Loop Fragmentation

- I am not a fan of the typical Chinese MMO style "Where's Waldo?" collection systems, but these types of systems are typical of Chinese developers. RPG mobile games often employ a "core loop fragmentation" strategy to provide multiple systems to engage players. However, core loop fragmentation in this game occurs both in the Chinese MMO-style collection systems and by introducing additional game modes like TDM and the Valorant-style mode. The latter decision seems to be a conscious effort to try and capture any player coming into the game with a huge menu. Whether it's a game mode or TPP vs. FPP, this game wants to try and get you regardless of your preferences. From my perspective, I believe the game would provide a better player experience by keeping the core loop tighter.

Needs Better Monetization - Most Western shooter players seem to have a huge preference for fair-to-play game progression and monetization models. This game took the safe approach by going light on monetization and not utilizing any "pay-to-win" monetization. Sales in Apex Legends Mobile follow a typical battle pass + cosmetics strategy. This strategy is what you'd expect from a Western HD game developer.
Paired with first-hand gameplay experience, data.ai's Game IQ Feature Tags helps you easily uncover what features are resonating in your subgenre and what stands out against the competition:
data.ai's advanced Feature Tags reveal features that are prevalent across your competitors.
Part of Apex Legend's success story hinges on breaking into Japan: a highly lucrative and difficult to crack gaming market. Building on the gameplay features, we leveraged data.ai's suite of gaming intelligence to break down how Apex Legends cracked the code.
Spotlight on Japan: A $6.7 Billion Games Market Worth Targeting
When the time came for a Japanese release, EA focused hard on a successful launch strategy. Why? Because, when it comes to gaming, Japan punches well above its weight. Japan might the world's 11th biggest country by population, but according to data,ai it was the world's third largest mobile gaming market in H1 2022 with consumer spend at over $6.7 billion.
How Apex Legends Found Success in Japan
Japan's gaming market might be huge, but it is also quite insular – with a chart that is full of home-grown titles. This can make it hard for overseas-developed titles to make an impact.
Apex Legends has proved an outstanding exception. Shortly after launch, the game hit #1 for 12 days in Japan's Top 10 Games by Downloads chart (iOS & Google Play). It stayed in the top 10 for 54 days.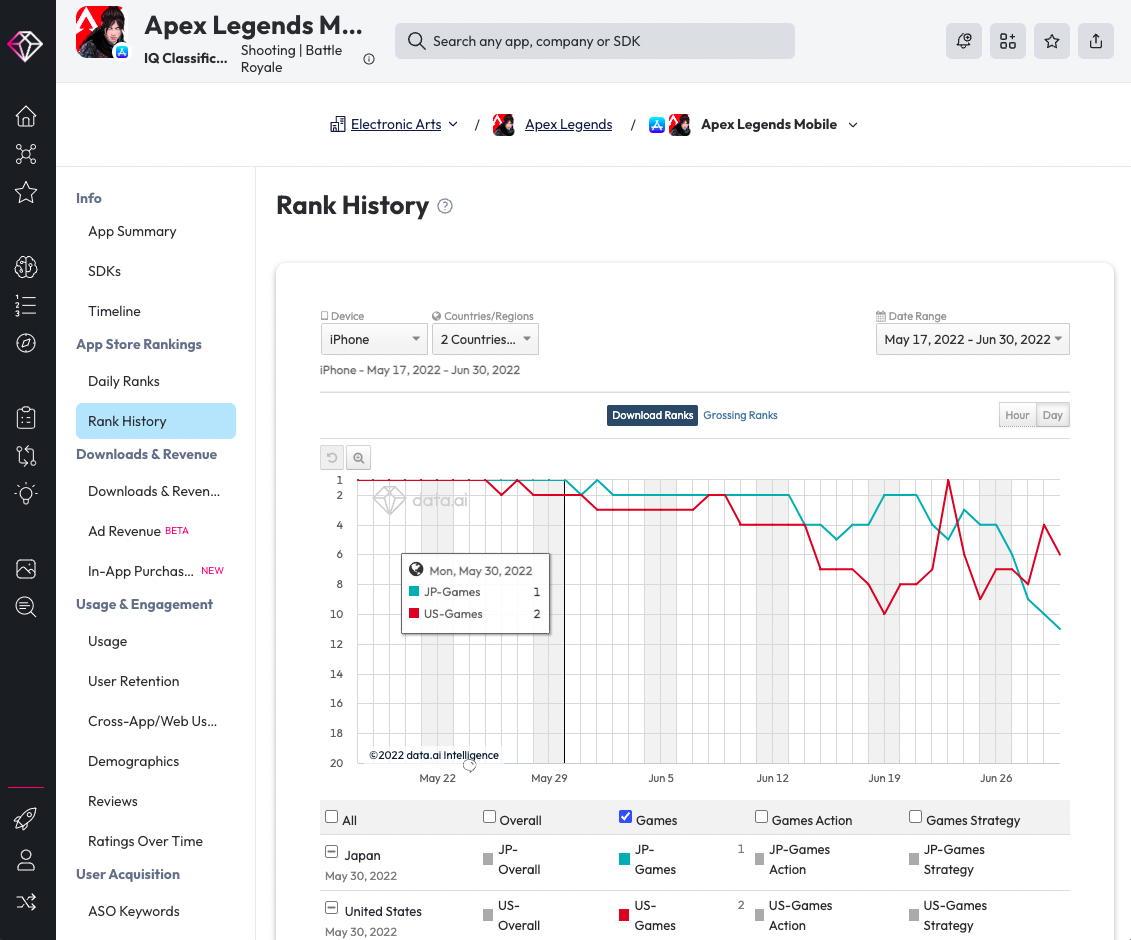 In Japan and US, Apex Legends remained within the Top 10 iPhone Games By Downloads more than a month after its initial release.
How did EA achieve this? The data.ai platform can certainly indicate how publishers can understand their target consumers better and craft an informed localized strategy.
Examples of this include:
A focus on strong characters and IP
Another success factor for Apex Legends in Japan was its emphasis on heroes/character-based content. Japanese gamers are especially drawn to this product feature. In fact, Apex Legends even replaced Disney as the most downloaded IP by total App Downloads in Q2 2022, across iOS and Google Play. 
Marketing with a local flavor
EA focused hard on localised advertising as a user acquisition exercise, and was careful to target the most popular platforms. data.ai's Advertiser Report lets publishers dive into competitor app install campaign details, uncover what works best and then track results. In the case of Apex Legends, EA saw its share of voice on YouTube rise from 3.3% to 7.4% three weeks post release, and from 0.33% to 3.6% on Twitter.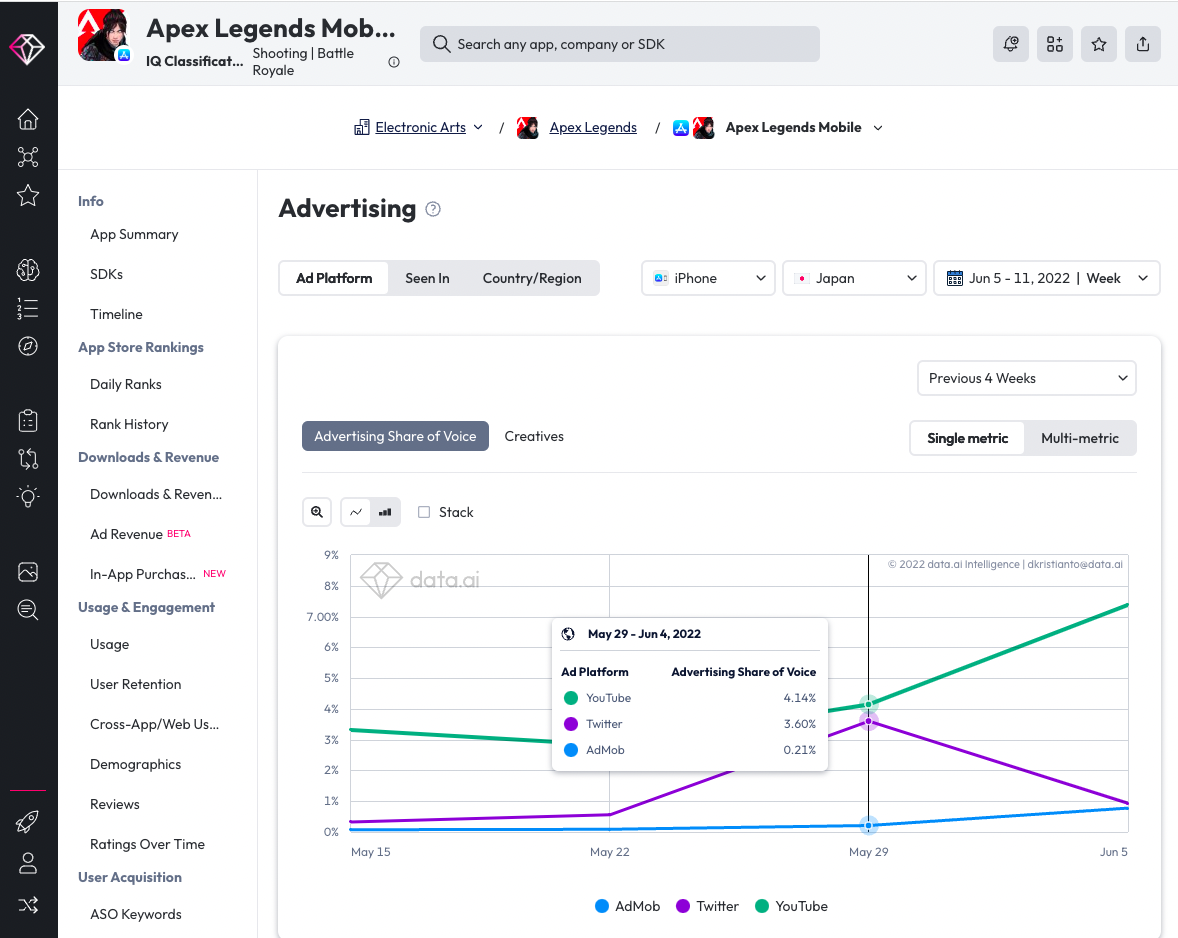 The Advertiser Report lets you dive into user acquisition campaign details to uncover where competitors are running app install ads across major ad networks.
Similarly, it took care to localize its ad creative. For example, EA chose a distinctly Cell Shaded anime style which is different from the in-game's graphic style.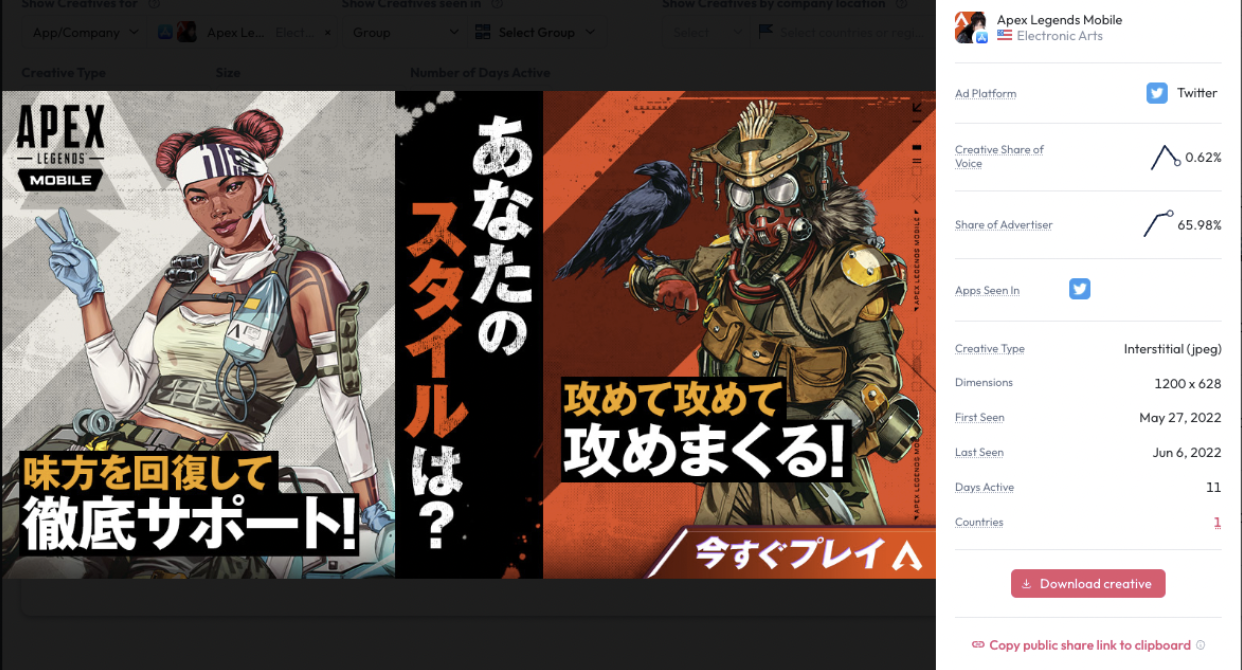 One of Apex Legend Creatives on Twitter showing the emphasis on the richness of character based game play, with the tagline "What's your Playstyle?" , stylized in an Art style that resonates with the Anime/ Comic book audience that Japan is famous for.
There were localised offline campaigns too. The developers even erected a large Apex Legends QR code in a separate paddy field visible to commuters on a busy train line. Viewers could scan it to win prizes.

EA teamed up with the Koshigaya Rice Paddy Art Executive Committee in Koshigaya City, Japan to sponsor the creation of Bloodhound rice paddy art. EA Official Tweet.
Understanding player sentiment
Apex Legends has scored highly in terms of player reviews. These are visible in data.ai's Ratings Over Time function, which shows historical ratings for an app. In the case of Apex Legends, more than 80% of reviewers in Japan rated it 5 Star for iPhone, compared to 72% for PUBG Mobile and 62% for Knives Out.
data.ai's Ratings Over Time Report provides users with the ability to track historical ratings for an app. Use this report to help track your user's sentiments and competitor's performance.
In fact, data.ai subscribers can go deeper and analyze reviews by 'topics' such as 'Performance and Bugs', 'Design' etc. This helps them to prioritize pain points that gamers experience in rival games.
data.ai's platform gives publishers the tools the need to uncover drivers of growth, localization and player adoption. Get in touch today to get access to our full suite of competitive gaming insights including Game IQ's advanced taxonomy.
Looking for More Mobile Gaming Insights?
Sign up here to claim a copy of data.ai's industry-leading 2022 Gaming Spotlight Report:
DISCLAIMER: 
data.ai is a mobile market estimate service provider. data.ai is not registered in any investment advisory capacity in any jurisdiction globally, and does not offer any legal, financial, investment or business advice. Nothing contained in this communication, or in any data.ai products, services, communications, or other offerings, should be construed as an offer, recommendation, or solicitation to buy or sell any security or investment, or to make any investment decisions. Any reference to past or potential performance is not, and should not, be construed as a recommendation or as a guarantee of any specific outcome. You should always consult your own professional legal, financial, investment and business advisors. Additionally, by providing the information herein, data.ai does not make any representations or warranties and does not undertake any legal or contractual obligations whatsoever. No liability may accrue to data.ai as a result of providing this information to you.