New report by data.ai and IDC reveals the rising influence of female gamers, baby boomer mobile gamers, developing nations and the hypercasual subgenre
Over the last 15 years, mobile gaming has moved from an interesting curiosity to become the undisputed powerhouse of the overall gaming space. According to our latest report with IDC, mobile gaming is set to gross $136 billion in 2022. That represents over 60% of the total $222 billion games market.
Download our latest report here: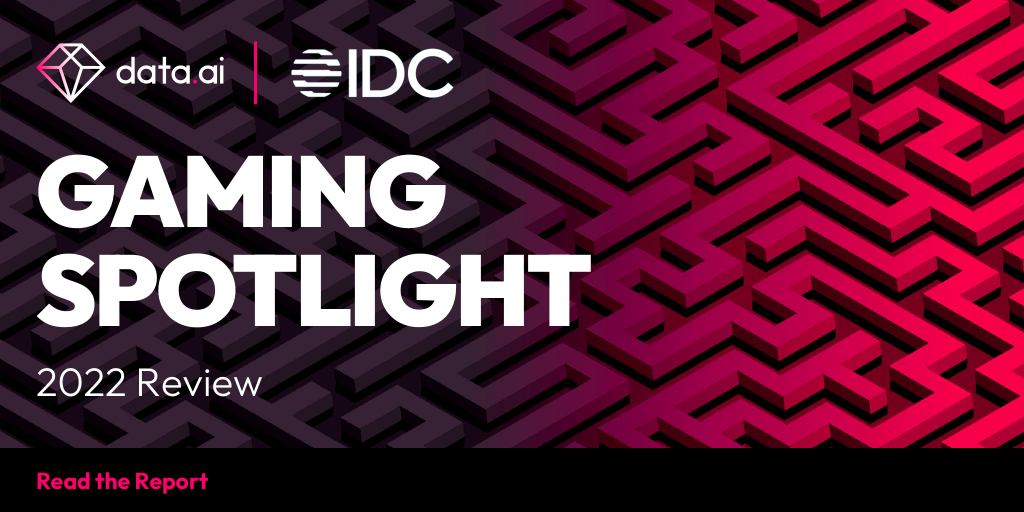 This is a remarkable ascent. To understand how dramatic it is, just take a look at the numbers for 2014. Back then, mobile gaming was worth just under $30 billion annually – around the same as console gaming and slightly more than PC/Mac gaming.
Today, at $136 billion, mobile has grown 4.5x in eight years. By contrast console and PC/Mac have grown by around x0.25 ($42 billion and $40 billion respectively in 2022).
What explains this phenomenal performance? The obvious answer is reach. Mobile 'hardware' is inexpensive (given you don't need a new device), as are mobile games. What's more, you can play a mobile game anywhere and any time.
The data.ai and IDC report confirms this in metrics that reveal the sheer diversity of mobile gaming in terms of audience and gameplay type. 
Something for Everyone: 8 Distinct Subgenres in the Top 10 Mobile Games
In the formative days of mobile gaming, there was a skew towards 'snackable' casual titles. This was understandable. Screens were small, processing was limited, online connectivity was expensive. Today, these limitations have (mostly) vanished for millions of gamers. As a result, every kind of gameplay is possible on the small screen. Even online 'core' gaming that used to be the preserve of PC and console.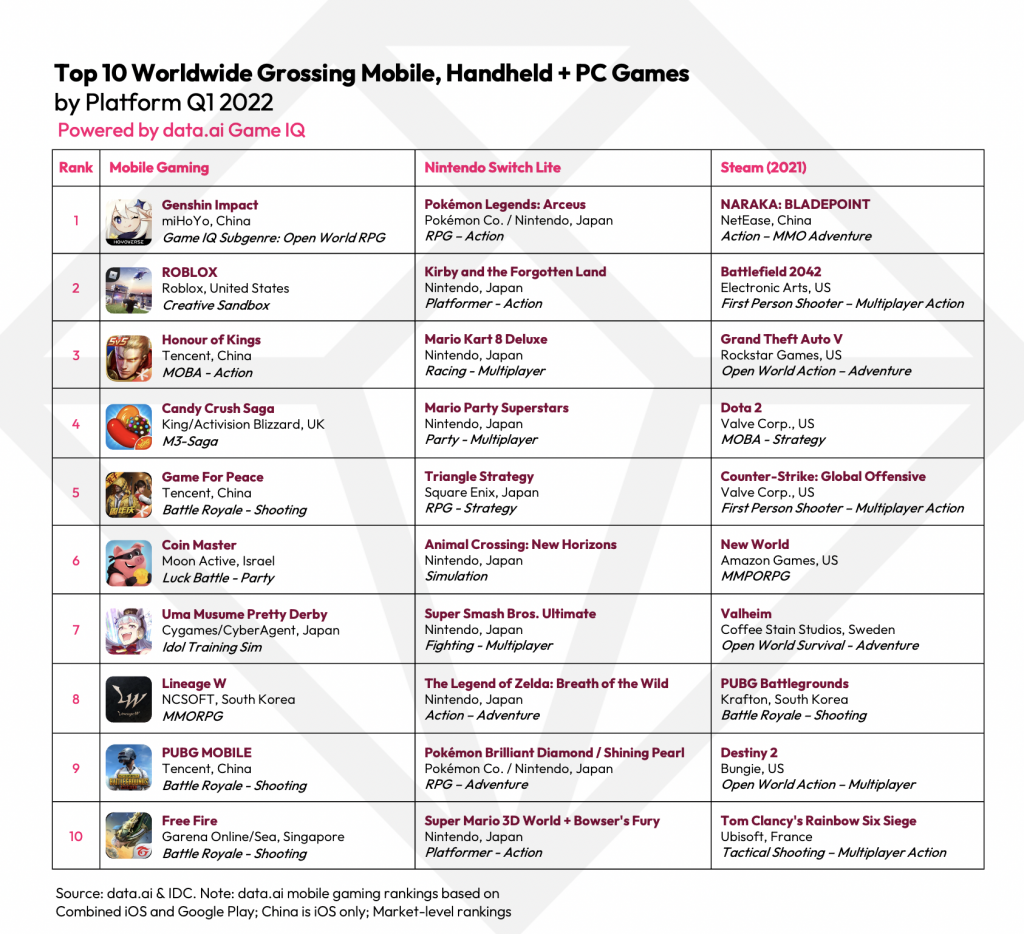 This is reflected in the 2022 chart, where there are 8 sub-genres represented in the list. They range from the free, single-player, casual game Coin Master to the massively multiplayer online epic Lineage W.
The report picks out 4 titles that define 2022: 
Genshin Impact
Q1 2022's top grossing mobile game was an Open World RPG available in over 174 markets around the world. Genshin Impact has amassed 118 million downloads and $2.8 billion consumer spend as of May 2022. You can read more about what makes Genshin Impact such a success in our deep dive. 
ROBLOX
The report describes ROBLOX as a surprise sleeper hit – perhaps because it took so long to become a blockbuster (having been released on mobile in 2012 with modest success). The title ended 2021 as the #1 by global game consumer spend in 2021, up from #16 in 2019. Indeed, 77% of Roblox's consumer spend to date was generated in the last 2 years. ROBLOX has found success among a diverse range of gamers — you can read more about their rise to the top of the charts here. 
Uma Musume Pretty Derby Idol Training
The presence of Uma Musume Pretty Derby at #7 by worldwide consumer spend in 2021 is quite a feat. Why? Because it is only available in Japan. The title is based on a Japanese anime game in which famous race horses are reborn as 'horse girls'. It achieved success as a manga series and TV show before coming to mobile. It has achieved 7.9 million downloads and $1.5 billion in consumer spend to date. Gamers who play anime-themed mobile games are a powerful, niche audience — accounting for 20% of all consumer spend in 2021. 
Free Fire Battle Royale
Free Fire, published by Singapore's Garena, was 2021's most downloaded mobile game, and the #10 game by consumer spend in Q1 2022. It is the pre-eminent title in the hugely popular Battle Royale sub-genre – a category with its roots in 2010's survival games such as Minecraft and ARMA 2. Free Fire has accumulated over 1.05 billion lifetime downloads.
Candy Crush Has Captivated US Baby Boomers
In the console era gaming was something mostly young people did. Not any more. Mobile has made gaming accessible to all ages. Especially in western markets. In the US, games that skew towards Gen X/Baby Boomers (aged 45+) represent nearly 25% of the top grossing games for 2021. That's 6 percentage points higher than the figure for 2019.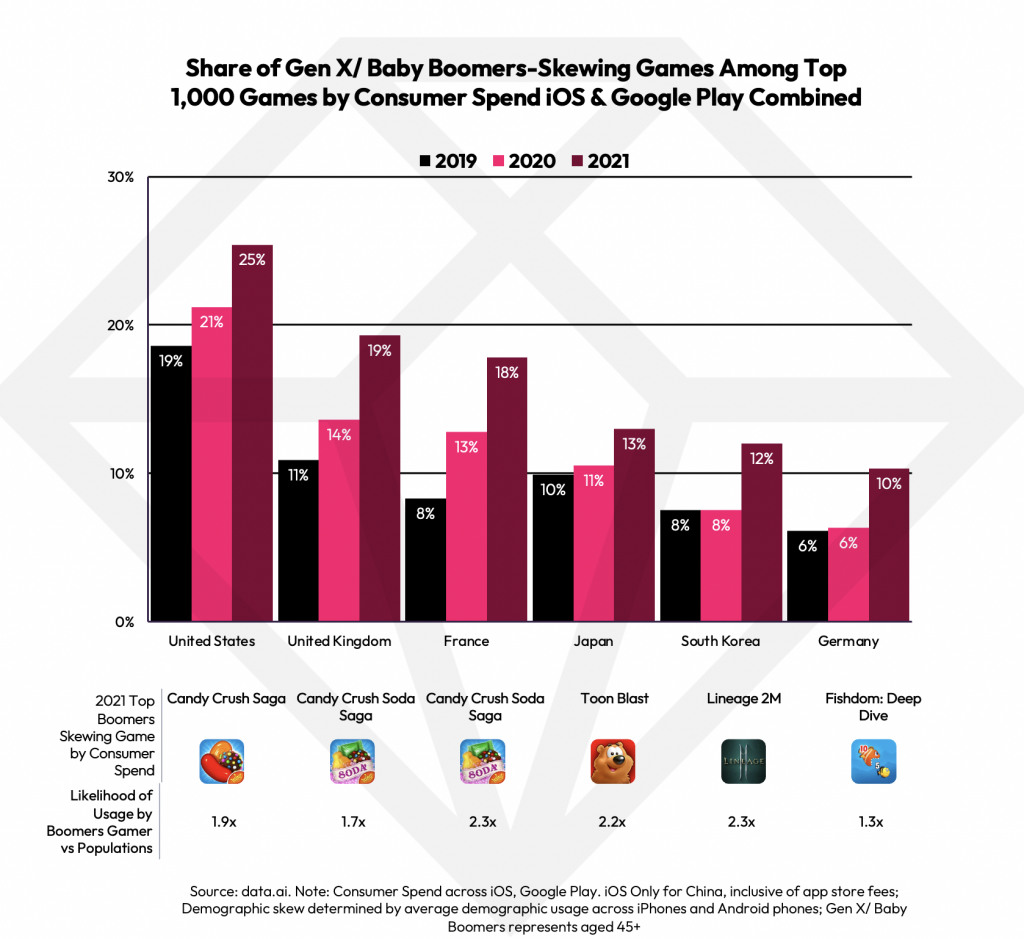 And the title that has most captivated this mature demographic? Arguably Candy Crush. King's casual franchise shows no sign of losing its appeal 10 years after launched. In the US, it seems Baby Boomers are keeping it at the top. Our report shows that the player base of Candy Crush Saga skews 1.9x in favor of boomers in the US, and for Candy Crush Soda Saga it skews 1.7x in the UK and 2.3x in France. 
The Female Influence on Mobile Gaming is Rising – But the Market Still Leans Male
While it's certainly true that mobile is more 'balanced' by gender than console and PC gaming, our 2022 report shows that the market still skews male (though the gap varies by region). It is important to note that the analysis is limited to males and females only and is not representative of all gender identities.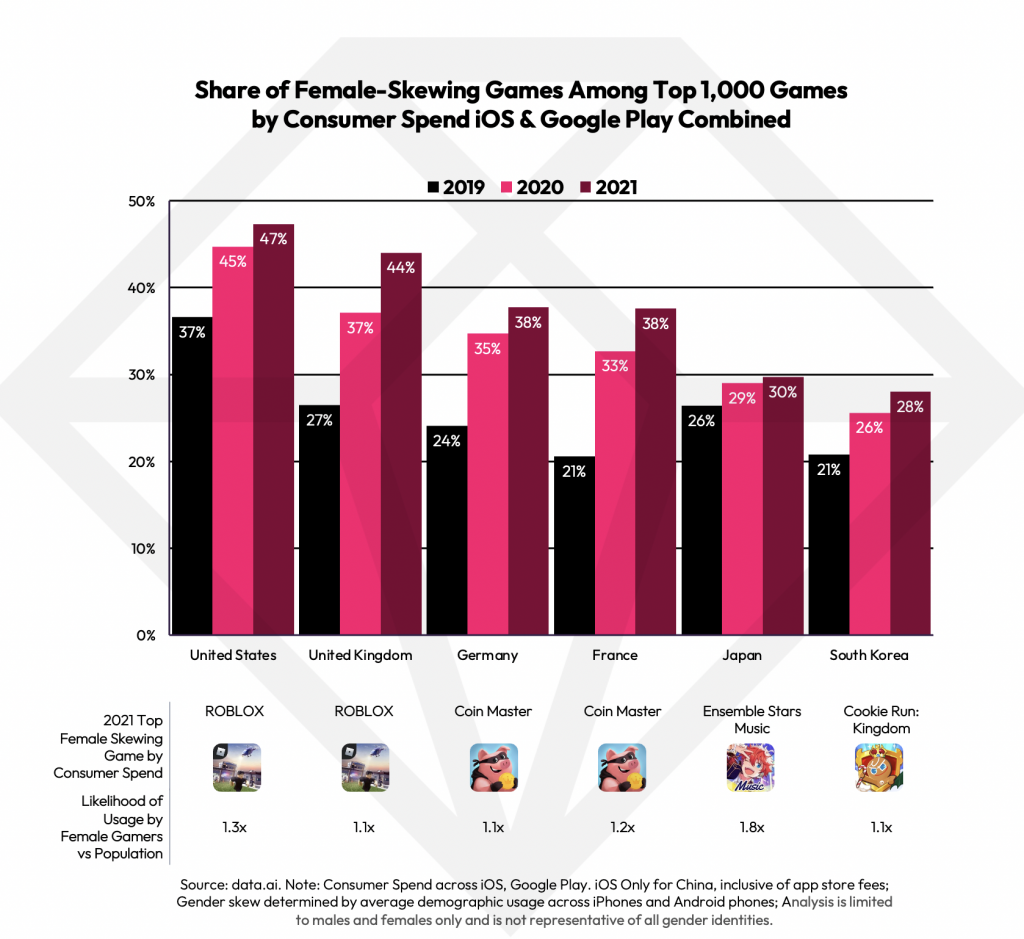 The US is home to the highest female representation among top grossing games. Here, of the top 1000 games by consumer spend in 2021, 47% of them skew towards female audiences (meaning females are more likely than males to play them). This was up from 37% in 2019. ROBLOX, for example, skews 30% female in the US.
In other regions, the female factor is smaller. However, it is growing across the board. Among the top 1000 games by consumer spend in 2021 in the UK, 44% skew female (up from 27% in 2019), while in France the percentage has almost doubled from 21% to 38% between 2019 and 2021.
Go Deeper: Download the 2022 Gaming Spotlight Report
Uncover the trends you need to know across mobile, console and PC/Mac gaming in data.ai's latest report in partnership with IDC:
DISCLAIMER: 
data.ai is a mobile market estimate service provider. data.ai is not registered in any investment advisory capacity in any jurisdiction globally, and does not offer any legal, financial, investment or business advice. Nothing contained in this communication, or in any data.ai products, services, communications, or other offerings, should be construed as an offer, recommendation, or solicitation to buy or sell any security or investment, or to make any investment decisions. Any reference to past or potential performance is not, and should not, be construed as a recommendation or as a guarantee of any specific outcome. You should always consult your own professional legal, financial, investment and business advisors. Additionally, by providing the information herein, data.ai does not make any representations or warranties and does not undertake any legal or contractual obligations whatsoever. No liability may accrue to data.ai as a result of providing this information to you.