YouTube was the #3 overall application of all time by consumer spend
YouTube has surpassed $3 billion in consumer spend worldwide as of October 17, 2021 — entirely driven by iOS.
Demand for content has grown steadily over the last decade, and accelerated during the pandemic as consumers turned to apps for watching and streaming content. In the most recent months, YouTube ranked #3 among all non-gaming apps by global lifetime consumer spend as of October 2021 — just from their iOS revenue. As the world saw a shift in day-to-day routines, consumers spent an increased amount of time video and music streaming.
It is notable that YouTube is also not only the #3 application overall by global app store consumer spend of all time, but also #1 live streaming app by spend (combined on iOS and Google Play as of October 10, 2021).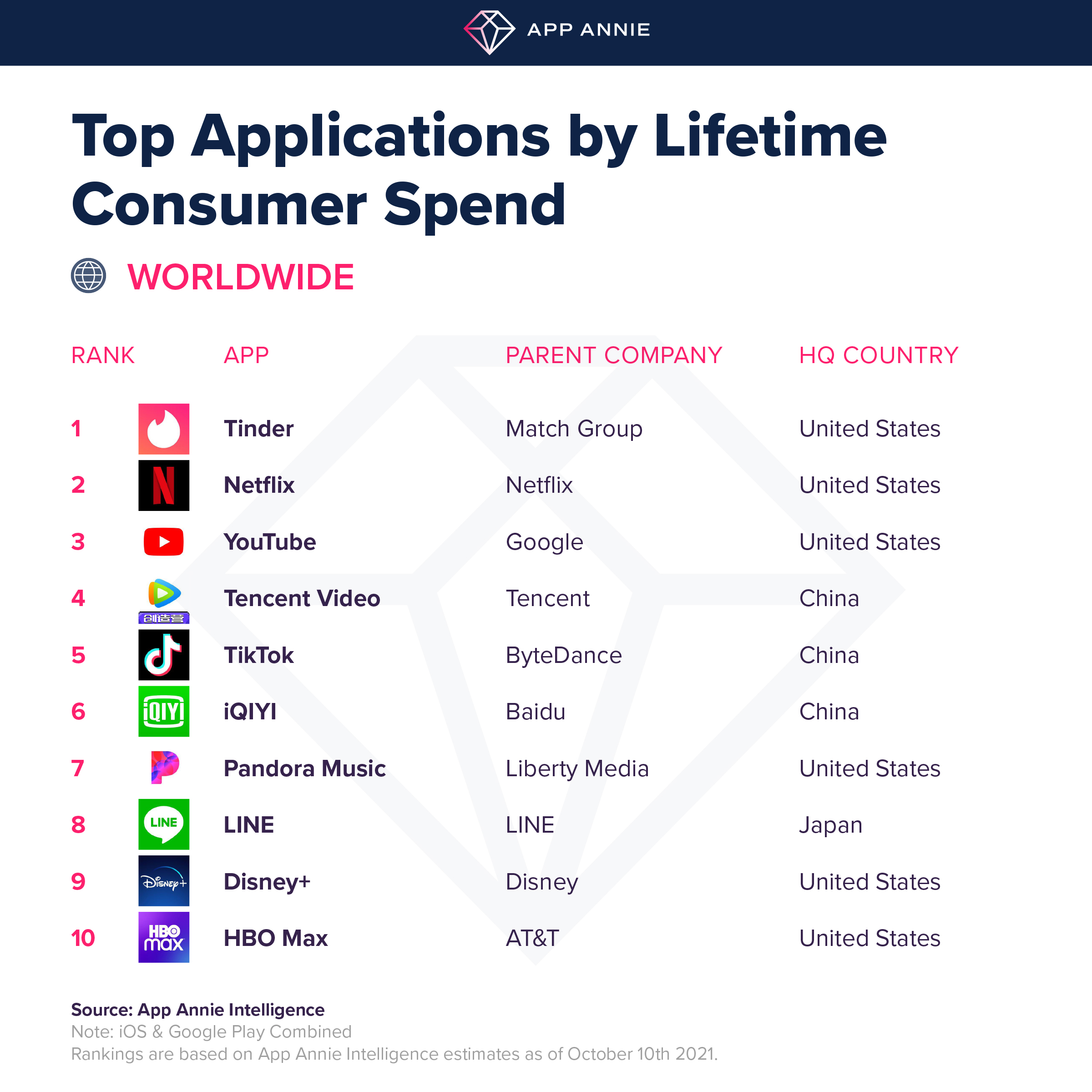 Note: Lifetime spend is from July 1, 2010 on iOS and January 1, 2012 on Google Play up through October 10, 2021.
The app first launched in 2012, and the top markets by spend include the US, Japan, UK, Australia and Canada.
YouTube platform allows users to explore content across different topics, creators, artists, and channels and uses personal recommendations to bring new videos to their users. YouTube's platform leverages some of the pandemic's most rapidly growing themes: streaming, content creation and sharing, cross-topic exploration, and community engagement.
The app also allows for users to create and upload videos directly in the app and engage with an audience in real time with live streaming directly from the app — it's no wonder it became even more popular among influencers and content creators. In addition to its top rank by revenue, YouTube also ranks #7 among all non-gaming applications by lifetime downloads worldwide (on iOS and Google Play combined, as of October 10, 2021).
YouTube drove in-app revenue through a variety of offerings that let users choose their experience. From various paid membership channels and premium subscriptions that allow for uninterrupted viewing (and the bonus of YouTube Music Premium as part of premium), YouTube's consumer spend hit a milestone $3 billion this past weekend as users around the world connect through content.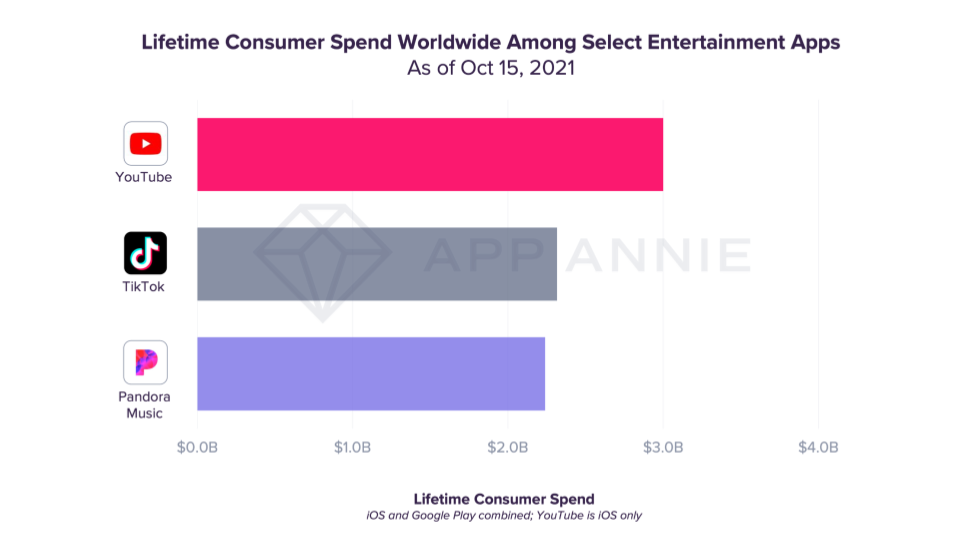 Youtube democratized content consumption in many ways, and cultivates some of the most time spent per user globally. As the streaming wars continue to heat up in the US and worldwide, YouTube is a formidable platform in the space. Reaching the $3 billion milestone indicates that consumers value the content and experience YouTube provides, and are willing to pay for a more premium version of that mobile-friendly content. And they are choosing to subscribe to the service from their mobile devices.
Looking for more mobile insights? Download App Annie's industry-leading State of Mobile report, covering everything you need to know about how to win on mobile in 2021.
Looking to make more of the mobile opportunity? Talk to an expert today.
DISCLAIMER: 
App Annie is a mobile market estimate service provider. App Annie is not registered in any investment advisory capacity in any jurisdiction globally, and does not offer any legal, financial, investment or business advice. Nothing contained in this communication, or in any App Annie products, services, communications, or other offerings, should be construed as an offer, recommendation, or solicitation to buy or sell any security or investment, or to make any investment decisions. Any reference to past or potential performance is not, and should not, be construed as a recommendation or as a guarantee of any specific outcome. You should always consult your own professional legal, financial, investment and business advisors. Additionally, by providing the information herein, App Annie does not make any representations or warranties and does not undertake any legal or contractual obligations whatsoever. No liability may accrue to App Annie as a result of providing this information to you.