Worldwide App Annie Index for Games September 2015

Each month, the App Annie Index highlights the top-performing games and apps for the iOS App Store and Google Play. Our analysis covers trends among the leading apps across countries and categories, and is the industry standard for professionals looking to compare leading apps and publishers.

You might also be interested in:
This Month's Top Games
We MOBA Breaks New Ground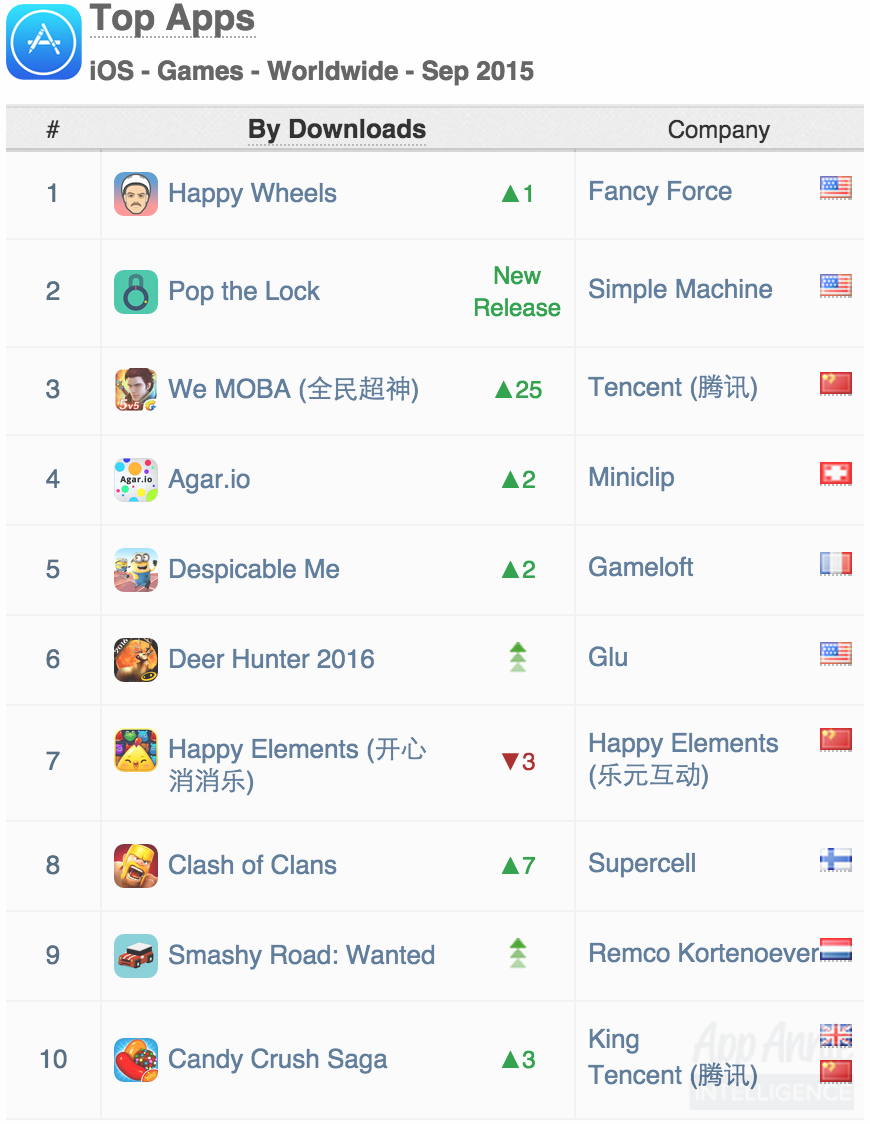 While the multiplayer online battle arena (MOBA) genre has proven to be an enduring and lucrative success in the PC gaming world with hit games like League of Legends and Dota 2, that success has yet to be truly replicated on the mobile stage. There are signs however that things have begun to change.
Perhaps unsurprisingly it is Chinese publishing giant Tencent, the company behind Riot Games (League of Legends), that is driving it with its latest sensation We MOBA. Launched in August 2015, We MOBA wasted little time in ascending to the upper echelons of the worldwide iOS download chart.
This was not the first time that a company has attempted to craft a MOBA experience for mobile. In fact, many innovative publishers and studios have tried to conquer the genre, including Gameloft with Heroes of Order & Chaos, Hammer & Chisel with Fates Forever and most recently Super Evil Megacorp with the much-hyped Vainglory. But it was We MOBA that really raised the bar for success of MOBAs on mobile.
While the insatiable appetite for MOBA games in China has clearly been a boon for Tencent, We MOBA's success also stems from tried and tested game mechanics. Players who have played League of Legends and Dota 2 can quickly familiarize themselves with We MOBA and enjoy its cutting edge graphics and diverse gameplay, even on the smaller screen of mobile devices.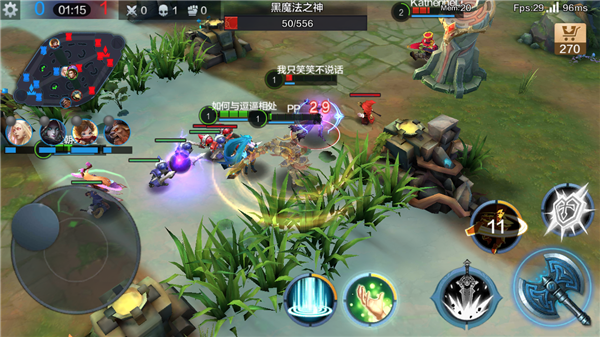 We MOBA successfully translates a familiar MOBA experience to players' mobile devices
Tencent has a strong legacy among the MOBA genre and have been clear about their intentions to invest in its continued development across multiple gaming platforms. With We MOBA, Tencent may have finally found a MOBA winner on the mobile stage.
Monster Strike Hits the Jackpot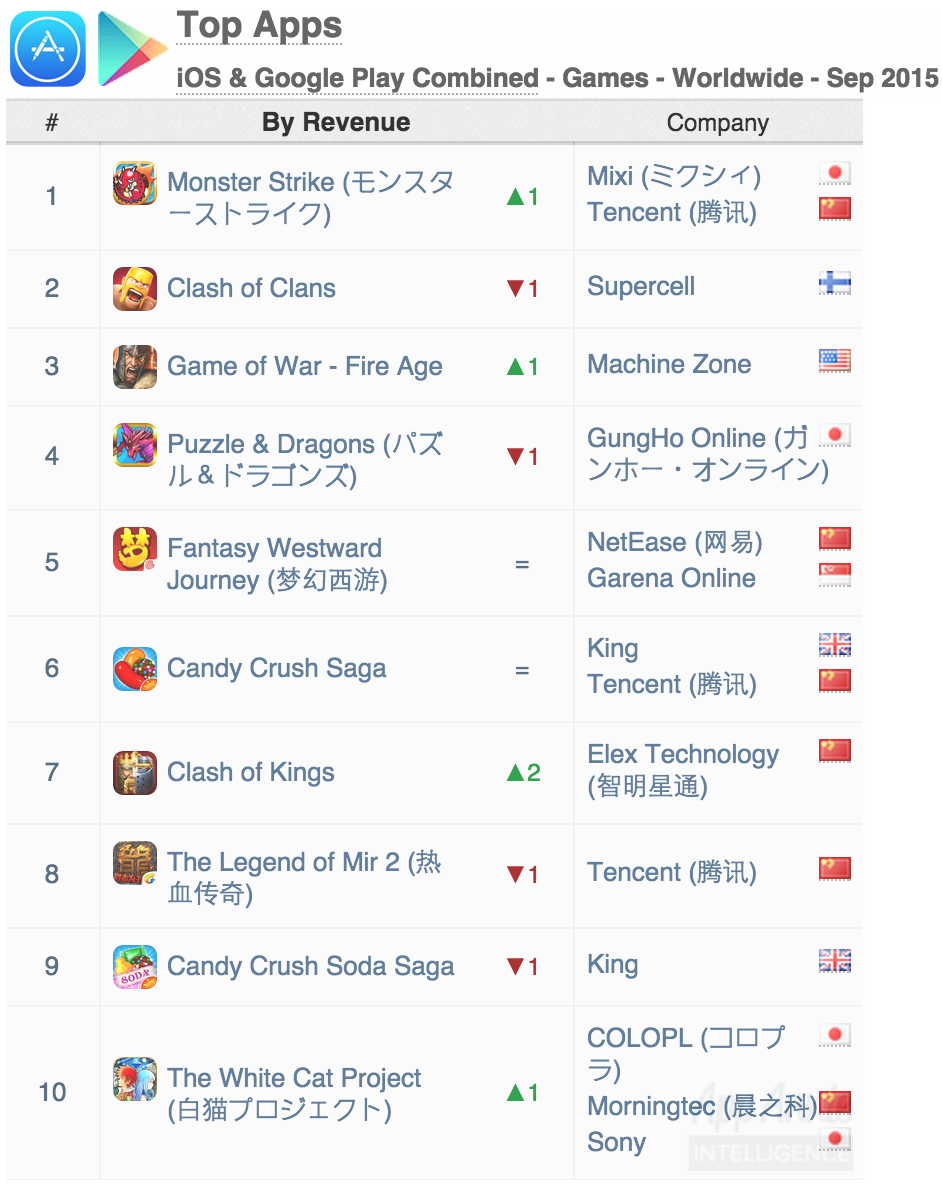 For over a year, Clash of Clans and Puzzle & Dragons have monopolized the top 2 spots on the worldwide combined iOS & Google Play revenue chart, with Monster Strike increasingly snapping at their heels as it grew in popularity. When we wrote about Monster Strike back in April 2014, it had just entered the top 10 by combined iOS & Google Play monthly revenue. It wasn't until May 2015 that Monster Strike displaced Puzzle & Dragons to take the #2 spot, and now the popular Action Role-Playing game has gone on to conquer the market.
While publishers like Supercell grew on the back of their global success with Clash of Clans, the popularity of Mixi's Monster Strike remains almost exclusively contained within Japan. Yet, the game continues to record strong growth in both downloads and revenue that are fueled by the runaway growth of mobile gamers in Japan, many of whom have moved away from console gaming.
While Monster Strike holds the #1 spot for now, Clash of Clans remains an immensely popular game and its download rank continued to trend upwards in September 2015. With a number of exciting upgrades in store for fans next month, Clash of Clans remains well-positioned to fight for the #1 spot in the future.
Piano Tiles 2 Finds Its Groove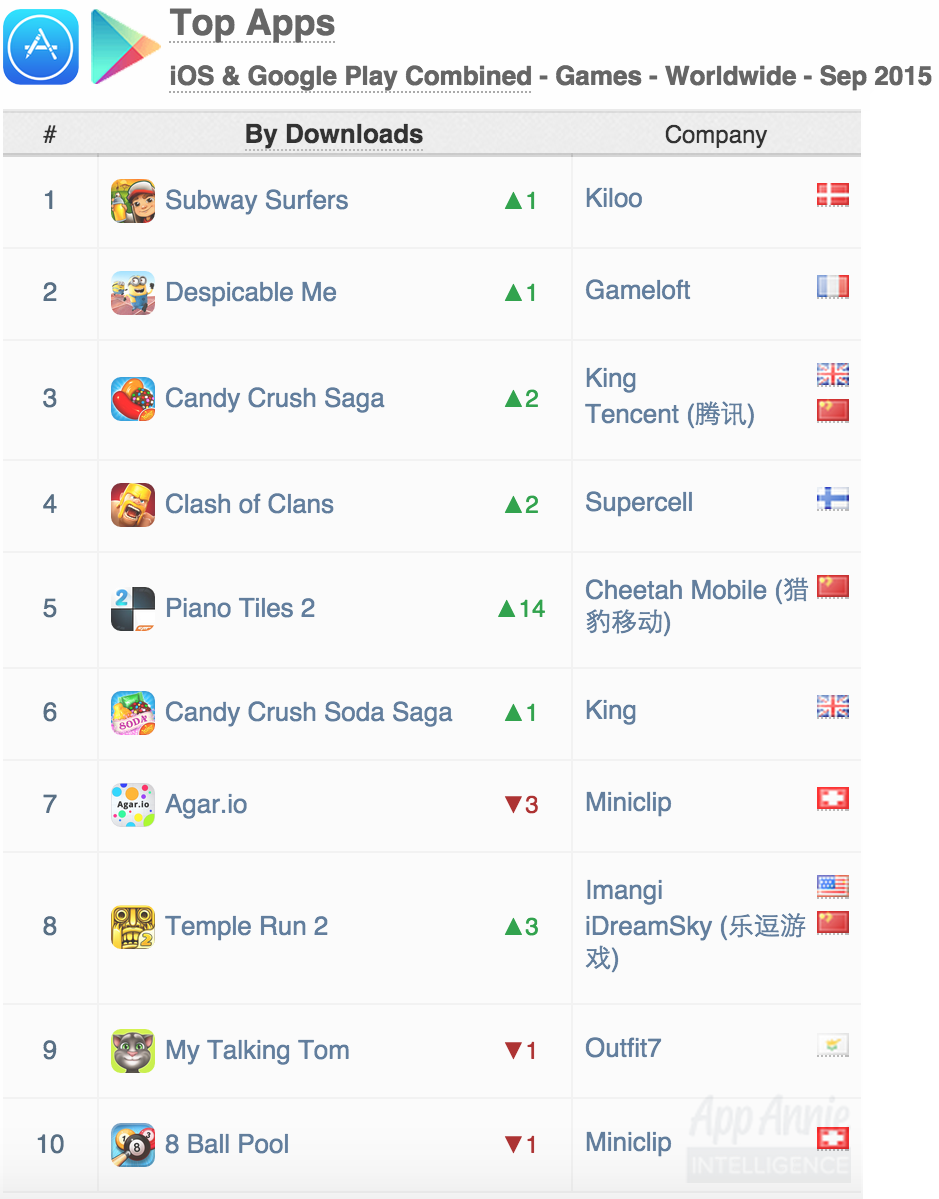 Cheetah Mobile is a company on the rise. We observed in September's Worldwide Index for Apps that it's mobile utility apps have continued to see significant uptake. Now it is also strengthening its presence in the gaming market. In July 2015, it launched Piano Tiles 2, the sequel to the hugely popular Piano Tiles, which took a while to gather steam but in September climbed to #5 of the worldwide iOS & Google Play by combined downloads.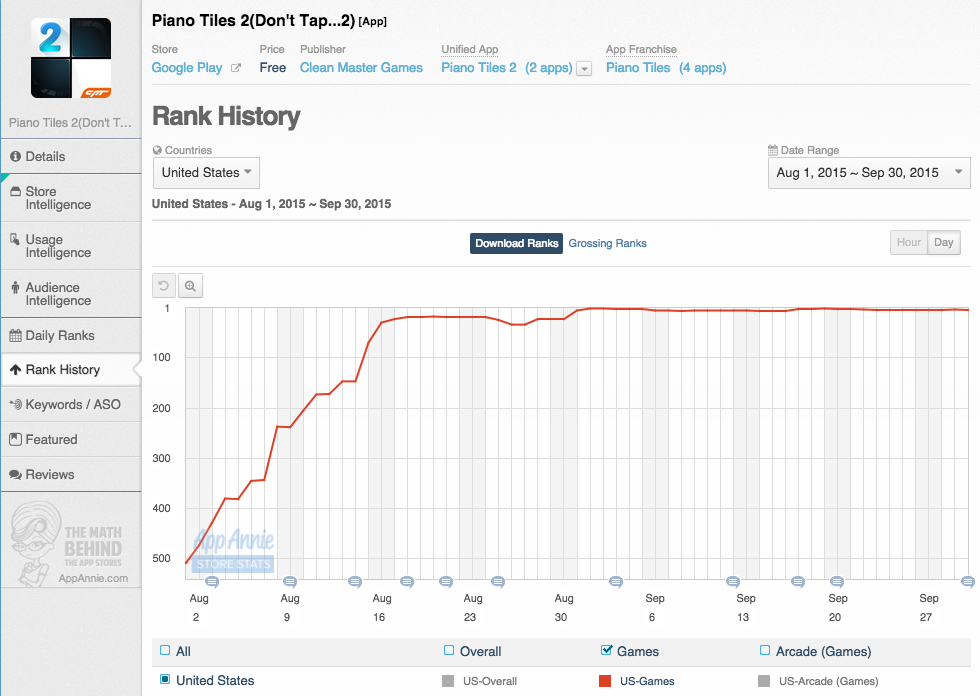 Piano Tiles 2 takes a different approach to monetization than its predecessor by allowing players to purchase additional songs. New social features were added as well – players can now compete against each other on a global scale, providing them extra incentive to remain engaged with the game. We reached out to Xinhua Liu, CMO at Cheetah Mobile, who spoke about Piano Tiles 2:
"With Piano Tiles 2, Cheetah Mobile applied everything we had learned from our utility apps, especially how to strike a balance between user experience and monetization. We wanted to ensure that players enjoyed the game while we also made it financially sustainable. Based on the early success we're seeing, it's clear users appreciate how we handled that delicate balance." –Xinhua Liu, CMO at Cheetah Mobile
The continued success of Cheetah Mobile's venture into the casual gaming market proves that boldness can lead to unexpected rewards. We hope this will inspire other app publishers to consider diversifying their own portfolios and potentially create new revenue streams for growth.
The Technology Behind the Index
The information contained in this report is compiled from App Annie Intelligence, the leading market data solution for the app store economy. To see how our app store download, revenue, demographic and usage estimates can help guide your critical business decisions, request a demo today.
---

---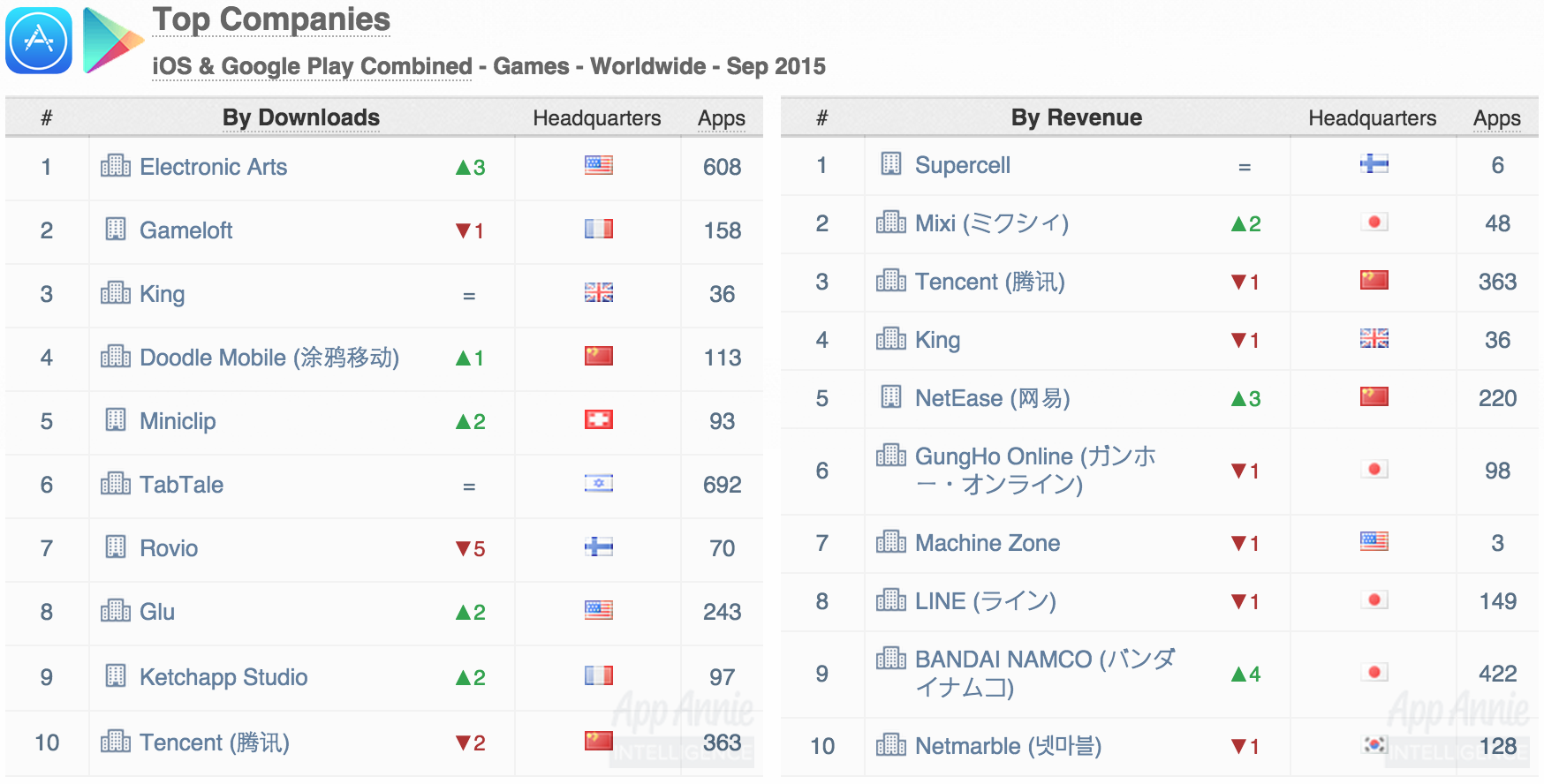 For the complete list of September's top games and game publishers around the world, click the chart above.
Notes:
The publisher and app rankings reported in the App Annie Index are based on the download and revenue estimates available through App Annie Intelligence. The daily rank history charts and the homepage feature app data are available to all users through App Annie's app tracker solution, Store Stats.
App Annie Intelligence is currently available for the iOS App Store and Google Play. It does not currently provide estimates for other app stores, such as the Amazon Appstore. While iOS and Google Play represent a significant portion of the app market in many countries, that is not the case for some countries. For example, China has a number of sizable third-party Android app stores.

While the Index for Games covers games, the Index for Apps provides app tracking on everything but games. Note that the Top Company rankings in the Index for Games are based solely on the publishers' games downloads and revenue, while the Top Company rankings in the Index for Apps are based on the company's downloads and revenue from apps excluding games.

Company and unified app rankings in the App Annie Index for Games and Index for Apps are based on individual apps that ranked in the Top 1,000.

Download rankings are based on individually downloaded apps and exclude downloads of app bundles. Revenue rankings are based on download revenue from individually downloaded paid apps as well as in-app purchase revenue from both individually downloaded apps and app bundles.

In the first month in which an app becomes unified, its rank change in the Index will compare the unified app that month vs. its highest-ranking individual app in the month prior. As a result, rank changes for newly unified apps may overstate ranking increases from June 2015 to July 2015.

In the iOS App Store, an app can be categorized under a Primary Category as well as an optional Secondary Category. If an app has a Primary Category of Games and a Secondary Category of Entertainment, it is a candidate to be included in this Index for Games. If the app's Primary Category is Entertainment and its Secondary Category is Games, then it will not be included in this Index for Games; it is a candidate for the Index for Apps.

Note that the ranking approach used in the App Annie Index differs from that used in the iOS App Store. In the latter, app rankings for a given category will include all apps whose Primary Category or Secondary Category matches that given category. So an app can appear in the rankings for more than one category within the iOS App Store or in App Annie Store Stats rankings.

In Google Play, an app can be categorized under only one category, so there is no double-categorization.

Occasionally, a publisher may decide to shift an existing app from one category to another category. In these cases, the App Annie Index will rank that app based on its categorization in the subsequent month. Given that the App Annie Index has a Games report and an Apps report, the only scenario where an app's recategorization could shift it from one Index to another is if its category changes from Games to a category other than Games or vice versa.
In the App Annie Index, all apps and publishers are reported under their parent companies, where available; for example, the Plants vs. Zombies™ 2 app is reported under its parent company Electronic Arts, rather than its direct publisher PopCap. Note that if you view the Electronic Arts parent company page on Store Stats, you will see the publishers that roll under the parent company Electronic Arts, including PopCap. The Plants vs. Zombies™ 2 app will be listed under the PopCap publisher page.
Company and app rankings are based on the App Annie DNA relationships at the time of publications. App Annie DNA relationships are subject to change over time.

App Annie Usage Intelligence data for smartphones and tablets were derived from mobile usage data collected from a large sample of real-world users, combined with additional proprietary data sets.

App Annie tracks usage at the device level using a privacy-protective hashed device ID. Data is only reported to third parties in aggregated format.

App Annie Index revenue rankings are based on revenue that the iOS App Store and Google Play earned from paid downloads and in-app purchases. They do not include revenue earned from in-app advertising.

Certain trademarks and/or images used in this report may belong to third parties and are the property of their respective owners. App Annie claims no rights to such trademarks or images.