Each month, the App Annie Index highlights the top-performing games and apps for the iOS App Store and Google Play. Our analysis covers trends among the leading apps across countries and categories, and is the industry standard for professionals looking to compare leading apps and publishers. To find out about current trends in other markets and app categories, please check out the App Annie Q3 2014 Market Index, September 2014 Apps Index and Spotlight on Connected Devices.
TABLE OF CONTENTS
1. The Technology Behind the Index
The information contained in this report is compiled from App Annie Intelligence, the leading market data solution for the app store economy. To see how our app store download and revenue estimates can help guide your critical business decisions, take a tour or request a demo today.
---

---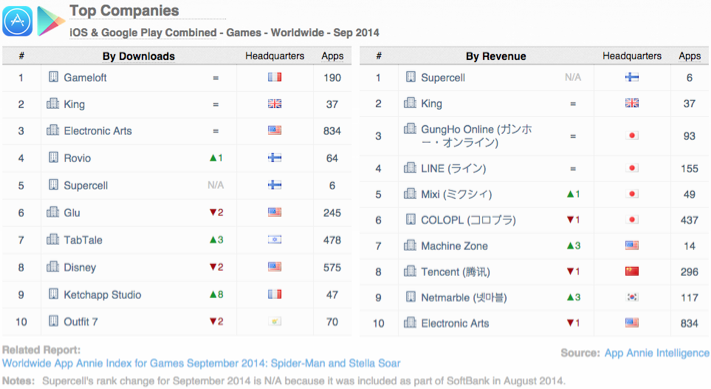 For the complete list of September's top apps and publishers around the world, click the chart above.
2. This Month's Top Performers
Spider-Man Casts a Wide Web Over Mobile Gaming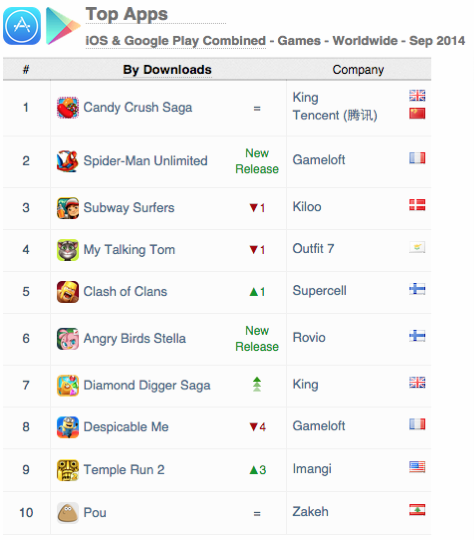 Gameloft once again found success developing mobile games based on popular intellectual properties. Spider-Man Unlimited, released in September, debuted at the top of the iOS App Store's worldwide download charts. It also joined Gameloft's Despicable Me, which was first released more than a year ago, in Google Play's top 10 rankings.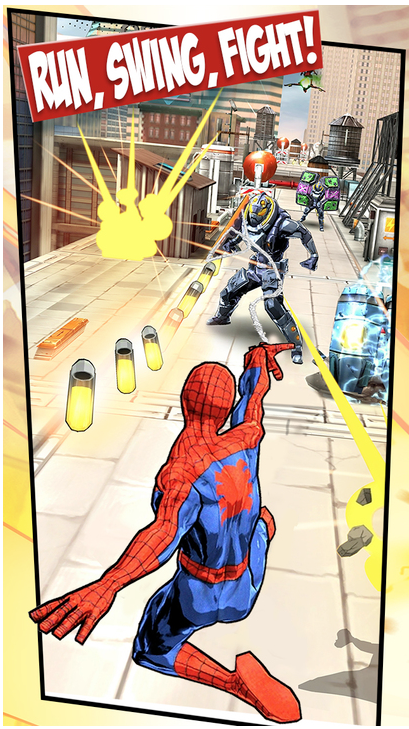 Spider-Man Unlimited adds web-slinging, wall-climbing, and fighting to the endless runner gameplay.
Spider-Man Unlimited leverages Spider-Man's unique superpowers to enhance endless runner gameplay with web-slinging, wall-climbing and skydiving. The game features comic book aesthetics and plot arcs, incorporating over 50 years of characters and villains from the Marvel Universe. Players can choose between three modes of play, including a full narrative story with multiple versions of Spider-Man. The title was a hit in the United States on both the iOS App Store and Google Play and also performed extremely well in China and Brazil.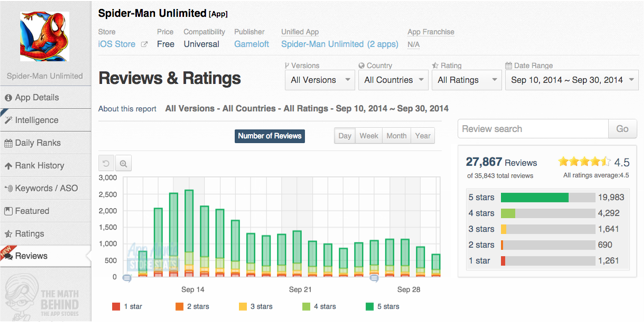 Spider-Man Unlimited received strong reviews, many praising its fun twist on the endless runner genre.
Angry Birds Has a 'Stella' Month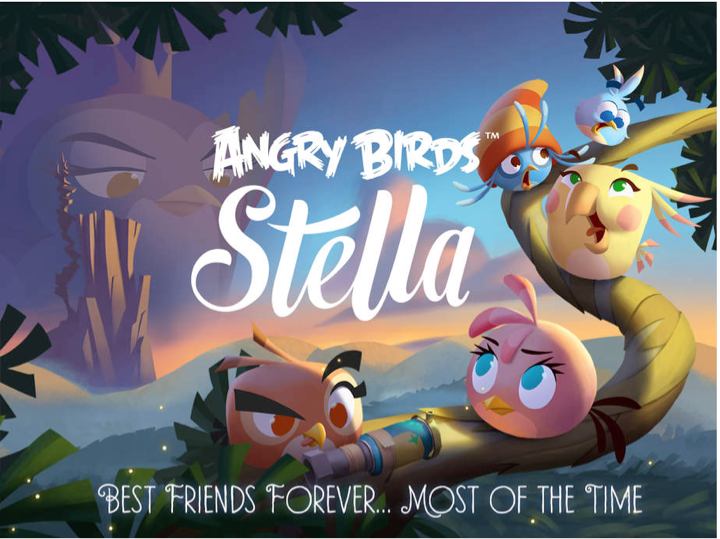 Angry Birds Stella introduced a new set of characters to appeal to a broad audience.
In early September, Rovio introduced Angry Birds Stella, the latest addition to the popular franchise, including an iOS version specifically localized for China. The title distinguishes itself from previous entries in the series by featuring a female lead character (Stella). There has been a lot of buzz regarding the game targeting female players, which comprise almost half of the game-playing population in the United States according to recent studies. However, as Rovio has rightly noted, games with female lead characters are not only for female players, and the game seeks to appeal to a wide spectrum of gamers. It seems to have achieved that, entering the top 5 in over 65 countries on iOS in September, including growth markets like Brazil and Mexico and established markets like the United States and Germany.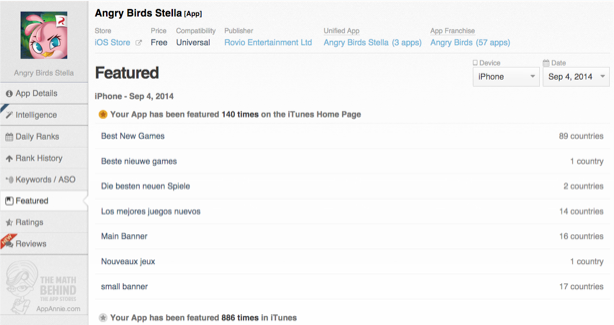 Prominent placement on the iTunes Home Page helped Angry Birds Stella fly up the download charts.
Racing Games Zoom Up the iOS Charts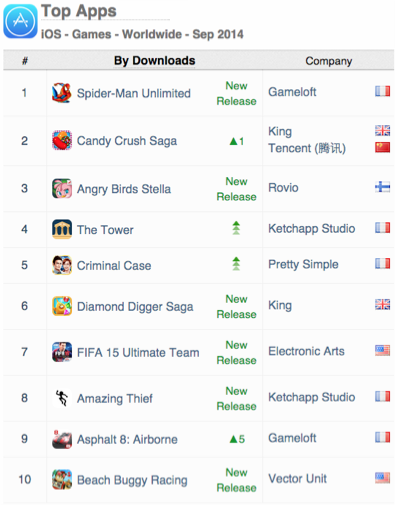 For much of the year, the top games charts have been dominated by casual and strategy games. In recent months, racing games have established a stronger presence, led by the iOS download chart-topping Crazy Taxi: City Rush in August. September saw other racing games fly up the iOS download charts, including newly released kart racing title Beach Buggy Racing, the sequel to Beach Buggy Blitz. In addition, Gameloft's Asphalt 8: Airborne returned to the top iOS game charts with solid gains following updates in late August and mid-September.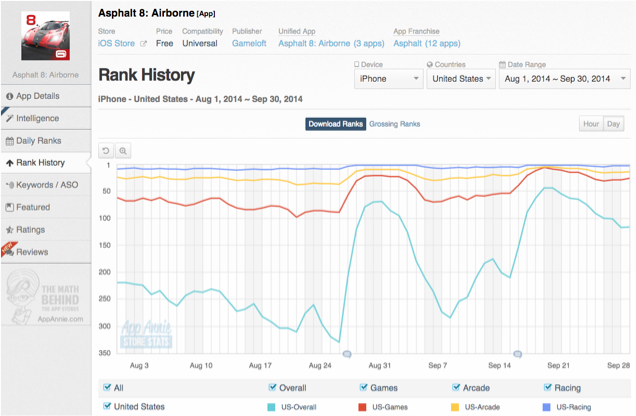 Asphalt 8: Airborne vaulted up the store rankings in late August and mid-September, coinciding with two substantial updates.
These updates improved performance for iOS 8 and iPhone 6, introduced multiplayer events and expanded the game's pioneering Twitch livestream broadcasting functionality to additional iOS devices. On a similar note, at the end of August, Heroes of Order & Chaos, a Multiplayer Online Battle Arena (MOBA), became Gameloft's second game to integrate the Twitch SDK and we are interested to see how livestreaming impacts the mobile gaming landscape.
Ketchapp's Endless Run of Hits Continues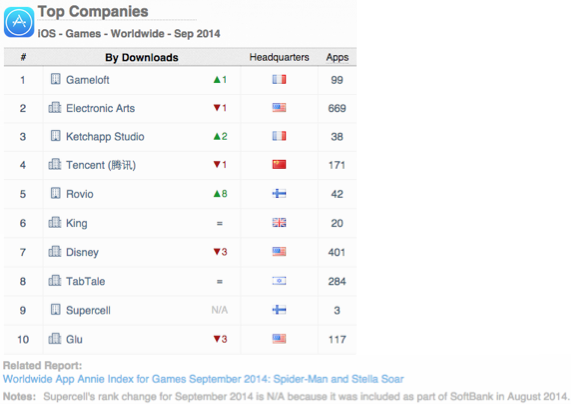 Since releasing its first iOS worldwide hit 2048 in March 2014 as a relative unknown, Ketchapp Studio has produced an incredible run of chart-topping mobile games. Titles to reach the top 10 by downloads include Amazing Brick, Circle the Dot, Don't Step on the White Tile, Make Them Fall, Make Them Jump and The Line. In September, two more games were propelled into the worldwide top 10 by iOS game downloads -- endless runner Amazing Thief and tower-builder game The Tower.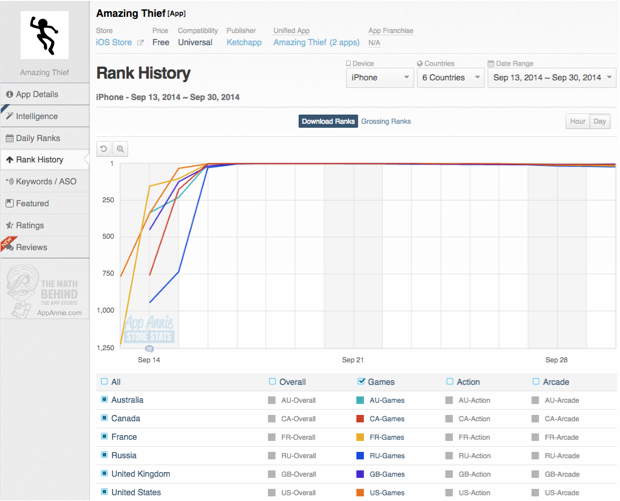 Amazing Thief snatched the top download spot in multiple countries less than a week after its launch.
Like all of Ketchapp's hits, these two titles feature one-tap control, simple gameplay and short-play duration -- a formula that clearly works. In September, Ketchapp Studio entered the top 3 iOS game publishers by downloads alongside industry giants Gameloft, Electronic Arts, Tencent and Rovio. Its success demonstrates that there are still considerable opportunities for game publishers who understand the dynamics of app discoverability in the stores.
---
| | |
| --- | --- |
| | Want to get even more advanced with your app store market analysis? Check out our enterprise product App Annie Intelligence. |
---
If you are interested in finding out more about top apps outside of games, please check out the September 2014 Worldwide Index for Apps. To keep up-to-date with all the changes at the top of the app and publisher charts, check out the complete set of App Annie Index tables.
Notes:
The publisher and app rankings reported in the App Annie Index are based on the download and revenue estimates available through App Annie

Intelligence

. The daily rank history charts and the homepage feature app data are available to all users through App Annie's app tracker solution,

Store Stats

.

While the Index for Games covers games, the Index for Apps provides app tracking on everything but games. Note that the Top Company rankings in the Index for Games are based solely on the publishers' games downloads and revenue, while the Top Company rankings in the Index for Apps are based on the company's downloads and revenue from apps excluding games.

Through September 2013, similar versions of the same app with different names (e.g., NYTimes and NYTimes for iPad) were ranked separately. Effective with October data, similar versions of the same app with different names are unified (e.g., NYTimes and NYTimes for iPad are now aggregated and ranked as a single NYTimes unified app).

Company and unified app rankings in the App Annie Index for Games and Index for Apps are based on individual apps that ranked in the Top 1,000.

In the first month in which an app becomes unified, its rank change in the Index will compare the unified app that month vs. its highest-ranking individual app in the month prior. As a result, rank changes for newly unified apps may overstate ranking increases from August 2014 to September 2014.

In the iOS App Store, an app can be categorized under a Primary Category as well as an optional Secondary Category. If an app has a Primary Category of Games and a Secondary Category of Entertainment, it is a candidate to be included in this Index for Games. If the app's Primary Category is Entertainment and its Secondary Category is Games, then it will not be included in this Index for Games; it is a candidate for the Index for Apps.

Note that the ranking approach used in the App Annie Index differs from that used in the iOS App Store. In the latter, app rankings for a given category will include all apps whose Primary Category or Secondary Category matches that given category. So an app can appear in the rankings for more than one category within the iOS App Store or in App Annie Store Stats rankings.

In Google Play, an app can be categorized under only one category, so there is no double-categorization.

Occasionally, a publisher may decide to shift an existing app from one category to another category. In these cases, the App Annie Index will rank that app based on its categorization in the subsequent month. Given that the App Annie Index has a Games report and an Apps report, the only scenario where an app's recategorization could shift it from one Index to another is if its category changes from Games to a category other than Games or vice versa.
In the App Annie Index, all apps and publishers are reported under their parent companies, where available; for example, the Plants vs. Zombies™ 2 app is reported under its parent company Electronic Arts, rather than its direct publisher PopCap. Note that if you view the Electronic Arts parent company page on Store Stats, you will see the publishers that roll under the parent company Electronic Arts, including PopCap. The Plants vs. Zombies™ 2 app will be listed under the PopCap

publisher page.

Company and app rankings are based on the

App Annie DNA

relationships at the time of publications. App Annie DNA relationships are subject to change over time.

App Annie Index revenue rankings are based on revenue that the iOS App Store and Google Play earned from paid downloads and in-app purchases. They do not include revenue earned from in-app advertising.

Certain trademarks and/or images used in this report may belong to third parties and are the property of their respective owners. App Annie claims no rights in such trademarks or images.