Worldwide App Annie Index for Games October 2015

Each month, the App Annie Index highlights the top-performing games and apps for the iOS App Store and Google Play. Our analysis covers trends among the leading apps across countries and categories, and is the industry standard for professionals looking to compare leading apps and publishers.

You might also be interested in:
This Month's Top Games
It's a New Age for Game of War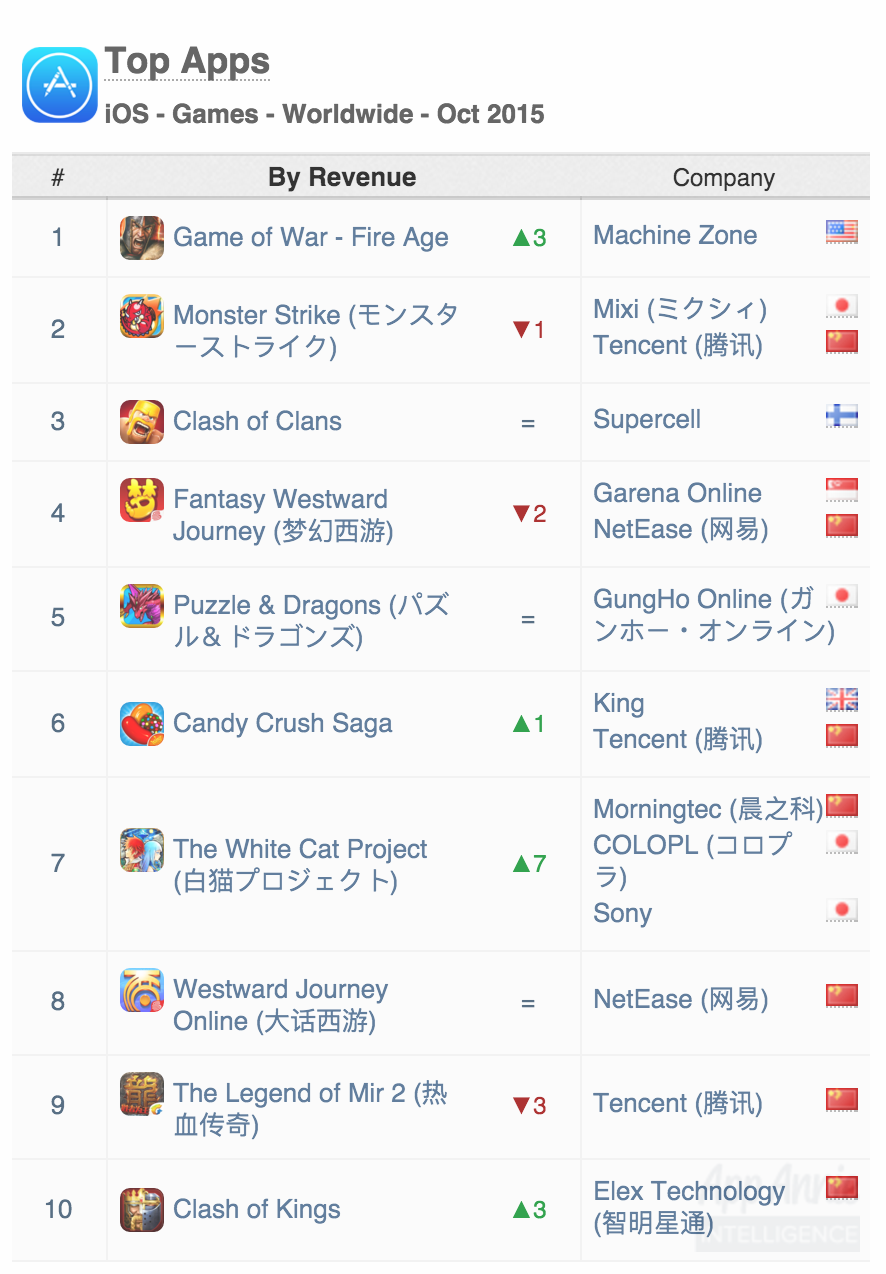 The consistently high-performing Game of War – Fire Age reached #1 for the first time in worldwide iOS revenue in October. The game has seen success in multiple markets, including the United States, United Kingdom and Japan. Its performance in Japan is particularly worth noting, as it is rare to see non-Japanese game publishers rank so highly. Game of War's recent global-level rise was driven by strong performance in the United States in October.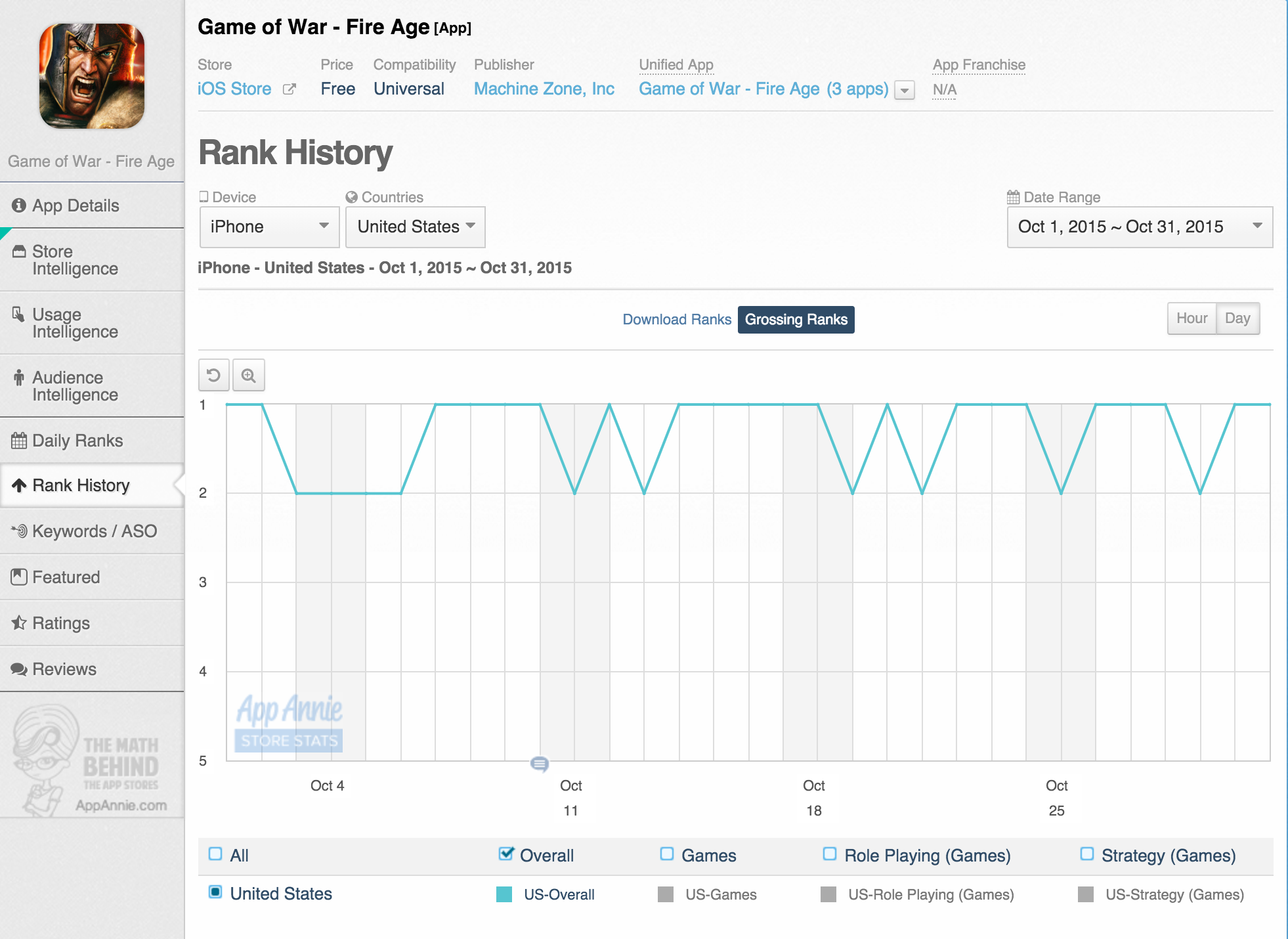 In daily iOS revenue, Game of War - Fire Age ranked #1 or #2 in the United States for the entire month of October.
Publisher Machine Zone designed its game to create an addictive multiplayer  experience, as described in our E3 Gaming Report, complete with messaging and language translation features. Celebrity endorsements — including the recent spokeswoman switch from Kate Upton to Mariah Carey — and high-profile advertising campaigns bolstered awareness of the game. Game of War's heavy promotion supported its rise up the revenue rankings.
In July, Machine Zone subsidiary Epic War released Mobile Strike, a Game of War-style title featuring similar strategy-based gameplay. As with Game of War, Mobile Strike features a celebrity endorsement, this time swapping out the feminine Upton-Carey combo for a masculine Arnold Schwarzenegger. The game also differs from its Game of War counterpart with a modern military setting. As many of the top-grossing games take place in fantasy settings, we are eager to see how the Game of War monetization strategy translates to the non-fantasy military setting in the months to come.
Electronic Arts Taps Into Key IPs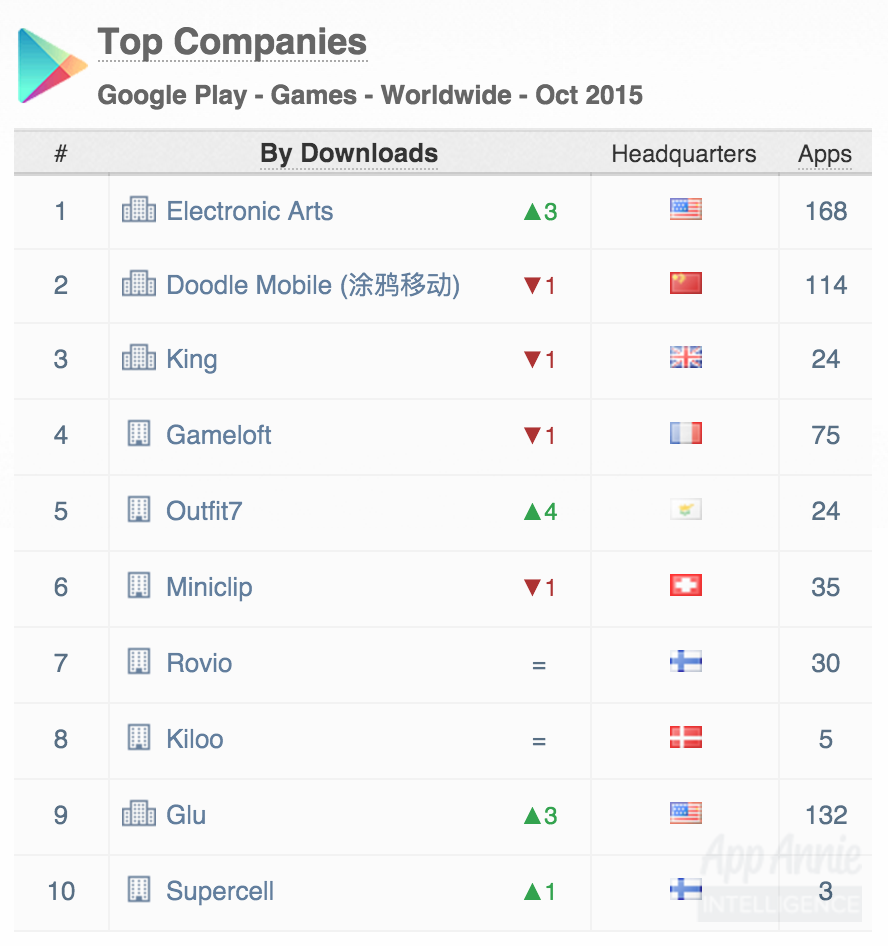 In October, gaming giant Electronic Arts (EA) rose 3 ranks to #1 by Google Play downloads and 1 rank to #1 by iOS downloads, extending its lead over the worldwide iOS and Google Play combined gaming market. This success can largely be attributed to the launch of two new games based on successful intellectual properties (IP): Minions Paradise and Need for Speed No Limits.
As discussed in our July 2015 Games Index, mobile game downloads have ridden the power of established IPs with top-ranking apps like Despicable Me and Angry Birds 2. This continued in October with the introduction of Minions Paradise by EA, which surged to #2 by global Google Play and iOS combined downloads.
Minions Paradise saw widespread appeal, already reaching the #1 daily download rank for games in over 100 countries on iOS and over 60 countries on Google Play. The game hit #1 by Google Play game downloads in the game's top 4 countries and remained there for almost a week.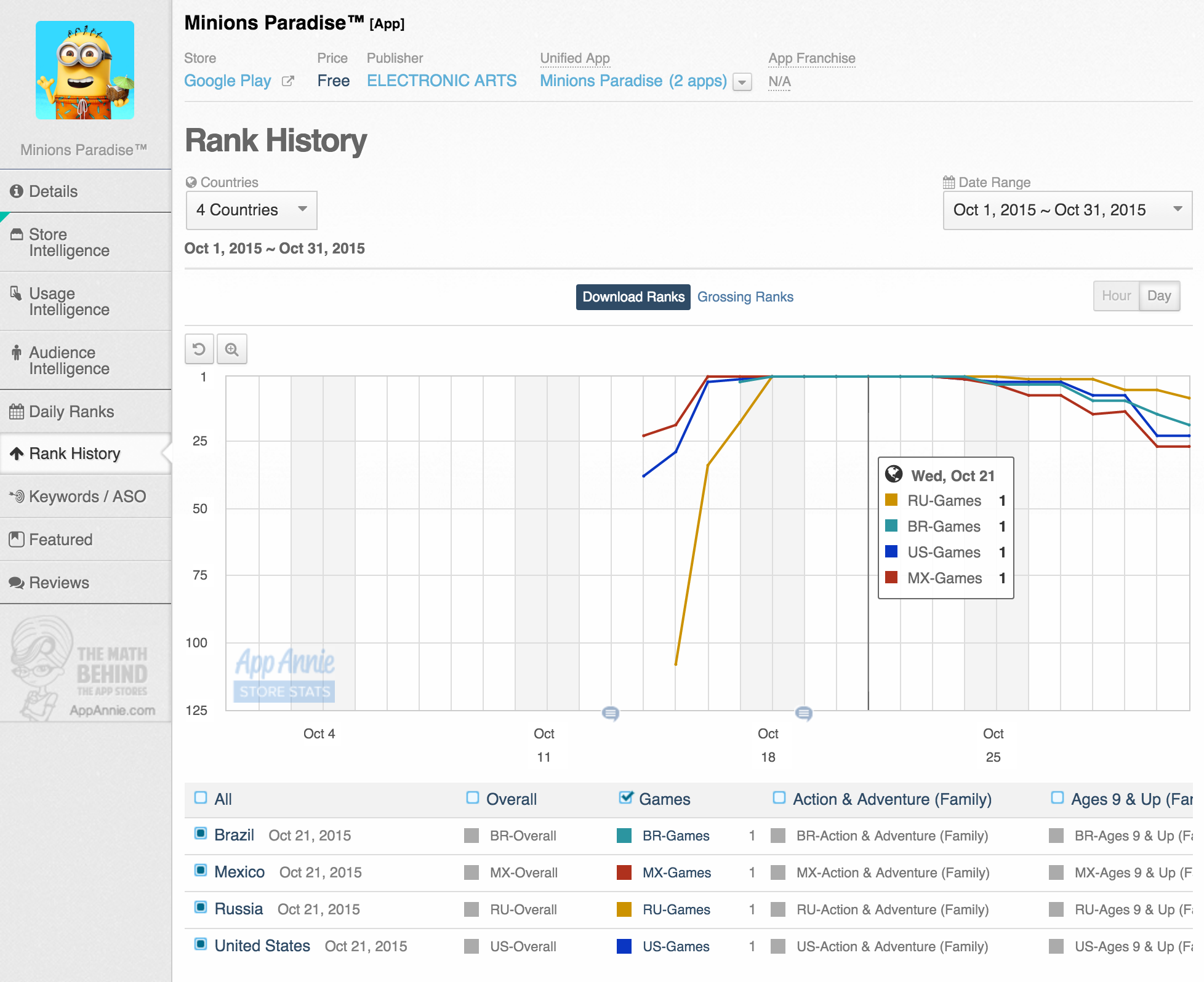 The week after its global launch, Minions Paradise topped the daily download rankings for games in its top four countries on Google Play.
The popularity of Minions Paradise's YouTube trailer, Facebook page, and Twitter profile published in April and June announcing the game's launch illustrates the power of franchises to build demand and awareness for a mobile game while creating an omni-channel platform user experience.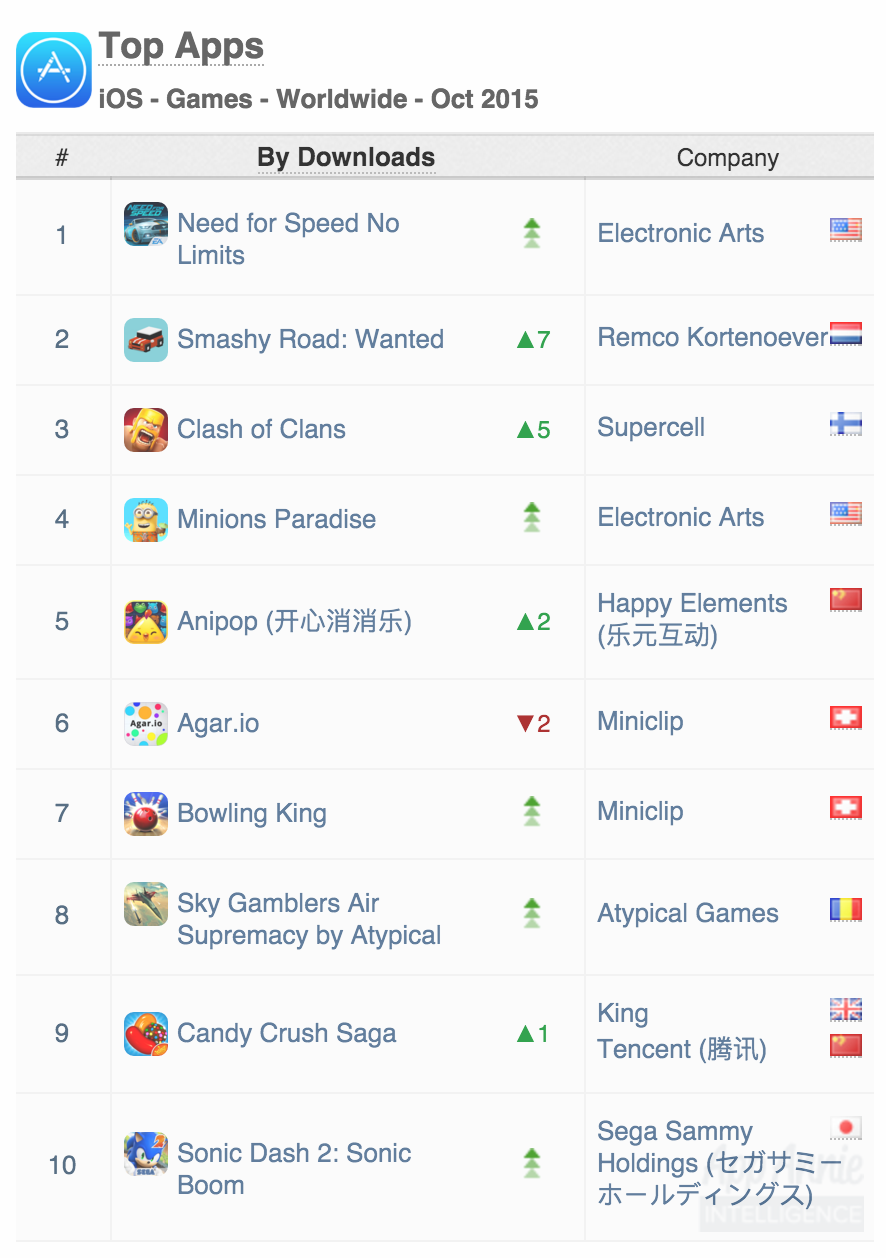 Need for Speed No Limits, another EA title, launched at the end of September and surged to #4 on October's rankings by worldwide Google Play and iOS combined downloads. The app did particularly well on iOS, taking the #1 rank by downloads in October.
Like Minions Paradise, Need for Speed is a well-supported franchise with a large following; however, the latter's core audience has traditionally been on console devices. While EA has had success expanding from console to freemium mobile apps in the past, this is their first take at a freemium version of the Need for Speed franchise. Introducing a freemium mobile game and topping the iOS download rankings during the first month of its global launch could indicate a successful expansion from console to new mobile monetization strategies for EA's Need for Speed.
Smashy Road Breaks Away on Usage Rankings
Smashy Road: Wanted's popularity is steadily rising on both iOS and Google Play. Its user-centric ad monetization and high-speed action combined with its retro design boosted the game into the top 10 for active users of both iOS and Android.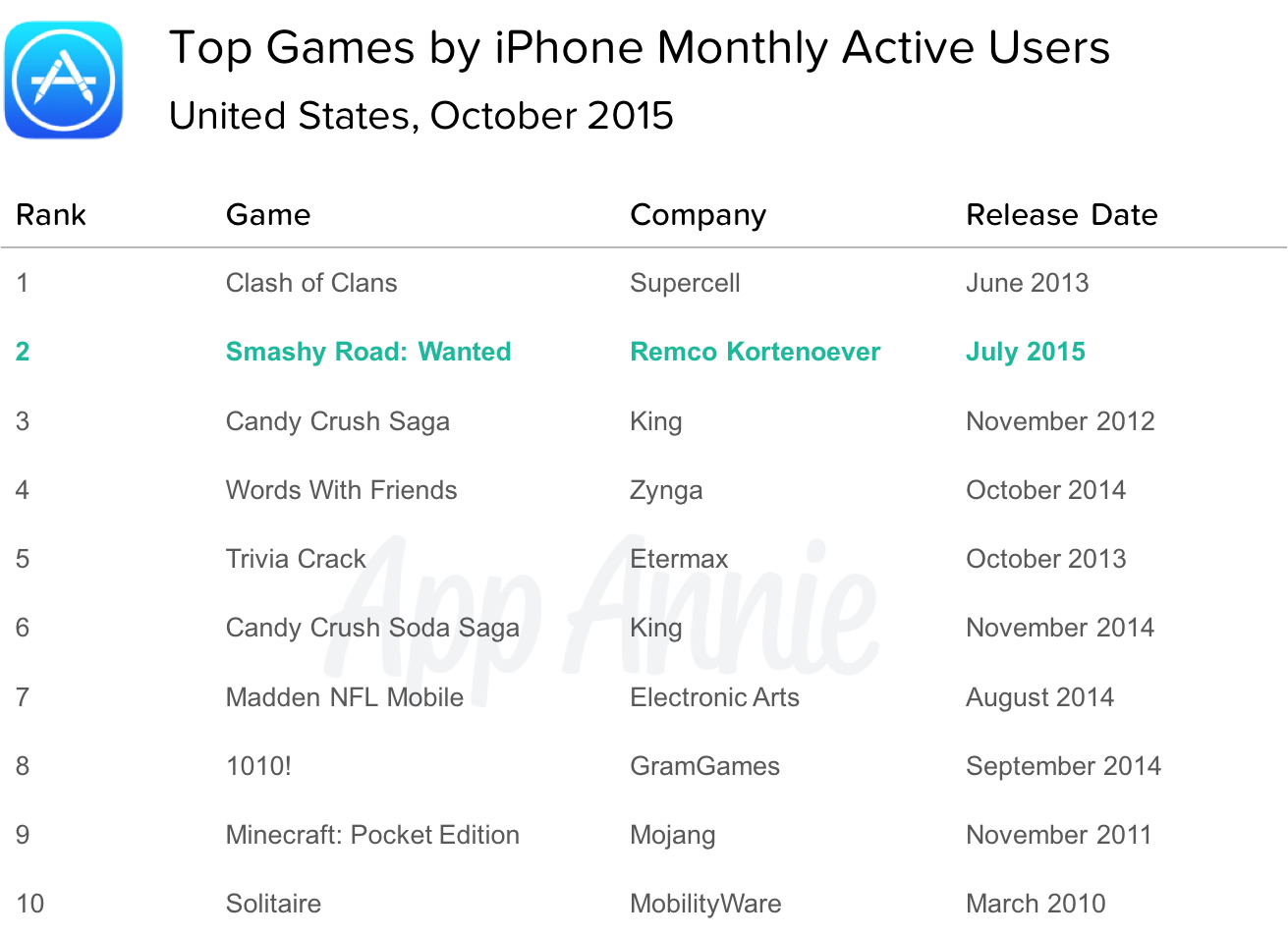 Smashy Road: Wanted maintained strong engagement 5 months after its initial release date, reaching #2 by US iPhone active users in October.
As seen in the table above, Smashy Road: Wanted knows how to engage its players — and is employing the tactics to great effect. It reached #2 by US iPhone usage penetration and #7 by US Android phone usage penetration in October.
The Technology Behind the Index
The information contained in this report is compiled from App Annie Intelligence, the leading market data solution for the app store economy. To see how our app store download, revenue, demographic and usage estimates can help guide your critical business decisions, request a demo today.
---

---
For the complete list of October's top games and game publishers around the world, click the chart above.
Notes:
The publisher and app rankings reported in the App Annie Index are based on the download and revenue estimates available through App Annie Intelligence. The daily rank history charts and the homepage feature app data are available to all users through App Annie's app tracker solution, Store Stats.
App Annie Intelligence is currently available for the iOS App Store and Google Play. It does not currently provide estimates for other app stores, such as the Amazon Appstore. While iOS and Google Play represent a significant portion of the app market in many countries, that is not the case for some countries. For example, China has a number of sizable third-party Android app stores.

While the Index for Games covers games, the Index for Apps provides app tracking on everything but games. Note that the Top Company rankings in the Index for Games are based solely on the publishers' games downloads and revenue, while the Top Company rankings in the Index for Apps are based on the company's downloads and revenue from apps excluding games.

Company and unified app rankings in the App Annie Index for Games and Index for Apps are based on individual apps that ranked in the Top 1,000.

Download rankings are based on individually downloaded apps and exclude downloads of app bundles. Revenue rankings are based on download revenue from individually downloaded paid apps as well as in-app purchase revenue from both individually downloaded apps and app bundles.

In the first month in which an app becomes unified, its rank change in the Index will compare the unified app that month vs. its highest-ranking individual app in the month prior. As a result, rank changes for newly unified apps may overstate ranking increases from September 2015 to October 2015.

In the iOS App Store, an app can be categorized under a Primary Category as well as an optional Secondary Category. If an app has a Primary Category of Games and a Secondary Category of Entertainment, it is a candidate to be included in this Index for Games. If the app's Primary Category is Entertainment and its Secondary Category is Games, then it will not be included in this Index for Games; it is a candidate for the Index for Apps.

Note that the ranking approach used in the App Annie Index differs from that used in the iOS App Store. In the latter, app rankings for a given category will include all apps whose Primary Category or Secondary Category matches that given category. So an app can appear in the rankings for more than one category within the iOS App Store or in App Annie Store Stats rankings.

In Google Play, an app can be categorized under only one category, so there is no double-categorization.

Occasionally, a publisher may decide to shift an existing app from one category to another category. In these cases, the App Annie Index will rank that app based on its categorization in the subsequent month. Given that the App Annie Index has a Games report and an Apps report, the only scenario where an app's recategorization could shift it from one Index to another is if its category changes from Games to a category other than Games or vice versa.
In the App Annie Index, all apps and publishers are reported under their parent companies, where available; for example, the Plants vs. Zombies™ 2 app is reported under its parent company Electronic Arts, rather than its direct publisher PopCap. Note that if you view the Electronic Arts parent company page on Store Stats, you will see the publishers that roll under the parent company Electronic Arts, including PopCap. The Plants vs. Zombies™ 2 app will be listed under the PopCap publisher page.
Company and app rankings are based on the App Annie DNA relationships at the time of publications. App Annie DNA relationships are subject to change over time.

App Annie Usage Intelligence data for smartphones and tablets were derived from mobile usage data collected from a large sample of real-world users, combined with additional proprietary data sets.

App Annie tracks usage at the device level using a privacy-protective hashed device ID. Data is only reported to third parties in aggregated format.

App Annie Index revenue rankings are based on revenue that the iOS App Store and Google Play earned from paid downloads and in-app purchases. They do not include revenue earned from in-app advertising.

Certain trademarks and/or images used in this report may belong to third parties and are the property of their respective owners. App Annie claims no rights to such trademarks or images.