Each month, the App Annie Index highlights the top-performing games and apps for the iOS App Store and Google Play. Our analysis covers trends among the leading apps across countries and categories, and is the industry standard for professionals looking to compare leading apps and publishers. To find out about current trends in other markets and app categories, please check out the App Annie October 2014 Apps Index, our report with Kantar Retail highlighting the top retailers in France and our special coverage of China's 11/11 m-commerce event.
TABLE OF CONTENTS
1. The Technology Behind the Index
The information contained in this report is compiled from App Annie Intelligence, the leading market data solution for the app store economy. To see how our app store download and revenue estimates can help guide your critical business decisions, take a tour or request a demo today.
---

---
For the complete list of October's top apps and publishers around the world, click the chart above.
2. This Month's Top Performers
Blockbuster Movies Invade the iOS Rankings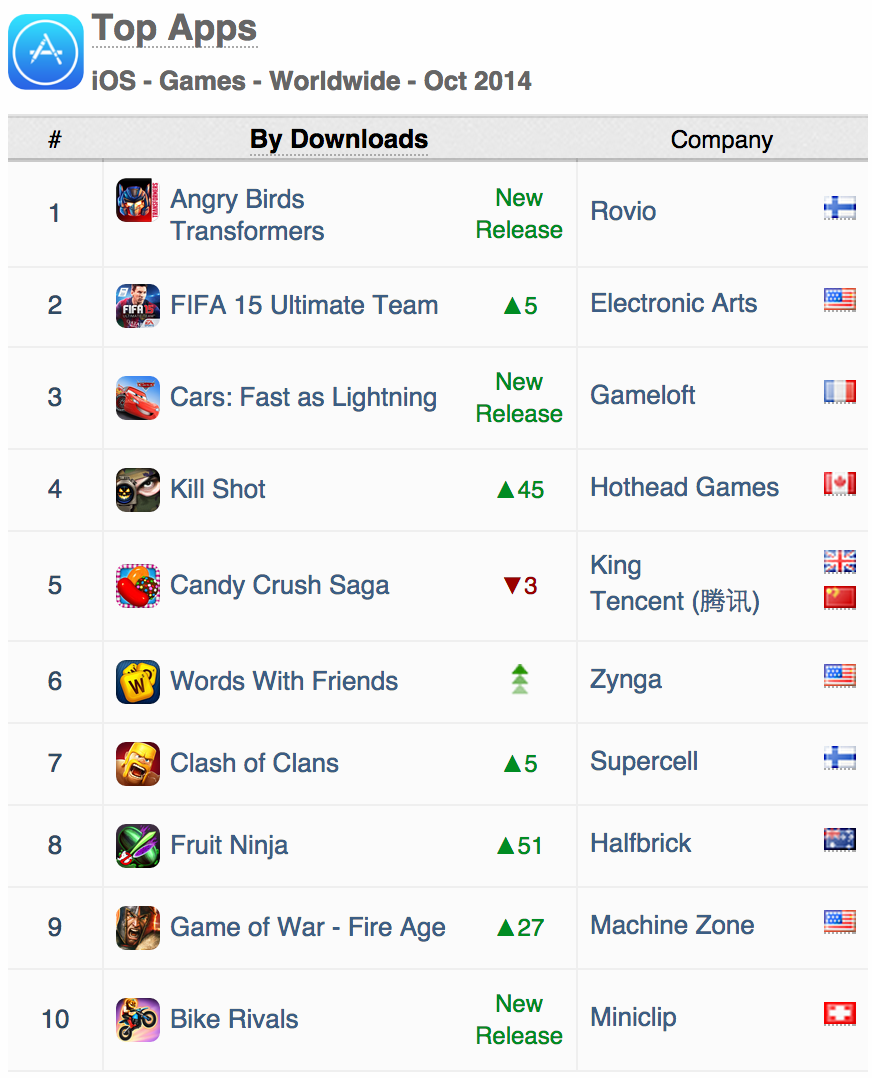 October's iOS download rankings saw an influx of games based on intellectual property (IP) of blockbuster movies. The Transformers movie franchise has previously seen success on mobile and this time was no different with Angry Birds Transformers debuting at the top of the charts. This is Rovio's third major IP partnership, following Angry Birds Rio and the Angry Birds Star Wars series. The game features Autobirds, Deceptihogs and Eggbots, with gameplay that combines elements of Angry Birds' classic physics-based puzzles and sidescrollers. This also signals Rovio's continued efforts to bring the Angry Birds franchise to new genres -- a trend that began almost a year ago with Angry Birds Go! and Angry Birds Epic. As we saw with Angry Birds Stella, this has allowed Rovio to introduce new players to the Angry Birds franchise.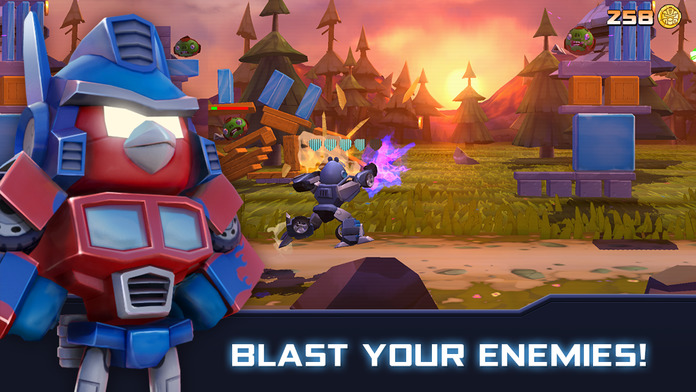 Angry Birds Transformers' gameplay combines elements of franchise's classic physics-based puzzles and sidescrollers.
Up next, Gameloft continued its prolific run of IP hits as Cars: Fast As Lightning debuted at #3 on the download rankings for iOS games. With animation reminiscent of Pixar's movie experience, the racing game has a clear focus towards a younger demographic. The gameplay also places heavy emphasis on customizing and building racing arenas based on movie locales. The title was heavily featured on the iOS App Store and performed extremely well across geographies, including the United States, China, Thailand and Russia.
Cars: Fast as Lightning received very positive reviews and was featured numerous times on the iOS App Store.
Finally, Fruit Ninja shot up the download charts thanks to a pair of updates. The first update added a new in-game universe called Fruitasia, along with new characters and in-game equipment. Halfbrick followed this up with a movie-themed update on Ghostbusters' 30th anniversary, which also happened to coincide with Halloween. This update added new artwork, music, ghostly fruit and Ghostbusters-inspired equipment like Proton Pack Blades, Ecto Goggles and Ghost Traps. Fruit Ninja's success presents an interesting twist to the trend of games based on licensed IP. Licensed updates may have an advantage in the form of shorter development cycles and lower costs while still providing a desired spike in downloads.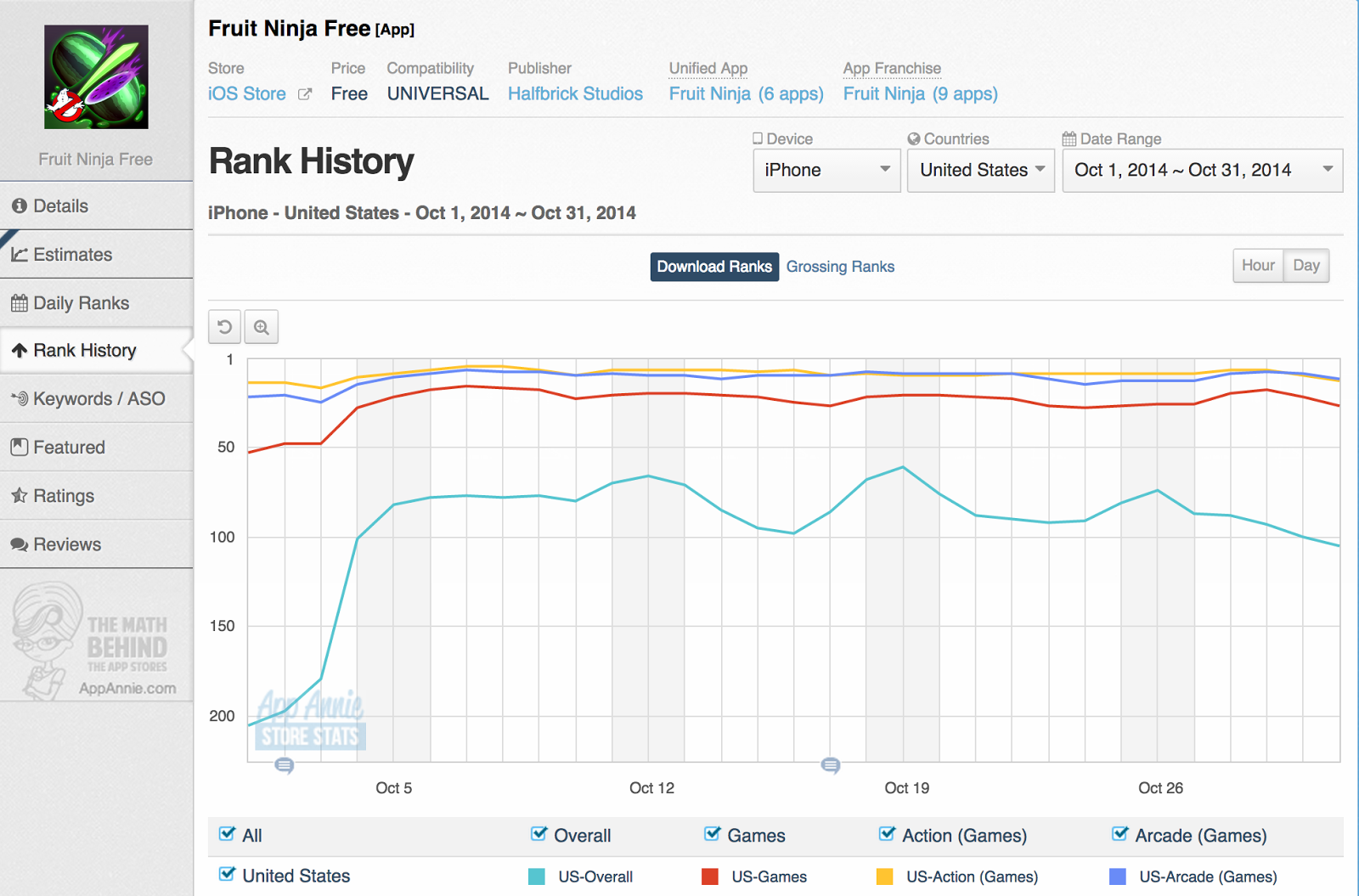 Fruit Ninja climbed up the iOS store rankings in October thanks to two major updates.
Electronic Arts Scores Again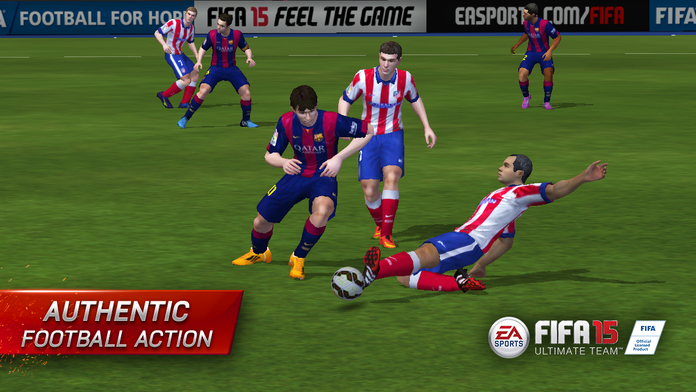 FIFA 15 Ultimate Team received a boost from launching alongside its console variant.
Over the past year, mobile sports games have become a significant part of Electronic Arts' portfolio. Based on its latest earnings release, Electronic Arts' mobile games averaged 155 million monthly active users (MAUs) during Q3 2014. Of this, its mobile sports games averaged 40 million MAUs during the same time period, a gain of 250% since last year. This steep growth coincides with Electronic Arts' decision to move to a freemium business model, with last year's FIFA 14 being a major beneficiary. Now, with FIFA 15 Ultimate Team, it seems to have another hit mobile sports title on its hands.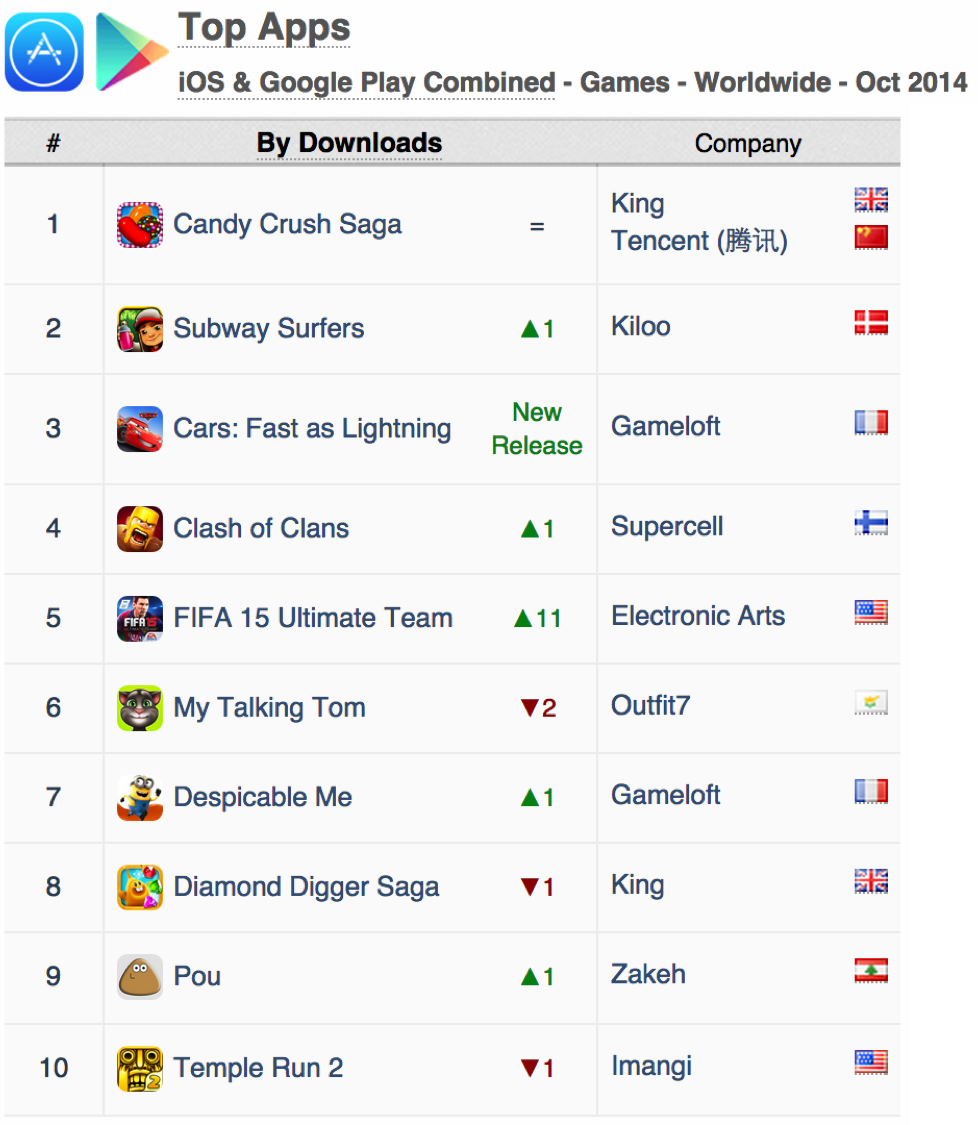 This year's installment was released simultaneously with the console version but differs in gameplay focus. The mobile game places greater emphasis on team management through new features like Quick Simulation. Since its release in late September, the title has sprinted up download charts on both the iOS App Store and Google Play. Emerging markets like Brazil, Russia and Mexico drove a significant volume of downloads on Google Play.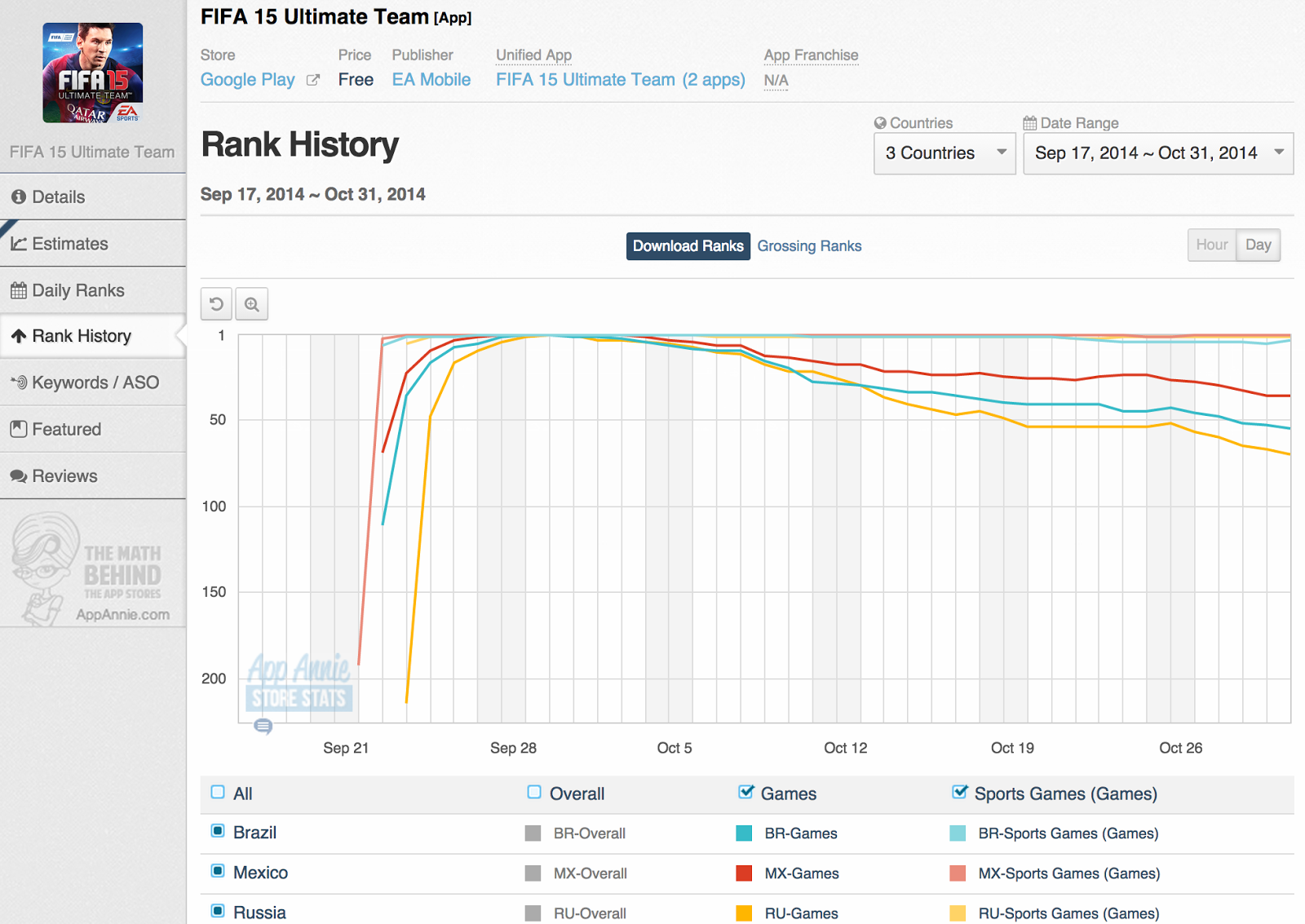 FIFA 15 Ultimate Team found success in emerging markets like Brazil, Mexico and Russia.
Zynga Reinvents Words With Friends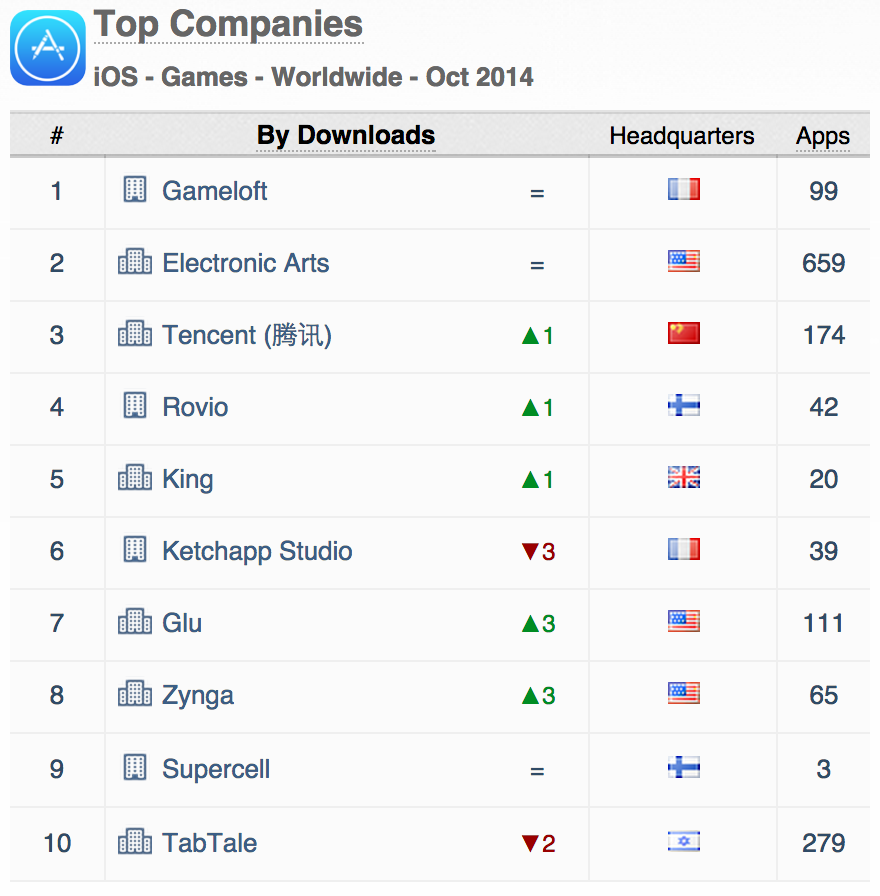 In early October, Zynga refreshed one of its most popular game franchises with the iOS and Google Play launch of New Words With Friends. The redesigned game adds solo play, a long-requested feature, but the biggest change seems to be its emphasis on social elements. Zynga's goal was to increase engagement and acquire new users by matching users to opponents with similar skill levels.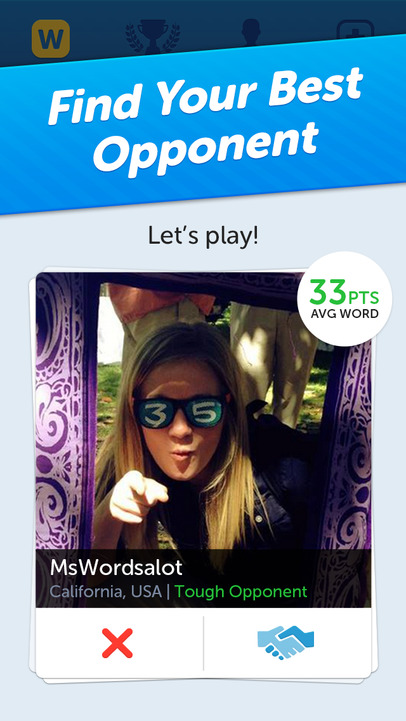 New Words With Friends brings in social features like skill-based matchmaking.
The game also adds a matchmaking feature reminiscent of leading dating apps. Users can swipe through pictures of opponents and also filter them by location or gender. Over the past month, Zynga even published a series of blog posts titled, Words With Friends: "Love Letters", to highlight this use case. The title was heavily featured on the iOS App Store and became a major hit in the US as it ranked among the top 10 downloads.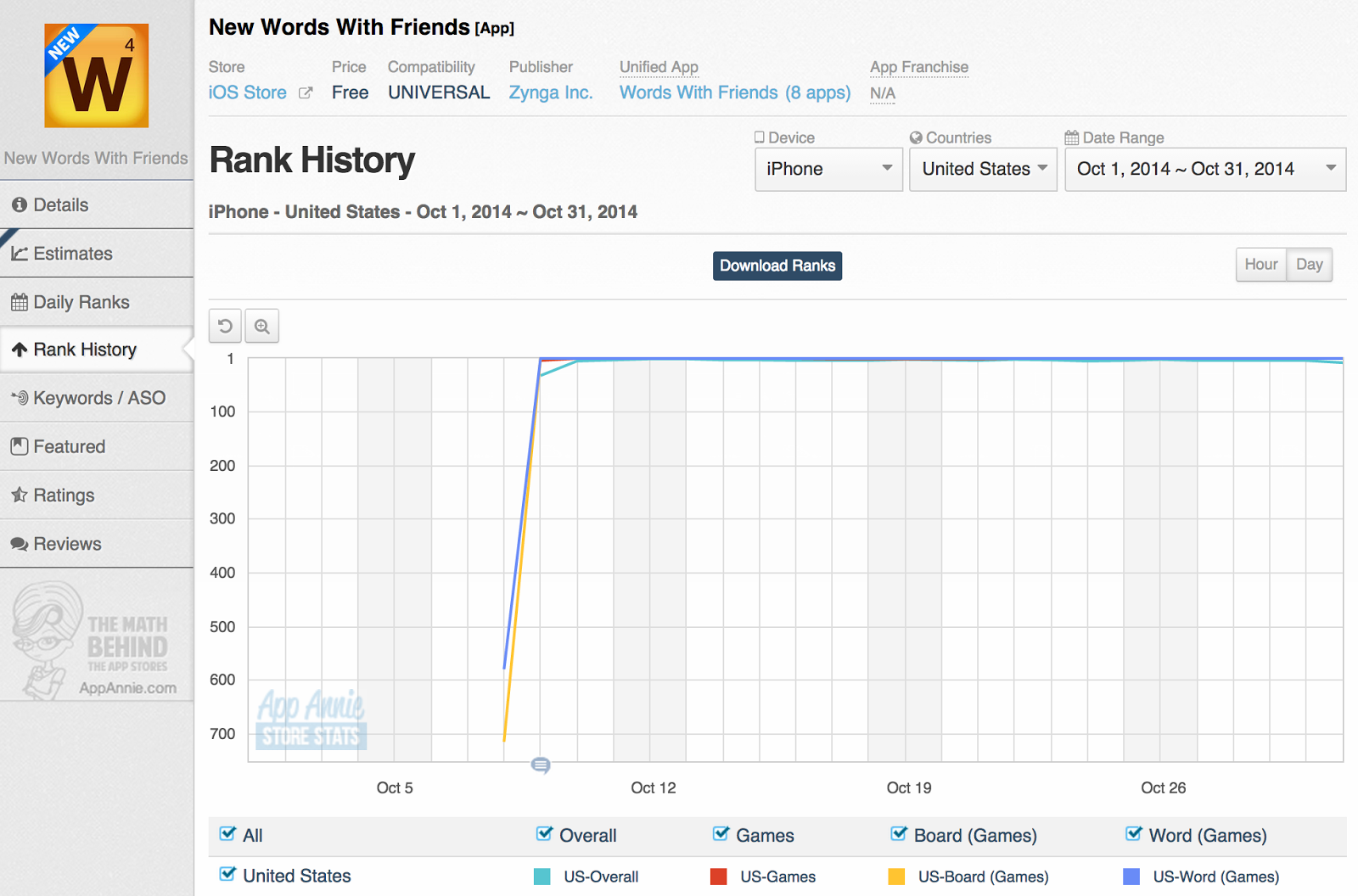 New Words With Friends immediately shot to the top of the iOS download charts in the United States.
---
| | |
| --- | --- |
| | Want to get even more advanced with your app store market analysis? Check out our enterprise product App Annie Intelligence. |
---
If you are interested in finding out more about top apps outside of games, please check out the October 2014 Worldwide Index for Apps. To keep up-to-date with all the changes at the top of the app and publisher charts, check out the complete set of App Annie Index tables.
Notes:
The publisher and app rankings reported in the App Annie Index are based on the download and revenue estimates available through App Annie Intelligence. The daily rank history charts and the homepage feature app data are available to all users through App Annie's app tracker solution, Store Stats.

While the Index for Games covers games, the Index for Apps provides app tracking on everything but games. Note that the Top Company rankings in the Index for Games are based solely on the publishers' games downloads and revenue, while the Top Company rankings in the Index for Apps are based on the company's downloads and revenue from apps excluding games.

Through September 2013, similar versions of the same app with different names (e.g., NYTimes and NYTimes for iPad) were ranked separately. Effective with October data, similar versions of the same app with different names are unified (e.g., NYTimes and NYTimes for iPad are now aggregated and ranked as a single NYTimes unified app).

Company and unified app rankings in the App Annie Index for Games and Index for Apps are based on individual apps that ranked in the top 1,000.

In the first month in which an app becomes unified, its rank change in the Index will compare the unified app that month vs. its highest-ranking individual app in the month prior. As a result, rank changes for newly unified apps may overstate ranking increases from September 2014 to October 2014.

In the iOS App Store, an app can be categorized under a Primary Category as well as an optional Secondary Category. If an app has a Primary Category of Games and a Secondary Category of Entertainment, it is a candidate to be included in this Index for Games. If the app's Primary Category is Entertainment and its Secondary Category is Games, then it will not be included in this Index for Games; it is a candidate for the Index for Apps.

Note that the ranking approach used in the App Annie Index differs from that used in the iOS App Store. In the latter, app rankings for a given category will include all apps whose Primary Category or Secondary Category matches that given category. So an app can appear in the rankings for more than one category within the iOS App Store or in App Annie Store Stats rankings.

In Google Play, an app can be categorized under only one category, so there is no double-categorization.

Occasionally, a publisher may decide to shift an existing app from one category to another category. In these cases, the App Annie Index will rank that app based on its categorization in the subsequent month. Given that the App Annie Index has a Games report and an Apps report, the only scenario where an app's recategorization could shift it from one Index to another is if its category changes from Games to a category other than Games or vice versa.
In the App Annie Index, all apps and publishers are reported under their parent companies, where available; for example, the Plants vs. Zombies™ 2 app is reported under its parent company Electronic Arts, rather than its direct publisher PopCap. Note that if you view the Electronic Arts parent company page on Store Stats, you will see the publishers that roll under the parent company Electronic Arts, including PopCap. The Plants vs. Zombies™ 2 app will be listed under the PopCap publisher page.
Company and app rankings are based on the App Annie DNA relationships at the time of publications. App Annie DNA relationships are subject to change over time.

App Annie Index revenue rankings are based on revenue that the iOS App Store and Google Play earned from paid downloads and in-app purchases. They do not include revenue earned from in-app advertising.

Certain trademarks and/or images used in this report may belong to third parties and are the property of their respective owners. App Annie claims no rights in such trademarks or images.