| | |
| --- | --- |
| Each month, the App Annie Index highlights the top-performing games and apps for the iOS App Store and Google Play. Our analysis covers trends among the leading apps across countries and categories, and is the industry standard for professionals looking to compare leading apps and publishers. | You might also be interested in: |
This Month's Top Performers
Candy Crush and Contract Killer Franchises Grow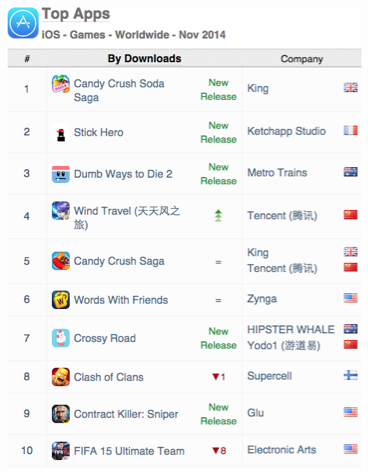 In November, King and Glu had success with new games that expanded popular franchises. Additions like these enable publishers to draw from an existing installed base of players as well as capitalize on their investments in previous titles.
King announced the worldwide mobile launch for Candy Crush Soda Saga, a follow-up to its blockbuster hit Candy Crush Saga. The new game claimed the top spot on both the iOS App Store and Google Play worldwide download charts. Meanwhile, the original is still firmly planted on both stores' top 10 rankings.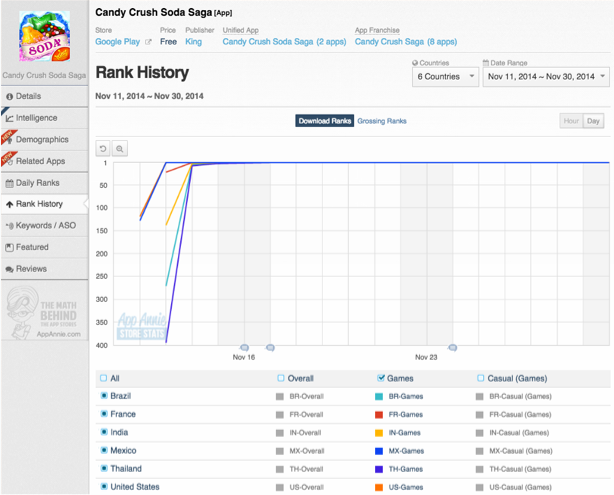 Candy Crush Soda Saga shot to the top of the download charts in a variety of countries.
Candy Crush Soda Saga retains the familiar match-three gameplay and "Saga Map" that made the original so popular, also adding new game modes, characters and candy combinations to bring new elements to the franchise. King thinks of Candy Crush Soda Saga as a sister title rather than a sequel to Candy Crush Saga, noting that they will continue to update both games.
Also in November, Glu released Contract Killer: Sniper, the fifth game in its popular first-person shooter franchise. Similar to previous versions, players take on the role of an assassin and progress through a variety of missions and objectives. To increase the game's social aspects, Glu added a new PvP feature to its fundamental design, allowing players to attack other player's bases and steal their resources. This type of social gaming can be an effective way to drive user engagement as it pulls players back to the game when they come under attack. Glu recently spoke with App Annie about Contract Killer: Sniper:
"Glu has been a leader in the free-to-play shooter genre since 2011. We're committed to building franchises players find synonymous with best-in-class graphics, gameplay and mechanics as we've done with Contract Killer: Sniper. The addition of PvP has deepened the game's level of engagement and we look forward to supporting Contract Killer: Sniper with new content and features players will enjoy." --Chris Akhavan, President of Publishing at Glu Mobile
Soon after its launch, Contract Killer: Sniper was featured on the iOS App Store homepage and it ended up claiming a spot in the iOS App Store's worldwide top 10 download rankings.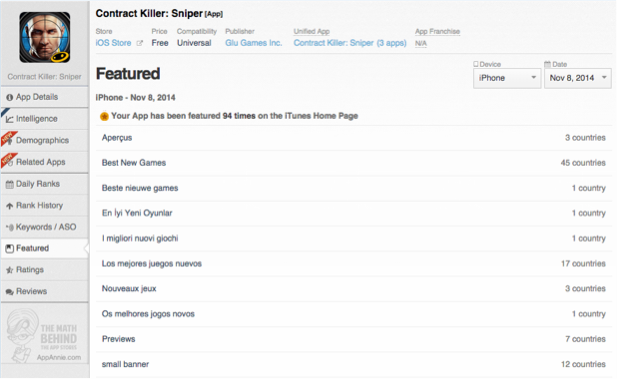 Contract Killer: Sniper was prominently featured on the iTunes Home Page in multiple countries.
Wind Travel Carries Tencent to the Top
Wind Travel, which was released at the tail end of October, is Tencent's latest side-scrolling endless runner game. The title's combination of simple gameplay and character growth systems is intended to help the company attract, engage and monetize the large pool of non-gamers on its WeChat and Mobile QQ Platforms.
The game had a strong showing in November and claimed a spot in the top 10 on the iOS App Store's worldwide download rankings. Its success was also the largest driver of Tencent's rise to the top of the iOS download charts for publishers.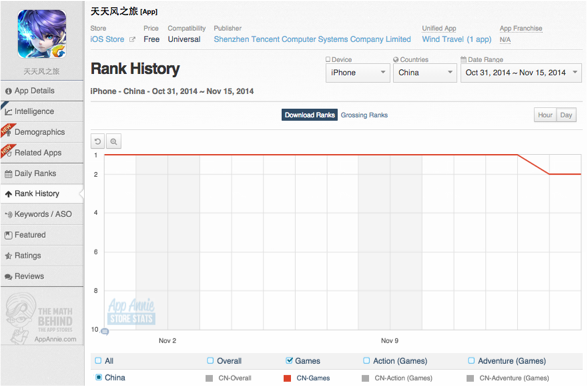 Wind Travel immediately rose to the top spot on iOS App Store's download rankings in China and stayed in the top 2 through the first half of November.
Wind Travel takes place in a floating fantasy world with a variety of landscapes with 3D background graphics and features popular cartoon and fairy tale characters. Players have their characters run, jump and slide to avoid hazards and obstacles as they fight monsters and collect gold coins and diamonds. Users can also buy diamonds, which allow them to obtain characters, equipment and pets via in-app purchases. Similar to other Tencent games, the title leverages the WeChat and Mobile QQ platforms to keep players engaged through a variety of promotions, events and in-game activities.
Dumb Ways to Die Lives On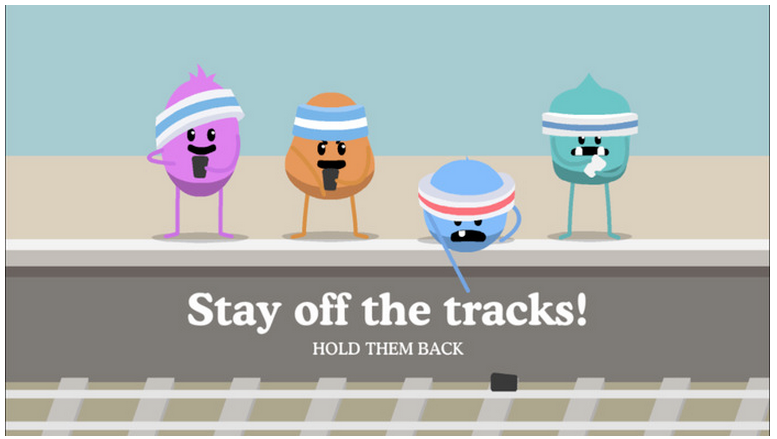 Like its predecessor, Dumb Ways to Die 2: The Games combines mini-games and cute characters to help promote railway safety.
In November, Metro Trains, the provider of metropolitan rail service for the city of Melbourne in Australia, launched Dumb Ways to Die 2: The Games. The game is a sequel to Dumb Ways to Die which was based on the company's public service announcement (PSA) video to teach children about railway safety. As we reported in our June 2013 Index for Games, the original game propelled its publisher into the top 10 of the iOS App Store's worldwide download rankings. The campaign continued to keep people's attention and the company has even licensed its characters for plush toys and insurance ads.
The immediate success of Dumb Ways to Die 2: The Games shows that the campaign remains a global phenomenon and demonstrates the power that a hit game can have to prolong a campaign, reinforce its messaging and help fund its initiatives. Despite being released in the second half of the month, the new title shot into the top 10 rankings for worldwide games downloads on iOS. Furthermore, its iPad version reached the #1 daily download rank in over 80 countries.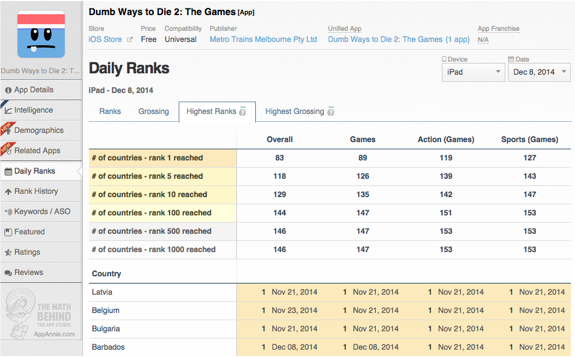 An Australian public transportation company has achieved global success with their game promoting railway safety.
Dumb Ways to Die 2: The Games features 28 mini-games and includes reminders about railway safety during play. The freemium app allows players to make in-app purchases to remove ads and buy tokens, generating revenue that Metro Trains Melbourne can invest back into safety messaging.
The Technology Behind the Index
The information contained in this report is compiled from App Annie Intelligence, the leading market data solution for the app store economy. To see how our app store download and revenue estimates can help guide your critical business decisions, take a tour or request a demo today.
---

---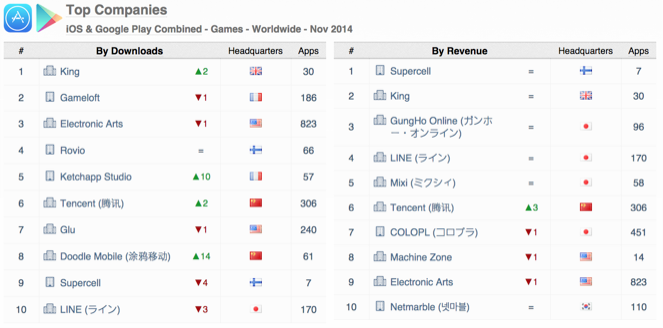 For the complete list of November's top apps and publishers around the world, click the chart above.
Notes:
The publisher and app rankings reported in the App Annie Index are based on the download and revenue estimates available through App Annie Intelligence. The daily rank history charts and the homepage feature app data are available to all users through App Annie's app tracker solution, Store Stats.

While the Index for Games covers games, the Index for Apps provides app tracking on everything but games. Note that the Top Company rankings in the Index for Games are based solely on the publishers' games downloads and revenue, while the Top Company rankings in the Index for Apps are based on the company's downloads and revenue from apps excluding games.

Company and unified app rankings in the App Annie Index for Games and Index for Apps are based on individual apps that ranked in the Top 1,000.

In the first month in which an app becomes unified, its rank change in the Index will compare the unified app that month vs. its highest-ranking individual app in the month prior. As a result, rank changes for newly unified apps may overstate ranking increases from October 2014 to November 2014.

In the iOS App Store, an app can be categorized under a Primary Category as well as an optional Secondary Category. If an app has a Primary Category of Games and a Secondary Category of Entertainment, it is a candidate to be included in this Index for Games. If the app's Primary Category is Entertainment and its Secondary Category is Games, then it will not be included in this Index for Games; it is a candidate for the Index for Apps.

Note that the ranking approach used in the App Annie Index differs from that used in the iOS App Store. In the latter, app rankings for a given category will include all apps whose Primary Category or Secondary Category matches that given category. So an app can appear in the rankings for more than one category within the iOS App Store or in App Annie Store Stats rankings.

In Google Play, an app can be categorized under only one category, so there is no double-categorization.

Occasionally, a publisher may decide to shift an existing app from one category to another category. In these cases, the App Annie Index will rank that app based on its categorization in the subsequent month. Given that the App Annie Index has a Games report and an Apps report, the only scenario where an app's recategorization could shift it from one Index to another is if its category changes from Games to a category other than Games or vice versa.
In the App Annie Index, all apps and publishers are reported under their parent companies, where available; for example, the Plants vs. Zombies™ 2 app is reported under its parent company Electronic Arts, rather than its direct publisher PopCap. Note that if you view the Electronic Arts parent company page on Store Stats, you will see the publishers that roll under the parent company Electronic Arts, including PopCap. The Plants vs. Zombies™ 2 app will be listed under the PopCap publisher page.
Company and app rankings are based on the App Annie DNA relationships at the time of publications. App Annie DNA relationships are subject to change over time.

App Annie Index revenue rankings are based on revenue that the iOS App Store and Google Play earned from paid downloads and in-app purchases. They do not include revenue earned from in-app advertising.

Certain trademarks and/or images used in this report may belong to third parties and are the property of their respective owners. App Annie claims no rights in such trademarks or images.