| | |
| --- | --- |
| Each month, the App Annie Index highlights the top-performing games and apps for the iOS App Store and Google Play. Our analysis covers trends among the leading apps across countries and categories, and is the industry standard for professionals looking to compare leading apps and publishers. | You might also be interested in: |
This Month's Top Games
MARVEL Future Fight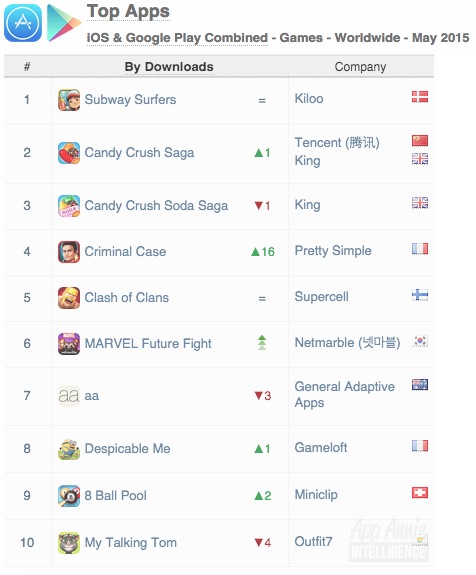 Released alongside blockbuster movie hit Avengers: Age of Ultron, Korean publisher Netmarble's new action role-playing game (ARPG) MARVEL Future Fight took Google Play and iOS by storm, reaching #6 on our May Worldwide Google Play and iOS downloads chart. The game represents new territory for Netmarble, both in its use of a Western intellectual property (IP) and in the degree of global success it achieved. The publisher's previous hits like Everybody's Marble, Seven Knights and Monster Taming all saw staggering success that was nonetheless concentrated in Asian markets.
MARVEL Future Fight, on the other hand, reached #1 by daily downloads among iPhone games in over 40 countries, most of which lie outside of the company's usual markets. The game appears to be a success, with Netmarble now reaching new markets in a significant way.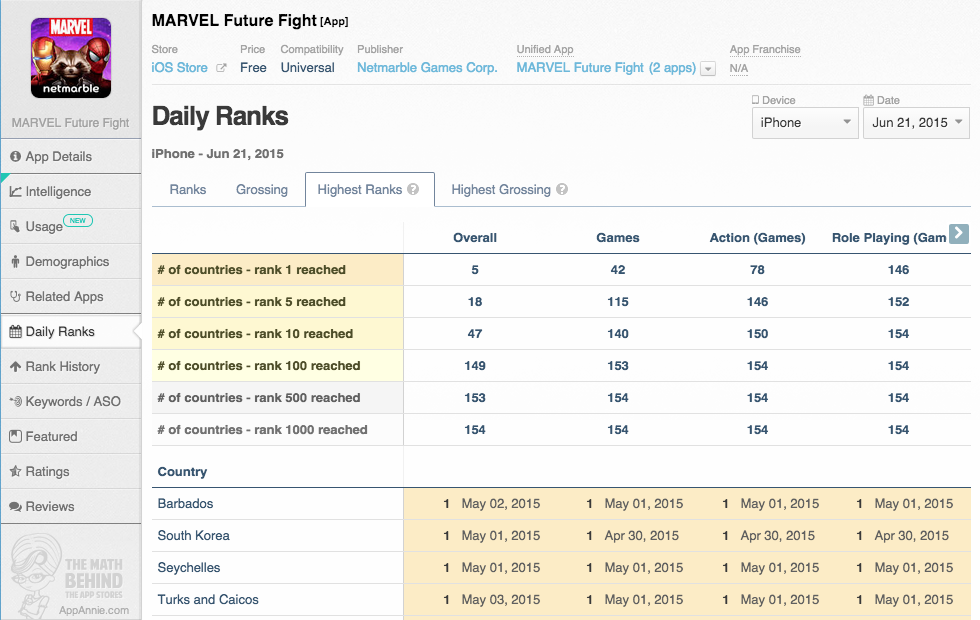 MARVEL Future Fight reached the top rank of iOS games in dozens of countries throughout May.
The game features fast-paced dungeon crawler gameplay, dozens of Marvel heroes and villains, and a storyline written by award-winning comic book writer Peter David. Players can choose from four game modes, including online player-versus-player.
Marvel is no stranger to the App Annie Index. In 2014, we wrote about Gameloft's Spider-Man Unlimited. As long as Marvel movies continue to rank among the world's highest grossing films, we won't be surprised to see this pattern of success for Marvel IPs continue on mobile. More generally, mobile games that feature well-known Hollywood IPs have continued to perform exceptionally well throughout the years, even as the mobile gaming landscape has changed.
We look forward to seeing how Netmarble builds off its win with MARVEL Future Fight and pursues global success in the months and years to come. While Western IPs naturally lend themselves well to this goal, we wouldn't be surprised if Netmarble manages to launch globally successful titles using original or non-Western IPs. It appears that Netmarble believes they can do exactly this with plans to publish Raven in North America later this year.
MU Miracle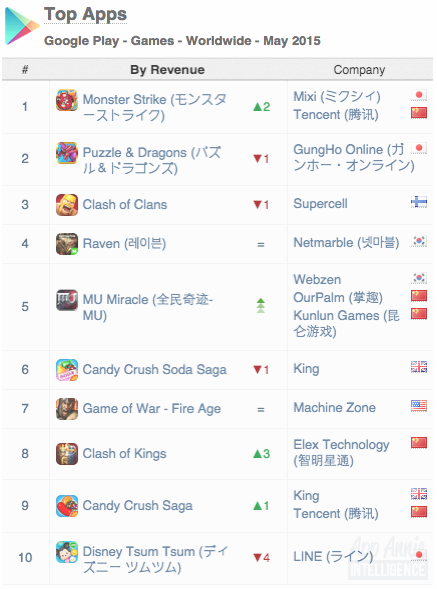 Entering our May Worldwide Google Play revenue chart at #5 is MU Miracle, a massively multiplayer online role-playing game (MMORPG) based on South Korean company Webzen's hit PC game MU Online. Released in 2003, MU Online stands among the most popular South Korean MMORPGs of all time. MU Miracle is Webzen's bid to bring the PC MU experience to mobile.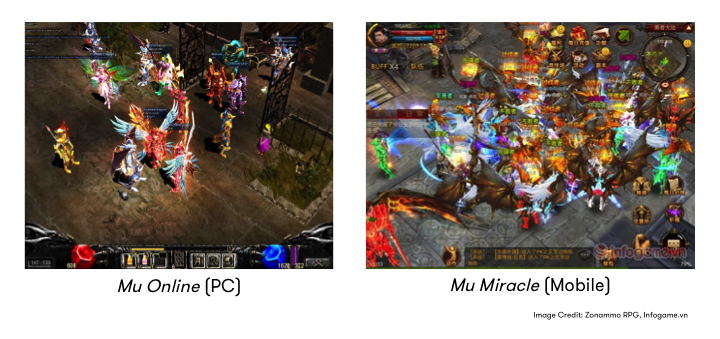 Mu Miracle has continued the success of its predecessor, Mu Online.
As we noted in our Q1 2015 App Usage Report, South Korean gamers tend to lean toward mid-core and non-casual mobile games compared to other major markets. This, combined with MU's brand in South Korea, suggests that the game's performance in South Korea (seen in the graph below) isn't likely to fall off anytime soon.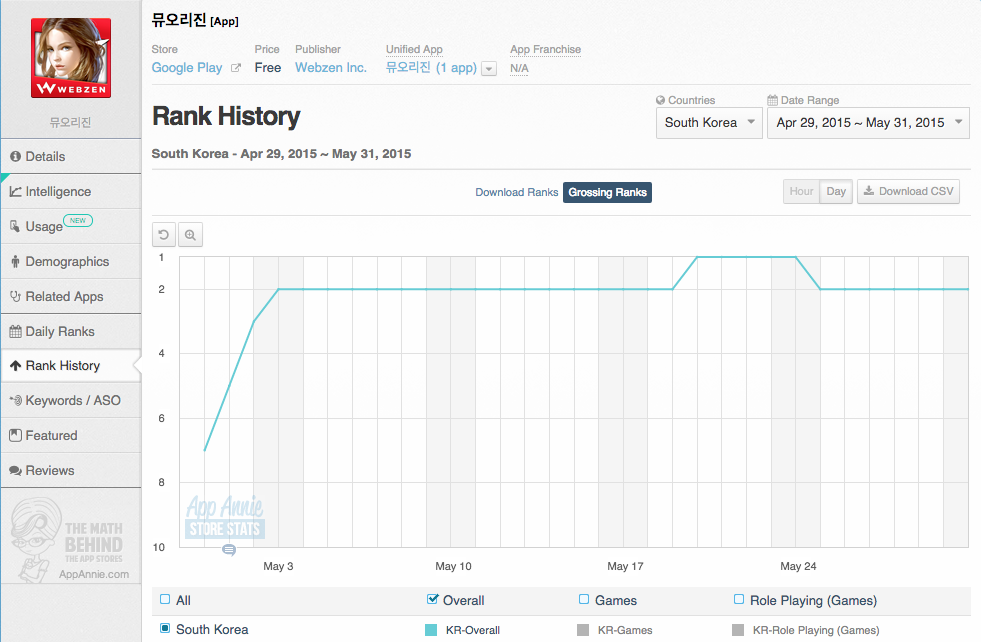 MU Miracle spent most of May as the second highest daily grossing Google Play app in South Korea.
MU Miracle's place on our Google Play revenue chart should come as no surprise to readers of the Games Index: the past two (1, 2) months each featured an Asian MMO entering the iOS revenue charts. In fact, one of those MMOs was also based on a decade-old successful PC MMO franchise. These massively multiplayer successes beg the question: is it only a matter of time until World of Warcraft or Everquest make an appearance on mobile?
The Technology Behind the Index
The information contained in this report is compiled from App Annie Intelligence, the leading market data solution for the app store economy. To see how our app store download, revenue, demographic and usage estimates can help guide your critical business decisions, take a tour or request a demo today.
---

---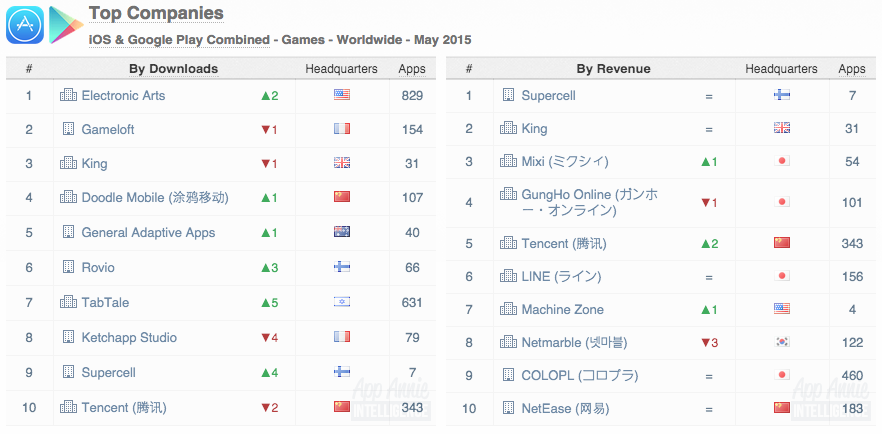 For the complete list of May's top games and game publishers around the world, click the chart above.
Notes:
The publisher and app rankings reported in the App Annie Index are based on the download and revenue estimates available through App Annie Intelligence. The daily rank history charts and the homepage feature app data are available to all users through App Annie's app tracker solution, Store Stats.

While the Index for Games covers games, the Index for Apps provides app tracking on everything but games. Note that the Top Company rankings in the Index for Games are based solely on the publishers' games downloads and revenue, while the Top Company rankings in the Index for Apps are based on the company's downloads and revenue from apps excluding games.

Company and unified app rankings in the App Annie Index for Games and Index for Apps are based on individual apps that ranked in the Top 1,000.

Download rankings are based on individually downloaded apps and exclude downloads of app bundles. Revenue rankings are based on download revenue from individually downloaded paid apps as well as in-app purchase revenue from both individually downloaded apps and app bundles.

In the first month in which an app becomes unified, its rank change in the Index will compare the unified app that month vs. its highest-ranking individual app in the month prior. As a result, rank changes for newly unified apps may overstate ranking increases from April 2015 to May 2015.

In the iOS App Store, an app can be categorized under a Primary Category as well as an optional Secondary Category. If an app has a Primary Category of Games and a Secondary Category of Entertainment, it is a candidate to be included in this Index for Games. If the app's Primary Category is Entertainment and its Secondary Category is Games, then it will not be included in this Index for Games; it is a candidate for the Index for Apps.

Note that the ranking approach used in the App Annie Index differs from that used in the iOS App Store. In the latter, app rankings for a given category will include all apps whose Primary Category or Secondary Category matches that given category. So an app can appear in the rankings for more than one category within the iOS App Store or in App Annie Store Stats rankings.

In Google Play, an app can be categorized under only one category, so there is no double-categorization.

Occasionally, a publisher may decide to shift an existing app from one category to another category. In these cases, the App Annie Index will rank that app based on its categorization in the subsequent month. Given that the App Annie Index has a Games report and an Apps report, the only scenario where an app's recategorization could shift it from one Index to another is if its category changes from Games to a category other than Games or vice versa.
In the App Annie Index, all apps and publishers are reported under their parent companies, where available; for example, the Plants vs. Zombies™ 2 app is reported under its parent company Electronic Arts, rather than its direct publisher PopCap. Note that if you view the Electronic Arts parent company page on Store Stats, you will see the publishers that roll under the parent company Electronic Arts, including PopCap. The Plants vs. Zombies™ 2 app will be listed under the PopCap publisher page.
Company and app rankings are based on the App Annie DNA relationships at the time of publications. App Annie DNA relationships are subject to change over time.
App Annie Index revenue rankings are based on revenue that the iOS App Store and Google Play earned from paid downloads and in-app purchases. They do not include revenue earned from in-app advertising.

Certain trademarks and/or images used in this report may belong to third parties and are the property of their respective owners. App Annie claims no rights to such trademarks or images.