| | |
| --- | --- |
| Each month, the App Annie Index highlights the top-performing games and apps for the iOS App Store and Google Play. Our analysis covers trends among the leading apps across countries and categories, and is the industry standard for professionals looking to compare leading apps and publishers. | You might also be interested in: |
This Month's Top Games
Fallout Shelter Blasts Onto the Scene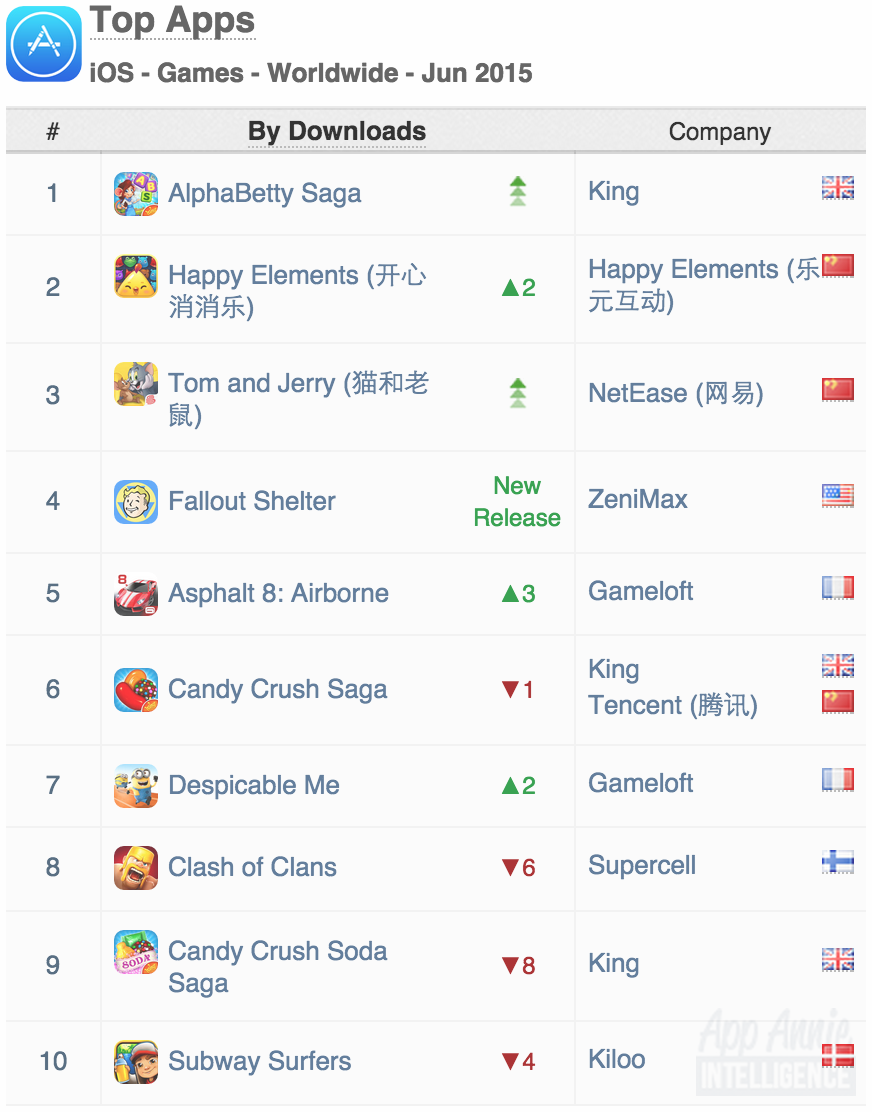 Bethesda, a subsidiary of ZeniMax, is one of the biggest names in traditional gaming as creator of critically acclaimed titles like Skyrim and Dishonored. While the company has long focused on console and PC gaming, it previously dabbled in the mobile space with Dishonored: Rat Assassin, a casual game meant to promote Dishonored.
In June 2015, Bethesda took its first major leap into mobile gaming with Fallout Shelter. This endeavor seemed to pay off, with the game debuting at #4 on June's iOS downloads rankings.
Since Bethesda's successful 2008 reboot of the classic Fallout series, the post-apocalyptic IP has been one of its most valuable, rivaled only by the Elder Scrolls series. This June, in Bethesda's first-ever E3 Showcase, the company announced Fallout 4 to much excitement in the gaming community. Alongside this announcement, the company also unveiled Fallout Shelter which released later that night.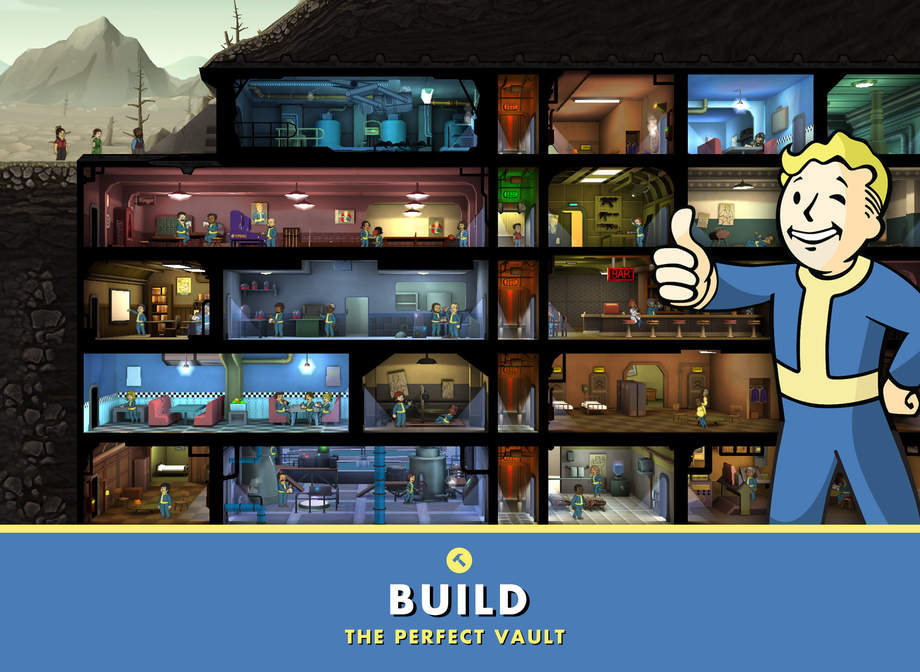 Fallout Shelter gives players dominion over a bunkered community in the post-apocalypse.
Fans of the Fallout series will immediately recognize the iOS game's style, humor and environment. The gameplay, however, is a sharp departure from the open-world first-person shooting experience that gamers have come to expect from the Fallout series' console and PC titles.
Players are tasked with micromanaging a nuclear fallout shelter (or "Vault") and all of its denizens. As Overseer, the player sends Vault-dwellers out into the wasteland to forage for food, instructs them to build new rooms, and even pairs them off to procreate to ensure a steady flow of new citizens. Bethesda Studio Director Todd Howard cited PC-to-mobile crossovers such as XCOM and SimCity as inspirations for the gameplay.
Rather than being a mere promotion for Fallout 4, Fallout Shelter seems to be a genuine effort on Bethesda's part to craft an engaging mobile experience. The company is looking to score again on mobile with an upcoming Elder Scrolls trading card game for iPad. Bethesda is also developing a companion app to Fallout 4 which will expand the game's interface to players' iOS and Android devices.
This sudden expansion to mobile appears to be the result of a growing recognition that mobile is an essential part of a well-rounded gaming portfolio. Nintendo's decision to partner with DeNA for mobile games is another recent example.
AlphaBetty Saga Spells Downloads for King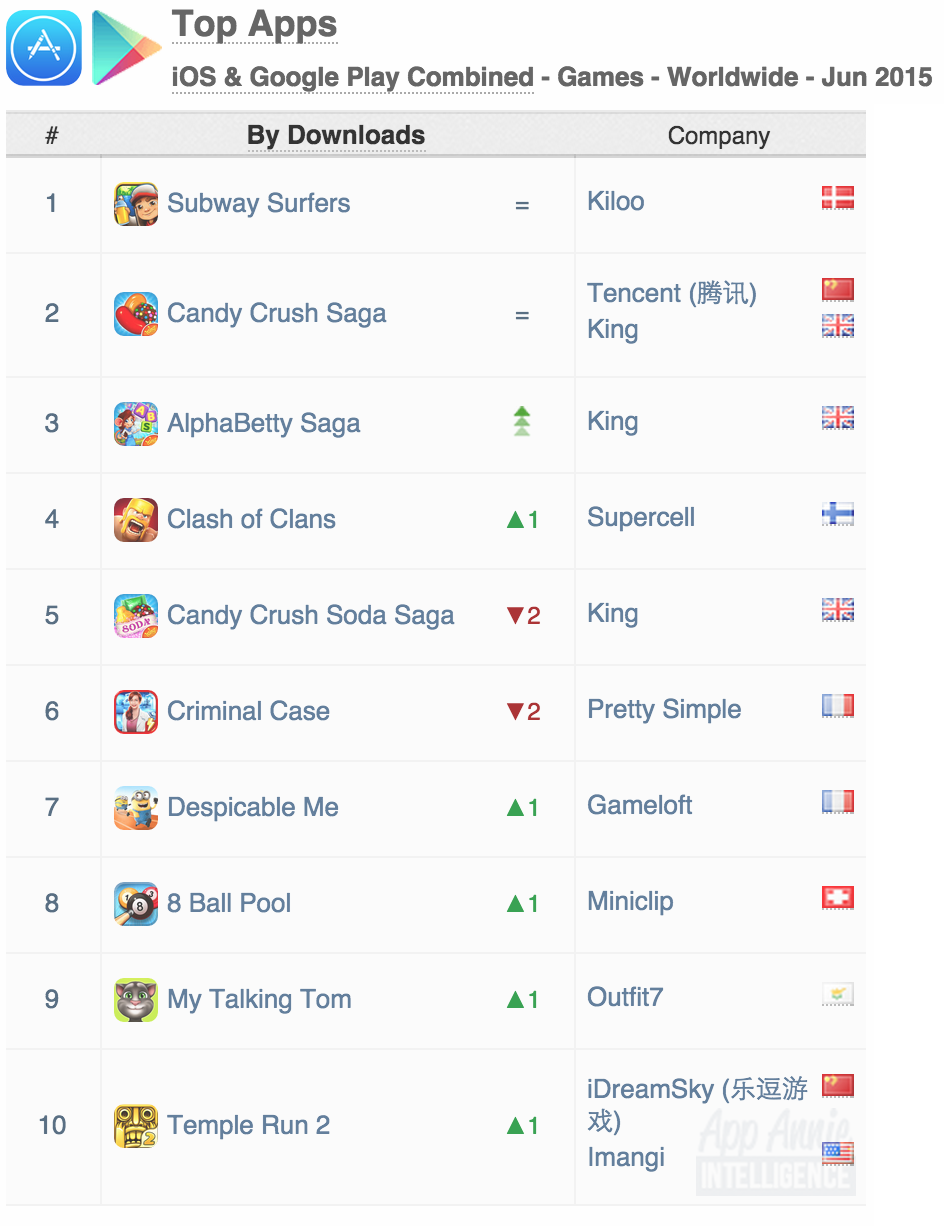 King's latest release, AlphaBetty Saga, reached #3 on June's combined iOS and Google Play download rankings. The game took off after its release in late May and ranked among the top 10 Games by iOS downloads in more than 50 countries.
In their last earnings report, King mentioned that their active cross-promotion efforts were yielding strong results. This, along with the household-name status of the Saga series, may have been key drivers of Alphabetty Saga's rapid download growth. This is certainly an encouraging sign, but it remains to be seen if this translates into revenue.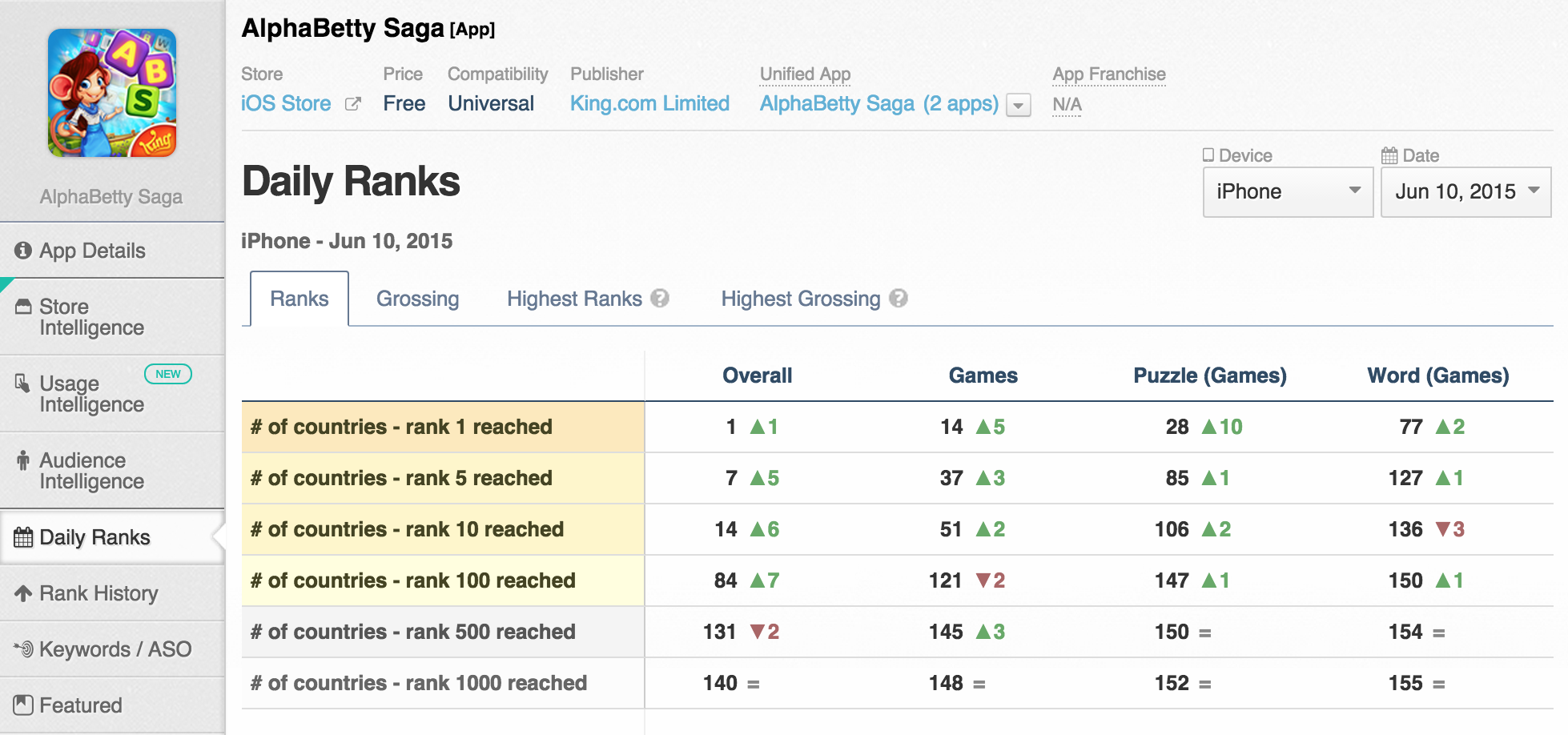 Shortly after its launch, AlphaBetty Saga ranked among the top 10 Games by iOS downloads in more than 50 countries.
AlphaBetty Saga's word-spelling gameplay provides a new experience for fans of King, a company known for its addictive puzzle games. Still, the King trademark is clearly visible in AlphaBetty Saga. While its core gameplay mechanic differs from that of Candy Crush Saga, the King formula remains largely unchanged: stage-based progression through the now well-known Saga Map, animated characters, strong social elements, the choice to wait for more lives or pay for them, and game-changing power-ups.
Since Candy Crush Saga exploded in popularity in 2013, King has become one of the top players in the mobile gaming industry. The numerous other hits King has produced since then — not to mention Candy Crush Saga's seemingly neverending success — have helped it maintain that position.
Summoners War Calls in the Revenue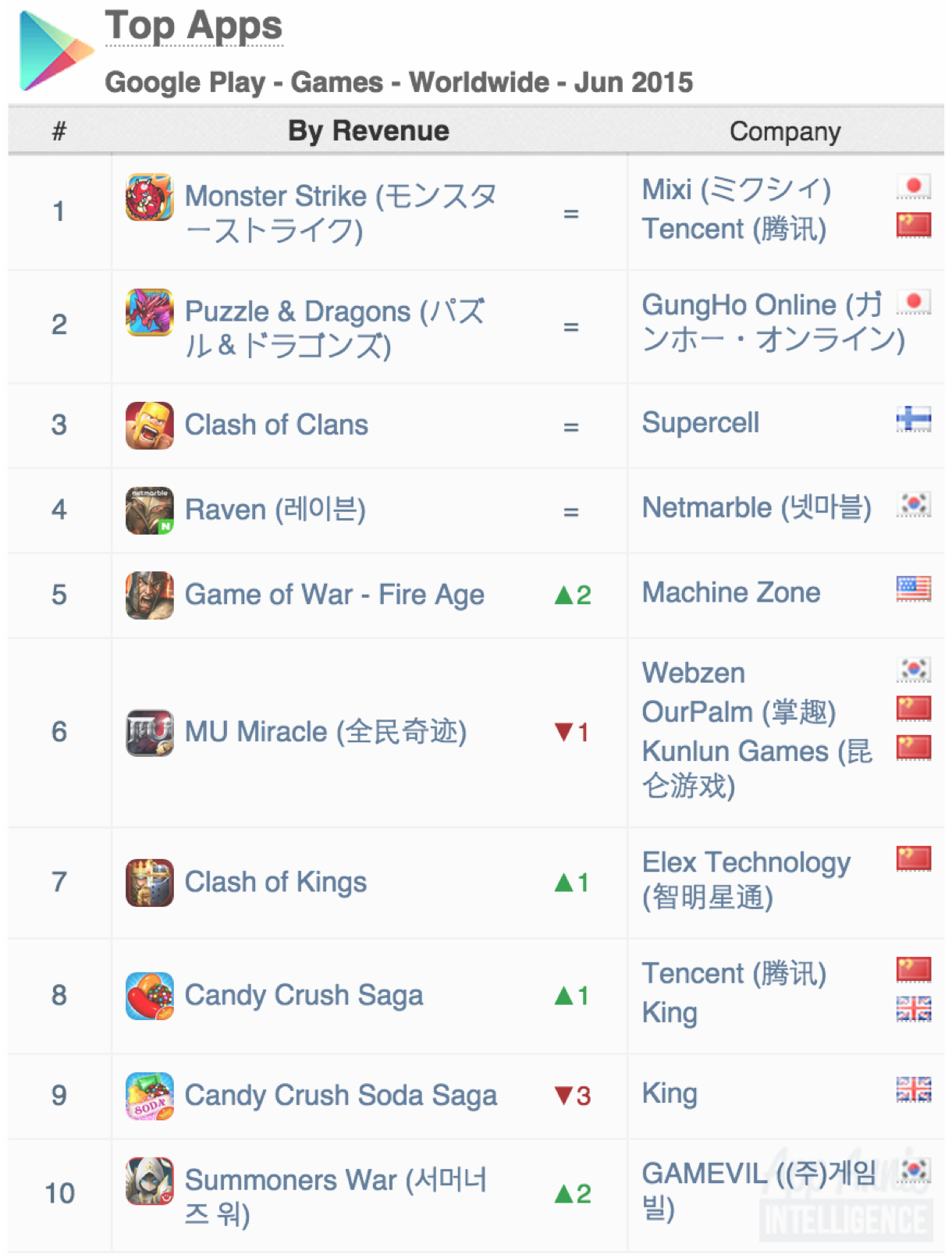 June's standout performer in earnings was GAMEVIL's Summoners War, which re-entered our Google Play revenue rankings. The game saw a considerable boost in revenue on Google Play from May to June, especially in Japan.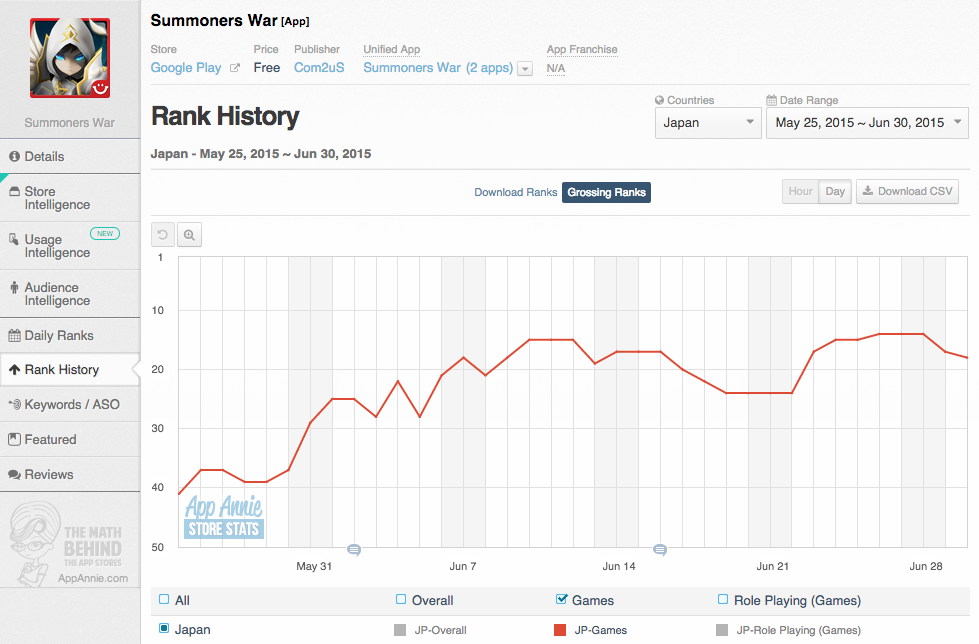 Summoners War saw considerable revenue gains in Japan throughout June.
Likely contributing to this spike in revenue was a major update released June 2 which brought four new characters and a new area where players can gain items and experience. Regular updates like this one likely explain the game's consistent popularity since its April 2014 release.
The Technology Behind the Index
The information contained in this report is compiled from App Annie Intelligence, the leading market data solution for the app store economy. To see how our app store download, revenue, demographic and usage estimates can help guide your critical business decisions, take a tour or request a demo today.
---

---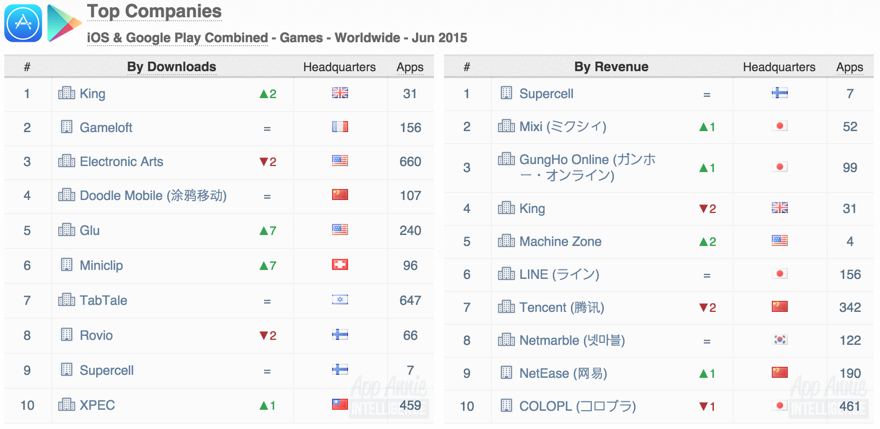 For the complete list of June's top games and game publishers around the world, click the chart above.
Notes:
The publisher and app rankings reported in the App Annie Index are based on the download and revenue estimates available through App Annie Intelligence. The daily rank history charts and the homepage feature app data are available to all users through App Annie's app tracker solution, Store Stats.
App Annie Intelligence is currently available for the iOS App Store and Google Play. It does not currently provide estimates for other app stores, such as the Amazon Appstore. While iOS and Google Play represent a significant portion of the app market in many countries, that is not the case for some countries. For example, China has a number of sizable third-party Android app stores.

While the Index for Games covers games, the Index for Apps provides app tracking on everything but games. Note that the Top Company rankings in the Index for Games are based solely on the publishers' games downloads and revenue, while the Top Company rankings in the Index for Apps are based on the company's downloads and revenue from apps excluding games.

Company and unified app rankings in the App Annie Index for Games and Index for Apps are based on individual apps that ranked in the Top 1,000.

Download rankings are based on individually downloaded apps and exclude downloads of app bundles. Revenue rankings are based on download revenue from individually downloaded paid apps as well as in-app purchase revenue from both individually downloaded apps and app bundles.

In the first month in which an app becomes unified, its rank change in the Index will compare the unified app that month vs. its highest-ranking individual app in the month prior. As a result, rank changes for newly unified apps may overstate ranking increases from May 2015 to June 2015.

In the iOS App Store, an app can be categorized under a Primary Category as well as an optional Secondary Category. If an app has a Primary Category of Games and a Secondary Category of Entertainment, it is a candidate to be included in this Index for Games. If the app's Primary Category is Entertainment and its Secondary Category is Games, then it will not be included in this Index for Games; it is a candidate for the Index for Apps.

Note that the ranking approach used in the App Annie Index differs from that used in the iOS App Store. In the latter, app rankings for a given category will include all apps whose Primary Category or Secondary Category matches that given category. So an app can appear in the rankings for more than one category within the iOS App Store or in App Annie Store Stats rankings.

In Google Play, an app can be categorized under only one category, so there is no double-categorization.

Occasionally, a publisher may decide to shift an existing app from one category to another category. In these cases, the App Annie Index will rank that app based on its categorization in the subsequent month. Given that the App Annie Index has a Games report and an Apps report, the only scenario where an app's recategorization could shift it from one Index to another is if its category changes from Games to a category other than Games or vice versa.
In the App Annie Index, all apps and publishers are reported under their parent companies, where available; for example, the Plants vs. Zombies™ 2 app is reported under its parent company Electronic Arts, rather than its direct publisher PopCap. Note that if you view the Electronic Arts parent company page on Store Stats, you will see the publishers that roll under the parent company Electronic Arts, including PopCap. The Plants vs. Zombies™ 2 app will be listed under the PopCap publisher page.
Company and app rankings are based on the App Annie DNA relationships at the time of publications. App Annie DNA relationships are subject to change over time.
App Annie Index revenue rankings are based on revenue that the iOS App Store and Google Play earned from paid downloads and in-app purchases. They do not include revenue earned from in-app advertising.

Certain trademarks and/or images used in this report may belong to third parties and are the property of their respective owners. App Annie claims no rights to such trademarks or images.