| | |
| --- | --- |
| Each month, the App Annie Index highlights the top-performing games and apps for the iOS App Store and Google Play. Our analysis covers trends among the leading apps across countries and categories, and is the industry standard for professionals looking to compare leading apps and publishers. | You might also be interested in: |
This Month's Top Games
Clash of Kings Continues Its Conquest
Coming in at #5 in our worldwide Google Play revenue rankings is Chinese publisher Elex Technology's Clash of Kings. Likely thanks to recent TV ad campaigns, it has been steadily climbing since first appearing on this year's May Index at #8. The base building game has players construct kingdoms to vie for dominance against one another online in real time.
Geographically, the distribution of the game's success is not surprising. The game is earning major revenue from the United States, Taiwan, South Korea, Russia and Japan. These are all strong markets for similar games, such as Clash of Clans and Game of War – Fire Age.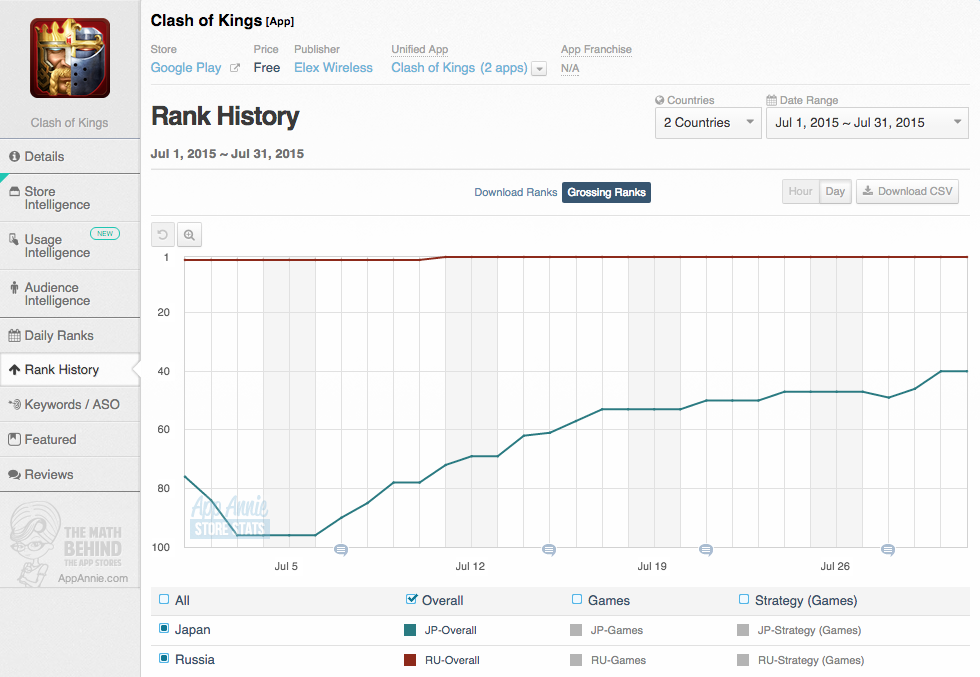 In daily Google Play revenue, Clash of Kings held on to the top spot in Russia and also saw while it saw increasing success in Japan.
The game dominated in Russia, holding its position as the top grossing Google Play app for most of July. In Japan, it steadily climbed the daily ranks throughout the month. Overall, Clash of King's global ascendance puts it hot on the tails of mobile's biggest strategy games like Game of War – Fire Age, which ranked #4 by Google Play revenue for the period.
Agar.io Soaks Up the Downloads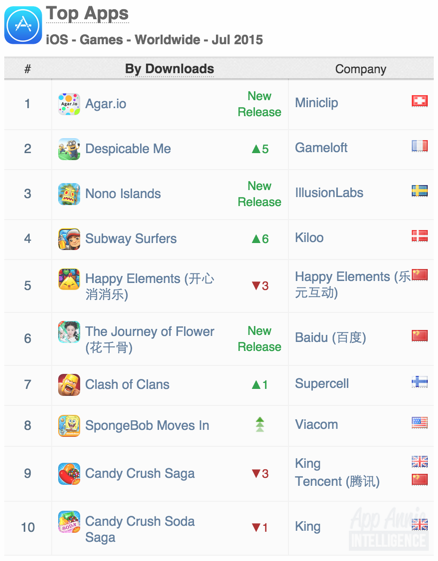 In July, we wrote about the key reasons that lead to the meteoric rise of Agar.io, the smash hit casual game on iOS and Android. Unsurprisingly, the game's success last month landed it at #1 by worldwide iOS downloads.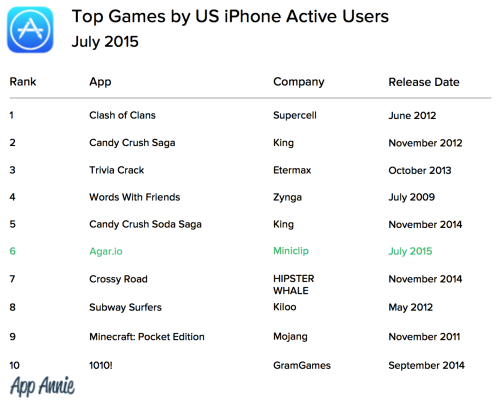 In July, Agar.io attracted levels of users comparable to some of the App Store's most popular games.
For the month of July, Agar.io ranked #6 among games by US iPhone usage penetration. In the Top 10 table above, Agar.io is the only game released in 2015, which speaks to the game's astonishing virality. Readers interested in learning more about how Agar.io attracted so many users should read our deep-dive on the game.
Despicable Me and SpongeBob Make a Resurgence
While the App Annie Index usually focuses on breakaway hits, sometimes a previously successful game has new life breathed into it. This happened twice in July, with Gameloft's Despicable Me and Viacom's SpongeBob Moves In coming in at #2 and #8, respectively, by iOS worldwide downloads. Both of these games were initially released in mid-2013 and demonstrate the strong staying power of games based on popular intellectual properties.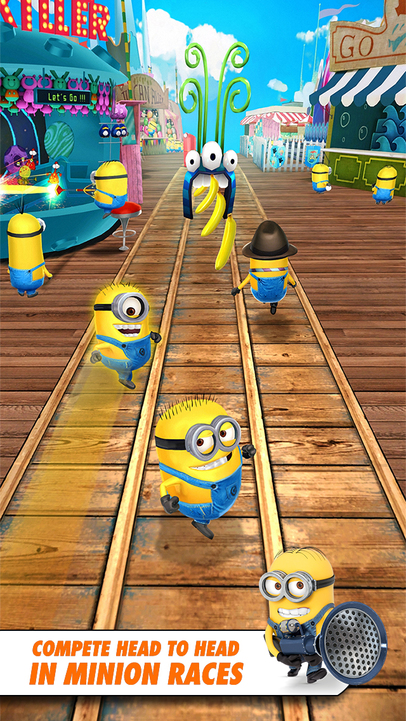 A new racing game mode and the new Minions movie helped Despicable Me see renewed success on the iOS App Store.
One likely cause of Despicable Me's renewed success is the new Minions spin-off movie released in July. This film and its marketing sparked interest in the game, which we previously wrote about in August 2014 when it reached #6 by worldwide iOS downloads. A June 23rd update, which brought a new racing game mode, also seems to have helped the game's success in July.
In the case of Viacom's city-builder SpongeBob Moves In, the July revival has a clear cause: the game went from costing $3.99 to being free in late July. The effect on downloads was so strong that the game went from being ranked #820 by US iPhone downloads to being ranked #2 in less than a week.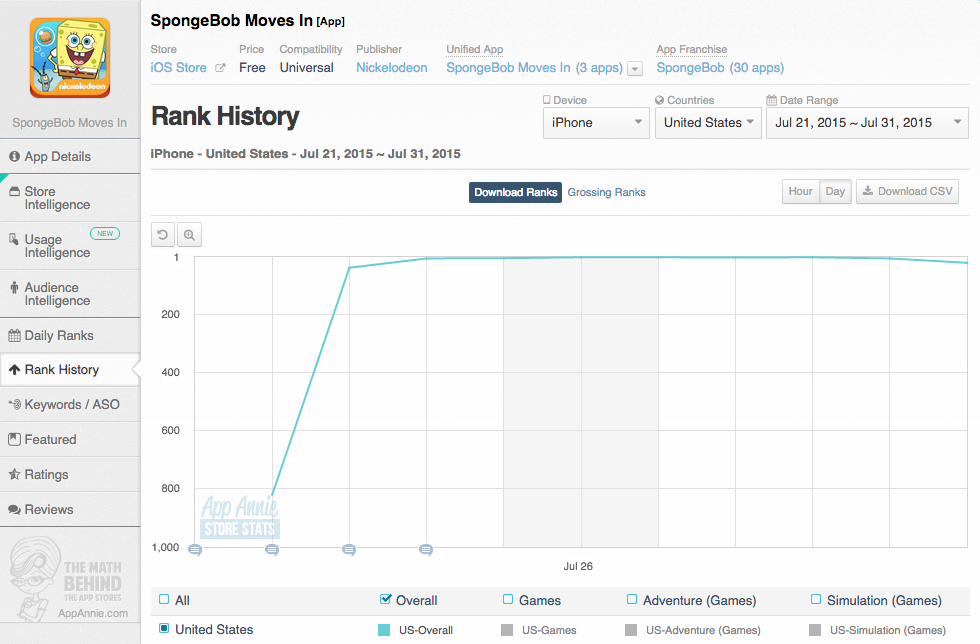 SpongeBob Moves In flew up the iPhone download ranks after becoming a free app.
Originally, SpongeBob Moves In became free as Apple's App of the Week. That the game remains free weeks later speaks to the dominance of the freemium paradigm in mobile gaming today.
The Technology Behind the Index
The information contained in this report is compiled from App Annie Intelligence, the leading market data solution for the app store economy. To see how our app store download, revenue, demographic and usage estimates can help guide your critical business decisions, take a tour or request a demo today.
---

---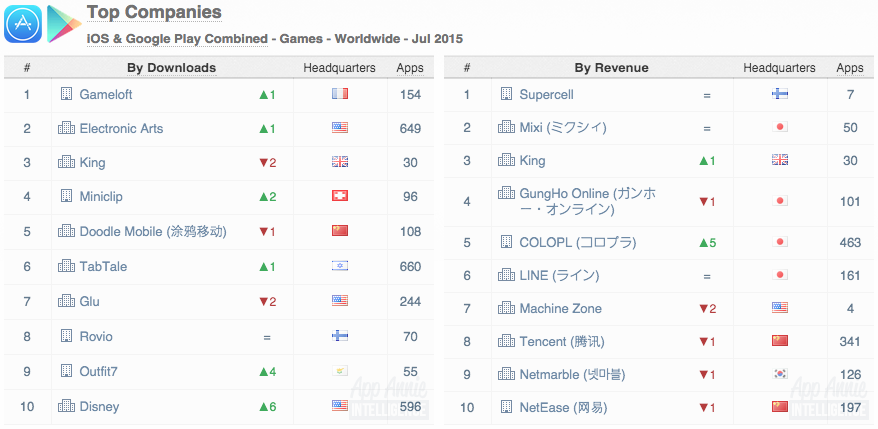 For the complete list of July's top games and game publishers around the world, click the chart above.
Notes:
The publisher and app rankings reported in the App Annie Index are based on the download and revenue estimates available through App Annie Intelligence. The daily rank history charts and the homepage feature app data are available to all users through App Annie's app tracker solution, Store Stats.
App Annie Intelligence is currently available for the iOS App Store and Google Play. It does not currently provide estimates for other app stores, such as the Amazon Appstore. While iOS and Google Play represent a significant portion of the app market in many countries, that is not the case for some countries. For example, China has a number of sizable third-party Android app stores.

While the Index for Games covers games, the Index for Apps provides app tracking on everything but games. Note that the Top Company rankings in the Index for Games are based solely on the publishers' games downloads and revenue, while the Top Company rankings in the Index for Apps are based on the company's downloads and revenue from apps excluding games.

Company and unified app rankings in the App Annie Index for Games and Index for Apps are based on individual apps that ranked in the Top 1,000.

Download rankings are based on individually downloaded apps and exclude downloads of app bundles. Revenue rankings are based on download revenue from individually downloaded paid apps as well as in-app purchase revenue from both individually downloaded apps and app bundles.

In the first month in which an app becomes unified, its rank change in the Index will compare the unified app that month vs. its highest-ranking individual app in the month prior. As a result, rank changes for newly unified apps may overstate ranking increases from June 2015 to July 2015.

In the iOS App Store, an app can be categorized under a Primary Category as well as an optional Secondary Category. If an app has a Primary Category of Games and a Secondary Category of Entertainment, it is a candidate to be included in this Index for Games. If the app's Primary Category is Entertainment and its Secondary Category is Games, then it will not be included in this Index for Games; it is a candidate for the Index for Apps.

Note that the ranking approach used in the App Annie Index differs from that used in the iOS App Store. In the latter, app rankings for a given category will include all apps whose Primary Category or Secondary Category matches that given category. So an app can appear in the rankings for more than one category within the iOS App Store or in App Annie Store Stats rankings.

In Google Play, an app can be categorized under only one category, so there is no double-categorization.

Occasionally, a publisher may decide to shift an existing app from one category to another category. In these cases, the App Annie Index will rank that app based on its categorization in the subsequent month. Given that the App Annie Index has a Games report and an Apps report, the only scenario where an app's recategorization could shift it from one Index to another is if its category changes from Games to a category other than Games or vice versa.
In the App Annie Index, all apps and publishers are reported under their parent companies, where available; for example, the Plants vs. Zombies™ 2 app is reported under its parent company Electronic Arts, rather than its direct publisher PopCap. Note that if you view the Electronic Arts parent company page on Store Stats, you will see the publishers that roll under the parent company Electronic Arts, including PopCap. The Plants vs. Zombies™ 2 app will be listed under the PopCap publisher page.
Company and app rankings are based on the App Annie DNA relationships at the time of publications. App Annie DNA relationships are subject to change over time.

App Annie Usage Intelligence data for smartphones and tablets were derived from mobile usage data collected from a large sample of real-world users, combined with additional proprietary data sets.

App Annie tracks usage at the device level using a privacy-protective hashed device ID. Data is only reported to third parties in aggregated format.

App Annie Index revenue rankings are based on revenue that the iOS App Store and Google Play earned from paid downloads and in-app purchases. They do not include revenue earned from in-app advertising.

Certain trademarks and/or images used in this report may belong to third parties and are the property of their respective owners. App Annie claims no rights to such trademarks or images.