The Worldwide App Annie Index for Games highlights the hottest mobile game properties for both the iOS App Store and Google Play. To find out about current trends in other markets and app categories, please check out the Japan App Annie Index for Games, the Index for General & Business News, the Russia App Annie Index and the July 2014 Worldwide Index for Apps.
TABLE OF CONTENTS
1. The Technology Behind the Index
The information contained in this report was compiled from App Annie Intelligence, the leading market data solution for the app store economy. To see how our app store download and revenue estimates can help guide your critical business decisions, take a tour or request a demo today.
---

---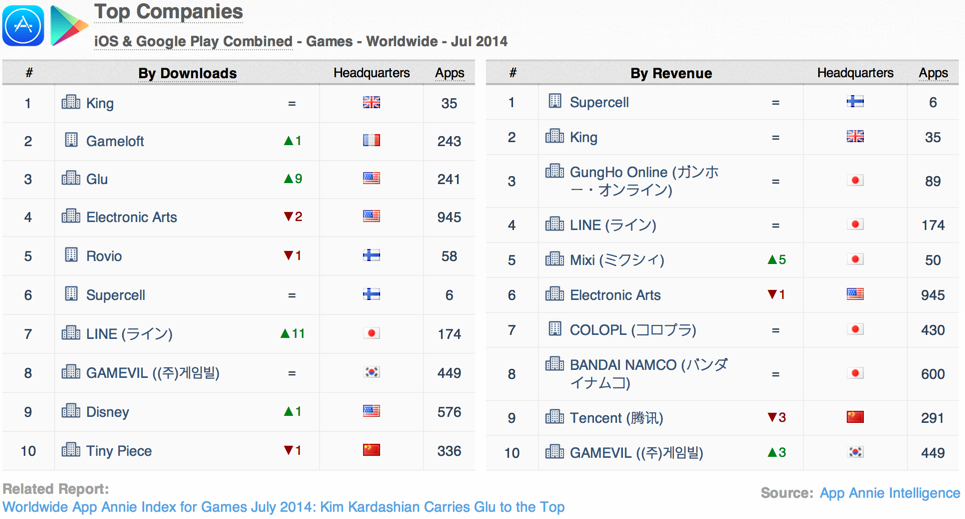 For the complete list of July's top apps and publishers around the world, click the chart above.
2. This Month's Top Performers
Kim Kardashian: Hollywood Carries Glu to the Top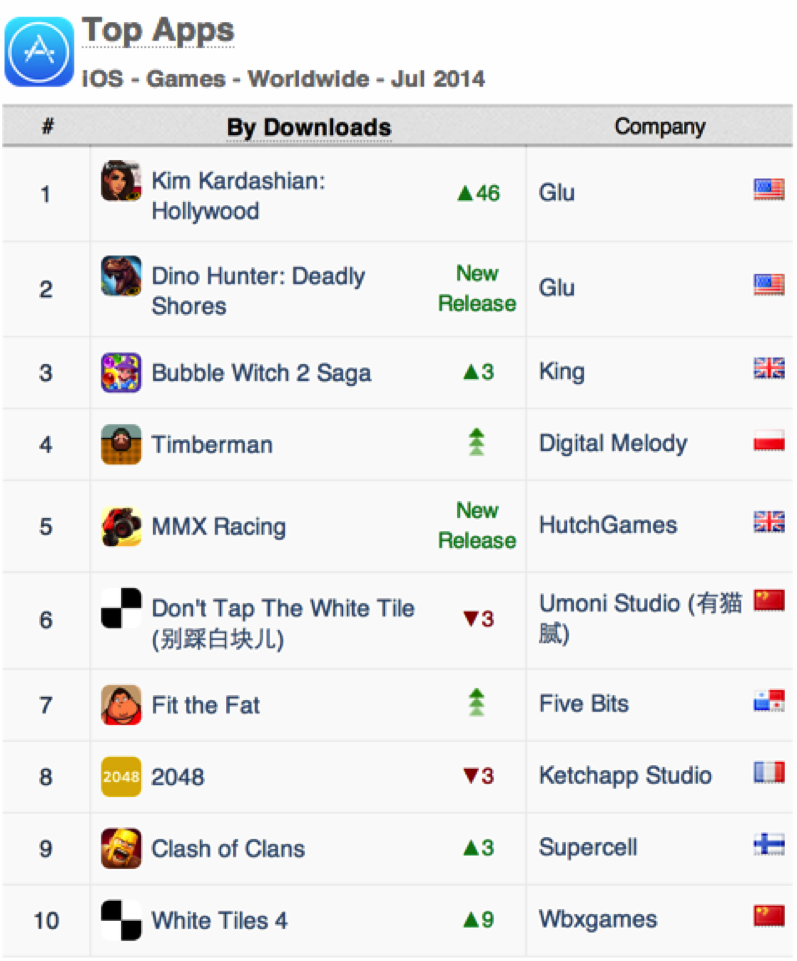 Helped by the meteoric rise of Kim Kardashian: Hollywood, Glu finished July as the #1 publisher by worldwide iOS game downloads and #10 by worldwide iOS game revenue. The choose-your-own-adventure game features Kim Kardashian as the player's personal red carpet coach, grooming the player from an aspiring talent into a bonafide A-list star.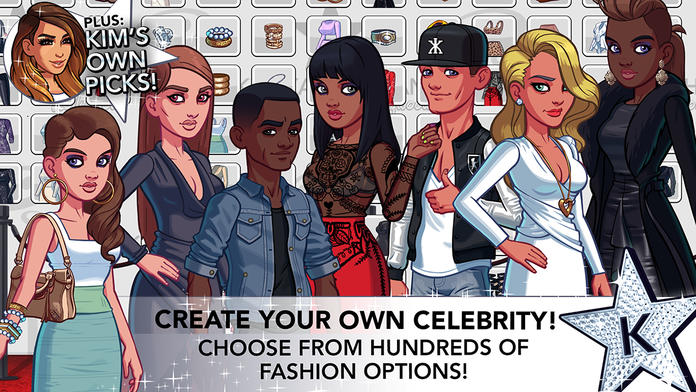 Players choose their own path to A-list stardom with a little celebrity help in Kim Kardashian: Hollywood.
Surrounded by serious mainstream news coverage, Kim Kardashian: Hollywood snagged a spot in the top 5 for United States iPhone overall downloads almost immediately after launch and ended July as the #1 downloaded game on iOS. Kim Kardashian: Hollywood even made a splash in the iOS revenue rankings, leaping up the charts to finish July as the #10 iOS game by monthly worldwide revenue. Incredibly, the game garnered over 68,000 reviews in the month of July -- more than all the other new releases in the iOS top 10 by downloads combined. The mainstream adoption and monetization of Kim Kardashian: Hollywood could open the floodgates for future celebrity-publisher partnerships.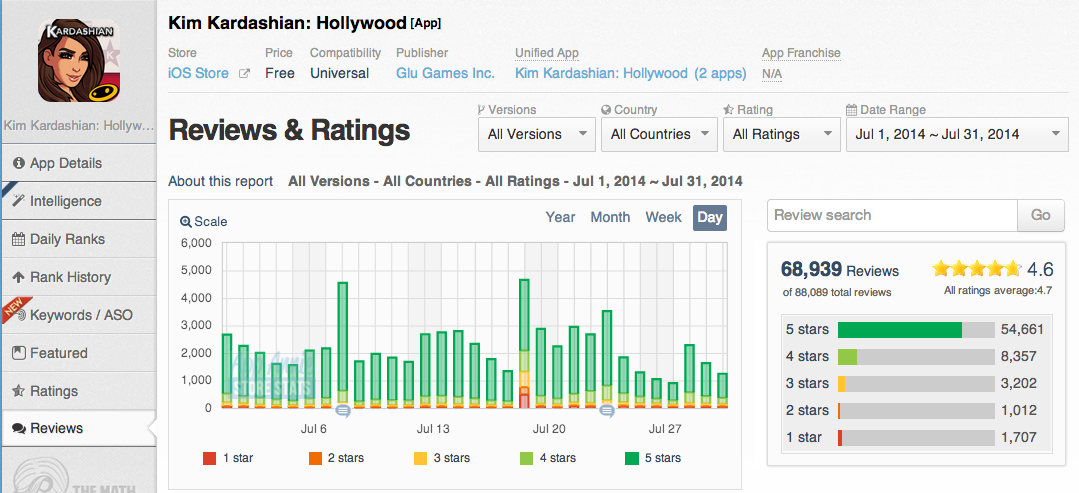 Kim Kardashian: Hollywood garnered significantly more reviews than other new releases.
Though unable to match Kim Kardashian: Hollywood's success, Dino Hunter: Deadly Shores also did very well in July, ending the month as the second most downloaded game for iOS despite releasing on July 9. A prehistoric adaptation of Glu's wildly popular hunting simulator Deer Hunter, Dino Hunter: Deadly Shores spent more than two weeks in the iPad top 10 download rankings in China and the United States, the two largest contributing countries to downloads.
Disney Tsum Tsum Zooms Up the Charts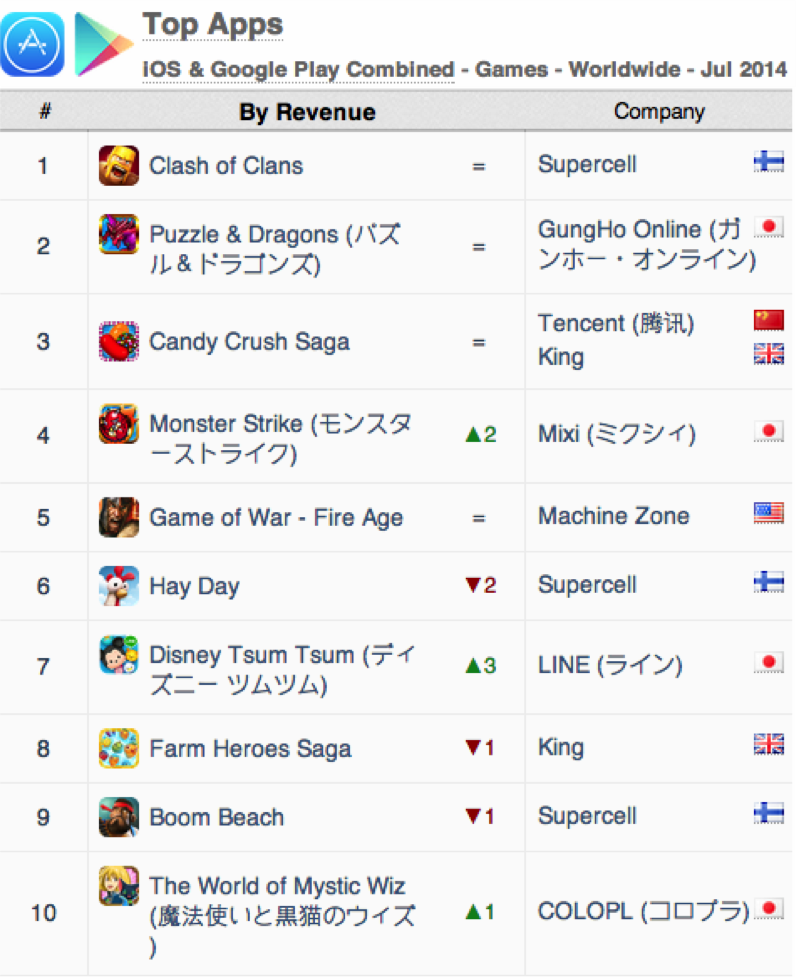 LINE's Disney Tsum Tsum rose in the revenue rankings for both iOS and Google Play thanks in part to the global release of the previously Japan-only title on July 1. In conjunction with the game's release in the United States, Disney introduced 30+ "Tsum Tsum" plush toys through its massive distribution network encompassing e-commerce, retail stores and theme parks. As of July, the plushes had sold more than 1.6 million units since their debut in the Japanese Disney Store last October. The global version of Disney Tsum Tsum rose quickly in the download rankings in Taiwan to snag a top 5 spot in iPhone downloads, while download growth in the United States coincided with mainstream news coverage in mid-July. The Japanese version remained the main growth driver, as its numbers in Japan grew impressively month-over-month to finish #1 overall in combined iOS and Google Play downloads in July and #3 overall by revenue.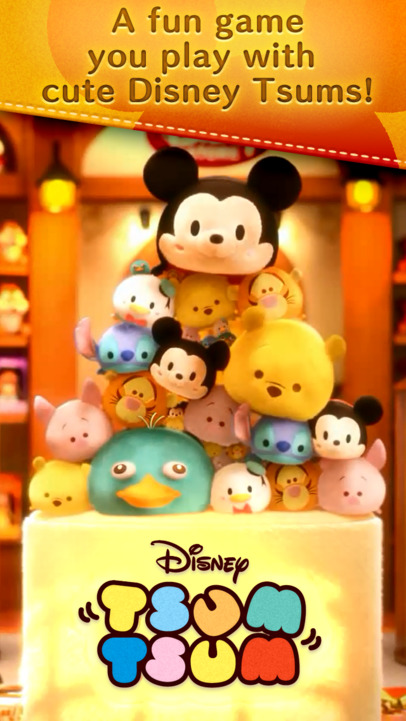 Disney Tsum Tsum's global release was strategically promoted across multiple mediums.
The gameplay offers a refreshing change from the standard puzzle-matching genre -- the round Disney character heads pile up randomly in a wide bowl as players frantically chain together big combos as the 60-second timer counts down. Disney Tsum Tsum monetizes through the purchase of additional Disney and Pixar Tsum characters, each with their own special power in the game.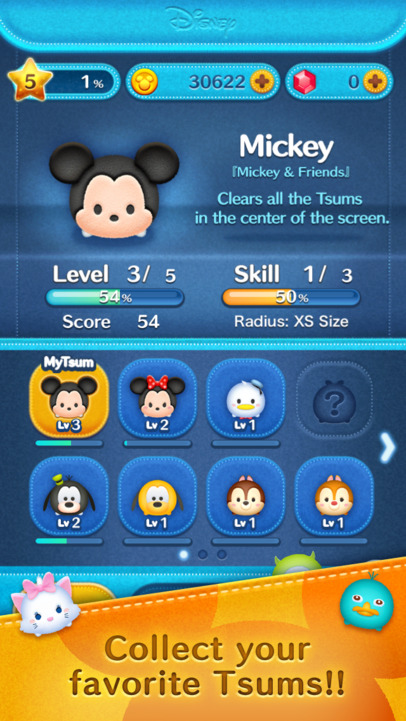 Players earn and buy rubies to unlock different Tsums with unique in-game powers.
When App Annie asked about LINE's overall expansion strategy, Chief Strategy and Marketing Officer Jun Masuda had this to say:
"LINE is expanding its mobile platform by offering various integrated services and content such as LINE GAME, centered around its core focus on communication. LINE: Disney Tsum Tsum, a game released on our platform, has now been released in western markets in addition to Japan and the rest of Asia, and is performing strongly. We will continue to concentrate on the expansion of the platform, and will work with game companies around the world to add mid-core games such as RPGs to our lineup in order to supplement our offering of casual games." -- Jun Masuda, Chief Strategy and Marketing Officer at LINE
Transformers Roll Out on Mobile
Mirroring the incredible opening weekend of the movie, Transformers: Age of Extinction had a similarly fast start on mobile, quickly entering the top 5 Google Play rankings for United States downloads. Its rise in the download rankings directly coincided with the United States movie release on June 27. Outside of the United States, Transformers: Age of Extinction achieved high downloads in Mexico, Thailand and other markets, with some success on the app store attributable to country box office success, like in Mexico.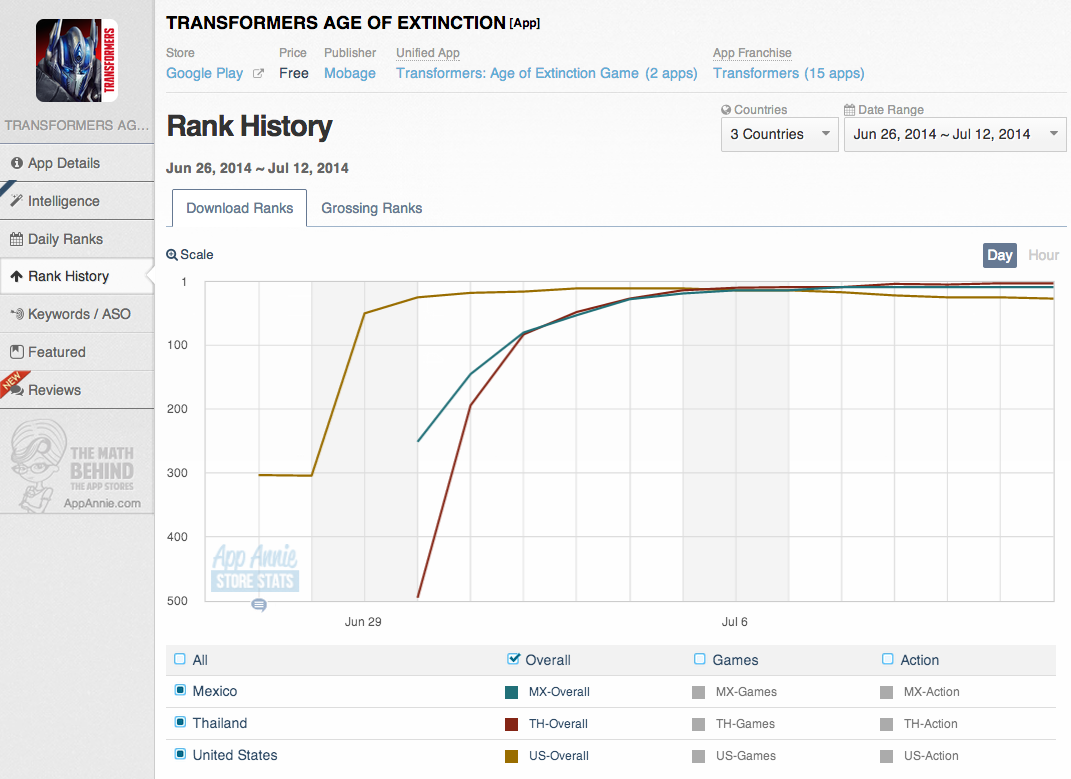 Transformers: Age of Extinction shot up the Google Play download ranks in several countries after the movie released.
Published by DeNA a week before the movie hit theaters, Transformers: Age of Extinction received coverage on the Google Play homepage and accumulated a huge number of high ratings through the end of July, just as Kim Kardashian: Hollywood did on iOS. Aside from Transformers, there have been a number of recent successful games with movie tie-ins, such as last year's mega-hit Despicable Me: Minion Rush as well as Disney's more recent Frozen Free Fall and Maleficent Free Fall. We analyze their specific impact on the Japanese mobile gaming market in our Japan App Annie Index for Games.
3. More Movers and Shakers
GungHo Sells Supercell Share to Softbank
Supercell's Clash of Clans continues to rise in Japan, solidifying its position as the top grossing game worldwide across iOS and Google Play. In a recent development, GungHo Online, developer of Japanese mega-hit Puzzle & Dragons, sold its jointly acquired stake in Supercell to parent company SoftBank. Combined with its already significant portion of Supercell, this sale will give SoftBank control of 51% of the Finnish studio. With its substantial investments in two of the hottest game properties in the world, SoftBank continues to strengthen its position as one of the premier mobile companies in the world.
Timberman Chops Its Way Up
Timberman enjoyed viral success in July, rocketing up the download charts to finish in the top 5 by iOS downloads, even briefly displacing Kim Kardashian: Hollywood at the top of the daily iPhone download ranks in the United States. Published by Polish indie developer Digital Melody back in May, Timberman was a modest success in Europe, cracking Russia's top 10 daily iPhone download ranks. Timberman's resurgence in July coincided with prime iOS App Store homepage placement in the "Best New Games" category in over 110 countries. Timberman's home menu pays homage to the now-legendary 8-bit wonder Flappy Bird with pixelated graphics and an easy-to-use interface, while the actual gameplay features simple yet addictive chopping action. When asked about Timberman's viral success, Digital Melody Creative Director Pawel Kitajewski said to App Annie:
"Timberman did great right from the start. It launched the same day we presented it at Digital Dragons in Cracow, so many people in the industry helped spread the news about this game they'd never heard about via their social channels. Meeting people face-to-face works better than sending emails if you want to accomplish something, so we try to attend conferences to promote our work. Timberman is a game where people compete with themselves or challenge their friends. In fact, one of our best ideas was letting users share their score on Twitter with a "Can you beat me?" message and game download link. It was a great way to create social buzz around the game by helping people challenge their friends via their own profiles." -- Pawel Kitajewski, creative director at Digital Melody
Bubble Witch 2 Saga Continues to Soar
Bubble Witch 2 Saga continued to climb the charts in July, building on last month's top 10 finishes on both iOS and Google Play by downloads. A majority of the growth in July came from Google Play downloads in Mexico, where the game spent significant time as the #1 ranked game by downloads. iOS growth was driven mainly by the United States -- the United Kingdom and France also contributed substantially. Bubble Witch 2 Saga is King's first sequel game, with Candy Crush Soda Saga, the follow-up to smash hit Candy Crush Saga, currently in soft launch. It will be interesting to see if Bubble Witch 2 Saga's success up to this point will open up the conversation for sequels for other strong King games in the future.
Zynga + Jenga
Zynga was another parent company that saw a spike in downloads from a paid-to-free pricing strategy of their officially licensed Jenga game, much like Halfbrick did in June with its portfolio-wide switch to freemium. Jenga integrates intuitive touch controls, gyroscopic rotating views and online multiplayer modes to provide a well-received 3D adaptation of the physical wooden tower strategy game. The promotion boosted Jenga into the overall top 5 iPhone apps in the United States by downloads after it took effect mid-July, and was a major contributor to Zynga's six-spot rise in the worldwide game download company rankings.
---
| | |
| --- | --- |
| | Want to get even more advanced with your app store market analysis? Check out our enterprise product App Annie Intelligence. |
---
For those of you who are also looking for an update on top apps outside of games, please check out the July 2014 App Annie Worldwide Index for Apps. To keep up-to-date with all the changes at the top of the app and publisher charts, check out the complete set of App Annie Index tables.
Notes:
The publisher and app rankings reported in the App Annie Index are based on the download and revenue estimates available through App Annie

Intelligence

. The daily rank history charts and the homepage feature app data are available to all users through App Annie's app tracker solution,

Store Stats

.

While the Index for Games covers games, the Index for Apps provides app tracking on everything but games. Note that the Top Company rankings in the Index for Games are based solely on the publishers' games downloads and revenue, while the Top Company rankings in the Index for Apps are based on the company's downloads and revenue from apps excluding games.

Through September 2013, similar versions of the same app with different names (e.g., NYTimes and NYTimes for iPad) were ranked separately. Effective with October data, similar versions of the same app with different names are unified (e.g., NYTimes and NYTimes for iPad are now aggregated and ranked as a single NYTimes unified app).

Company and unified app rankings in the App Annie Index for Games and Index for Apps are based on individual apps that ranked in the top 1,000.

In the first month in which an app becomes unified, its rank change in the Index will compare the unified app that month vs. its highest-ranking individual app in the month prior. As a result, rank changes for newly unified apps may overstate ranking increases from June 2014 to July 2014.

In the iOS App Store, an app can be categorized under a Primary Category as well as an optional Secondary Category. If an app has a Primary Category of Games and a Secondary Category of Entertainment, it is a candidate to be included in this Index for Games. If the app's Primary Category is Entertainment and its Secondary Category is Games, then it will not be included in this Index for Games; it is a candidate for the Index for Apps.

Note that the ranking approach used in the App Annie Index differs from that used in the iOS App Store. In the latter, app rankings for a given category will include all apps whose Primary Category or Secondary Category matches that given category. So an app can appear in the rankings for more than one category within the iOS App Store or in App Annie Store Stats rankings.

In Google Play, an app can be categorized under only one category, so there is no double-categorization.

Occasionally, a publisher may decide to shift an existing app from one category to another category. In these cases, the App Annie Index will rank that app based on its categorization in the subsequent month. Given that the App Annie Index has a Games report and an Apps report, the only scenario where an app's recategorization could shift it from one Index to another is if its category changes from Games to a category other than Games or vice versa.
In the App Annie Index, all apps and publishers are reported under their parent companies, where available; for example, the Plants vs. Zombies™ 2 app is reported under its parent company Electronic Arts, rather than its direct publisher PopCap. Note that if you view the Electronic Arts parent company page on Store Stats, you will see the publishers that roll under the parent company Electronic Arts, including PopCap. The Plants vs. Zombies™ 2 app will be listed under the PopCap

publisher page.

Company and app rankings are based on the App Annie DNA relationships at the time of publications. App Annie DNA relationships are subject to change over time.

App Annie Index revenue rankings are based on revenue that the iOS App Store and Google Play earned from paid downloads and in-app purchases. They do not include revenue earned from in-app advertising.

Certain trademarks and/or images used in this report may belong to third parties and are the property of their respective owners. App Annie claims no rights in such trademarks or images.