| | |
| --- | --- |
| Each month, the App Annie Index highlights the top-performing games and apps for the iOS App Store and Google Play. Our analysis covers trends among the leading apps across countries and categories, and is the industry standard for professionals looking to compare leading apps and publishers. | You might also be interested in: |
This Month's Top Performers
Supercell Doubles Down on Boom Beach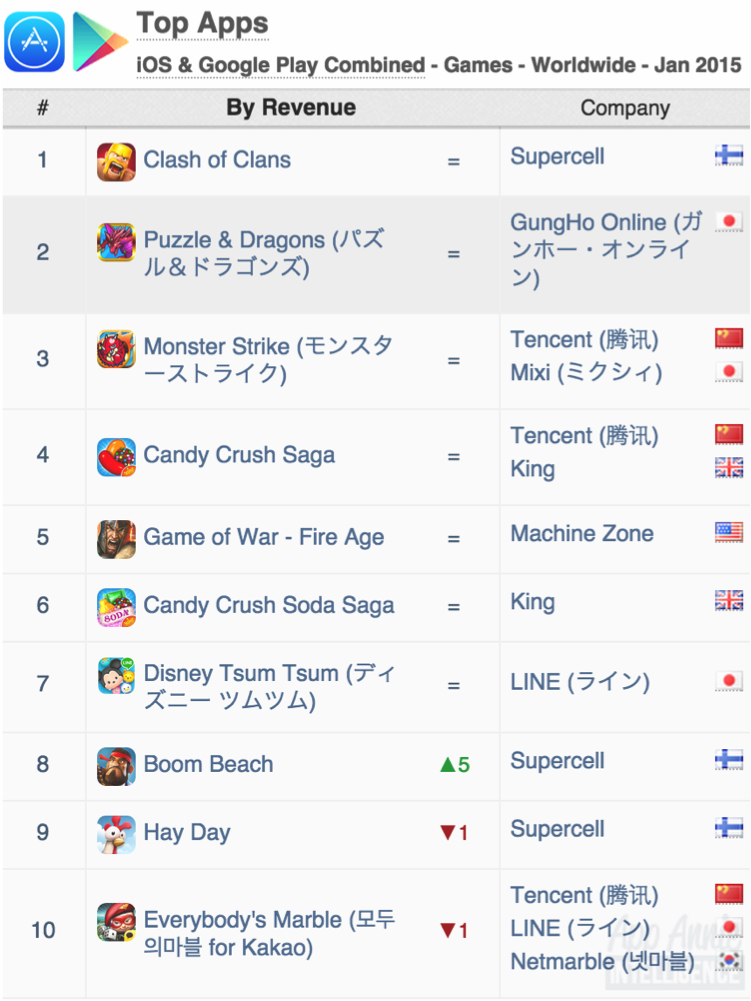 Boom Beach enjoyed a nice surge in January 2015, rising 5 spots to finish in the top 10 for combined iOS and Google Play game revenue. The strategic war game's rise on both iOS and Google Play coincided with a strong marketing push from Supercell, who spent heavily on national TV ads promoting the game in the United States.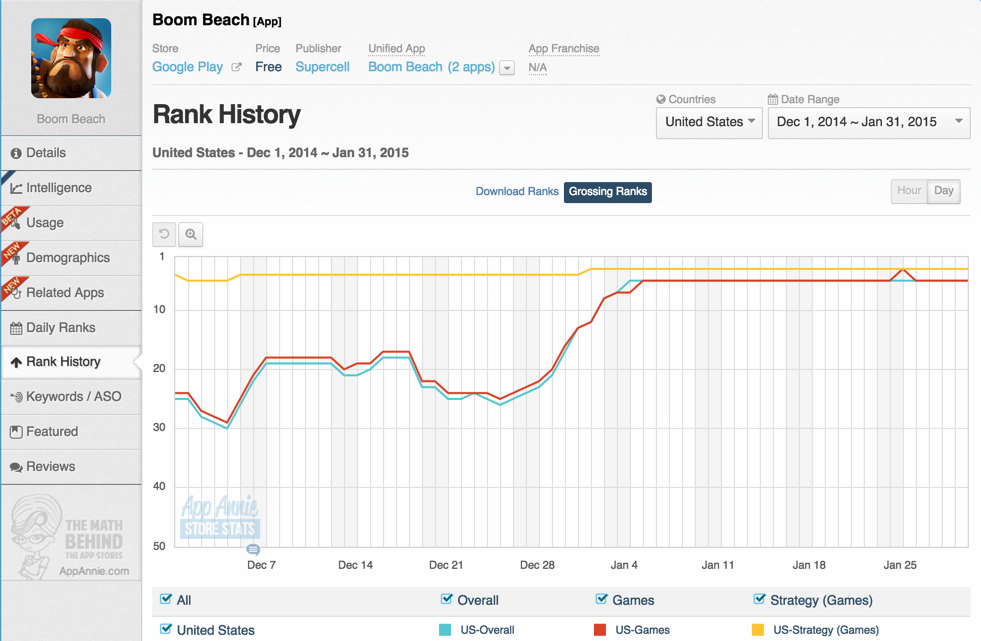 Boom Beach's rank rose around the same time national ads ran in the United States.

Boom Beach's success was driven primarily by the United States, where it saw strong revenue growth on both iOS and Google Play. It is interesting to see Supercell continue investing in other games than their main cash-cow Clash of Clans. (For more insight into the portfolio strategies of Supercell and other mobile gaming giants, download Portfolio Strategies in the Mobile Gaming Industry.)
Tencent's New Games Enter iOS Top 10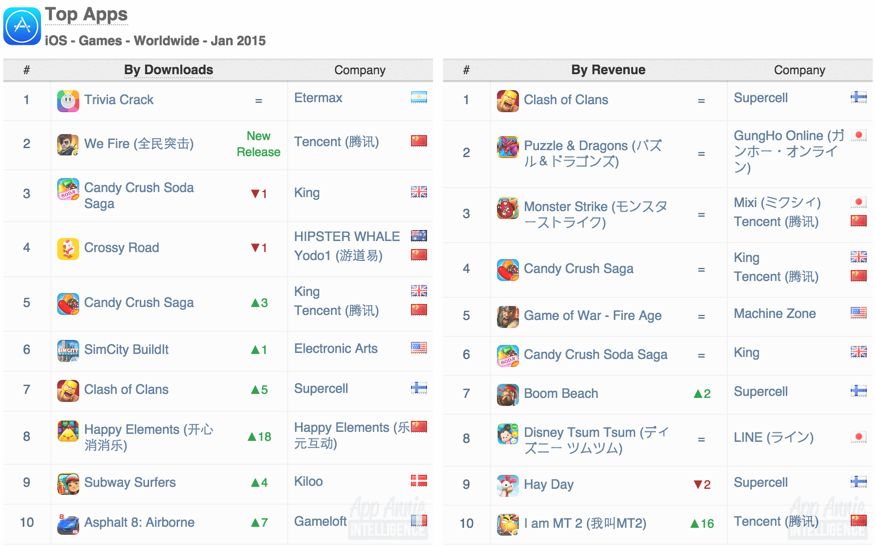 Tencent had a strong January with recently released games cracking the iOS top 10 for both downloads and revenue. We Fire reached #2 on the iOS charts by worldwide game downloads in January, displacing all games except Trivia Crack. Tencent's first full 3D mobile shooter We Fire features rich environments and PvP gameplay reminiscent of famous PC franchises like Counter-Strike and also allows the gamer to play from either a first- or third-person perspective. Promoted heavily across Tencent's WeChat and QQ platforms, the game quickly rose into the top grossing ranks in China.
We Fire leapt into the top iPhone grossing ranks shortly after releasing.
Outside of mobile, Tencent has been making marked efforts to reach the male gamer demographic that has traditionally skewed towards console shooters. After the phenomenal success of their Cross Fire 3D shooter franchise, Tencent formed a strategic partnership with Activision in 2012. In January 2015, they jointly launched the public open beta of Call of Duty Online, an online free-to-play PC shooter in the blockbuster franchise made available to Tencent's hundreds of millions of users. Created exclusively for the Chinese audience, Activision's world-renowned franchise has a great opportunity to succeed when coupled with Tencent's market dominance and proven track record of distribution.
I am MT 2, the sequel to hit card battler I am MT, leapt 16 spots into the January iOS top 10 by worldwide revenue after releasing in China mid-December. I am MT 2's iOS revenue in China rose significantly between December and January, so much so that it was briefly the #1 grossing iOS app overall in China.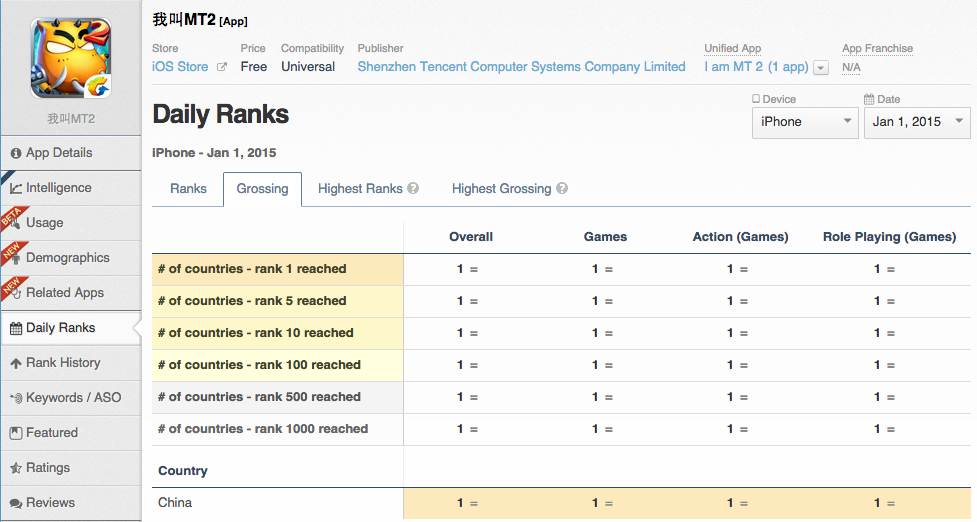 I am MT 2 cracked the worldwide iOS charts thanks to its strong success in China, where it reached #1 grossing overall by the beginning of January.
Also published by Tencent, I am MT 2 furthers the mobile gaming adaptation of a celebrated Chinese animated short series by bringing its World of Warcraft-inspired characters to life in a full 3D RPG adventure. The online show recently broadcast its 6th and final season to widespread acclaim, so it is possible the show's virality led to an increase in revenue. It will be interesting to see if the adaptation can continue to thrive on mobile, strengthening brand engagement with users despite the end of the onlineshow.
Trivia Crack's Hypergrowth Continues
Trivia Crack extended its red-hot streak, cementing its top rank on iOS and rising 4 spots to finish in the top 10 on Google Play for worldwide game downloads. As discussed in last month's Index, Trivia Crack has been unstoppable, reaching over 20 million daily active users, being featured on TV game shows in Latin America, and even getting licensed merchandise. The addicting app also grew revenue significantly in January, with the ad-free version of the game making up a sizable amount of total consumer spend.Being able to pay for an ad-free experience has been a key part of Trivia Crack's success.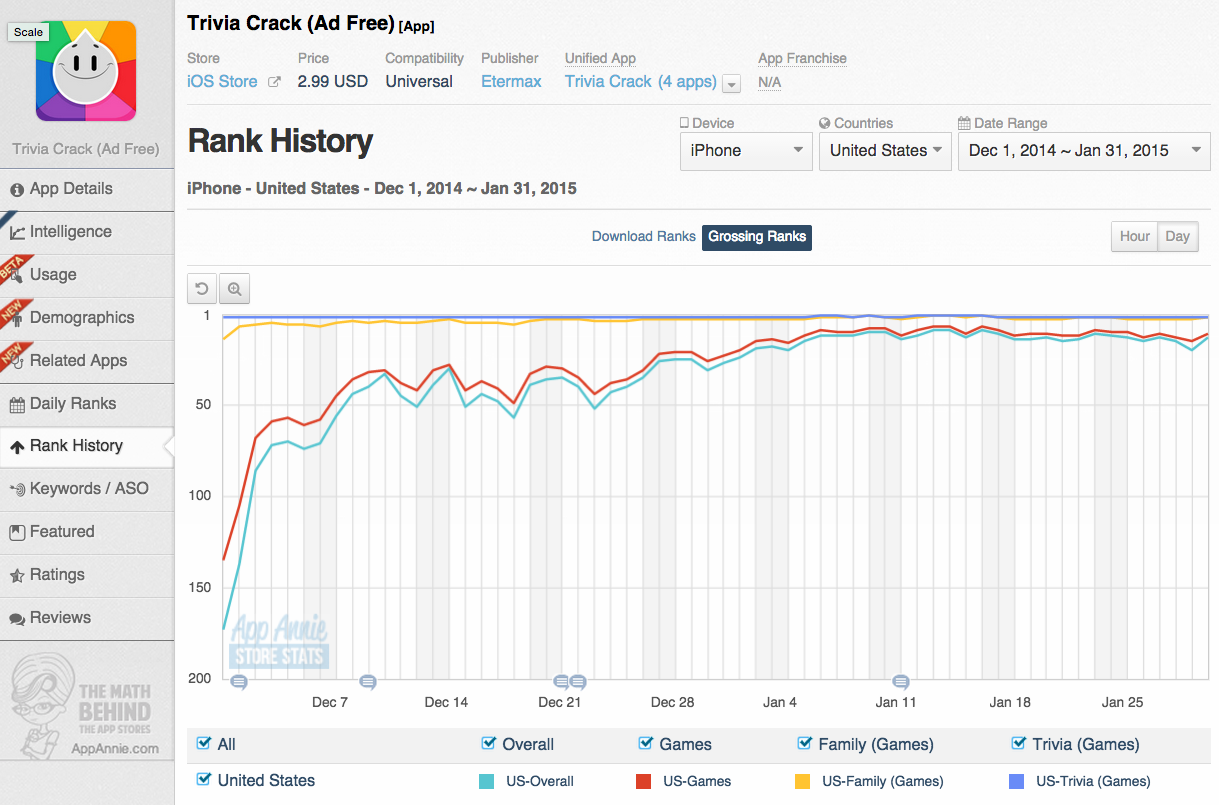 Trivia Crack's paid version has hovered around the top 10 grossing iPhone games in the United States since early January.
Having successfully built a brand off of an extraordinarily engaging game, Etermax is already planning a Trivia Crack sequel, which will allow for custom channels to cater more to tailored tastes. We are very interested to see how far Trivia Crackcan rise and what new horizons Etermax plans to explore next with its hit quiz brand.
The Technology Behind the Index
The information contained in this report is compiled from App Annie Intelligence, the leading market data solution for the app store economy. To see how our app store download, revenue, demographic and usage estimates can help guide your critical business decisions, take a tour or request a demo today.
---

---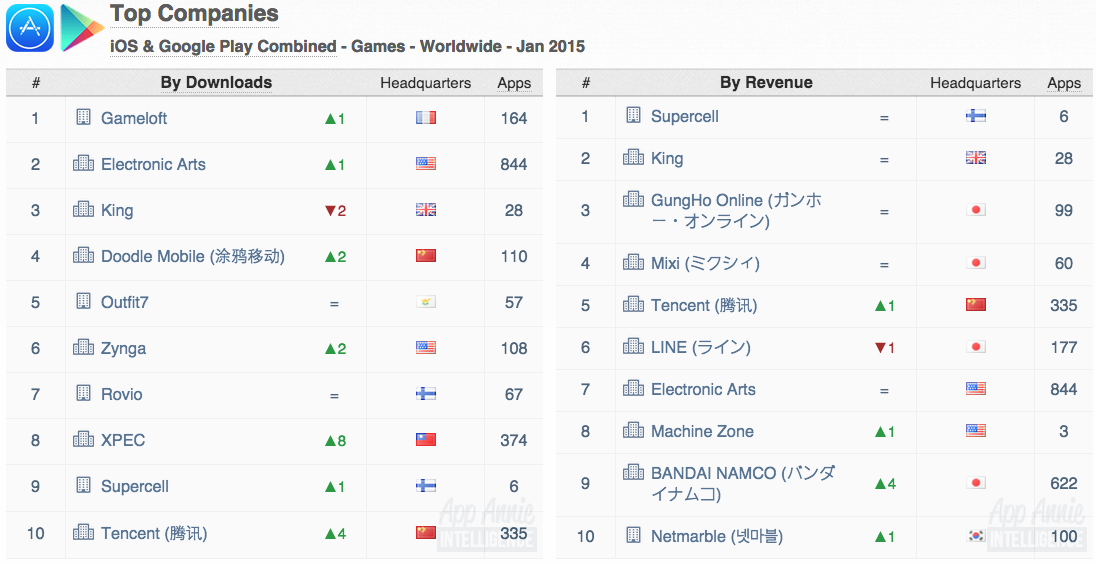 For the complete list of January's top apps and publishers around the world, click the chart above.
Notes:
The publisher and app rankings reported in the App Annie Index are based on the download and revenue estimates available through App Annie Intelligence. The daily rank history charts and the homepage feature app data are available to all users through App Annie's app tracker solution, Store Stats.

While the Index for Games covers games, the Index for Apps provides app tracking on everything but games. Note that the Top Company rankings in the Index for Games are based solely on the publishers' games downloads and revenue, while the Top Company rankings in the Index for Apps are based on the company's downloads and revenue from apps excluding games.

Through September 2013, similar versions of the same app with different names (e.g., NYTimes and NYTimes for iPad) were ranked separately. Effective with October 2013 data, similar versions of the same app with different names are unified (e.g., NYTimes and NYTimes for iPad are now aggregated and ranked as a single NYTimes unified app).

Company and unified app rankings in the App Annie Index for Games and Index for Apps are based on individual apps that ranked in the Top 1,000.

Download rankings are based on individually downloaded apps and exclude downloads of app bundles. Revenue rankings are based on download revenue from individually downloaded paid apps as well as in-app purchase revenue from both individually downloaded apps and app bundles.

In the first month in which an app becomes unified, its rank change in the Index will compare the unified app that month vs. its highest-ranking individual app in the month prior. As a result, rank changes for newly unified apps may overstate ranking increases from December 2014 to January 2015.

In the iOS App Store, an app can be categorized under a Primary Category as well as an optional Secondary Category. If an app has a Primary Category of Games and a Secondary Category of Entertainment, it is a candidate to be included in this Index for Games. If the app's Primary Category is Entertainment and its Secondary Category is Games, then it will not be included in this Index for Games; it is a candidate for the Index for Apps.

Note that the ranking approach used in the App Annie Index differs from that used in the iOS App Store. In the latter, app rankings for a given category will include all apps whose Primary Category or Secondary Category matches that given category. So an app can appear in the rankings for more than one category within the iOS App Store or in App Annie Store Stats rankings.

In Google Play, an app can be categorized under only one category, so there is no double-categorization.

Occasionally, a publisher may decide to shift an existing app from one category to another category. In these cases, the App Annie Index will rank that app based on its categorization in the subsequent month. Given that the App Annie Index has a Games report and an Apps report, the only scenario where an app's recategorization could shift it from one Index to another is if its category changes from Games to a category other than Games or vice versa.
In the App Annie Index, all apps and publishers are reported under their parent companies, where available; for example, the Plants vs. Zombies™ 2 app is reported under its parent company Electronic Arts, rather than its direct publisher PopCap. Note that if you view the Electronic Arts parent company page on Store Stats, you will see the publishers that roll under the parent company Electronic Arts, including PopCap. The Plants vs. Zombies™ 2 app will be listed under the PopCap publisher page.
Company and app rankings are based on the App Annie DNA relationships at the time of publications. App Annie DNA relationships are subject to change over time.
App Annie Index revenue rankings are based on revenue that the iOS App Store and Google Play earned from paid downloads and in-app purchases. They do not include revenue earned from in-app advertising.

Certain trademarks and/or images used in this report may belong to third parties and are the property of their respective owners. App Annie claims no rights to such trademarks or images.