| | |
| --- | --- |
| Each month, the App Annie Index highlights the top-performing games and apps for the iOS App Store and Google Play. Our analysis covers trends among the leading apps across countries and categories, and is the industry standard for professionals looking to compare leading apps and publishers. | You might also be interested in: |
This Month's Top Performers
Ketchapp ZigZags to the Top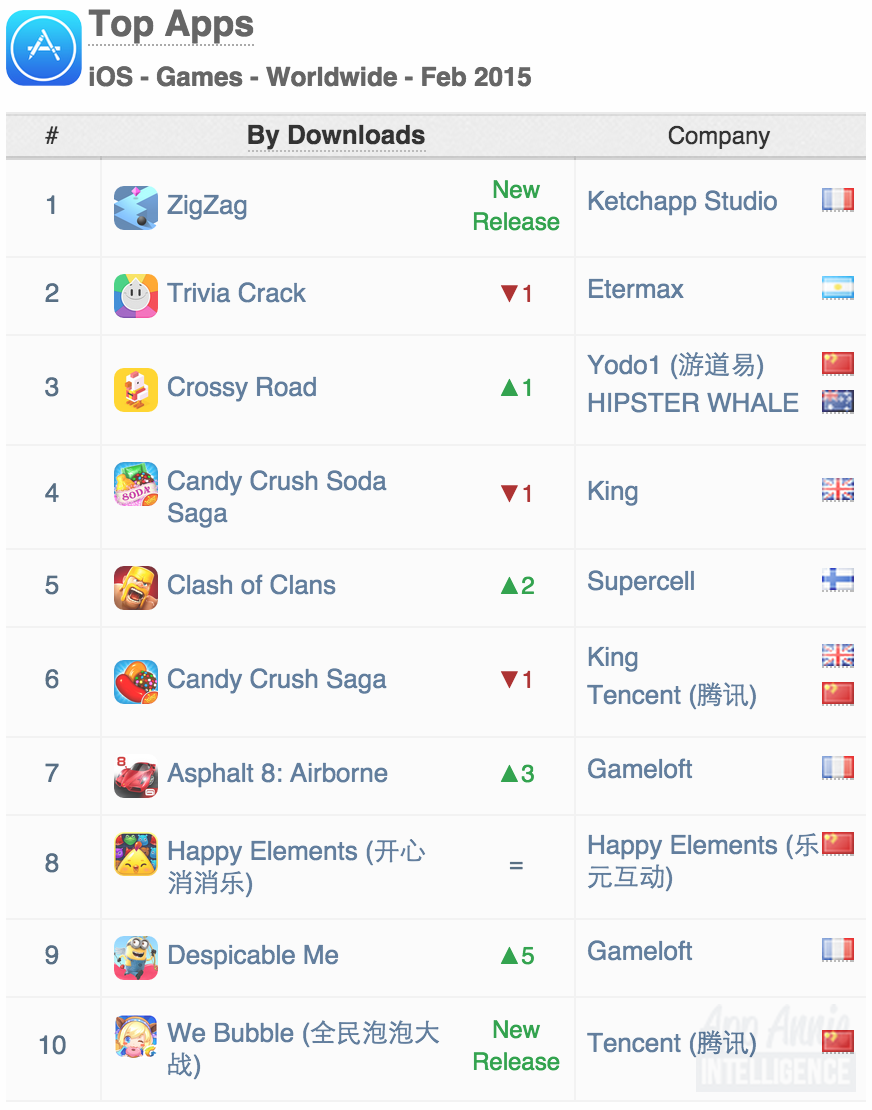 In our 2014 Retrospective, we pointed out that Flappy Bird started the trend of simple, one-tap gameplay — what we call "Super Casual" games. However, it was Ketchapp Studio that picked up the mantle after Flappy Bird's brief time in the limelight. February's iOS downloads were topped by yet another new "Super Casual" release from Ketchapp: ZigZag.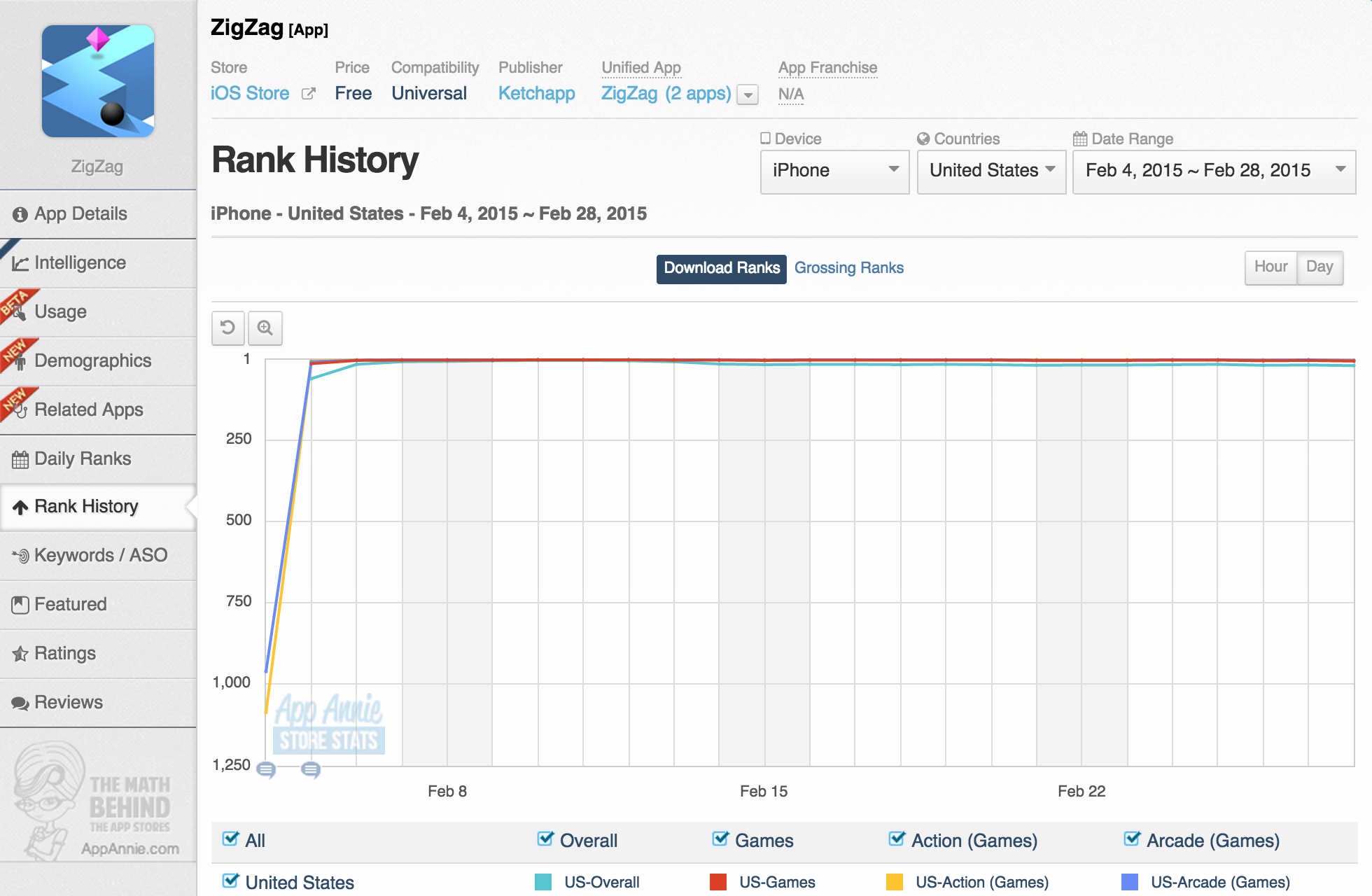 ZigZag rose to the top of the iOS gaming charts in the United States right after its release.
In classic Ketchapp style, gameplay is extremely simple. The object of the game is to keep a ball from falling off the edges of a narrow, winding wall. A tap changes the direction of the ball and the goal is to stay on the wall for as long as possible. Simple gameplay elements like these have become a winning formula for Ketchapp and we are interested to see what they come up with next.
Crossy Road Conquers Google Play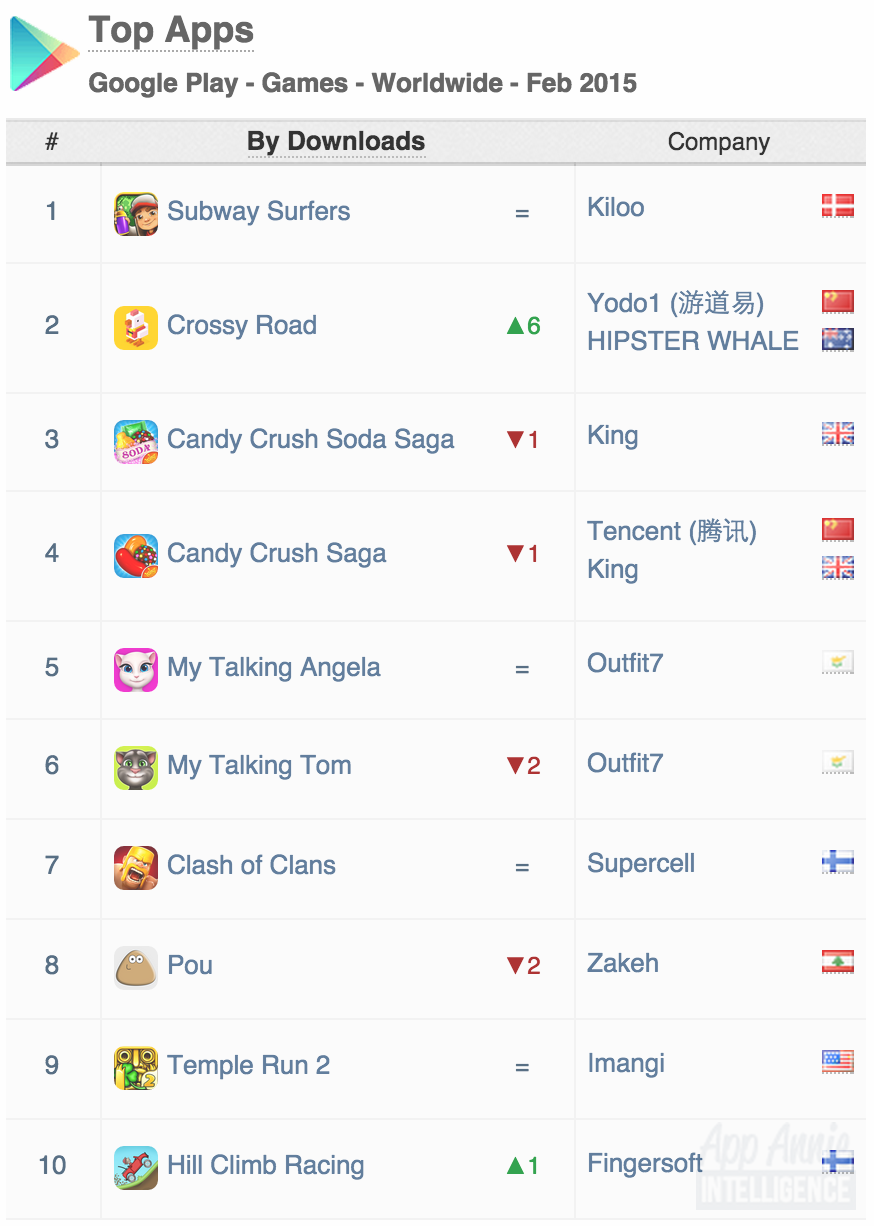 Continuing with the "Super Casual" theme, Crossy Road climbed 6 spots on February's Google Play download charts. As we highlighted in December's Worldwide Index for Games, the Frogger-like arcade hopper has already seen considerable success on iOS. Its success is interesting given its unique monetization strategy, one that eschews in-app purchases that assist in-game progression for in-app purchases that change gameplay through new characters.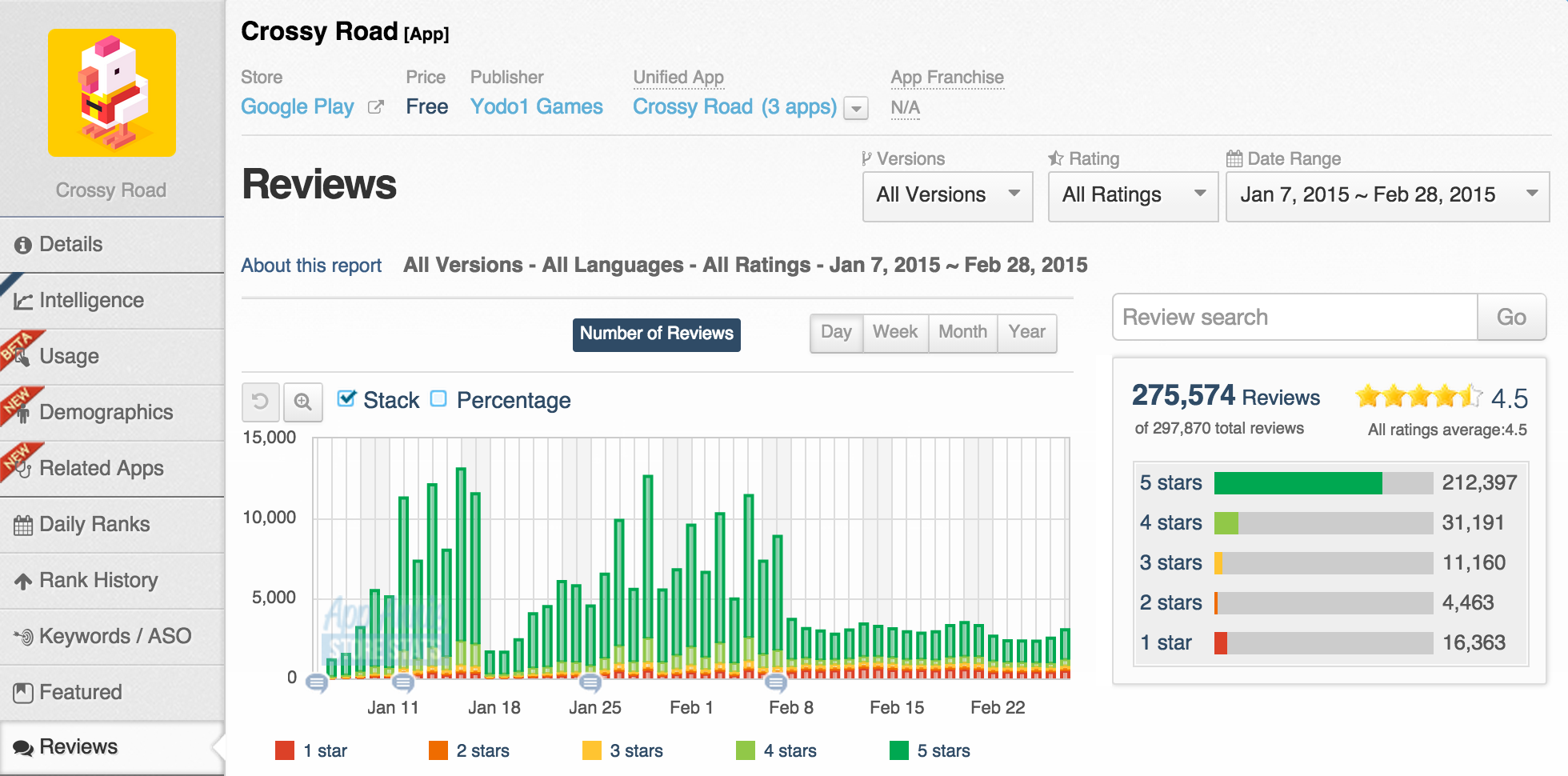 Crossy Road's player-friendly monetization model has won it overwhelmingly positive reviews.
Crossy Road's unconventional monetization model seems to be popular with players and may be a key factor in driving engagement. At the same time, it has also been quite effective at generating revenue. The game's developers recently revealed that Crossy Road earned them $10 million in revenue from 50 million downloads within 90 days of its release. That's quite a success for a game that was intended to be an experiment at doing freemium differently.
Player Engagement Drives Game of War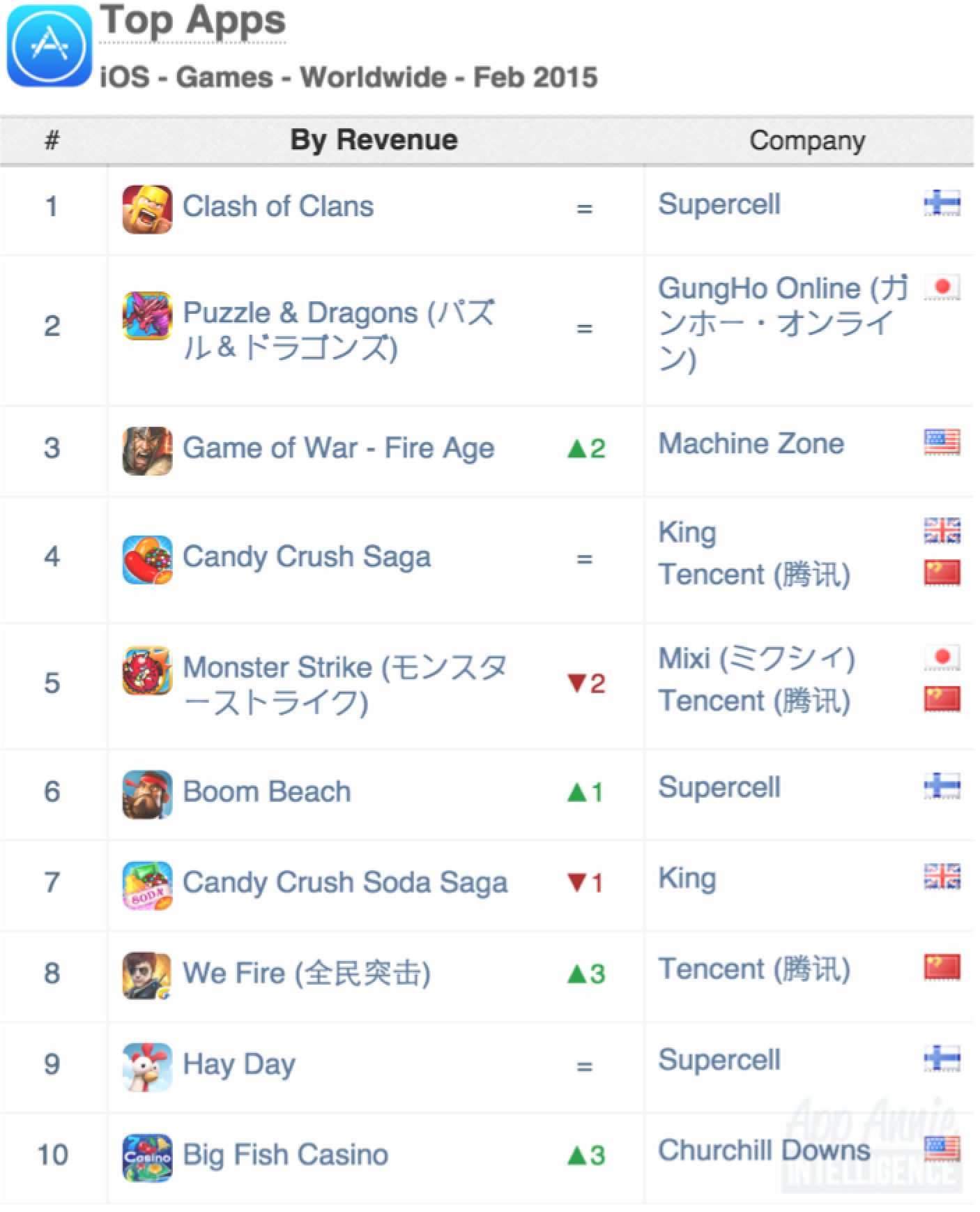 Machine Zone's Game of War – Fire Age climbed two spots in February's iOS rankings by revenue. Game of War is fairly well-known even among non-gamers thanks to their Super Bowl ad spot featuring Kate Upton. According to a recent feature on Bloomberg, this was part of a four-month campaign that cost $40 million. But there is more to Game of War than meets the eye. Unlike strategy games like Clash of Clans, which focus on one-on-one or single player battles, Game of War is a massively multiplayer mobile game with global battles taking place simultaneously. This requires real-time social interactions between players of multiple nationalities.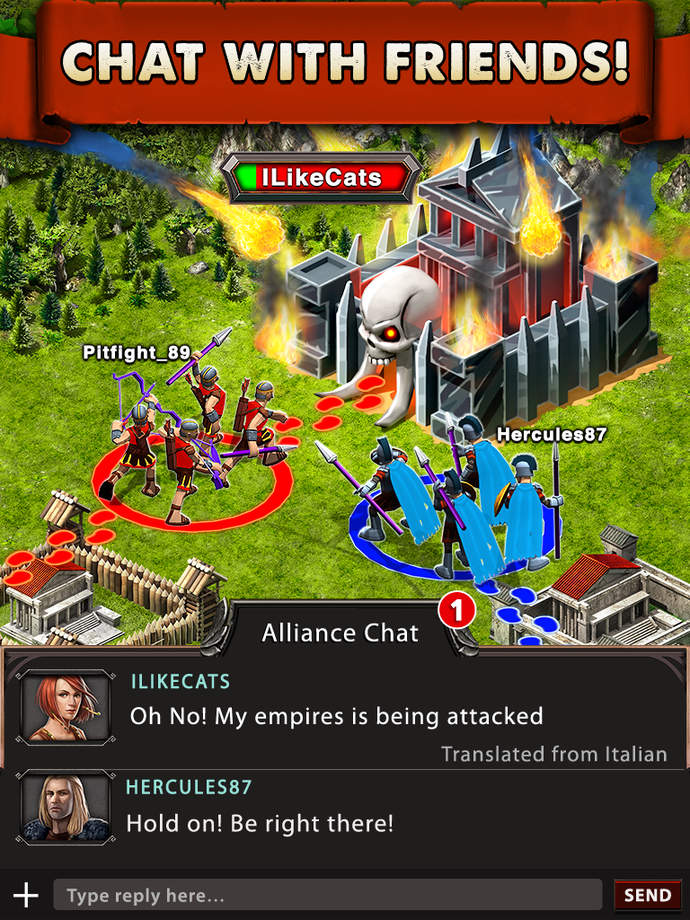 Game of War's translation feature helps players of different nationalities communicate in their native language, in real-time.
In order to facilitate these interactions, Machine Zone built an in-game, real-time language translator. Thanks to this feature, all Game of War players can send and receive messages in their native language. An element of crowdsourcing is also built in as players can correct errors in exchange for virtual in-game currency. According to Machine Zone, the average player makes 10 corrections per day. Translation-assisted social interactions have resulted in strong engagement as the average gamer plays for two hours a day.
The Technology Behind the Index
The information contained in this report is compiled from App Annie Intelligence, the leading market data solution for the app store economy. To see how our app store download, revenue, demographic and usage estimates can help guide your critical business decisions, take a tour or request a demo today.
---

---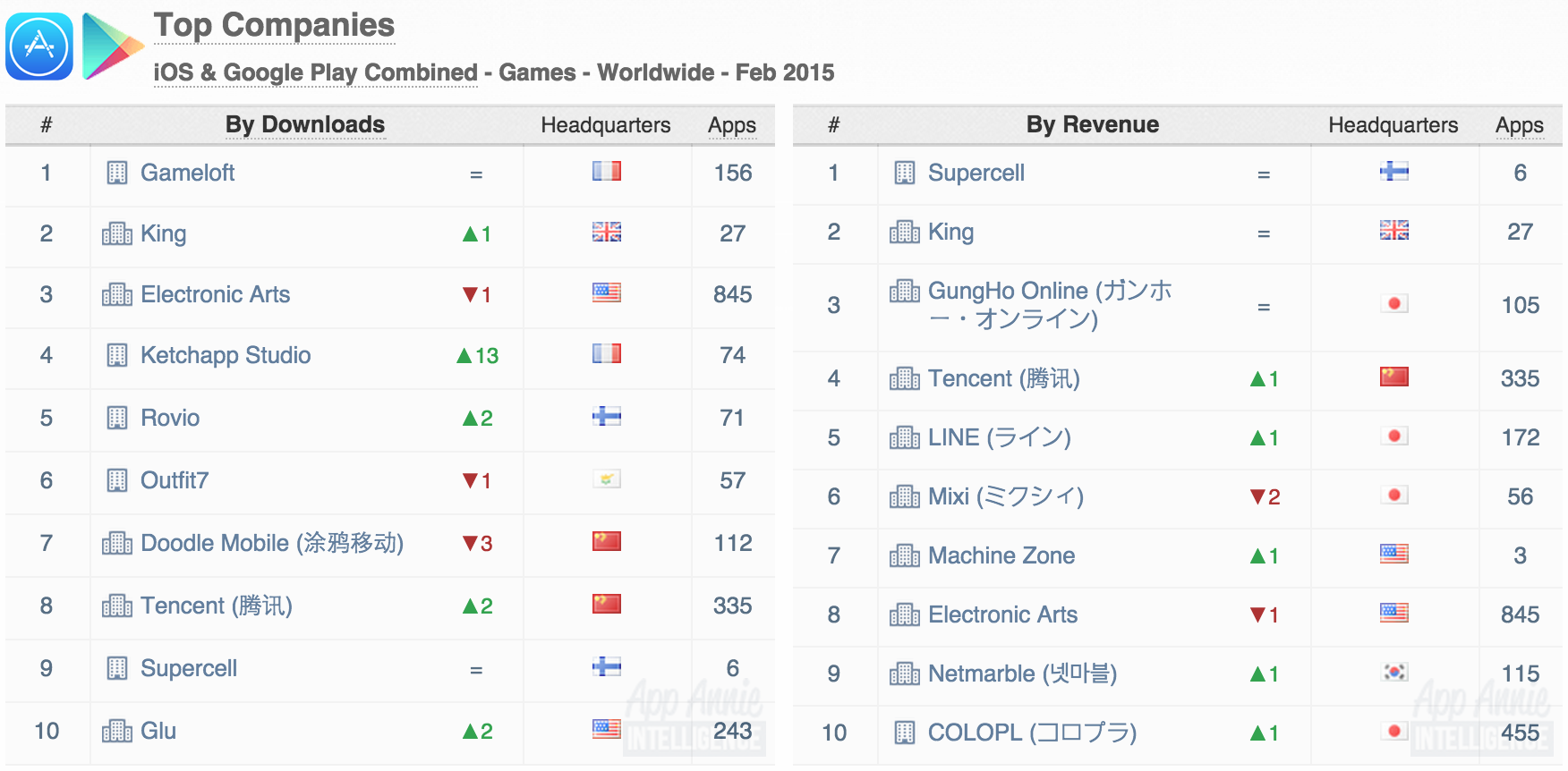 For the complete list of February's top apps and publishers around the world, click the chart above.
Notes:
The publisher and app rankings reported in the App Annie Index are based on the download and revenue estimates available through App Annie Intelligence. The daily rank history charts and the homepage feature app data are available to all users through App Annie's app tracker solution, Store Stats.

While the Index for Games covers games, the Index for Apps provides app tracking on everything but games. Note that the Top Company rankings in the Index for Games are based solely on the publishers' games downloads and revenue, while the Top Company rankings in the Index for Apps are based on the company's downloads and revenue from apps excluding games.

Through September 2013, similar versions of the same app with different names (e.g., NYTimes and NYTimes for iPad) were ranked separately. Effective with October 2013 data, similar versions of the same app with different names are unified (e.g., NYTimes and NYTimes for iPad are now aggregated and ranked as a single NYTimes unified app).

Company and unified app rankings in the App Annie Index for Games and Index for Apps are based on individual apps that ranked in the Top 1,000.

Download rankings are based on individually downloaded apps and exclude downloads of app bundles. Revenue rankings are based on download revenue from individually downloaded paid apps as well as in-app purchase revenue from both individually downloaded apps and app bundles.

In the first month in which an app becomes unified, its rank change in the Index will compare the unified app that month vs. its highest-ranking individual app in the month prior. As a result, rank changes for newly unified apps may overstate ranking increases from January 2015 to February 2015.

In the iOS App Store, an app can be categorized under a Primary Category as well as an optional Secondary Category. If an app has a Primary Category of Games and a Secondary Category of Entertainment, it is a candidate to be included in this Index for Games. If the app's Primary Category is Entertainment and its Secondary Category is Games, then it will not be included in this Index for Games; it is a candidate for the Index for Apps.

Note that the ranking approach used in the App Annie Index differs from that used in the iOS App Store. In the latter, app rankings for a given category will include all apps whose Primary Category or Secondary Category matches that given category. So an app can appear in the rankings for more than one category within the iOS App Store or in App Annie Store Stats rankings.

In Google Play, an app can be categorized under only one category, so there is no double-categorization.

Occasionally, a publisher may decide to shift an existing app from one category to another category. In these cases, the App Annie Index will rank that app based on its categorization in the subsequent month. Given that the App Annie Index has a Games report and an Apps report, the only scenario where an app's recategorization could shift it from one Index to another is if its category changes from Games to a category other than Games or vice versa.
In the App Annie Index, all apps and publishers are reported under their parent companies, where available; for example, the Plants vs. Zombies™ 2 app is reported under its parent company Electronic Arts, rather than its direct publisher PopCap. Note that if you view the Electronic Arts parent company page on Store Stats, you will see the publishers that roll under the parent company Electronic Arts, including PopCap. The Plants vs. Zombies™ 2 app will be listed under the PopCap publisher page.
Company and app rankings are based on the App Annie DNA relationships at the time of publications. App Annie DNA relationships are subject to change over time.
App Annie Index

revenue rankings are based on revenue that the iOS App Store and Google Play earned from paid downloads and in-app purchases. They do not include revenue earned from in-app advertising.

Certain trademarks and/or images used in this report may belong to third parties and are the property of their respective owners. App Annie claims no rights to such trademarks or images.