| | |
| --- | --- |
| Each month, the App Annie Index highlights the top-performing games and apps for the iOS App Store and Google Play. Our analysis covers trends among the leading apps across countries and categories, and is the industry standard for professionals looking to compare leading apps and publishers. | You might also be interested in: |
This Month's Top Performers
Trivia Crack Rides the Social Wave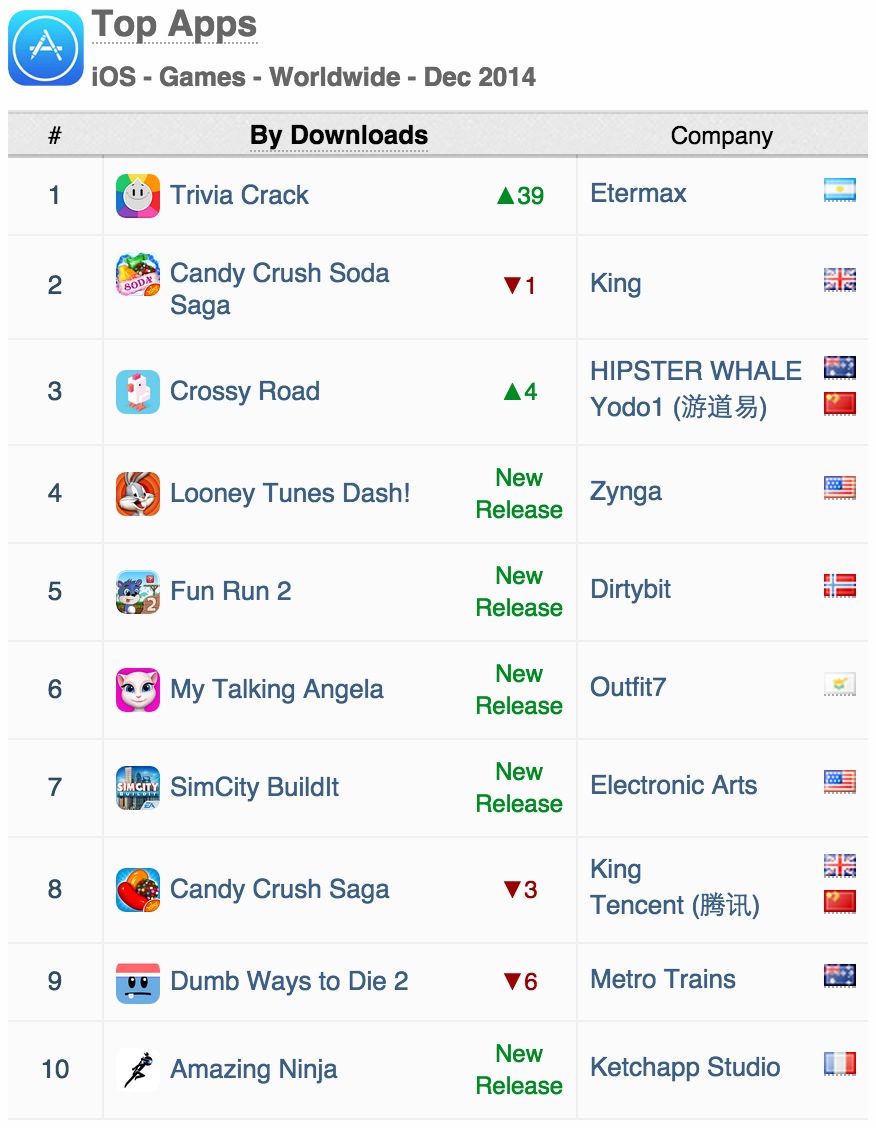 Trivia Crack, developed by independent studio Etermax, soared to the top of the iOS download rankings in December. The app deeply integrates social elements as gameplay relies on challenging friends from connected social networks. Inspired by the popular board game Trivial Pursuit, players begin by spinning a wheel (named Willy) to answer questions in one of six categories (Science, Entertainment, Art, Geography, Sports and History). When a category is won, the associated character is unlocked and the first player to acquire all six characters wins. The combination of social integration and engaging gameplay helped Trivia Crack surge on the iOS App Store in December, particularly in the US. Etermax claims that Trivia Crack saw 700,000 daily downloads in the US across all platforms.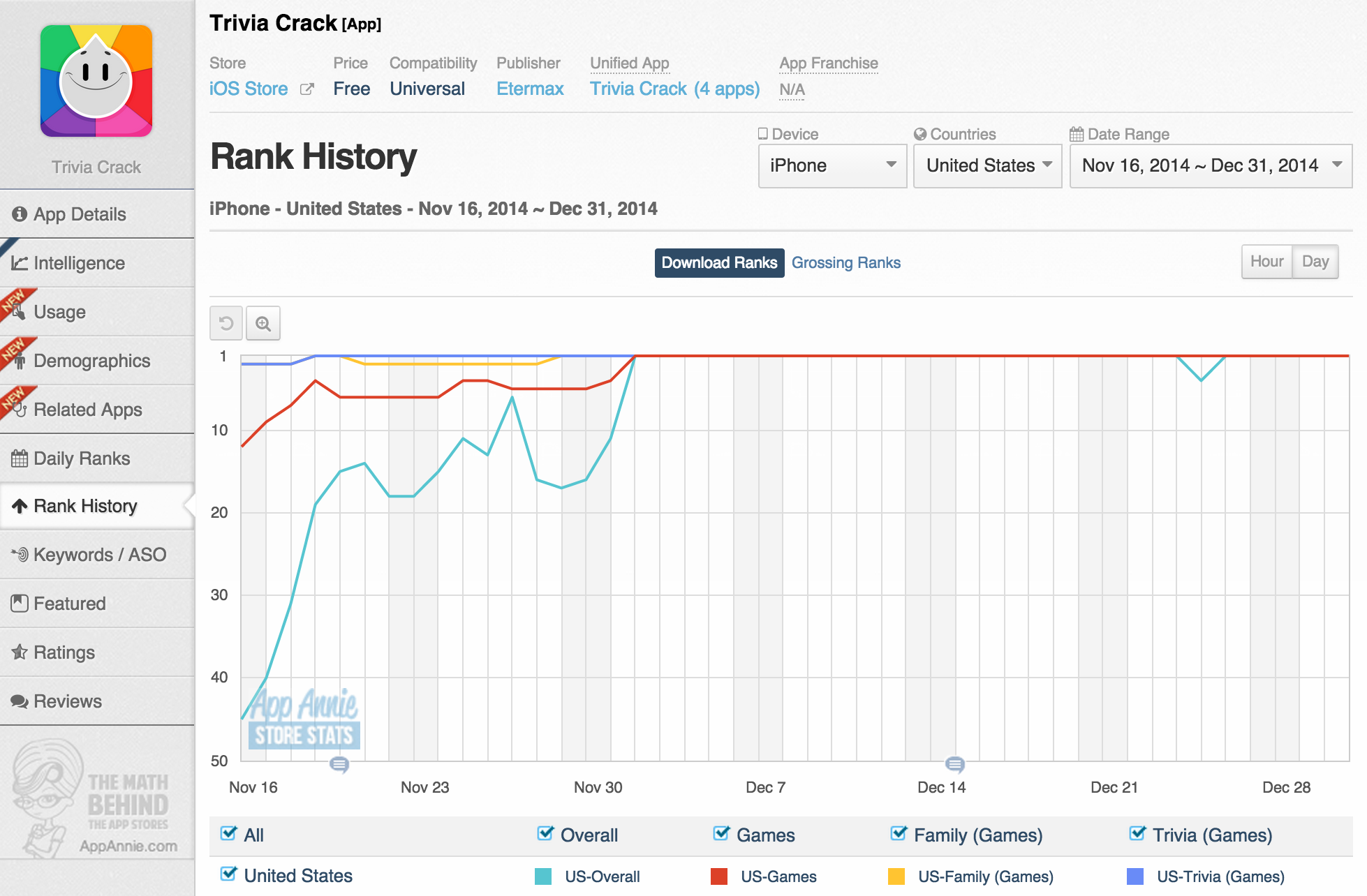 Trivia Crack shot to the top of the download charts in the United States.
The app's popularity did not go unnoticed by platform owners as Trivia Crack made an appearance on the "Best of 2014" lists on both the iOS App Store and Google Play. The increased visibility contributed to Trivia Crack's exceptionally strong December and helped Etermax reach the milestone of 100 million worldwide users on New Years' Eve.
My Talking Angela Charms Her Way to the Top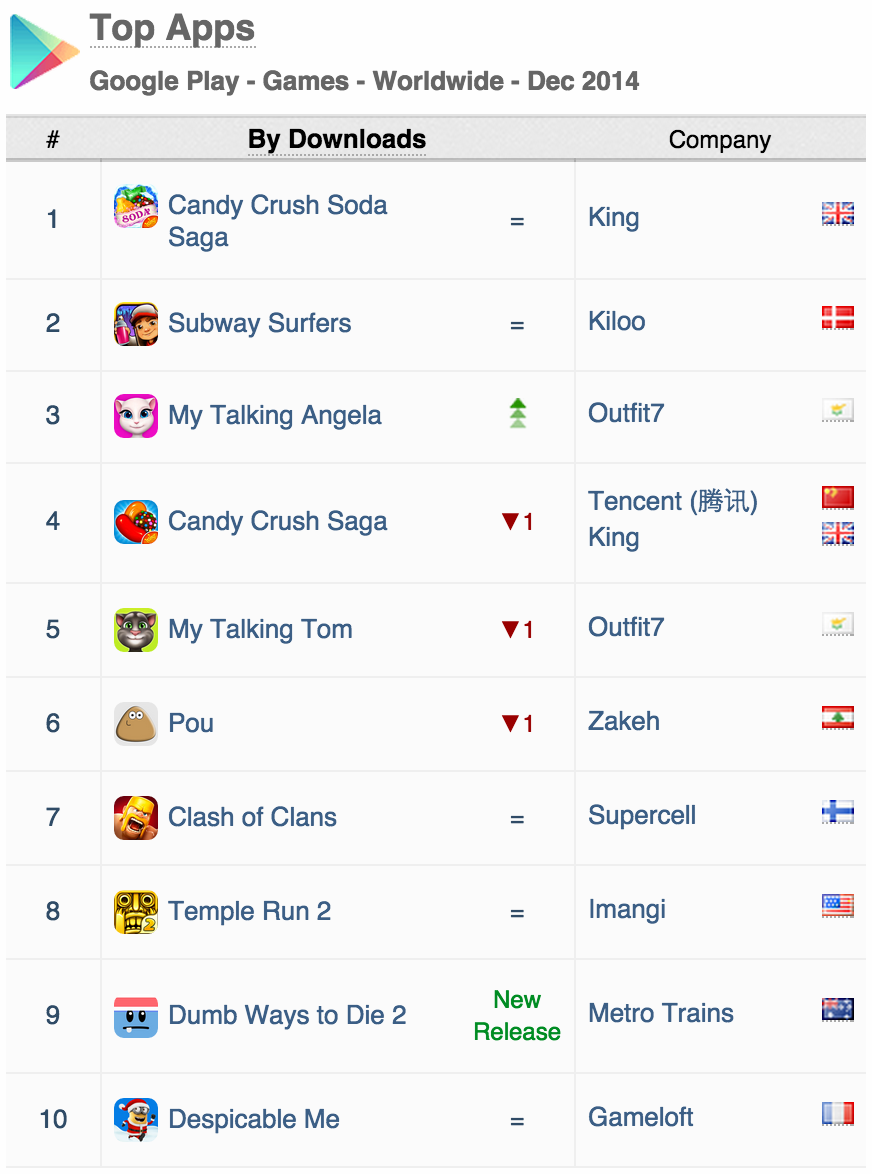 Last year, Outfit7 expanded their popular Talking Tom franchise to the virtual pet genre with My Talking Tom. The game, focused on children, let players adopt Tom as a kitten and care for him as he grew into an adult cat. With the launch of My Talking Angela, Outfit7 seems to be doubling down on the female demographic. This strategy seems to be working as the title immediately shot into Google Play's top download charts for December.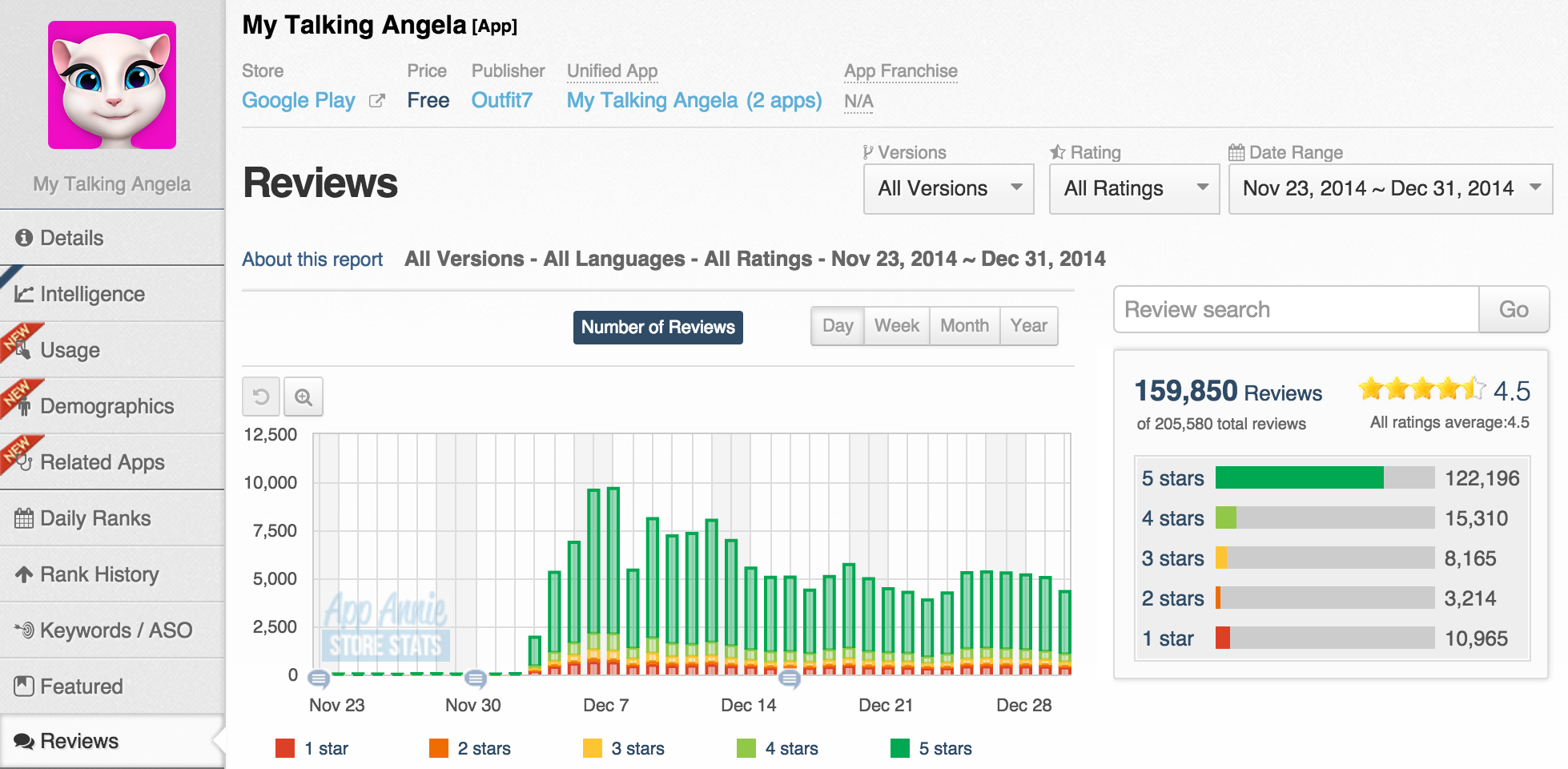 My Talking Angela has received strong reviews on the Google Play Store.
The app allows players to care for their kitten as she progresses through nine stages of growth, including baby, toddler, tween and adult. A significant portion of app's gameplay and monetization are focused on dressing Angela in the latest fashions and decorating her room. This synergy between the app's demographic focus and gameplay has helped My Talking Angela receive strong reviews on Google Play.
Crossy Road's Characters Drive Its Growth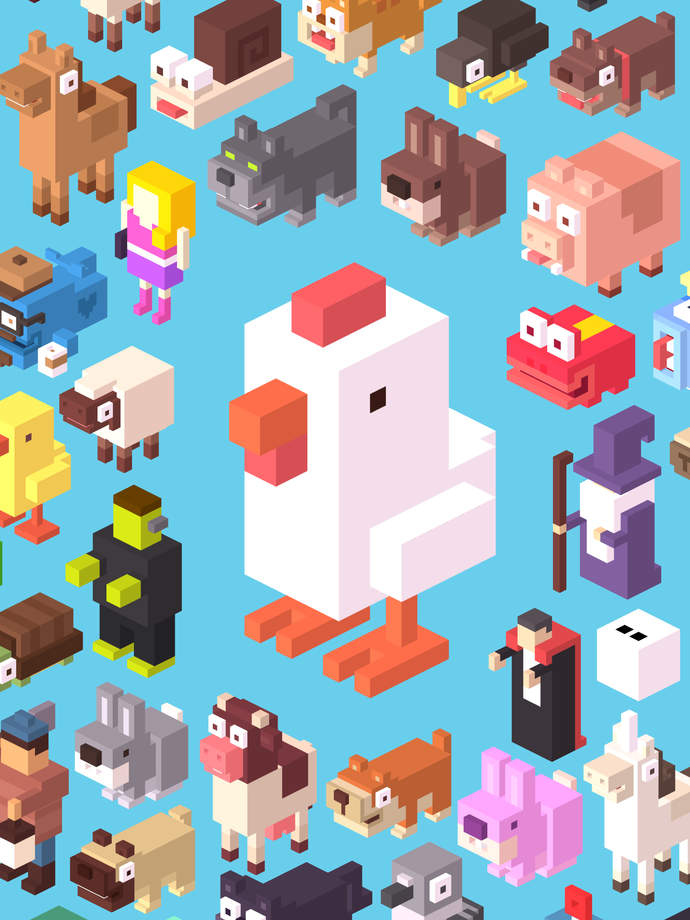 Crossy Road's in-game characters are a key part of its engagement and monetization strategy.
Crossy Road, an endless arcade hopper with gameplay reminiscent of Frogger, continued to climb the app store charts in December. The goal of the game is to get as far as possible while randomly generated obstacles, such as cars, trains, eagles and rivers, impede your progress. However, the most interesting aspect of Crossy Road is the focus on in-game characters that can be unlocked or purchased. Each character changes the game in subtle ways, which allows for a consistently novel experience. The game also received a boost when PewDiePie, a popular YouTube celebrity, featured it. This has helped Crossy Road reach the top of the app store charts in developed markets like the United States, United Kingdom and Canada.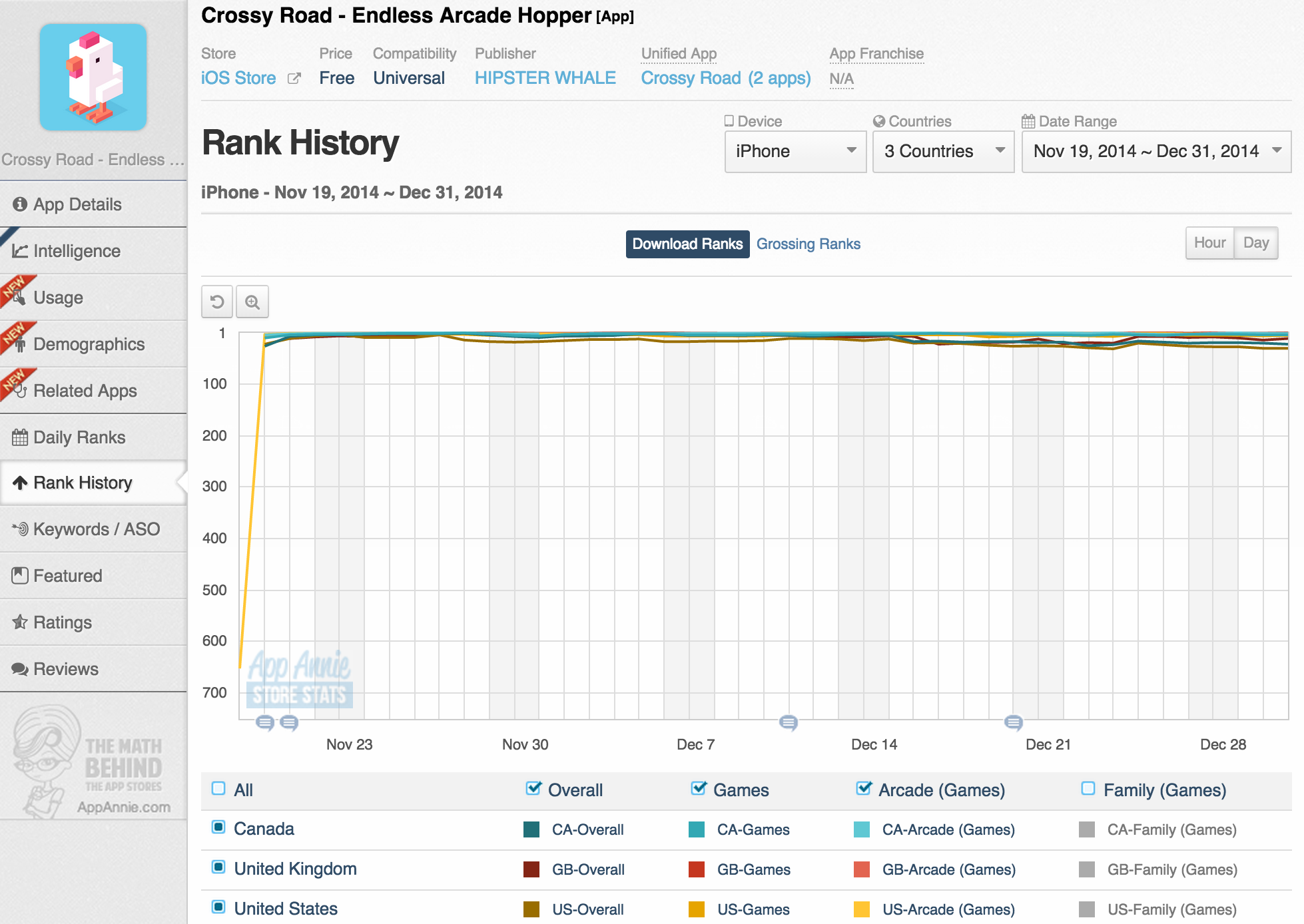 Shortly after its launch, Crossy Road hit the top of the iOS charts in developed markets like the United States, United Kingdom and Canada.
Crossy Road's monetization strategy is also somewhat unique. While it relies on in-app purchases, there are no restrictions on lives, play attempts or time. Instead of catering to these use cases with in-app "consumables", the app monetizes purely through the sale of in-game characters. Since new characters have an impact on gameplay, this also has the secondary benefit of increased engagement. We are interested to see if this spin on the in-app purchase revenue model finds more takers.
The Technology Behind the Index
The information contained in this report is compiled from App Annie Intelligence, the leading market data solution for the app store economy. To see how our app store download, revenue, demographic and usage estimates can help guide your critical business decisions, take a tour or request a demo today.
---

---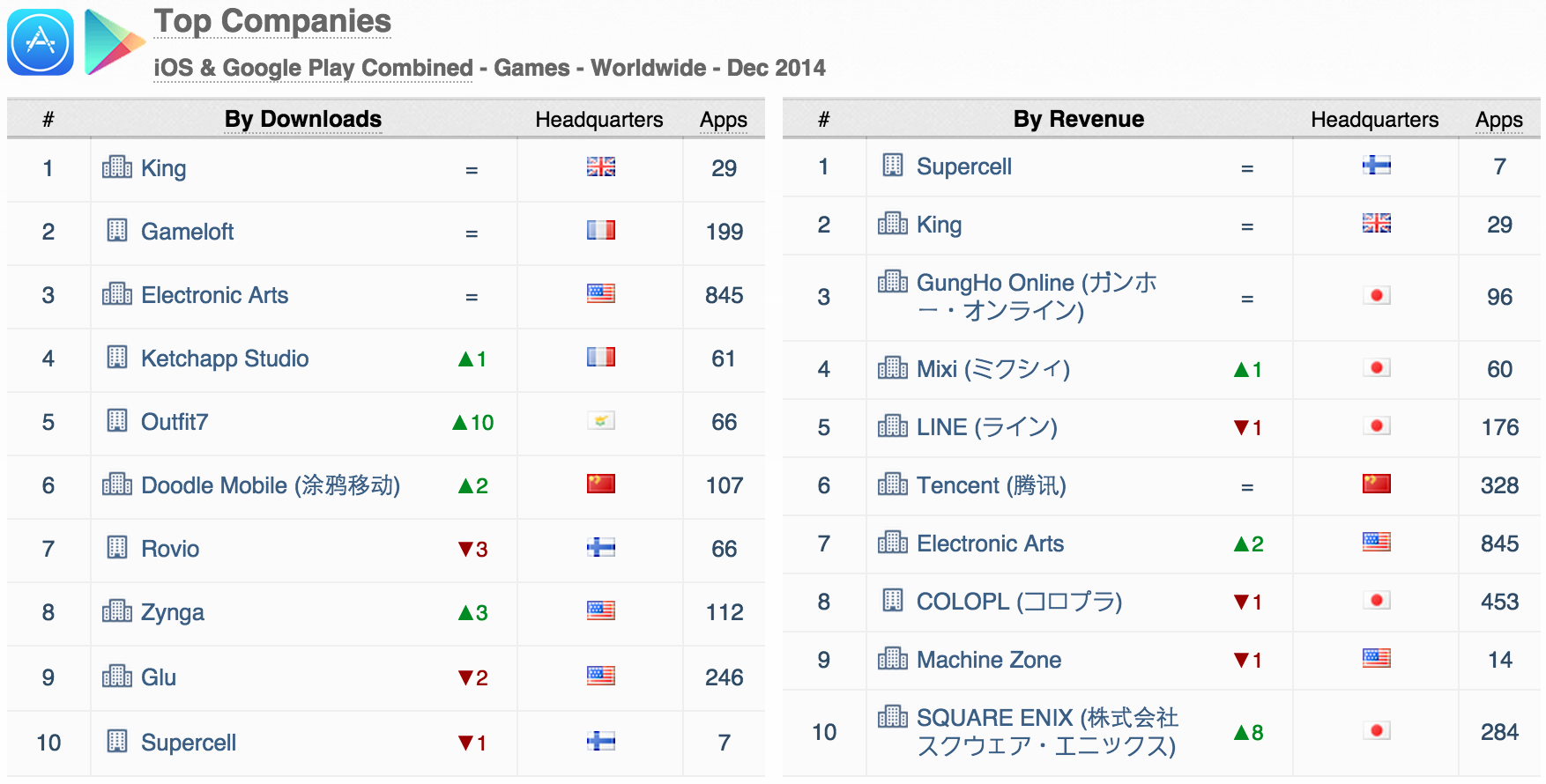 For the complete list of December's top apps and publishers around the world, click the chart above.
Notes:
The publisher and app rankings reported in the App Annie Index are based on the download and revenue estimates available through App Annie Intelligence. The daily rank history charts and the homepage feature app data are available to all users through App Annie's app tracker solution, Store Stats.

While the Index for Games covers games, the Index for Apps provides app tracking on everything but games. Note that the Top Company rankings in the Index for Games are based solely on the publishers' games downloads and revenue, while the Top Company rankings in the Index for Apps are based on the company's downloads and revenue from apps excluding games.

Company and unified app rankings in the App Annie Index for Games and Index for Apps are based on individual apps that ranked in the Top 1,000.

Download rankings are based on individually downloaded apps and exclude downloads of app bundles. Revenue rankings are based on download revenue from individually downloaded paid apps as well as in-app purchase revenue from both individually downloaded apps and app bundles.

In the first month in which an app becomes unified, its rank change in the Index will compare the unified app that month vs. its highest-ranking individual app in the month prior. As a result, rank changes for newly unified apps may overstate ranking increases from November 2014 to December 2014.

In the iOS App Store, an app can be categorized under a Primary Category as well as an optional Secondary Category. If an app has a Primary Category of Games and a Secondary Category of Entertainment, it is a candidate to be included in this Index for Games. If the app's Primary Category is Entertainment and its Secondary Category is Games, then it will not be included in this Index for Games; it is a candidate for the Index for Apps.

Note that the ranking approach used in the App Annie Index differs from that used in the iOS App Store. In the latter, app rankings for a given category will include all apps whose Primary Category or Secondary Category matches that given category. So an app can appear in the rankings for more than one category within the iOS App Store or in App Annie Store Stats rankings.

In Google Play, an app can be categorized under only one category, so there is no double-categorization.

Occasionally, a publisher may decide to shift an existing app from one category to another category. In these cases, the App Annie Index will rank that app based on its categorization in the subsequent month. Given that the App Annie Index has a Games report and an Apps report, the only scenario where an app's recategorization could shift it from one Index to another is if its category changes from Games to a category other than Games or vice versa.
In the App Annie Index, all apps and publishers are reported under their parent companies, where available; for example, the Plants vs. Zombies™ 2 app is reported under its parent company Electronic Arts, rather than its direct publisher PopCap. Note that if you view the Electronic Arts parent company page on Store Stats, you will see the publishers that roll under the parent company Electronic Arts, including PopCap. The Plants vs. Zombies™ 2 app will be listed under the PopCap publisher page.
Company and app rankings are based on the App Annie DNA relationships at the time of publications. App Annie DNA relationships are subject to change over time.
App Annie Index revenue rankings are based on revenue that the iOS App Store and Google Play earned from paid downloads and in-app purchases. They do not include revenue earned from in-app advertising.

Certain trademarks and/or images used in this report may belong to third parties and are the property of their respective owners. App Annie claims no rights to such trademarks or images.