| | |
| --- | --- |
| Each month, the App Annie Index highlights the top-performing games and apps for the iOS App Store and Google Play. Our analysis covers trends among the leading apps across countries and categories, and is the industry standard for professionals looking to compare leading apps and publishers. | You might also be interested in: |
This Month's Top Games
Tencent Takes Top Spot for iOS Revenue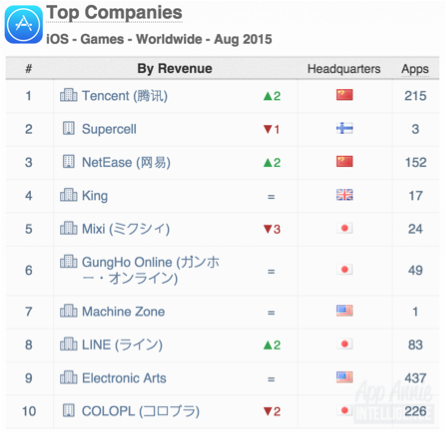 Tencent achieved a huge a milestone in August 2015. For the first time since we released the App Annie Index, the company has taken the top spot on the worldwide iOS charts for revenue. To put this in perspective, Tencent, with the help of its vast library of games, is only the second company to do this in the last 19 months.
Over the past year, we have repeatedly written about Tencent's successes in mobile gaming. For example, in our August 2014 Index, we discussed the company's partnerships which brought hit titles Candy Crush Saga and Everybody's Marble to China. In addition, we have noted Tencent's continued effectiveness at leveraging its WeChat and QQ platforms to drive awareness, engagement and monetization of its games; as well as expanding into new gameplay formats like 3D mobile shooters.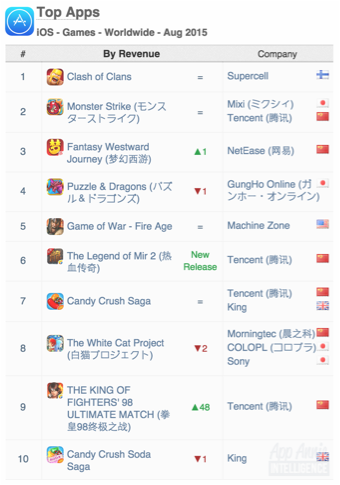 However, it was two new games, The Legend of Mir 2 and THE KING OF FIGHTERS' 98 ULTIMATE MATCH, that pushed Tencent to the top of the worldwide iOS revenue charts. Both of these games leverage well-established IP, with the former based on a hugely popular MMORPG from the early 2000s and the latter based on a late 1990s title that was a hit both in arcades and on consoles.
The Legend of Mir 2 was released in the beginning of August and spent the entire month among the top 3 grossing iOS games in China. Meanwhile, THE KING OF FIGHTERS' 98 ULTIMATE MATCH was released in mid-July, but made huge strides up China's iOS revenue rankings coinciding with a late-July price change from $0.99 to free.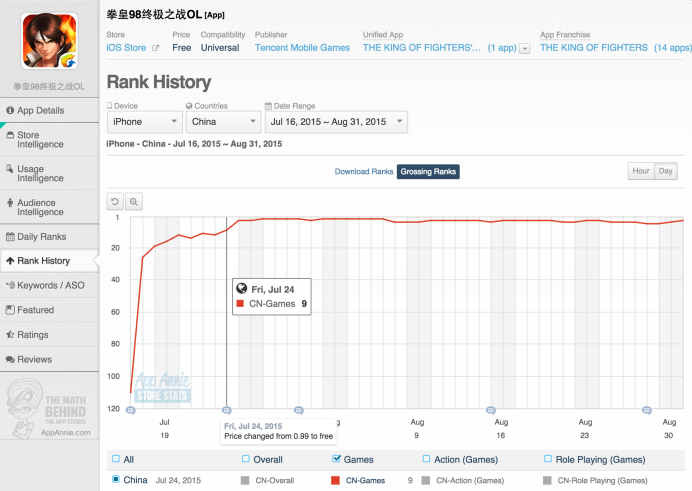 Following a price change in late-July from $0.99 to free, THE KING OF FIGHTERS' 98 ULTIMATE MATCH cracked the Top 5 for iOS revenue in China and stayed there for all of August
Currently, both The Legend of Mir 2 and THE KING OF FIGHTERS' 98 ULTIMATE MATCH are only available in China. This further demonstrates the growing importance of this market and the impact it has on the worldwide rankings.

Angry Birds 2 Shoots to the Top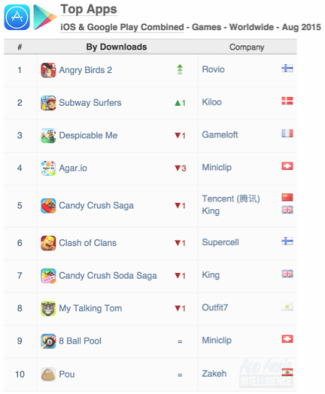 In December 2009, Rovio established itself on the mobile gaming scene when it released Angry Birds. The title went on to become a global phenomenon spawning a huge game franchise (which includes two Top 10 games by All-Time Worldwide iOS Downloads), a wide array of licensed products and even a star-studded movie slated for a May 2016 release.
Angry Birds 2, the original title's first official sequel, launched on July 30. In its first full month, the game flew up to the top spot on August's worldwide download charts for the iOS App Store & Google Play combined. Like its predecessor, Angry Birds 2 has seen global success. It generated 30 million downloads in its first two weeks and to date has achieved the #1 Daily Rank for iPhone games in over 140 countries. Also, for the month of August, Angry Birds 2 was ranked #6 in the United States for iPhone usage penetration.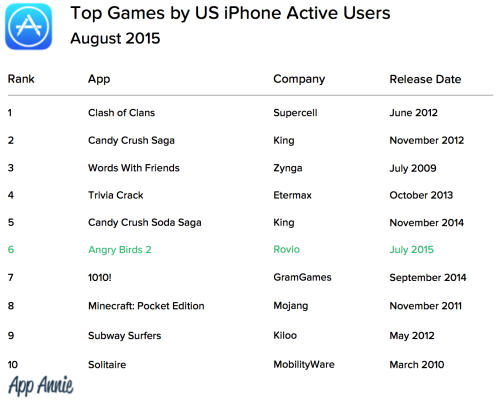 In its first full month, Angry Birds 2 ranked among the Top 10 games for iPhone active users in the United States.
Angry Birds 2 retains many of the core elements, like slingshot gameplay and familiar characters, that made the original popular. It also brings a variety of new features including a new bird named Silver, multi-stage levels, new spells and the Arena where players can challenge each other in daily tournaments.
In addition, unlike the first Angry Birds, which monetized via paid downloads, the sequel employs a freemium model. Players download the game for free and then can use gems to spend on lives and virtual goods. Gems are earned by playing the game, watching videos or making in-app purchases.

Happy Wheels Rolls onto the Charts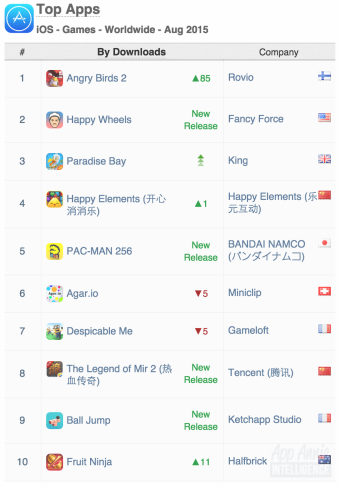 August also saw a newcomer make a huge splash in the mobile gaming space. Fancy Force launched Happy Wheels, its first mobile game, on the iOS App Store on August 19 and achieved immediate success. The game, which was first released for web browsers in 2010, is a physics-based side-scroller where players complete levels by guiding a businessman on a personal transporter past dangerous obstacles to reach the finish line. Failing to avoid the hazards leads to gory outcomes like losing limbs and splattering blood.
Within a week of its launch, Happy Wheels was the top downloaded iPhone game in over 20 countries, including the United States, United Kingdom, Japan, Germany and Australia. Its immediate popularity was enough to propel the game to the #2 spot for worldwide downloads on the iOS App Store for all of August, even though it was available for less than two weeks.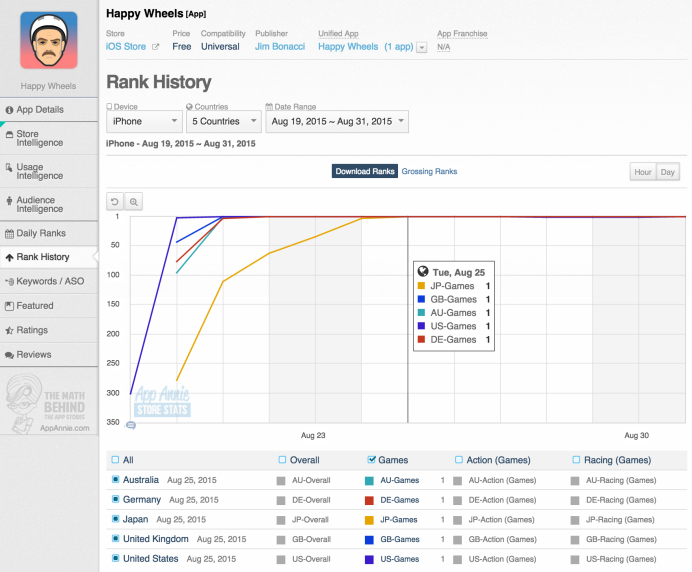 Soon after its launch, Happy Wheels was #1 downloaded game on the iOS App Store in the United States, United Kingdom, Japan, Germany and Australia.
Similar to the web version, Happy Wheels for iOS allows users to create and save their own levels which can be played by others. For now, users of the mobile version can only share their levels directly with their contacts. However, the publisher plans to update the game with functionality allowing players to browse for user-created levels; in addition to rolling out new levels, new characters and an Android version.
Happy Wheels' success draws some interesting parallels with that of Agar.io, which we covered in July. Both titles were originally web-based games that developed a strong buzz and loyal following. They were then able to capitalize on their popularity and garner immediate success after launching on mobile. Jim Bonacci's Happy Wheels and Matheus Valadares' Agar.io (published by Miniclip) provide further proof that there are still plenty of opportunities for indie designers to find success among the big, established players.

The Technology Behind the Index
The information contained in this report is compiled from App Annie Intelligence, the leading market data solution for the app store economy. To see how our app store download, revenue, demographic and usage estimates can help guide your critical business decisions, request a demo today.
---

---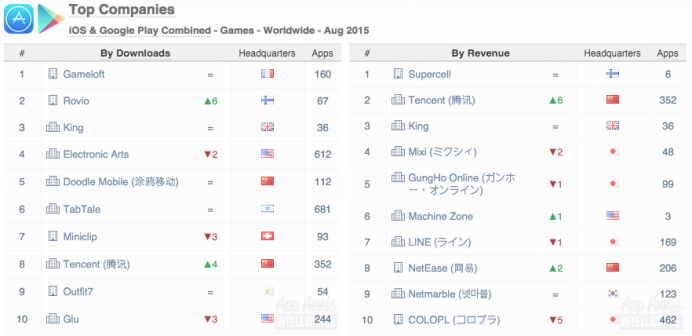 For the complete list of August's top games and game publishers around the world, click the chart above.
Notes:
The publisher and app rankings reported in the App Annie Index are based on the download and revenue estimates available through App Annie Intelligence. The daily rank history charts and the homepage feature app data are available to all users through App Annie's app tracker solution, Store Stats.
App Annie Intelligence is currently available for the iOS App Store and Google Play. It does not currently provide estimates for other app stores, such as the Amazon Appstore. While iOS and Google Play represent a significant portion of the app market in many countries, that is not the case for some countries. For example, China has a number of sizable third-party Android app stores.

While the Index for Games covers games, the Index for Apps provides app tracking on everything but games. Note that the Top Company rankings in the Index for Games are based solely on the publishers' games downloads and revenue, while the Top Company rankings in the Index for Apps are based on the company's downloads and revenue from apps excluding games.

Company and unified app rankings in the App Annie Index for Games and Index for Apps are based on individual apps that ranked in the Top 1,000.

Download rankings are based on individually downloaded apps and exclude downloads of app bundles. Revenue rankings are based on download revenue from individually downloaded paid apps as well as in-app purchase revenue from both individually downloaded apps and app bundles.

In the first month in which an app becomes unified, its rank change in the Index will compare the unified app that month vs. its highest-ranking individual app in the month prior. As a result, rank changes for newly unified apps may overstate ranking increases from June 2015 to July 2015.

In the iOS App Store, an app can be categorized under a Primary Category as well as an optional Secondary Category. If an app has a Primary Category of Games and a Secondary Category of Entertainment, it is a candidate to be included in this Index for Games. If the app's Primary Category is Entertainment and its Secondary Category is Games, then it will not be included in this Index for Games; it is a candidate for the Index for Apps.

Note that the ranking approach used in the App Annie Index differs from that used in the iOS App Store. In the latter, app rankings for a given category will include all apps whose Primary Category or Secondary Category matches that given category. So an app can appear in the rankings for more than one category within the iOS App Store or in App Annie Store Stats rankings.

In Google Play, an app can be categorized under only one category, so there is no double-categorization.

Occasionally, a publisher may decide to shift an existing app from one category to another category. In these cases, the App Annie Index will rank that app based on its categorization in the subsequent month. Given that the App Annie Index has a Games report and an Apps report, the only scenario where an app's recategorization could shift it from one Index to another is if its category changes from Games to a category other than Games or vice versa.
In the App Annie Index, all apps and publishers are reported under their parent companies, where available; for example, the Plants vs. Zombies™ 2 app is reported under its parent company Electronic Arts, rather than its direct publisher PopCap. Note that if you view the Electronic Arts parent company page on Store Stats, you will see the publishers that roll under the parent company Electronic Arts, including PopCap. The Plants vs. Zombies™ 2 app will be listed under the PopCap publisher page.
Company and app rankings are based on the App Annie DNA relationships at the time of publications. App Annie DNA relationships are subject to change over time.

App Annie Usage Intelligence data for smartphones and tablets were derived from mobile usage data collected from a large sample of real-world users, combined with additional proprietary data sets.

App Annie tracks usage at the device level using a privacy-protective hashed device ID. Data is only reported to third parties in aggregated format.

App Annie Index revenue rankings are based on revenue that the iOS App Store and Google Play earned from paid downloads and in-app purchases. They do not include revenue earned from in-app advertising.

Certain trademarks and/or images used in this report may belong to third parties and are the property of their respective owners. App Annie claims no rights to such trademarks or images.