Each month, the App Annie Index highlights the top-performing games and apps for the iOS App Store and Google Play. Our analysis covers trends among the leading apps across countries and categories, and is the industry standard for professionals looking to compare leading apps and publishers. To find out about current trends in other markets and app categories, please check out the Germany App Annie Index, the France App Annie Index, and the Worldwide Index for Apps for August 2014.
TABLE OF CONTENTS
1. The Technology Behind the Index
The information contained in this report is compiled from App Annie Intelligence, the leading market data solution for the app store economy. To see how our app store download and revenue estimates can help guide your critical business decisions, take a tour or request a demo today.
---

---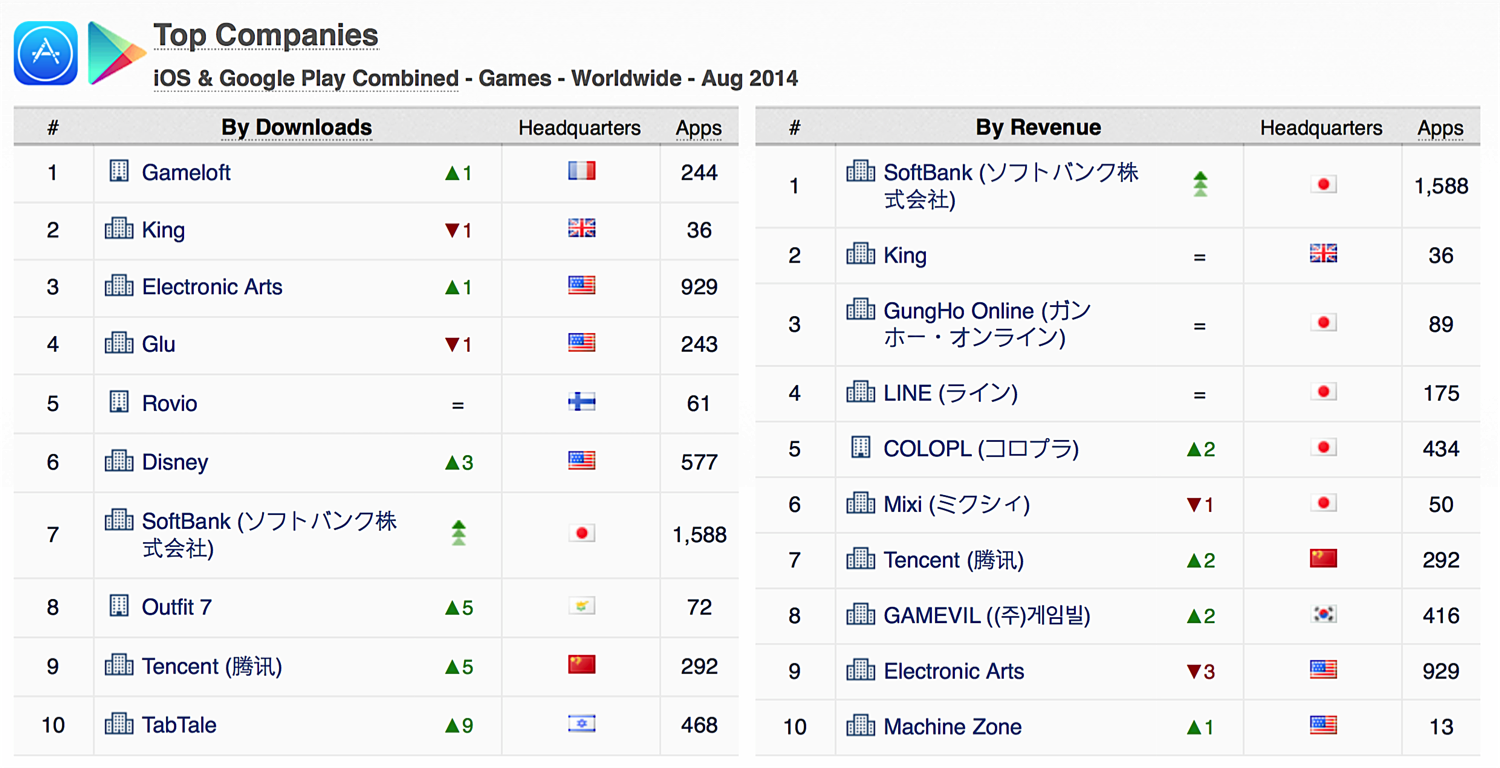 For the complete list of August's top apps and publishers around the world, click the chart above.
2. This Month's Top Performers
Crazy Taxi and Despicable Me Rush Up the Charts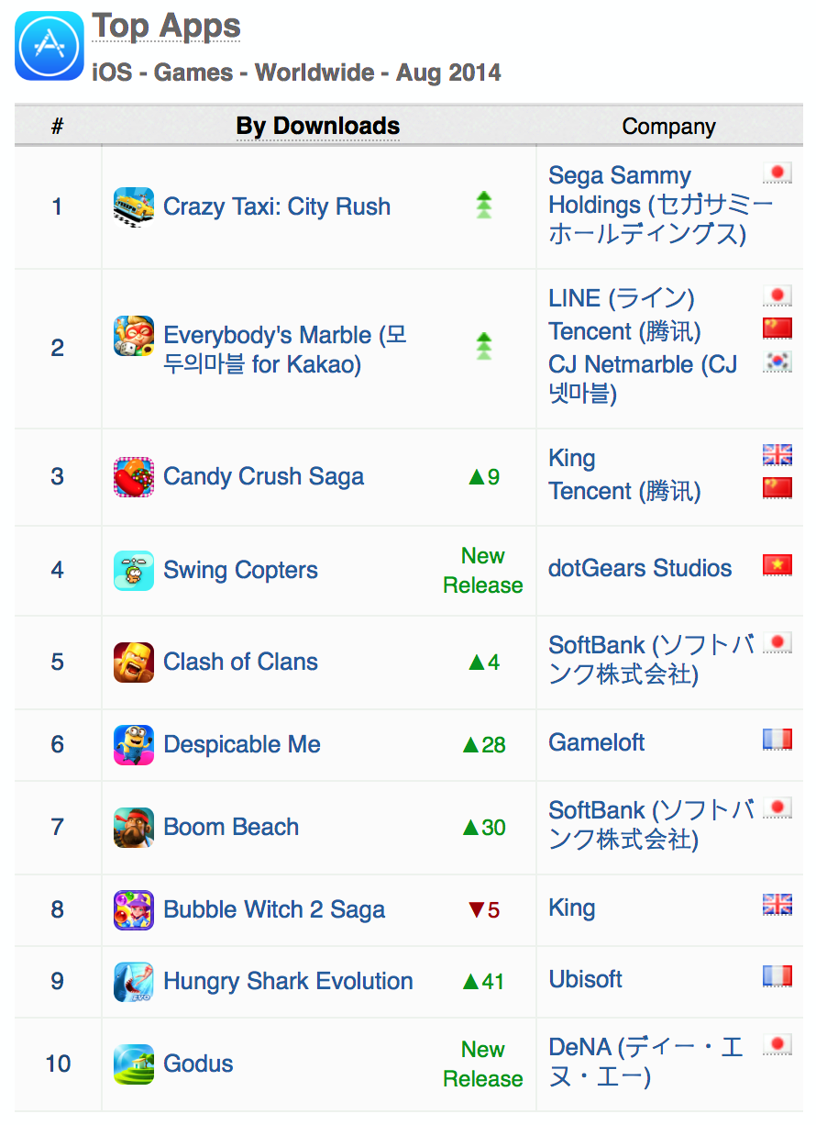 In late July, SEGA released a mobile game based on one of its most iconic franchises: Crazy Taxi: City Rush. As SEGA announced earlier this year, original Crazy Taxi creator Kenji Kanno teamed up with SEGA mobile developer Hardlight Studios "to reimagine Crazy Taxi for a new generation of mobile gamers". Judging by the breadth of countries in which the game was featured on the iOS App Store and its numerous positive reviews, the mobile addition to the franchise is living up to the spirit of the original.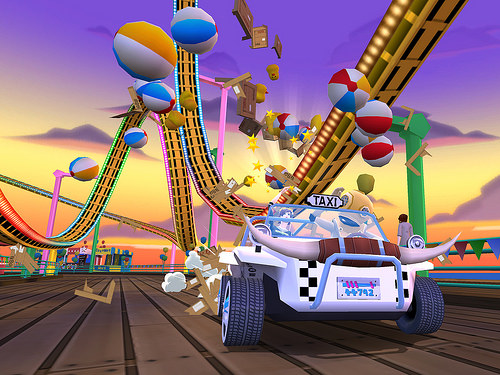 Crazy Taxi: City Rush lets players master their driving and drifting skills, while navigating bustling 3D cities.
After a successful soft launch in Canada, the game was released globally on July 31 and finished strong in August as the most downloaded game on iOS. SEGA Networks Inc. SVP Chris Olson said this to App Annie about the game's success:
"Crazy Taxi is one of SEGA's most beloved and iconic brands. The fan response to Crazy Taxi City Rush validates the power of our IP and the inherent fun of the game. We thank Hardlight Studio for their exceptional work on the game. They built it from the ground up and worked hand-in-hand with the original game creator to ensure the thrills, speed and fun of Crazy Taxi carried over into Crazy Taxi City Rush. We couldn't be happier with the results and will continue to bring compelling, fun and quality experiences to SEGA fans everywhere." --Chris Olson, SVP at SEGA Networks Inc.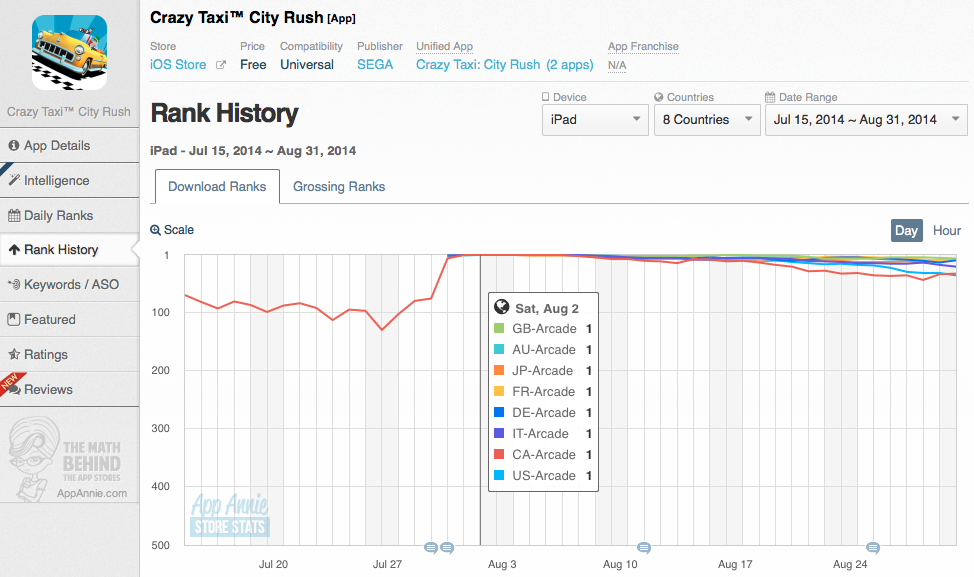 Crazy Taxi: City Rush raced to #1 in multiple countries shortly after its global release.
Gameloft was another traditional video game developer that stood out in the August charts. It scored with an update to its movie-based title: Despicable Me. In late July, a new mode named the "Jelly Lab" was introduced. Its gameplay lets players explore new iconic scenery through a variety of missions to collect fruit for making jelly. This update seems to have hit the sweet tooth of Despicable Me players, as downloads accelerated during August on both iOS and Google Play, and the app secured the #4 spot in the combined worldwide download charts.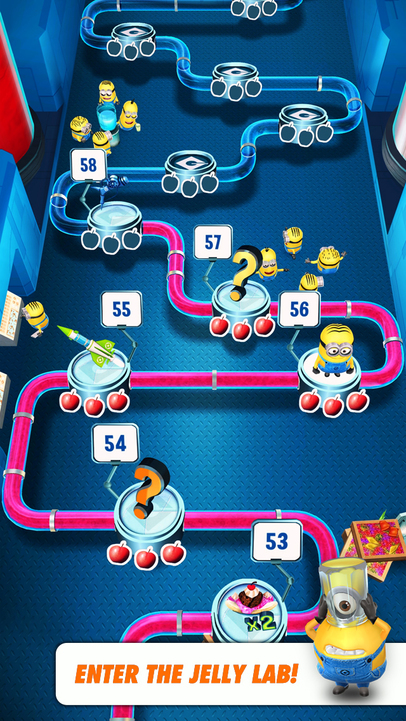 Despicable Me's new Jelly Lab features a brand new way to play through iconic locations.
Tencent Brings Candy Crush Saga & Everybody's Marble to China
In August, Tencent released two established hit games in China. After signing a deal with King in April, Tencent released a localized version of Candy Crush Saga in China. The Chinese version of the game, 糖果传奇, is integrated with Tencent's Mobile QQ and Weixin social networks to supporting local engagement. The game's immediate popularity in China brought the well-established Candy Crush Saga back into the top 10 worldwide download charts.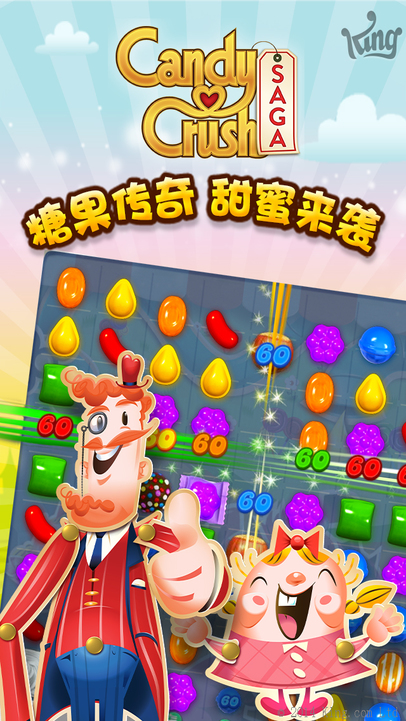 Tencent brings Candy Crush Saga to China.
Everybody's Marble is also a familiar name to the Asian top-performing game charts. In August, Tencent released a new version catered to the Chinese market: 天天富翁. The game has similar features to the classic board game Monopoly, which was popular among Chinese players as well. Everybody's Marble hit #2 in global iOS downloads and reached #1 in China. WeChat is integrated into the Chinese version of Everybody's Marble, similar to the game's releases in Japan with LINE and in South Korea with KakaoTalk.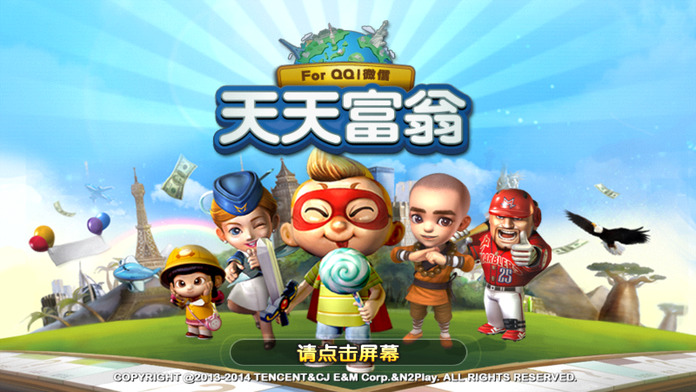 The Chinese version of Everybody's Marble integrates with Tencent's platforms QQ and WeChat.
SoftBank is another Asian company that impacted August's global game charts. In August, SoftBank secured a majority stake of the voting stock in Supercell, creator of top game titles Clash of Clans, Hay Day and Boom Beach. Even though Supercell's games have been in the top charts for a long time, they continue to use new features and version updates to help grow their audiences. For example, Boom Beach showed impressive moves in the iOS download charts worldwide and in China for August, coinciding with its latest version update. SoftBank expects the partnership with Supercell to be a driver of long-term growth.
Rock Hero Rocks Google Play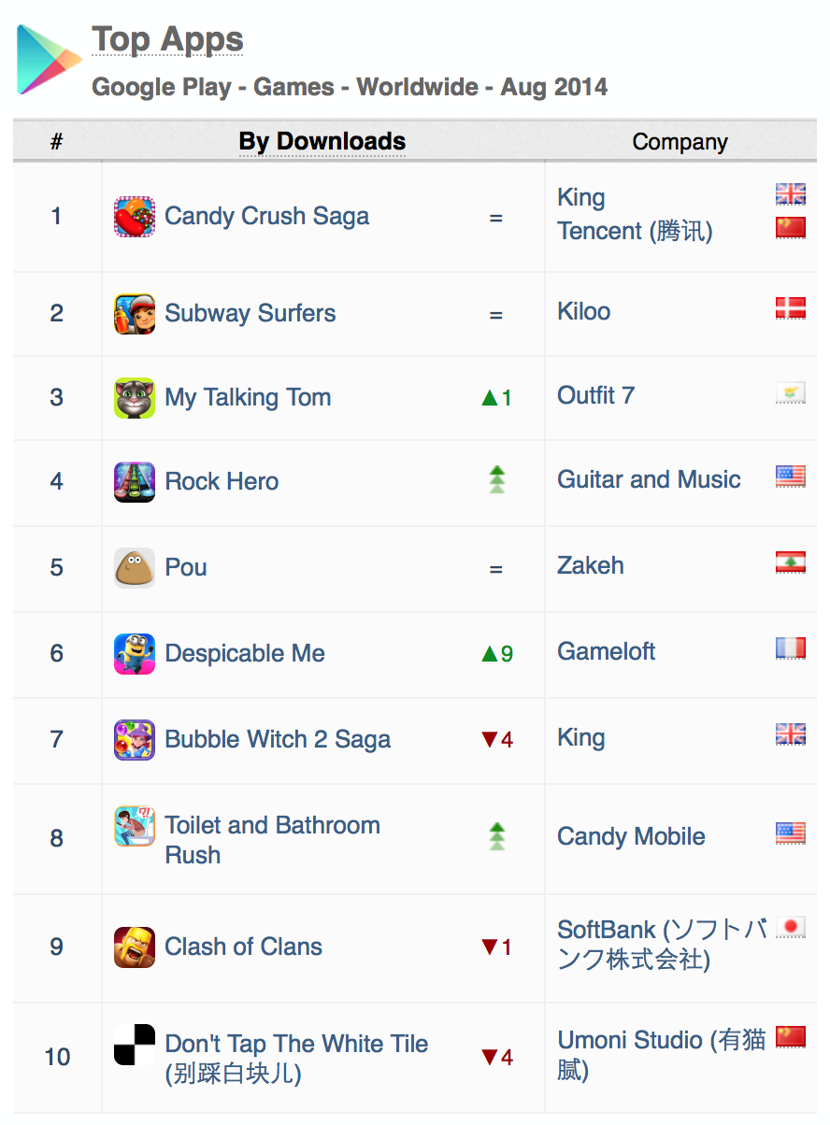 Rock Hero was one of Google Play's stand out games in August. Following its late July release, the guitar game generated enough downloads in August to finish #4 on Google Play's worldwide chart.
Reminiscent of Guitar Hero, just on the mobile phone -Rock Hero for Android.
Rock Hero, which is reminiscent of classic console video games Guitar Hero and Rock Band, was most popular in the United States, Brazil and Mexico. The game, which is published by Guitar & Music Games, has only been released on Google Play so far, but its current popularity suggests the potential for success on iOS as well.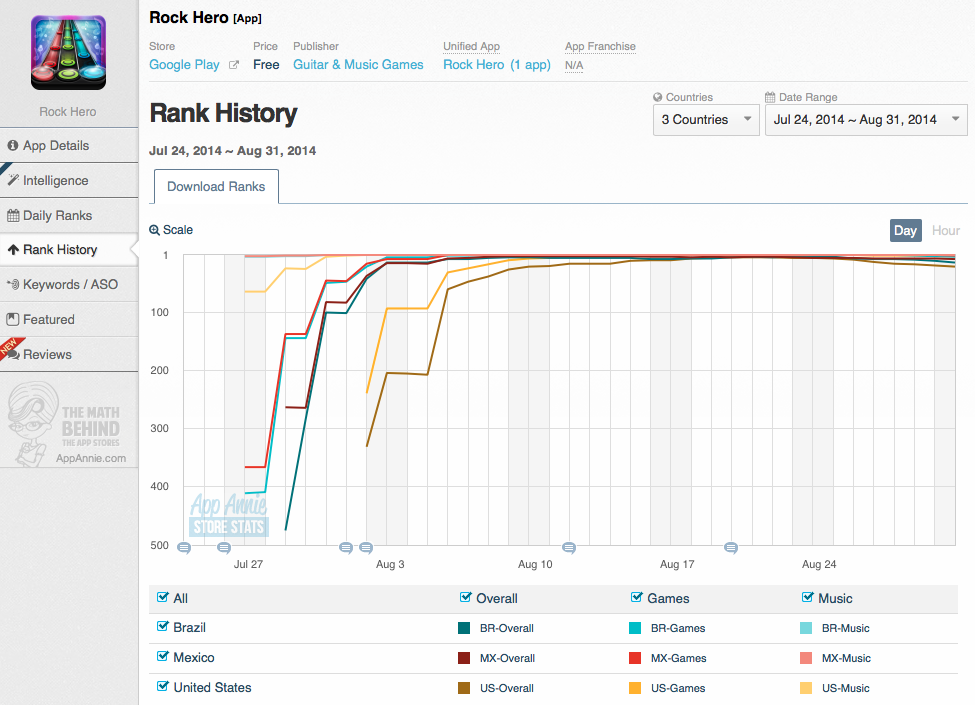 Rock Hero rocked the Games-Music genre on Google Play in August.
Disney & TabTale Score with Kids Games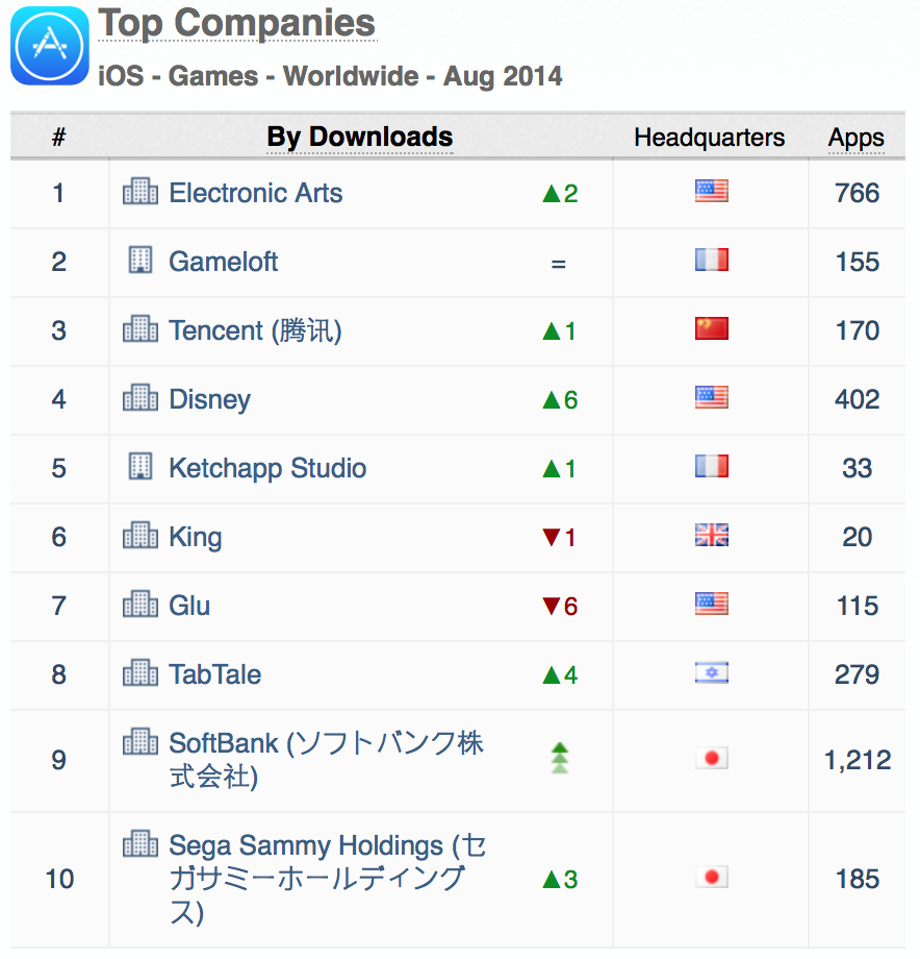 Looking at the company level, both Disney and TabTale moved up in the rankings with kids-focused games in August. Disney's growth in iOS downloads was helped by the recent release of Kitchen Scramble, in which players run their own food truck. Meanwhile, TabTale entered the top 10 due in large part to the new platforming game Airheads Jump from its Crazy Labs label. The game's popularity in the United States, its biggest market, fueled the publisher's rise in the worldwide rankings. TabTale spoke to App Annie about its recent successes:
"TabTale is thrilled that its new casual games label, Crazy Labs, became such a success this summer. Hits like Cheating Tom, Airheads Jump and Primitives, to name a few, were popular among both users and critics. Stay tuned for our next titles — the relaunch of Max Axe and My Emma." — Sagi Schliesser, CEO at TabTale
In addition to titles from Crazy Labs, new doctor-themed games from TabTale's Kids Fun Club label, including Dentist Mania: Doctor X Crazy Clinic, helped the company move up the ranks.
3. More Movers and Shakers
Dong Nguyen's Swing Copters
After the smashing success of Flappy Bird, Dong Nguyen's dotGearsStudios launched Swing Copters, another endless scroller game on iOS and Google Play. Even though the game was released in the second half of the month, it was so popular that it was still #4 for worldwide iOS downloads.
DeNA's Godus
DeNA was also able to claim a top 10 spot on the worldwide iOS download chart for games with newly released title Godus. The simulation adventure, which has only been released on iOS so far, allows players to create and shape their own world. Godus was featured several times in the iOS App Store and was most popular in the United States and Germany, even reaching #1 in the latter.
Hungry Shark Evolution
Ubisoft's Hungry Shark Evolution made waves in August's iOS charts landing in the top 10 for global downloads. Publisher Future Games of London updated the game with additional content during the run up to Discovery Channel's Shark Week in the United States. In August, the United States drove the game's growth and surpassed China as its top market.
---
| | |
| --- | --- |
| | Want to get even more advanced with your app store market analysis? Check out our enterprise product App Annie Intelligence. |
---
For those of you who are interested in finding out more about top apps outside of games, please check out the August 2014 App Annie Worldwide Index for Apps. To keep up-to-date with all the changes at the top of the app and publisher charts, check out the complete set of App Annie Index tables.
Notes:
The publisher and app rankings reported in the App Annie Index are based on the download and revenue estimates available through App Annie

Intelligence

. The daily rank history charts and the homepage feature app data are available to all users through App Annie's app tracker solution,

Store Stats

.

While the Index for Games covers games, the Index for Apps provides app tracking on everything but games. Note that the Top Company rankings in the Index for Games are based solely on the publishers' games downloads and revenue, while the Top Company rankings in the Index for Apps are based on the company's downloads and revenue from apps excluding games.

Through September 2013, similar versions of the same app with different names (e.g., NYTimes and NYTimes for iPad) were ranked separately. Effective with October data, similar versions of the same app with different names are unified (e.g., NYTimes and NYTimes for iPad are now aggregated and ranked as a single NYTimes unified app).

Company and unified app rankings in the App Annie Index for Games and Index for Apps are based on individual apps that ranked in the top 1,000.

In the first month in which an app becomes unified, its rank change in the Index will compare the unified app that month vs. its highest-ranking individual app in the month prior. As a result, rank changes for newly unified apps may overstate ranking increases from July 2014 to August 2014.

In the iOS App Store, an app can be categorized under a Primary Category as well as an optional Secondary Category. If an app has a Primary Category of Games and a Secondary Category of Entertainment, it is a candidate to be included in this Index for Games. If the app's Primary Category is Entertainment and its Secondary Category is Games, then it will not be included in this Index for Games; it is a candidate for the Index for Apps.

Note that the ranking approach used in the App Annie Index differs from that used in the iOS App Store. In the latter, app rankings for a given category will include all apps whose Primary Category or Secondary Category matches that given category. So an app can appear in the rankings for more than one category within the iOS App Store or in App Annie Store Stats rankings.

In Google Play, an app can be categorized under only one category, so there is no double-categorization.

Occasionally, a publisher may decide to shift an existing app from one category to another category. In these cases, the App Annie Index will rank that app based on its categorization in the subsequent month. Given that the App Annie Index has a Games report and an Apps report, the only scenario where an app's recategorization could shift it from one Index to another is if its category changes from Games to a category other than Games or vice versa.
In the App Annie Index, all apps and publishers are reported under their parent companies, where available; for example, the Plants vs. Zombies™ 2 app is reported under its parent company Electronic Arts, rather than its direct publisher PopCap. Note that if you view the Electronic Arts parent company page on Store Stats, you will see the publishers that roll under the parent company Electronic Arts, including PopCap. The Plants vs. Zombies™ 2 app will be listed under the PopCap

publisher page.

Company and app rankings are based on the

App Annie DNA

relationships at the time of publications. App Annie DNA relationships are subject to change over time.

App Annie Index revenue rankings are based on revenue that the iOS App Store and Google Play earned from paid downloads and in-app purchases. They do not include revenue earned from in-app advertising.

Certain trademarks and/or images used in this report may belong to third parties and are the property of their respective owners. App Annie claims no rights in such trademarks or images.