| | |
| --- | --- |
| Each month, the App Annie Index highlights the top-performing games and apps for the iOS App Store and Google Play. Our analysis covers trends among the leading apps across countries and categories, and is the industry standard for professionals looking to compare leading apps and publishers. | You might also be interested in: |
This Month's Top Games
Fantasy Westward Journey Takes China by Storm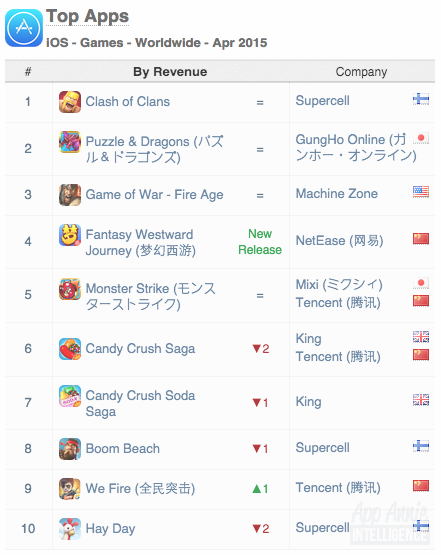 In our March Games Index, we wrote about the success of Chinese massively multiplayer online role-playing game (MMORPG) Shenwu, which reached #9 in monthly iOS revenue. In April, another Chinese MMO took the spotlight: NetEase's Fantasy Westward Journey. This name should be familiar to followers of the desktop MMO scene in China: the original Fantasy Westward Journey was an immensely popular PC MMO that reached over 2.6 million peak concurrent users in 2010.
The mobile version seems poised to repeat that success. The game was by far the highest grossing iOS app in China throughout April and shows no sign of slowing down. The app began its ascent in late March when it became the top grossing app in China and remained there throughout most of April.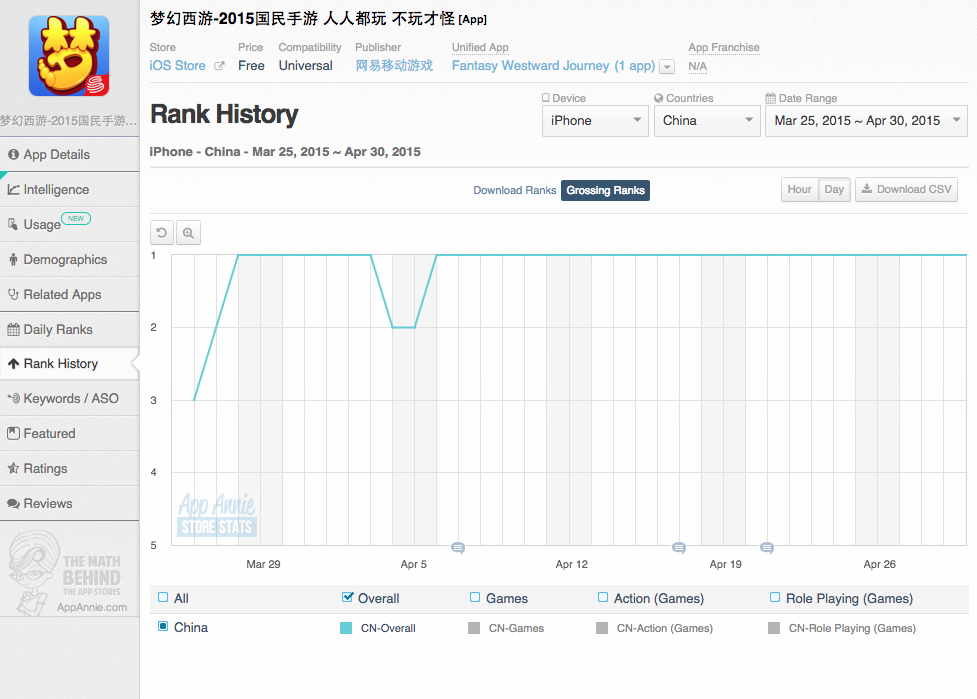 Fantasy Westward Journey dominated the April revenue rankings in China.
The original 2004 PC version's decade of continued success was largely restricted to China (the game is based on the classic Chinese novel Journey to the West). It will be interesting to see whether NetEase attempts to bring Fantasy Westward Journey to audiences outside China, seeing as it has struck distribution deals with foreign publishers before. Regardless of this, however, we look forward to seeing whether NetEase manages to join the ranks of the Chinese core game giants Tencent and Perfect World who successfully made the transition to mobile.
Mortal Kombat X Wins! Flawless Victory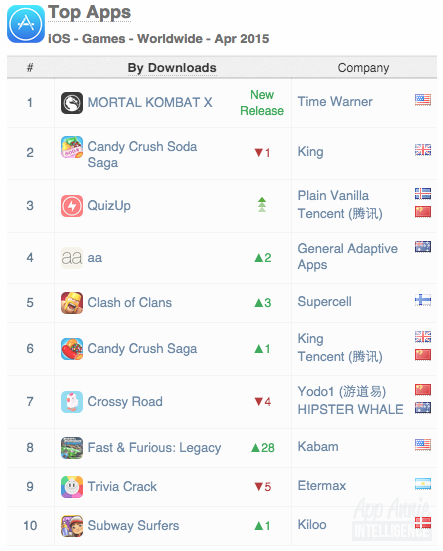 Released a week before its console counterparts, the iOS version of Mortal Kombat X topped our iOS download chart for April. The game saw staggering success throughout the world, reaching the #1 Daily Rank in Games in over 100 countries by the end of the month. The game offers a simplified version of the franchise's classic fighting gameplay, complete with detailed visuals that are every bit as gruesome as fans have come to expect. Players assemble a team of three fighters to do battle while collecting virtual cards to upgrade their team's stats and unlock new characters.
Mortal Kombat X features an interesting cross-functionality between platforms. Playing the mobile version of the game allows players to unlock content in the console version (and vice versa). This type of cross-functionality between mobile and console is not new to publisher Warner Bros. Their 2013 release of Injustice: Gods Among Us had a strikingly similar strategy, down to the pre-console release timing and inter-platform unlockables. We look forward to seeing how other console publishers such as Nintendo choose to invest in mobile tie-ins to promote their console games. The landmark success of Mortal Kombat X suggests that, done correctly, this can be a winning strategy.
The Technology Behind the Index
The information contained in this report is compiled from App Annie Intelligence, the leading market data solution for the app store economy. To see how our app store download, revenue, demographic and usage estimates can help guide your critical business decisions, take a tour or request a demo today.
---

---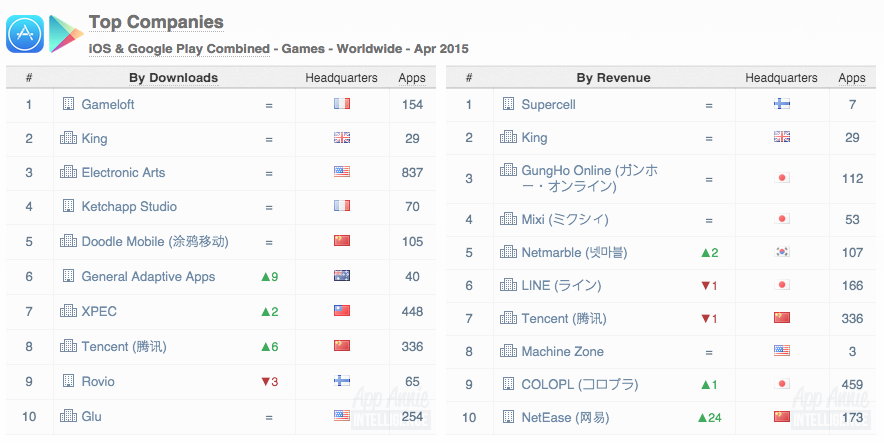 For the complete list of April's top games and game publishers around the world, click the chart above.
Notes:
The publisher and app rankings reported in the App Annie Index are based on the download and revenue estimates available through App Annie Intelligence. The daily rank history charts and the homepage feature app data are available to all users through App Annie's app tracker solution, Store Stats.

While the Index for Games covers games, the Index for Apps provides app tracking on everything but games. Note that the Top Company rankings in the Index for Games are based solely on the publishers' games downloads and revenue, while the Top Company rankings in the Index for Apps are based on the company's downloads and revenue from apps excluding games.

Company and unified app rankings in the App Annie Index for Games and Index for Apps are based on individual apps that ranked in the Top 1,000.

Download rankings are based on individually downloaded apps and exclude downloads of app bundles. Revenue rankings are based on download revenue from individually downloaded paid apps as well as in-app purchase revenue from both individually downloaded apps and app bundles.

In the first month in which an app becomes unified, its rank change in the Index will compare the unified app that month vs. its highest-ranking individual app in the month prior. As a result, rank changes for newly unified apps may overstate ranking increases from March 2015 to April 2015.

In the iOS App Store, an app can be categorized under a Primary Category as well as an optional Secondary Category. If an app has a Primary Category of Games and a Secondary Category of Entertainment, it is a candidate to be included in this Index for Games. If the app's Primary Category is Entertainment and its Secondary Category is Games, then it will not be included in this Index for Games; it is a candidate for the Index for Apps.

Note that the ranking approach used in the App Annie Index differs from that used in the iOS App Store. In the latter, app rankings for a given category will include all apps whose Primary Category or Secondary Category matches that given category. So an app can appear in the rankings for more than one category within the iOS App Store or in App Annie Store Stats rankings.

In Google Play, an app can be categorized under only one category, so there is no double-categorization.

Occasionally, a publisher may decide to shift an existing app from one category to another category. In these cases, the App Annie Index will rank that app based on its categorization in the subsequent month. Given that the App Annie Index has a Games report and an Apps report, the only scenario where an app's recategorization could shift it from one Index to another is if its category changes from Games to a category other than Games or vice versa.
In the App Annie Index, all apps and publishers are reported under their parent companies, where available; for example, the Plants vs. Zombies™ 2 app is reported under its parent company Electronic Arts, rather than its direct publisher PopCap. Note that if you view the Electronic Arts parent company page on Store Stats, you will see the publishers that roll under the parent company Electronic Arts, including PopCap. The Plants vs. Zombies™ 2 app will be listed under the PopCap publisher page.
Company and app rankings are based on the App Annie DNA relationships at the time of publications. App Annie DNA relationships are subject to change over time.
App Annie Index revenue rankings are based on revenue that the iOS App Store and Google Play earned from paid downloads and in-app purchases. They do not include revenue earned from in-app advertising.

Certain trademarks and/or images used in this report may belong to third parties and are the property of their respective owners. App Annie claims no rights to such trademarks or images.