Worldwide App Annie Index for Apps September 2015

Each month, the App Annie Index highlights the top-performing games and apps for the iOS App Store and Google Play. Our analysis covers trends among the leading apps across countries and categories, and is the industry standard for professionals looking to compare leading apps and publishers.

You might also be interested in:

This Month's Top Apps
Cheetah Mobile's CM Security Continues to Climb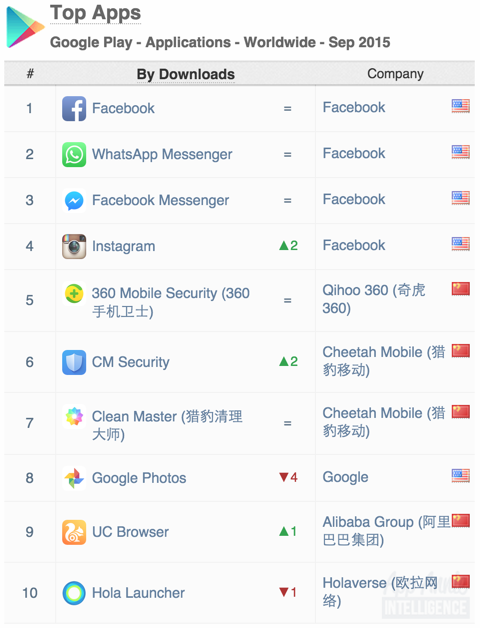 Having entered at #8 in August, CM Security rose two more spots in our September Google Play downloads chart. The security app from Cheetah Mobile offers users an all-in-one solution for securing their Android devices against malware, intruders, and malicious Wi-Fi hotspots.
The app also offers a differentiating feature called Intruder Selfie which automatically takes a photo with the device's front-facing camera whenever two failed attempts are made at accessing private content.
Cheetah Mobile's antivirus protection, which is included in both CM Security and Clean Master, has been repeatedly rated the best Android security app by independent security firm AV-TEST.
CM Security, along with Cheetah Mobile's other hit utility app Clean Master, received a significant share of its downloads in emerging markets. This is a common theme among utility apps in general; users on low-cost devices especially benefit from apps such as CM Security that offer to get the most out of their hardware. CM Security's massive popularity in Brazil and India, where low-cost Android devices are prevalent, supports this notion. We reached out to Xinhua Liu, CMO at Cheetah Mobile, who spoke about the company's app development process:
"Speed and agility have been crucial to Cheetah Mobile's success in the fast-paced emerging markets. We keep our product and feature teams small so we can build new apps and features in a matter of weeks. We also update our apps frequently so that we can respond immediately to user feedback." –Xinhua Liu, CMO at Cheetah Mobile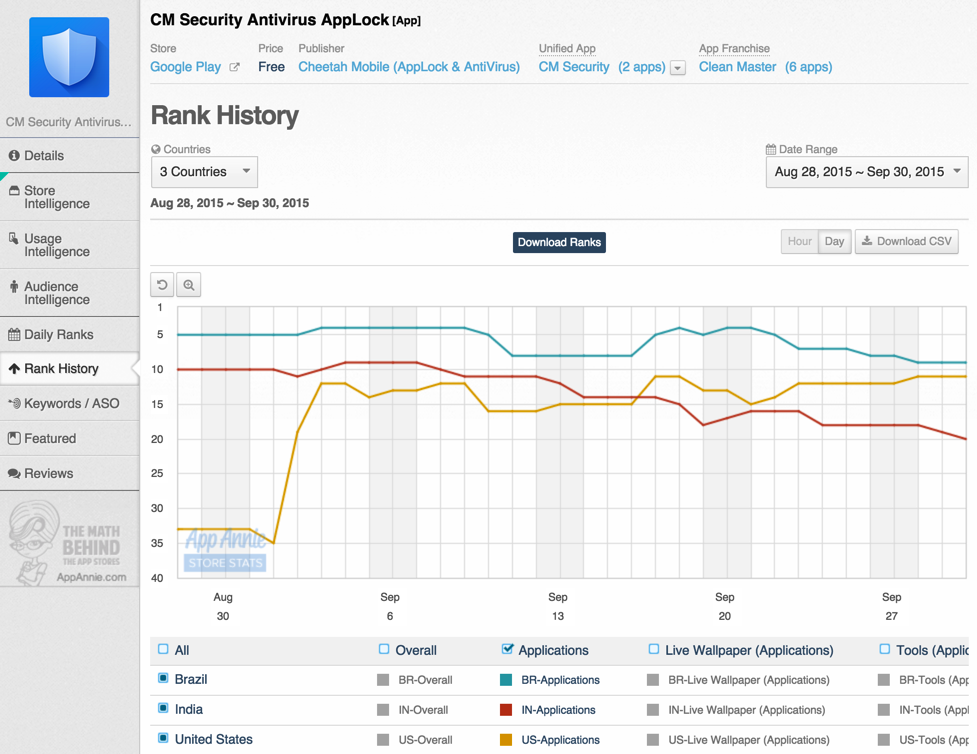 CM Security made major gains in the US in the beginning of September.
CM Security's success is not limited to emerging markets. In particular, CM Security experienced considerable download gains in the US near the beginning of September. With mobile viruses potentially infecting hundreds of thousands of devices, anticipate security apps to continually rank in the download charts.
The iPhone 6S Launch Propels Apple's Productivity Apps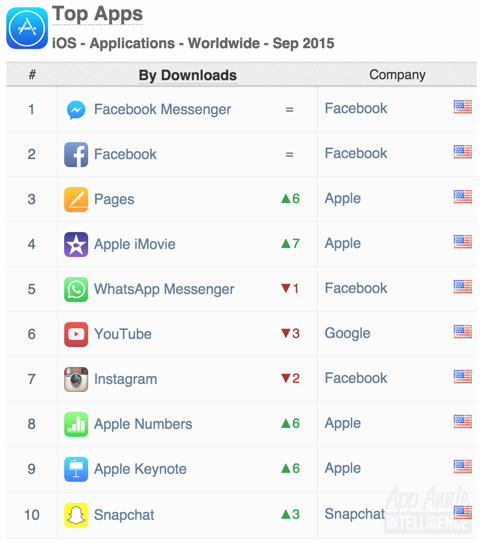 With the record-breaking launch of Apple's iPhone 6S and 6S Plus, Apple's suite of productivity apps has once again made a huge splash in the iOS download rankings, with Pages and Apple iMovie leading the way. From August to September, Apple went from having one app in the chart to four, and from being the #4 company in iOS downloads to the #1 company. This surge was driven by Apple's two-year-old policy of making these otherwise paid apps available free on all new iOS devices sold.
HBO Now Repeats Its iOS Success on Google Play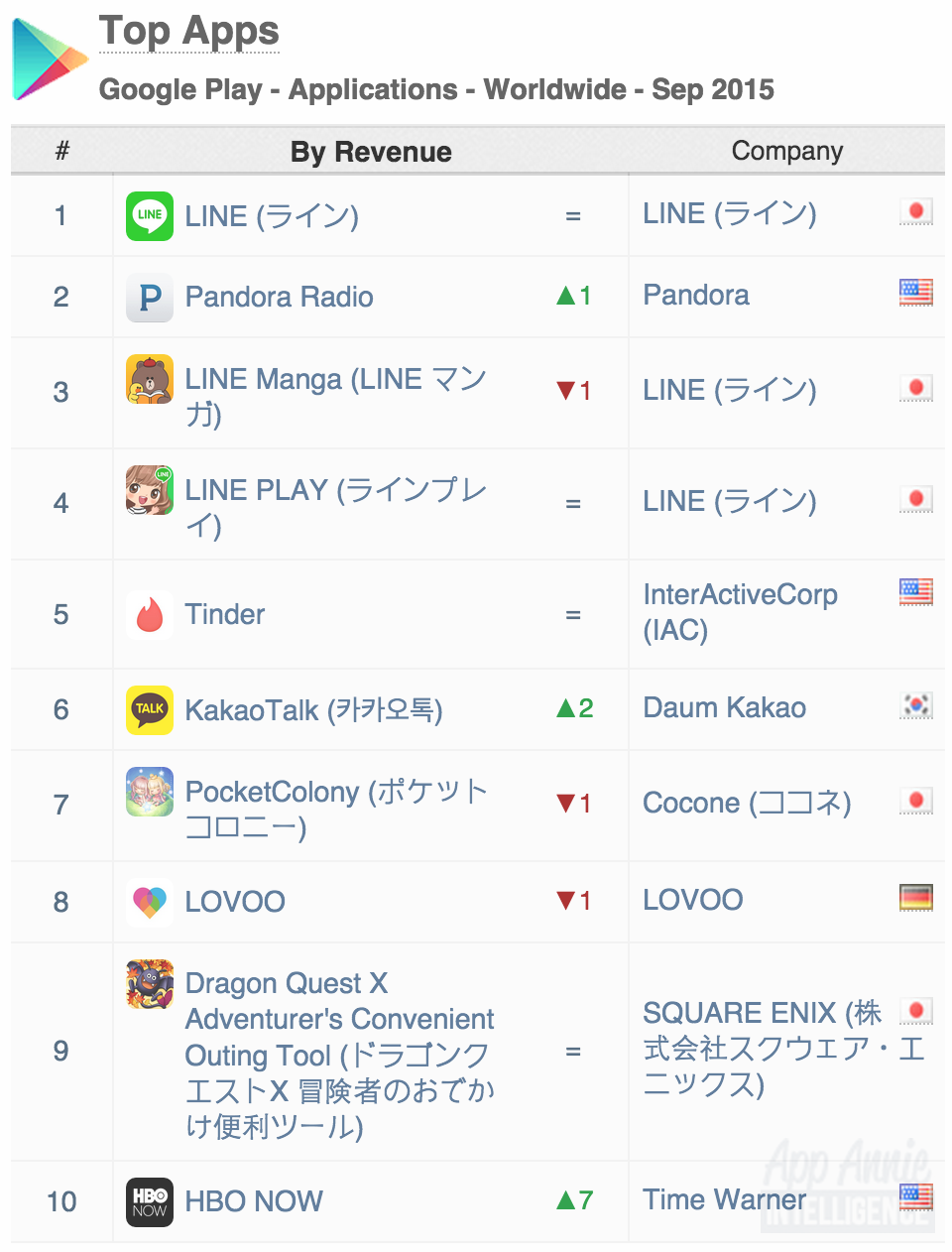 We have written extensively about the breakaway success of HBO NOW on iOS, first in our May 2015 App Index and in later reports about video streaming and cord-cutting. Now that the mobile app is no longer exclusive to iOS, the standalone streaming app has entered the Google Play revenue chart in September.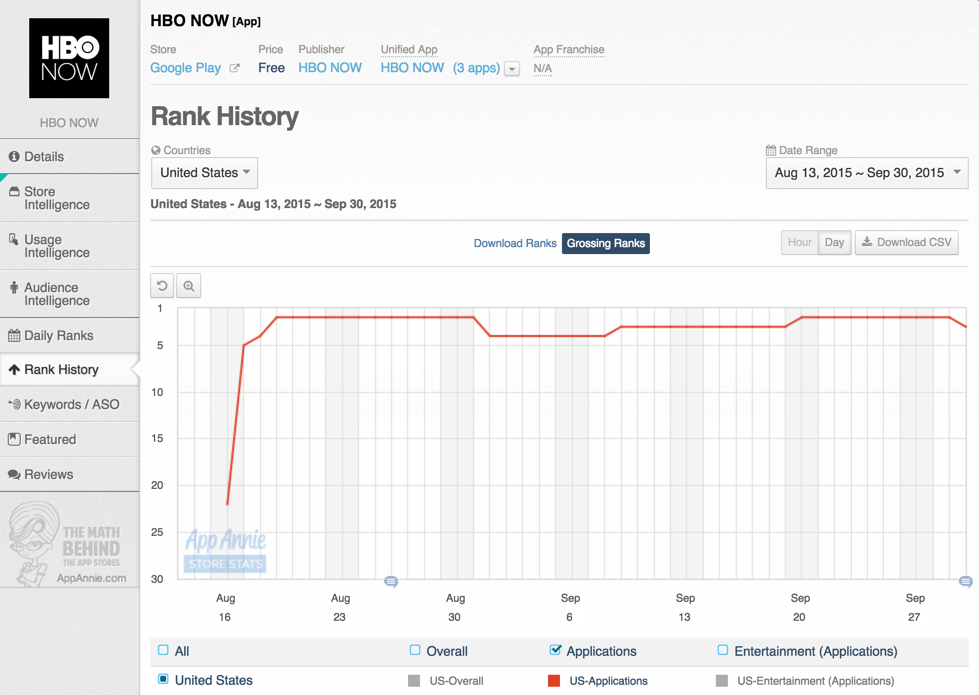 In mid-August, when the early adopters' 30-day trial periods began to expire, the app shot up the US grossing ranks, just as it did on iOS in May. This repeated success begs the question: if HBO decides to release the app outside of the US (something they have expressed interest in doing), just how much bigger can it get?
The Technology Behind the Index
The information contained in this report is compiled from App Annie Intelligence, the leading market data solution for the app store economy. To see how our app store download, revenue, demographic and usage estimates can help guide your critical business decisions, request a demo today.
---

---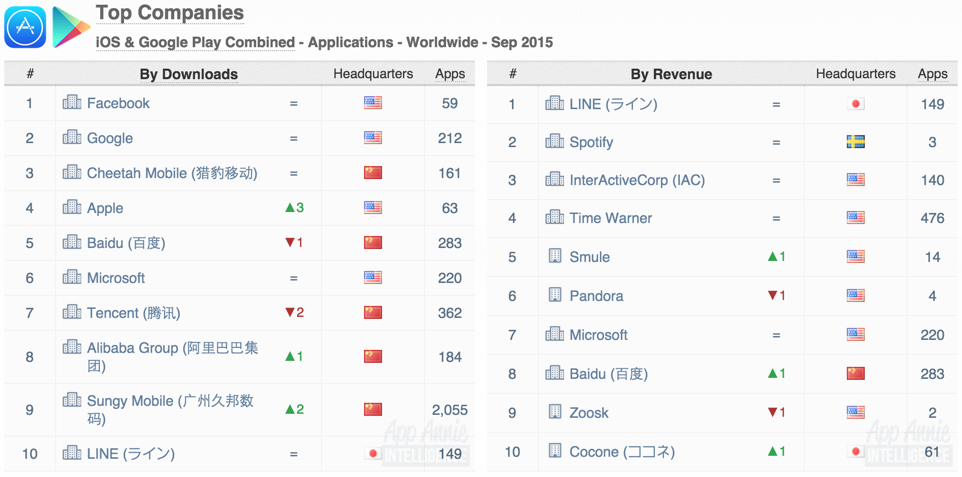 For the complete list of September's top apps and app publishers around the world, click the chart above.

Notes:
The publisher and app rankings reported in the App Annie Index are based on the download and revenue estimates available through App Annie Intelligence. The daily rank history charts and the homepage feature app data are available to all users through App Annie's app tracker solution, Store Stats.
App Annie Intelligence is currently available for the iOS App Store and Google Play. It does not currently provide estimates for other app stores, such as the Amazon Appstore. While iOS and Google Play represent a significant portion of the app market in many countries, that is not the case for some countries. For example, China has a number of sizable third-party Android app stores.

While the Index for Games covers games, the Index for Apps provides app tracking on everything but games. Note that the Top Company rankings in the Index for Games are based solely on the publishers' games downloads and revenue, while the Top Company rankings in the Index for Apps are based on the company's downloads and revenue from apps excluding games.

Company and unified app rankings in the App Annie Index for Games and Index for Apps are based on individual apps that ranked in the Top 1,000.

Download rankings are based on individually downloaded apps and exclude downloads of app bundles. Revenue rankings are based on download revenue from individually downloaded paid apps as well as in-app purchase revenue from both individually downloaded apps and app bundles.

In the first month in which an app becomes unified, its rank change in the Index will compare the unified app that month vs. its highest-ranking individual app in the month prior. As a result, rank changes for newly unified apps may overstate ranking increases from June 2015 to July 2015.

In the iOS App Store, an app can be categorized under a Primary Category as well as an optional Secondary Category. If an app has a Primary Category of Games and a Secondary Category of Entertainment, it is a candidate to be included in this Index for Games. If the app's Primary Category is Entertainment and its Secondary Category is Games, then it will not be included in this Index for Games; it is a candidate for the Index for Apps.

Note that the ranking approach used in the App Annie Index differs from that used in the iOS App Store. In the latter, app rankings for a given category will include all apps whose Primary Category or Secondary Category matches that given category. So an app can appear in the rankings for more than one category within the iOS App Store or in App Annie Store Stats rankings.

In Google Play, an app can be categorized under only one category, so there is no double-categorization.

Occasionally, a publisher may decide to shift an existing app from one category to another category. In these cases, the App Annie Index will rank that app based on its categorization in the subsequent month. Given that the App Annie Index has a Games report and an Apps report, the only scenario where an app's recategorization could shift it from one Index to another is if its category changes from Games to a category other than Games or vice versa.
In the App Annie Index, all apps and publishers are reported under their parent companies, where available; for example, the Plants vs. Zombies™ 2 app is reported under its parent company Electronic Arts, rather than its direct publisher PopCap. Note that if you view the Electronic Arts parent company page on Store Stats, you will see the publishers that roll under the parent company Electronic Arts, including PopCap. The Plants vs. Zombies™ 2 app will be listed under the PopCap publisher page.
Company and app rankings are based on the App Annie DNA relationships at the time of publications. App Annie DNA relationships are subject to change over time.

App Annie Usage Intelligence data for smartphones and tablets were derived from mobile usage data collected from a large sample of real-world users, combined with additional proprietary data sets.

App Annie tracks usage at the device level using a privacy-protective hashed device ID. Data is only reported to third parties in aggregated format.

App Annie Index revenue rankings are based on revenue that the iOS App Store and Google Play earned from paid downloads and in-app purchases. They do not include revenue earned from in-app advertising.

Certain trademarks and/or images used in this report may belong to third parties and are the property of their respective owners. App Annie claims no rights to such trademarks or images.