Each month, the App Annie Index highlights the top-performing games and apps for the iOS App Store and Google Play. Our analysis covers trends among the leading apps across countries and categories, and is the industry standard for professionals looking to compare leading apps and publishers. To find out about current trends in other markets and app categories, please check out the App Annie Q3 2014 Market Index, September 2014 Games Index and Spotlight on Connected Devices.
TABLE OF CONTENTS
1. The Technology Behind the Index
The information contained in this report is compiled from App Annie Intelligence, the leading market data solution for the app store economy. To see how our app store download and revenue estimates can help guide your critical business decisions, take a tour or request a demo today.
---

---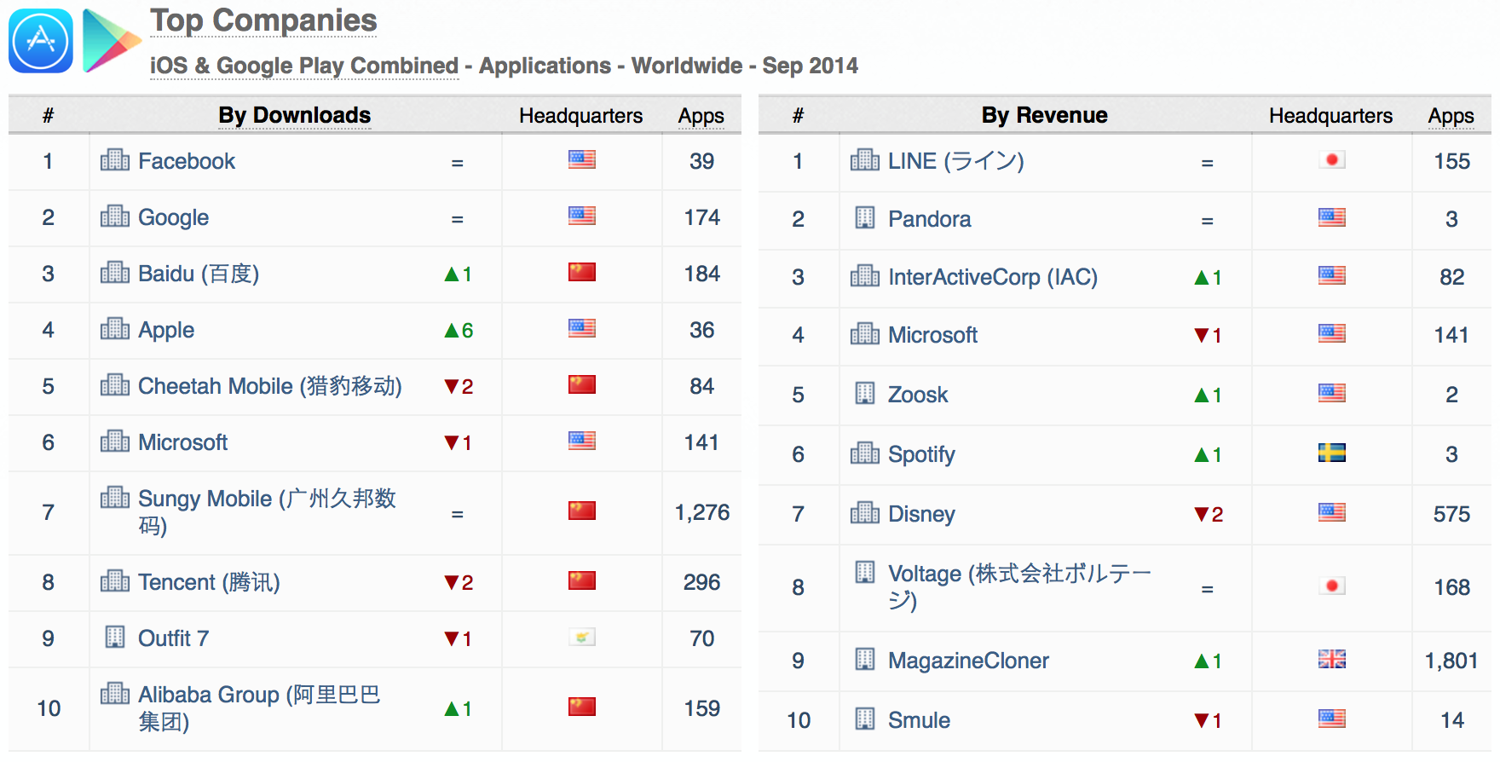 For the complete list of September's top apps and publishers around the world, click the chart above.
2. This Month's Top Performers
Apple's Apps Break into the Top 10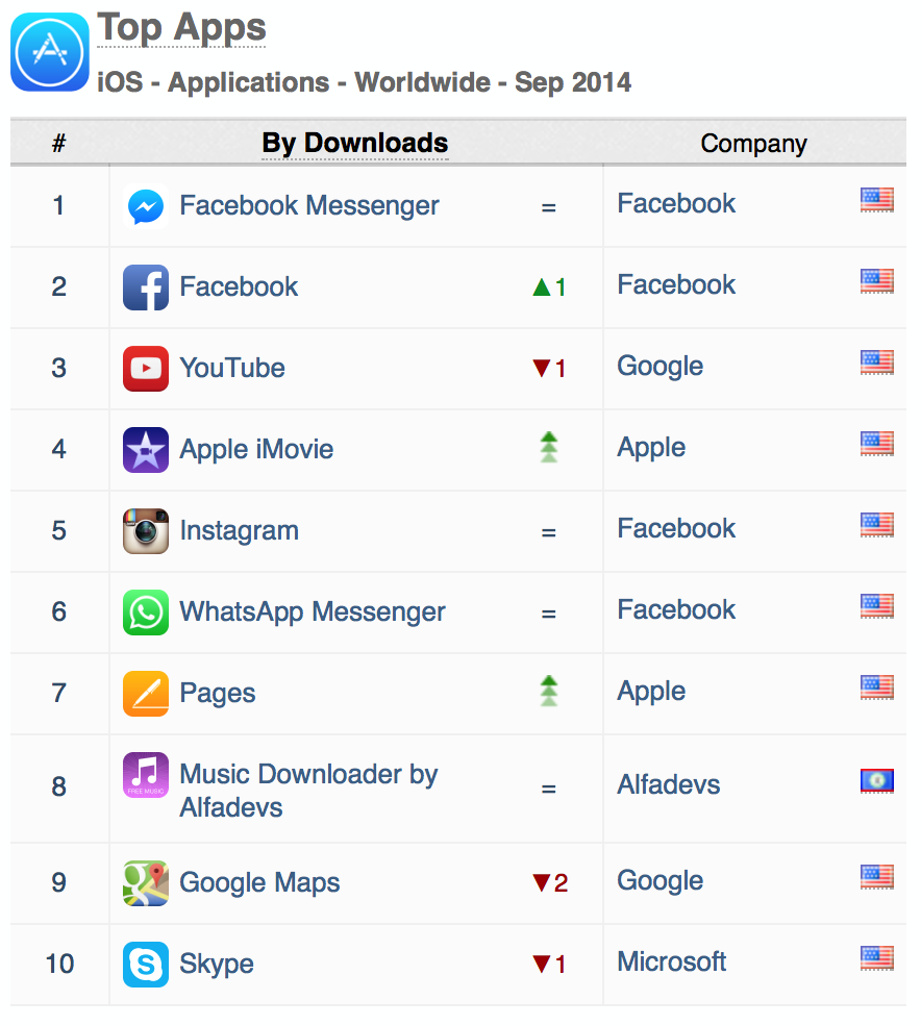 Apple's new iPhone models set a first weekend record of over 10 million new devices sold just three days after their launch on September 19, and had a visible impact on September's app rankings. Apple's free offer for the iLife and iWork app suites was extended to these new devices. While all iLife and iWork apps saw an increase in downloads, iMovie and Pages broke into the worldwide Top 10 iOS download charts. Most downloads were generated from the United States and Japan, which were two of the countries where the new iPhones launched first.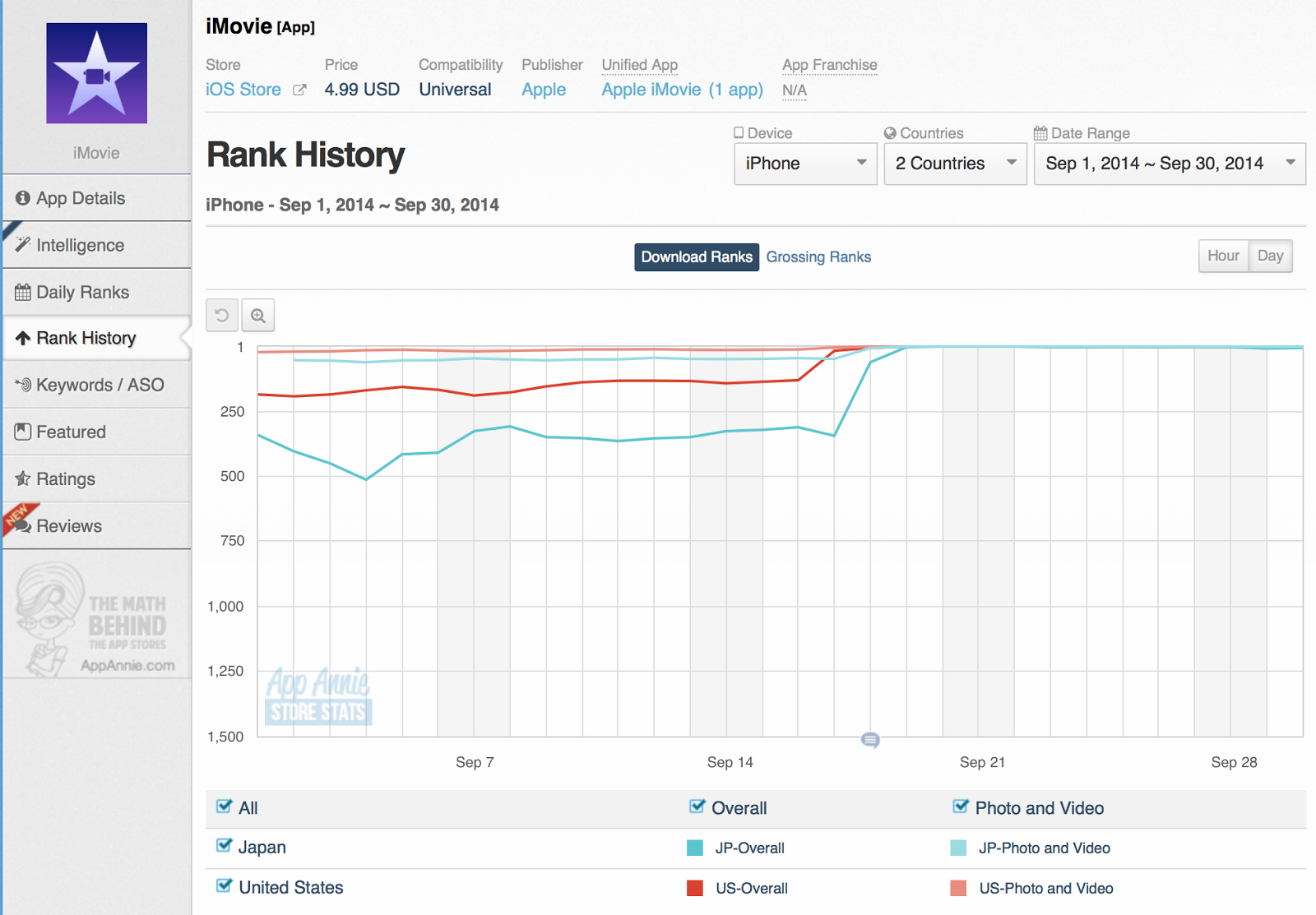 Shortly after the initial launch of the new iPhones, iMovie's rankings jumped to the top in Japan and the US.
Other Apple apps, such as Numbers and Keynote, also experienced high demand and helped bump up Apple's worldwide overall company rank by downloads for iOS. After receiving regulatory approval from the Chinese government, Apple announced the availability of the new iPhone 6 devices in China. While the iLife and iWork apps already generate a large percentage of downloads from China, it will be interesting to follow their impact on the charts after the devices officially release.
Adobe Gets Creative With Productivity Apps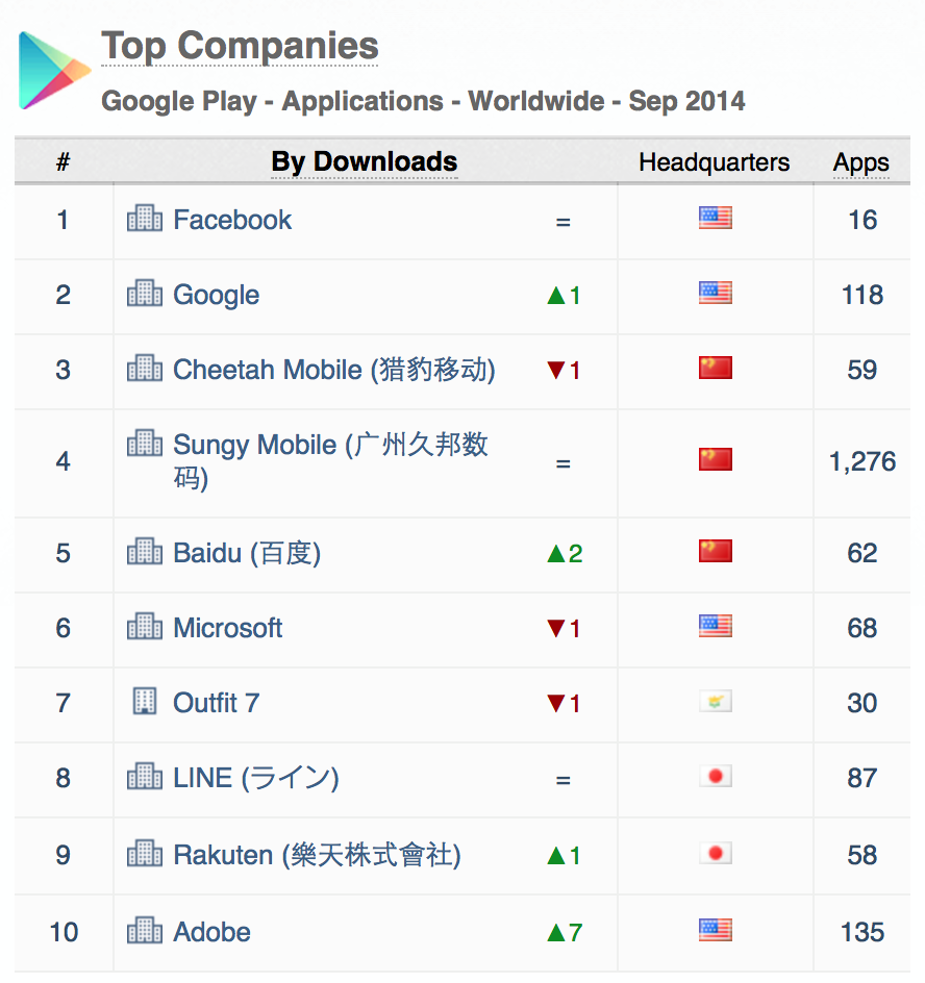 The performance of Apple's iWork suite is part of a larger trend -- 2014 has been a pivotal year for Productivity apps on mobile devices. March saw the successful release of Microsoft's Office for iPad suite, and Google made a play for the Productivity space in April, releasing standalone apps for Docs, Sheets and Slides. These apps all focused on providing a seamless experience between mobile and desktop.
In September, Adobe flew up the company charts after its acquisition of Aviary, which publishes a number of photo-editing apps. Of greater significance, Aviary also develops SDKs for creative app development. Adobe later released the public beta of its first SDK for iOS, giving third-party developers access to its APIs to extend mobile productivity and workflow options, with an Android version in the pipeline. Mobile productivity has clearly become a key focus of Adobe's strategy, illustrated by its launch of an extensive array of new apps designed to smooth the transition between mobile and desktop environments.
Dropbox Joins the Revenue Party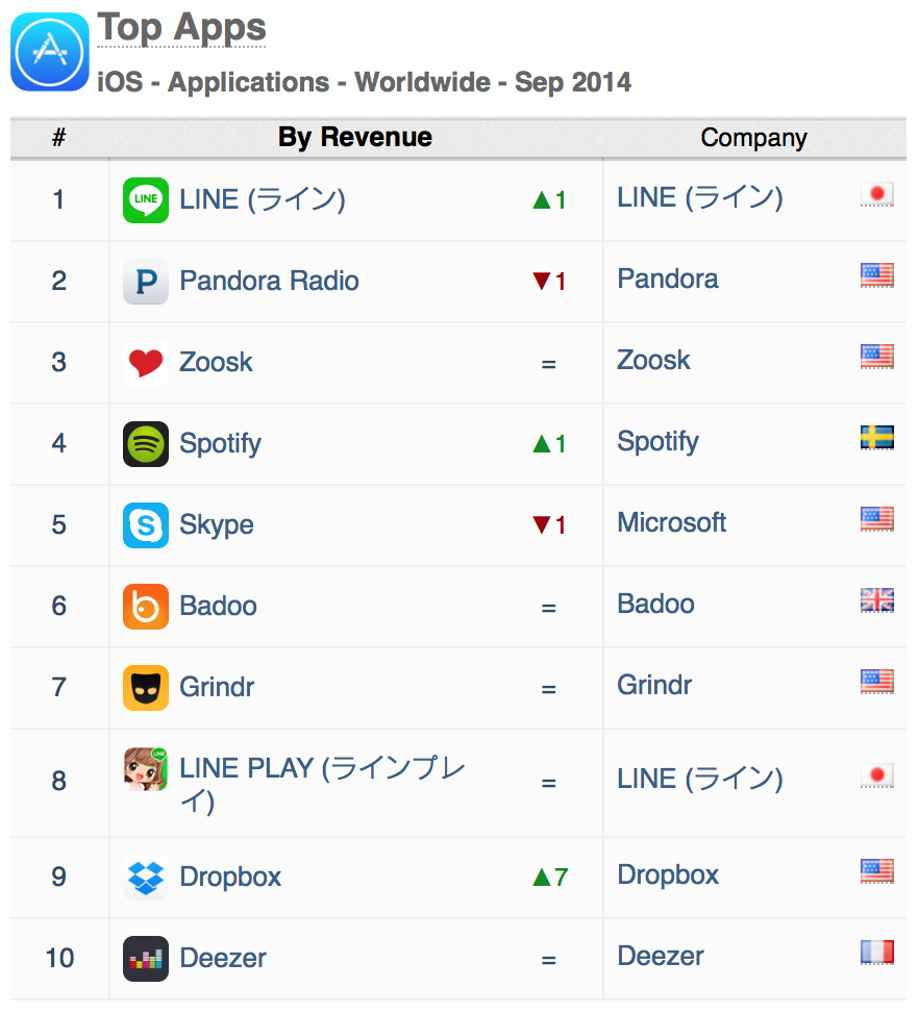 The rise of Productivity apps extended beyond file creation, as evidenced by the September success of Dropbox. The file-sharing app broke into the top 10 worldwide iOS revenue rankings, normally dominated by a party of messaging, music and dating. Over the course of September, Dropbox rolled out a slew of updates adjusting its productivity app for iOS 8. In addition to enhanced folder management options, Dropbox leverages the widget function introduced in iOS 8. A Dropbox section can now be included within Apple's Notification Center, offering a quick update on recent changes to files.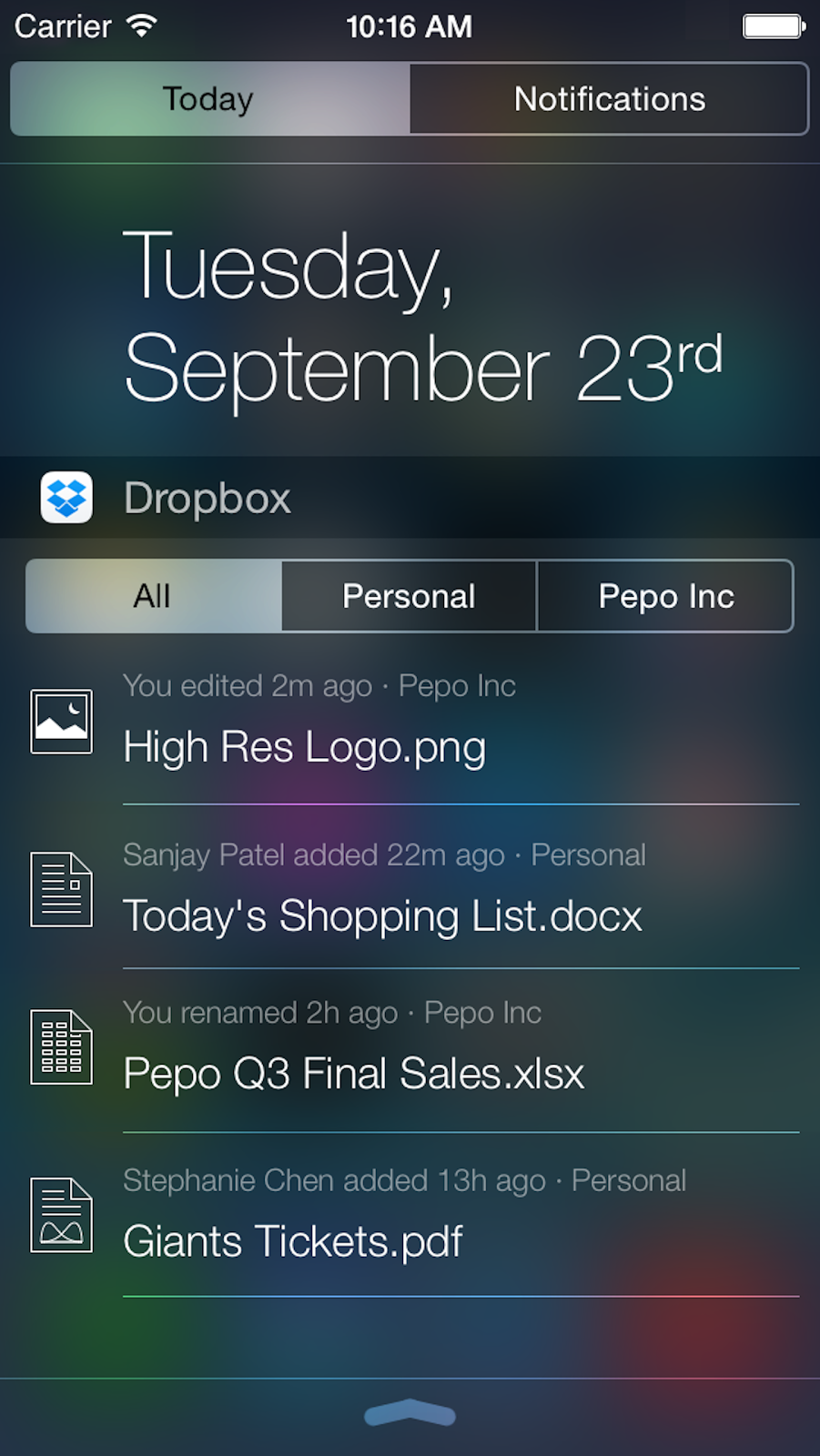 Recent file updates can now appear in the Dropbox section within iOS' updated Notification Center.
Dropbox's increased grossing rank was driven by the United States, the United Kingdom and Japan -- countries that were all included in the initial launch wave of the new iPhones. Having a subscription model of either $25.99 for three months or $99.99 annually, the updates catered to iOS 8 paid off. Dropbox showcases how taking advantage of new operating system features can increase profitability through enhancing the user experience.
Google Play Users Get the Message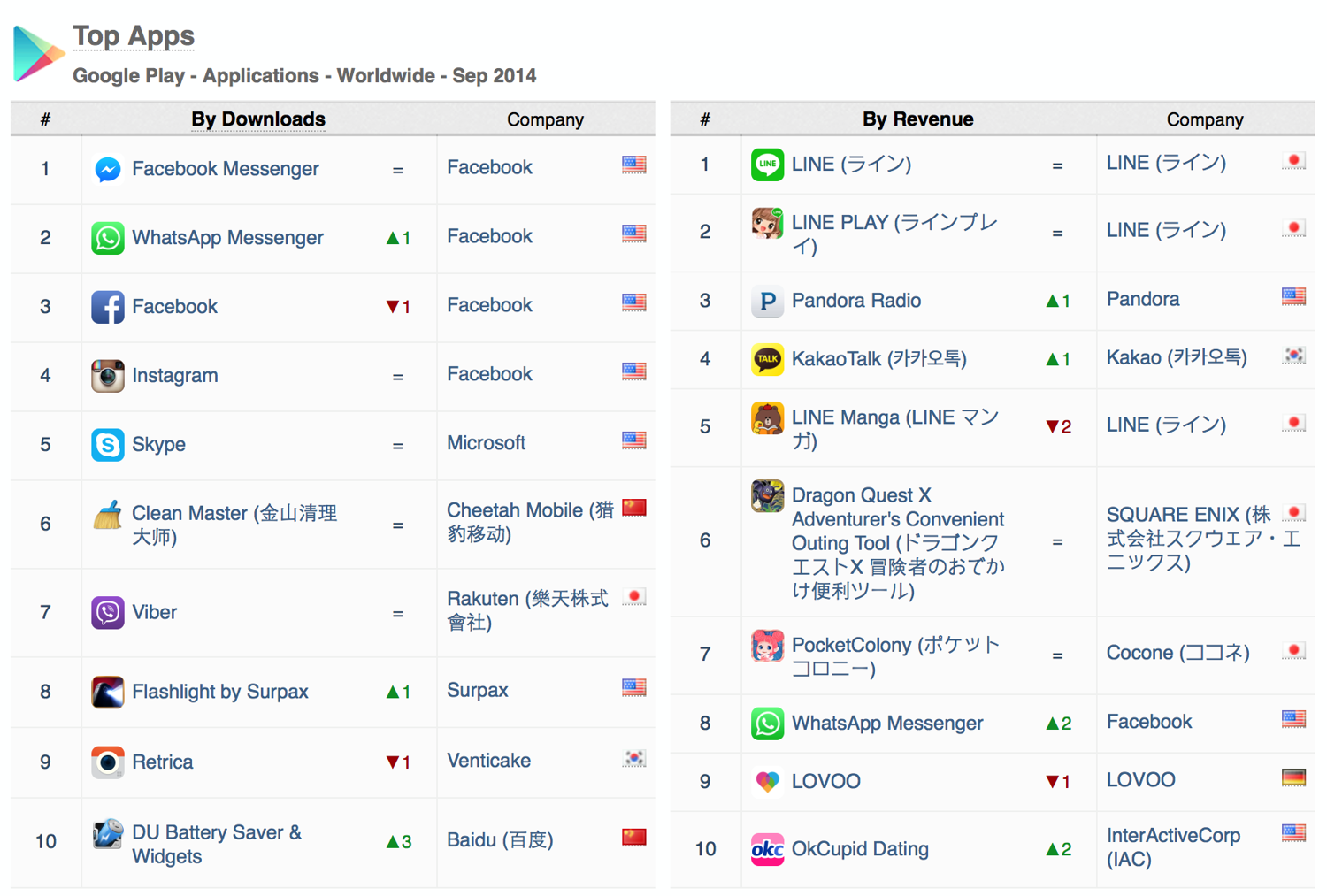 One of the main trends of Q3 2014 was the impressive gain in downloads for messaging apps on both major app stores. The September charts on Google Play certainly support that trend, led by gains for WhatsApp Messenger. In September, the messaging app offered an extended update to both the iOS and Android versions to introduce image and photo captioning. In the Google Play charts, this update coincided with an increase in rankings by both downloads and revenue. Most downloads were generated from emerging markets India, Brazil and Mexico.
In early October, Facebook's acquisition of WhatsApp was completed after the European Commission authorized the acquisition. Facebook bolstered its global reach, already having 1.3 billion monthly active users worldwide from its social networking platform alone, with an additional 600 million active WhatsApp Messenger users.
---
| | |
| --- | --- |
| | Want to get even more advanced with your app store market analysis? Check out our enterprise product App Annie Intelligence. |
---
For those of you who are interested in finding out more about top apps in other categories, please check out the September 2014 Worldwide Index for Games. To keep up-to-date with all the changes at the top of the app and publisher charts, check out the complete set of App Annie Index tables.
Notes:
The publisher and app rankings reported in the App Annie Index are based on the download and revenue estimates available through App Annie

Intelligence

. The daily rank history charts and the homepage feature app data are available to all users through App Annie's app tracker solution,

Store Stats

.

While the Index for Games covers games, the Index for Apps provides app tracking on everything but games. Note that the Top Company rankings in the Index for Games are based solely on the publishers' games downloads and revenue, while the Top Company rankings in the Index for Apps are based on the company's downloads and revenue from apps excluding games.

Through September 2013, similar versions of the same app with different names (e.g., NYTimes and NYTimes for iPad) were ranked separately. Effective with October data, similar versions of the same app with different names are unified (e.g., NYTimes and NYTimes for iPad are now aggregated and ranked as a single NYTimes unified app).

Company and unified app rankings in the App Annie Index for Games and Index for Apps are based on individual apps that ranked in the Top 1,000.

In the first month in which an app becomes unified, its rank change in the Index will compare the unified app that month vs. its highest-ranking individual app in the month prior. As a result, rank changes for newly unified apps may overstate ranking increases from August 2014 to September 2014.

In the iOS App Store, an app can be categorized under a Primary Category as well as an optional Secondary Category. If an app has a Primary Category of Games and a Secondary Category of Entertainment, it is a candidate to be included in this Index for Games. If the app's Primary Category is Entertainment and its Secondary Category is Games, then it will not be included in this Index for Games; it is a candidate for the Index for Apps.

Note that the ranking approach used in the App Annie Index differs from that used in the iOS App Store. In the latter, app rankings for a given category will include all apps whose Primary Category or Secondary Category matches that given category. So an app can appear in the rankings for more than one category within the iOS App Store or in App Annie Store Stats rankings.

In Google Play, an app can be categorized under only one category, so there is no double-categorization.

Occasionally, a publisher may decide to shift an existing app from one category to another category. In these cases, the App Annie Index will rank that app based on its categorization in the subsequent month. Given that the App Annie Index has a Games report and an Apps report, the only scenario where an app's recategorization could shift it from one Index to another is if its category changes from Games to a category other than Games or vice versa.
In the App Annie Index, all apps and publishers are reported under their parent companies, where available; for example, the WhatsApp Messenger app is reported under its parent company Facebook, rather than its direct publisher WhatsApp Inc.. Note that if you view the Facebook parent company page on Store Stats, you will see the publishers that roll under the parent company Facebook

, including

WhatsApp Inc. The WhatsApp Messenger app will be listed under the WhatsApp Inc.

publisher page.

Company and app rankings are based on the

App Annie DNA

relationships at the time of publications. App Annie DNA relationships are subject to change over time.

App Annie Index revenue rankings are based on revenue that the iOS App Store and Google Play earned from paid downloads and in-app purchases. They do not include revenue earned from in-app advertising.

Certain trademarks and/or images used in this report may belong to third parties and are the property of their respective owners. App Annie claims no rights in such trademarks or images.