Worldwide App Annie Index for Apps October 2015

Each month, the App Annie Index highlights the top-performing games and apps for the iOS App Store and Google Play. Our analysis covers trends among the leading apps across countries and categories, and is the industry standard for professionals looking to compare leading apps and publishers.

You might also be interested in:
This Month's Top Apps
Hulu Makes Up for Lost Time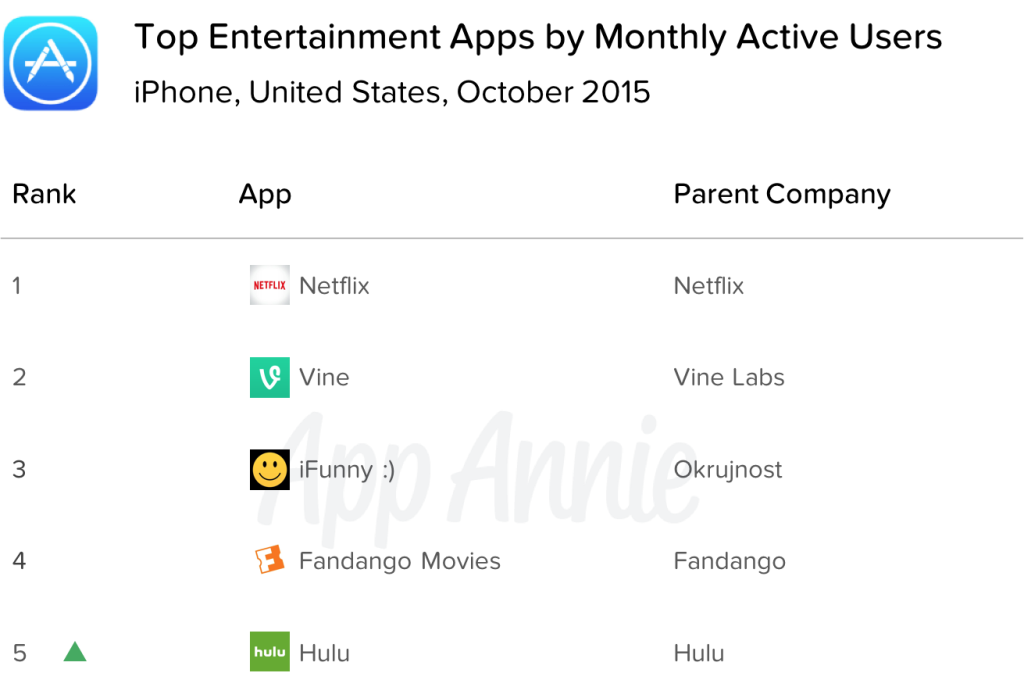 The world of video streaming is highly competitive, as Hulu discovered to its advantage after taking over licensing rights for Epix films from rival Netflix. While Netflix elected to focus on its own original programming, Hulu took the opportunity to acquire more content and expand its feature film lineup. The move resonated with its subscribers and coincided with a surge in revenue that pushed Hulu to #8 on the worldwide iOS top revenue chart.
The increased activity also helped Hulu move up to #5 on the top US Monthly Active Users (MAU) chart in the iOS Entertainment category. After reaching 9 million subscribers earlier this year, the company continues to generate a lot of positive buzz. Based on rival Netflix's huge subscriber base, it stands to reason that Hulu still has plenty of potential for growth.
It's Films Galore as iQIYI Increases Western Offerings
Video streaming is also becoming increasingly popular in China. In our July 2015 App Index, we noted iQIYI's stellar rise to prominence, but the story doesn't end there. In October 2015, iQIYI reached #7 in the worldwide iOS top revenue chart, a new monthly high for the successful video streaming app.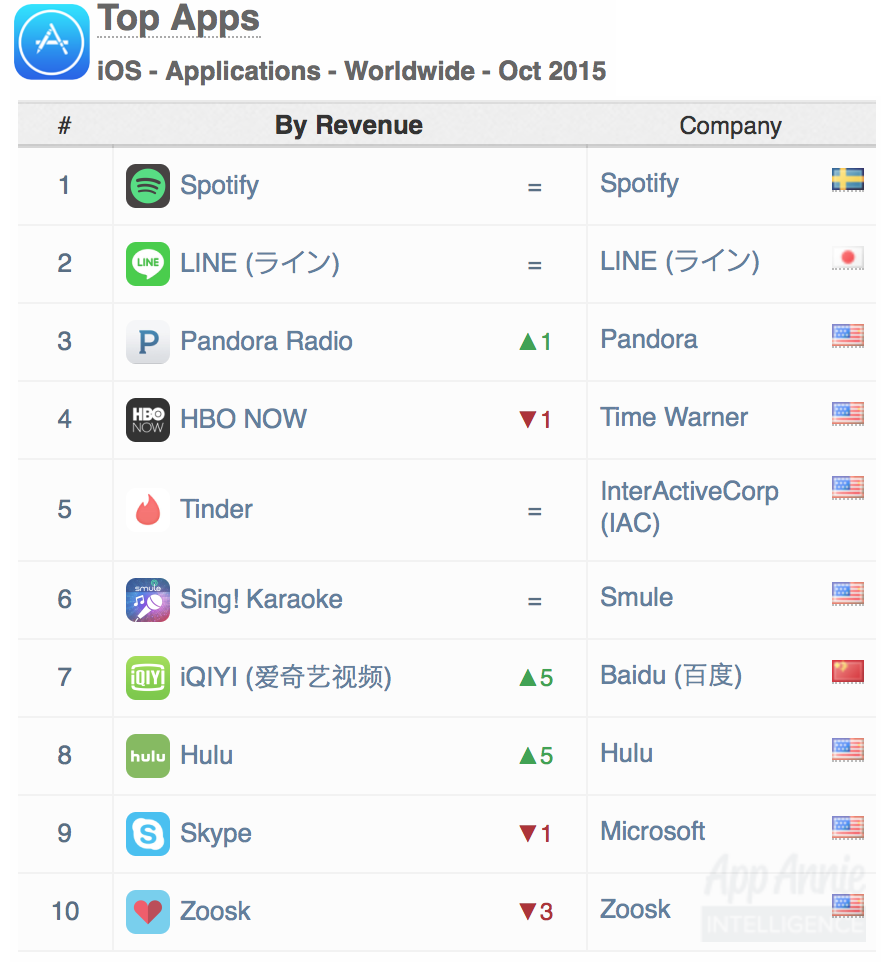 The surge in demand for video streaming content from China has undoubtedly been a key factor, with exclusive content like Notes of Tomb Raiders contributing to the growing usage of iQIYI. But the company continues to break new ground, following up its landmark Paramount Pictures deal with two more agreements with Lionsgate and NBCUniversal.
These deals represent a major enhancement in iQIYI's offerings to its subscribers. For example, the Lionsgate deal allows iQIYI's subscribers access to hugely popular franchises like The Hunger Games and Divergent, giving them more choices than ever before. It appears iQIYI also chose the perfect time to flex its muscles given how soon The Hunger Games: Mockingjay, Part 2 is set to release in China.
Facebook's Still in a League of Their Own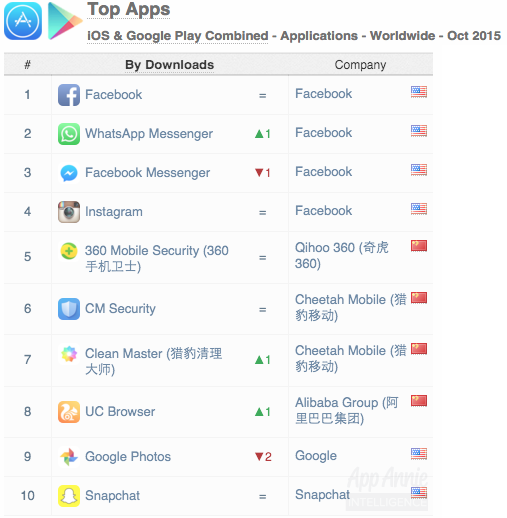 At the end of September, Facebook reported its earnings for the third quarter of 2015. The results were impressive — there are now 1.39 billion mobile monthly active users on Facebook, equating to nearly a fifth of the world's population.
The company also continues to experience growth in mobile usage for Instagram, Facebook Messenger and WhatsApp Messenger. It's no surprise that these four apps have consistently occupied the top spots of App Annie's combined iOS and Google Play downloads chart for years yet still continued to grow.
A significant portion of Facebook's growth comes from mobile advertising, and the company has identified an opportunity to continue building new and more effective advertising products for marketers. One of the projects on the verge of generating solid revenue streams is Facebook's video platform, which encourages users to create and share short-form video content.
Leveraging user News Feeds helped Facebook double its average daily video views from four billion to eight billion in just six months. The company also factors in user interactions to deliver more relevant video content in an effort to create a more personalized experience. There can be little doubt that Facebook is poised to become a major player in the video content space.
The Technology Behind the Index
The information contained in this report is compiled from App Annie Intelligence, the leading market data solution for the app store economy. To see how our app store download, revenue, demographic and usage estimates can help guide your critical business decisions, request a demo today.
---

---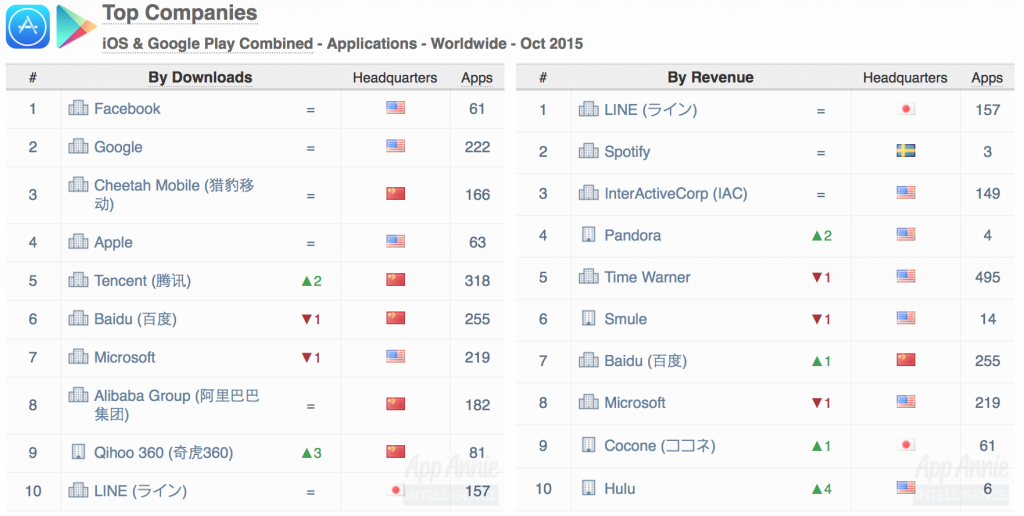 For the complete list of October's top apps and app publishers around the world, click the chart above.
Notes:
The publisher and app rankings reported in the App Annie Index are based on the download and revenue estimates available through App Annie Intelligence. The daily rank history charts and the homepage feature app data are available to all users through App Annie's app tracker solution, Store Stats.
App Annie Intelligence is currently available for the iOS App Store and Google Play. It does not currently provide estimates for other app stores, such as the Amazon Appstore. While iOS and Google Play represent a significant portion of the app market in many countries, that is not the case for some countries. For example, China has a number of sizable third-party Android app stores.

While the Index for Games covers games, the Index for Apps provides app tracking on everything but games. Note that the Top Company rankings in the Index for Games are based solely on the publishers' games downloads and revenue, while the Top Company rankings in the Index for Apps are based on the company's downloads and revenue from apps excluding games.

Company and unified app rankings in the App Annie Index for Games and Index for Apps are based on individual apps that ranked in the Top 1,000.

Download rankings are based on individually downloaded apps and exclude downloads of app bundles. Revenue rankings are based on download revenue from individually downloaded paid apps as well as in-app purchase revenue from both individually downloaded apps and app bundles.

In the first month in which an app becomes unified, its rank change in the Index will compare the unified app that month vs. its highest-ranking individual app in the month prior. As a result, rank changes for newly unified apps may overstate ranking increases from June 2015 to July 2015.

In the iOS App Store, an app can be categorized under a Primary Category as well as an optional Secondary Category. If an app has a Primary Category of Games and a Secondary Category of Entertainment, it is a candidate to be included in this Index for Games. If the app's Primary Category is Entertainment and its Secondary Category is Games, then it will not be included in this Index for Games; it is a candidate for the Index for Apps.

Note that the ranking approach used in the App Annie Index differs from that used in the iOS App Store. In the latter, app rankings for a given category will include all apps whose Primary Category or Secondary Category matches that given category. So an app can appear in the rankings for more than one category within the iOS App Store or in App Annie Store Stats rankings.

In Google Play, an app can be categorized under only one category, so there is no double-categorization.

Occasionally, a publisher may decide to shift an existing app from one category to another category. In these cases, the App Annie Index will rank that app based on its categorization in the subsequent month. Given that the App Annie Index has a Games report and an Apps report, the only scenario where an app's recategorization could shift it from one Index to another is if its category changes from Games to a category other than Games or vice versa.
In the App Annie Index, all apps and publishers are reported under their parent companies, where available; for example, the Plants vs. Zombies™ 2 app is reported under its parent company Electronic Arts, rather than its direct publisher PopCap. Note that if you view the Electronic Arts parent company page on Store Stats, you will see the publishers that roll under the parent company Electronic Arts, including PopCap. The Plants vs. Zombies™ 2 app will be listed under the PopCap publisher page.
Company and app rankings are based on the App Annie DNA relationships at the time of publications. App Annie DNA relationships are subject to change over time.

App Annie Usage Intelligence data for smartphones and tablets were derived from mobile usage data collected from a large sample of real-world users, combined with additional proprietary data sets.

App Annie tracks usage at the device level using a privacy-protective hashed device ID. Data is only reported to third parties in aggregated format.

App Annie Index revenue rankings are based on revenue that the iOS App Store and Google Play earned from paid downloads and in-app purchases. They do not include revenue earned from in-app advertising.

Certain trademarks and/or images used in this report may belong to third parties and are the property of their respective owners. App Annie claims no rights to such trademarks or images.