Each month, the App Annie Index highlights the top-performing games and apps for the iOS App Store and Google Play. Our analysis covers trends among the leading apps across countries and categories, and is the industry standard for professionals looking to compare leading apps and publishers. To find out about current trends in other markets and app categories, please check out the App Annie October 2014 Games Index, our report with Kantar Retail highlighting the top retailers in France and our special coverage of China's 11/11 m-commerce event.
TABLE OF CONTENTS
1. The Technology Behind the Index
The information contained in this report is compiled from App Annie Intelligence, the leading market data solution for the app store economy. To see how our app store download and revenue estimates can help guide your critical business decisions, take a tour or request a demo today.
---

---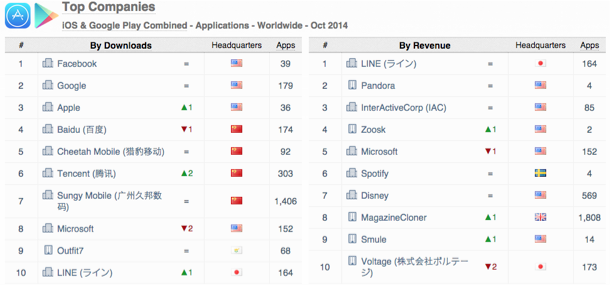 For the complete list of October's top apps and publishers around the world, click the chart above.
2. This Month's Top Performers
China's iPhone Launch Helps Apple's Apps Snag 5 Top 10 Spots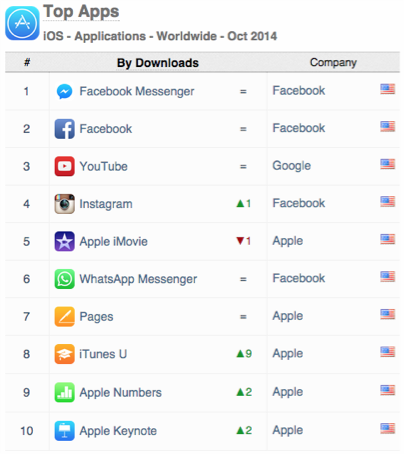 As seen in the September 2014 Index for Apps, downloads for apps published by Apple increased following the record-setting launch of its new iPhone, with iMovie and Pages breaking into the worldwide top 10 iOS download charts. In October, Apple continued its fastest-ever iPhone rollout, bringing the smartphone to 36 additional countries and territories.
On October 17, the new iPhone arrived in China, the world's largest smartphone market. This was also the first time that the new iPhone was available on all three of China's wireless carriers at launch. Significant download growth in China following the launch helped three other apps classified as "Apps Made by Apple": iTunes U, Numbers and Keynote. These apps join the worldwide top 10 iOS download rankings in October.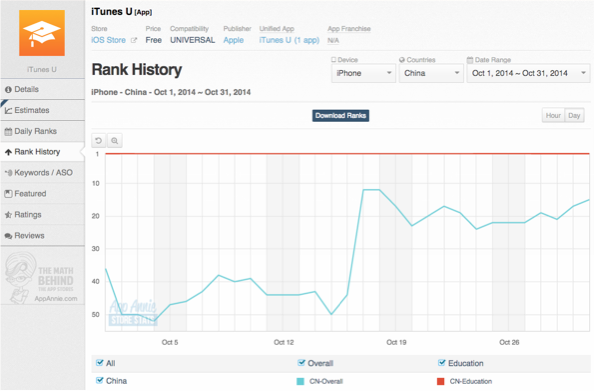 Following the launch of new iPhones in China, iTunes U climbed download ranks.
With demand for the new iPhones continuing to outstrip supply, along with the recent launch of the new iPads and upcoming holiday season, we expect to see Apple's apps maintain a healthy level of downloads worldwide.
Optimization Apps Get a Boost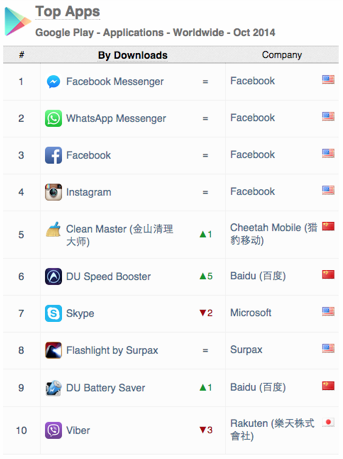 Smartphone optimization apps from Chinese publishers Baidu and Cheetah Mobile experienced robust download growth on Google Play in October. These apps provide a variety of features that monitor, clean and protect smartphones to help them run fast and efficiently. Baidu's DU Speed Booster made the biggest gains and entered Google Play's top 10 app rankings by worldwide downloads. Its growth was led by Indonesia, which we highlighted in our Q3 2014 Market Index as one of Google Play's key emerging markets.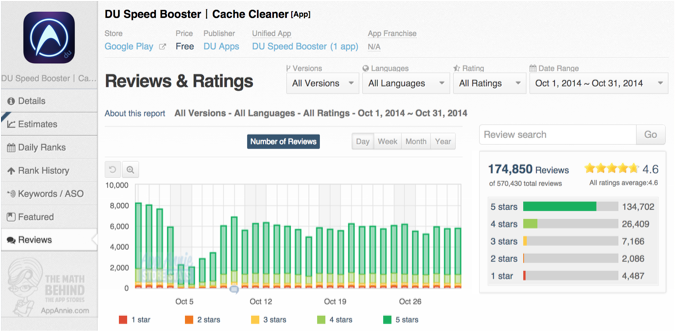 DU Speed Booster's performance-improving features garnered strong user reviews for the app in October.
Cheetah Mobile's Clean Master moved up one spot on Google Play's download charts and was recognized, along with DU Speed Booster, by leading IT-security institute AV-TEST. In October, DU Speed Booster obtained AV-TEST certification and Clean Master received the maximum score on the organization's test of 32 Android security apps.
Another Baidu app, DU Battery Saver, recently announced that it surpassed 100 million downloads, as well as a partnership with the World Wide Fund for Nature (WWF) to support global conservation. Its growth, along with DU Speed Booster's, helped Baidu move up one spot on Google Play's worldwide publisher download rankings in October.
IAC's Dating Apps Make a Move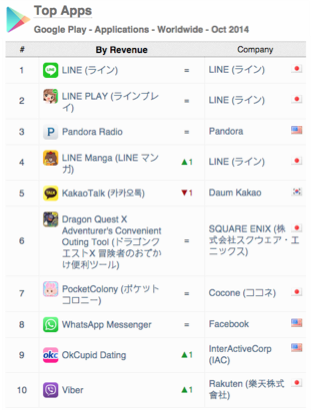 Dating apps from publisher InterActiveCorp (IAC) had a strong October on both the iOS and Google Play revenue charts. Its OKCupid Dating app experienced steady month-over-month revenue growth on Google Play, cracking the top 10 in September  and then rising another spot in October. Meanwhile, on the iOS App Store, IAC launched an iPad-optimized version of its Match.com app on October 16. Soon after its release, the app was featured in the "Best New Apps" section on the iOS App Store homepage.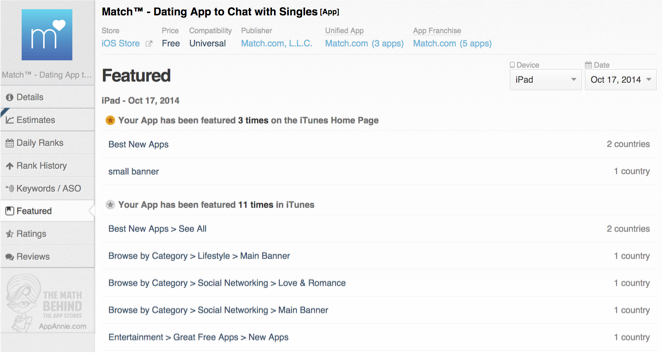 Match.com's new iPad-optimized app was featured prominently on the iTunes Home Page soon after its release.
IAC does not show any signs of slowing down. In October, it partnered with Steve Harvey to launch Delightful.com and its Tinder app is preparing to start monetizing with the launch of a premium subscription named Tinder Plus. This addition will give Tinder users highly requested features including the ability to undo left swipes and discover people in cities away from their current location. Furthermore, the whole dating app category should see increased activity during the upcoming holiday season, which is traditionally its busiest time of the year.
---
| | |
| --- | --- |
| | Want to get even more advanced with your app store market analysis? Check out our enterprise product App Annie Intelligence. |
---
For those of you who are interested in finding out more about top apps in other categories, please check out the October 2014 Worldwide Index for Games. To keep up-to-date with all the changes at the top of the app and publisher charts, check out the complete set of App Annie Index tables.
Notes:
The publisher and app rankings reported in the App Annie Index are based on the download and revenue estimates available through App Annie Intelligence. The daily rank history charts and the homepage feature app data are available to all users through App Annie's app tracker solution, Store Stats.

While the Index for Games covers games, the Index for Apps provides app tracking on everything but games. Note that the Top Company rankings in the Index for Games are based solely on the publishers' games downloads and revenue, while the Top Company rankings in the Index for Apps are based on the company's downloads and revenue from apps excluding games.

Through September 2013, similar versions of the same app with different names (e.g., NYTimes and NYTimes for iPad) were ranked separately. Effective with October data, similar versions of the same app with different names are unified (e.g., NYTimes and NYTimes for iPad are now aggregated and ranked as a single NYTimes unified app).

Company and unified app rankings in the App Annie Index for Games and Index for Apps are based on individual apps that ranked in the top 1,000.

In the first month in which an app becomes unified, its rank change in the Index will compare the unified app that month vs. its highest-ranking individual app in the month prior. As a result, rank changes for newly unified apps may overstate ranking increases from September 2014 to October 2014.

In the iOS App Store, an app can be categorized under a Primary Category as well as an optional Secondary Category. If an app has a Primary Category of Games and a Secondary Category of Entertainment, it is a candidate to be included in this Index for Games. If the app's Primary Category is Entertainment and its Secondary Category is Games, then it will not be included in this Index for Games; it is a candidate for the Index for Apps.

Note that the ranking approach used in the App Annie Index differs from that used in the iOS App Store. In the latter, app rankings for a given category will include all apps whose Primary Category or Secondary Category matches that given category. So an app can appear in the rankings for more than one category within the iOS App Store or in App Annie Store Stats rankings.

In Google Play, an app can be categorized under only one category, so there is no double-categorization.

Occasionally, a publisher may decide to shift an existing app from one category to another category. In these cases, the App Annie Index will rank that app based on its categorization in the subsequent month. Given that the App Annie Index has a Games report and an Apps report, the only scenario where an app's recategorization could shift it from one Index to another is if its category changes from Games to a category other than Games or vice versa.
In the App Annie Index, all apps and publishers are reported under their parent companies, where available; for example, the WhatsApp Messenger app is reported under its parent company Facebook, rather than its direct publisher WhatsApp Inc.. Note that if you view the Facebook parent company page on Store Stats, you will see the publishers that roll under the parent company Facebook, including WhatsApp Inc. The WhatsApp Messenger app will be listed under the WhatsApp Inc. publisher page.
Company and app rankings are based on the App Annie DNA relationships at the time of publications. App Annie DNA relationships are subject to change over time.

App Annie Index revenue rankings are based on revenue that the iOS App Store and Google Play earned from paid downloads and in-app purchases. They do not include revenue earned from in-app advertising.

Certain trademarks and/or images used in this report may belong to third parties and are the property of their respective owners. App Annie claims no rights in such trademarks or images.