Worldwide App Annie Index for Apps November 2015

Each month, the App Annie Index highlights the top-performing games and apps for the iOS App Store and Google Play. Our analysis covers trends among the leading apps across countries and categories, and is the industry standard for professionals looking to compare leading apps and publishers.

You might also be interested in:
This Month's Top Apps
Netflix Scores Big with iPhone and iPad Subscribers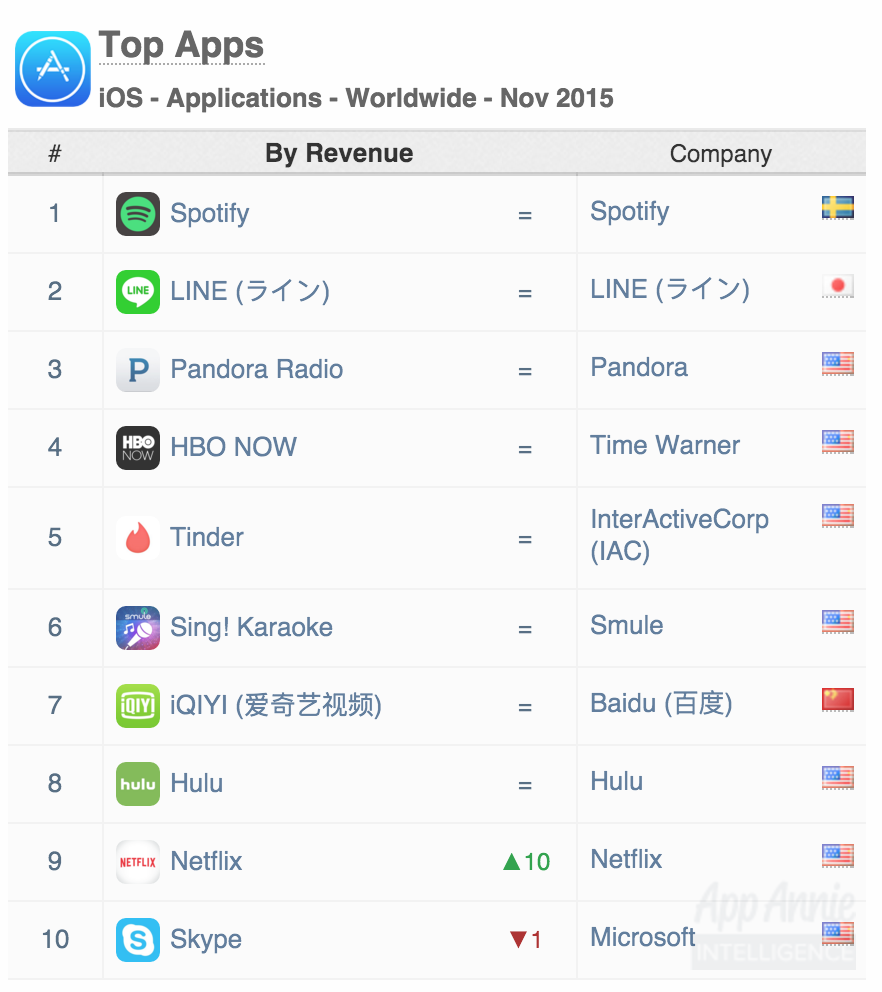 After HBO Now in May, Netflix broke into the top revenue charts for iOS apps excluding games in November 2015 following the introduction of subscription in-app purchases on iOS in late September. In-app purchases allow users to subscribe to Netflix from their iPhone or iPad, replacing the manual entry of credit card details with a simple purchase button. Users no longer have to go to their PC or mobile browser to sign up. As a result, Netflix saw revenue soar globally by iOS revenue in November.
Similar to YouTube Red, another subscription in-app purchase feature launched in late October, monetization success of subscriptions are typically seen on a one-month delay after users enjoyed their initial free month trial.
Like Hulu, who began offering subscriptions via in-app purchases in 2014, Netflix didn't adjust its subscription prices within mobile apps to make up for the 30% fee Apple typically retains.
HBO Now continues to lead global iOS revenue for video-streaming apps, followed by Hulu and iQIYI. However, Netflix's popularity —  it currently has over 69 million users — international expansion and doubling of original content to the tune of $5 billion in 2016 poises them for increasing mobile subscriptions in the months to come.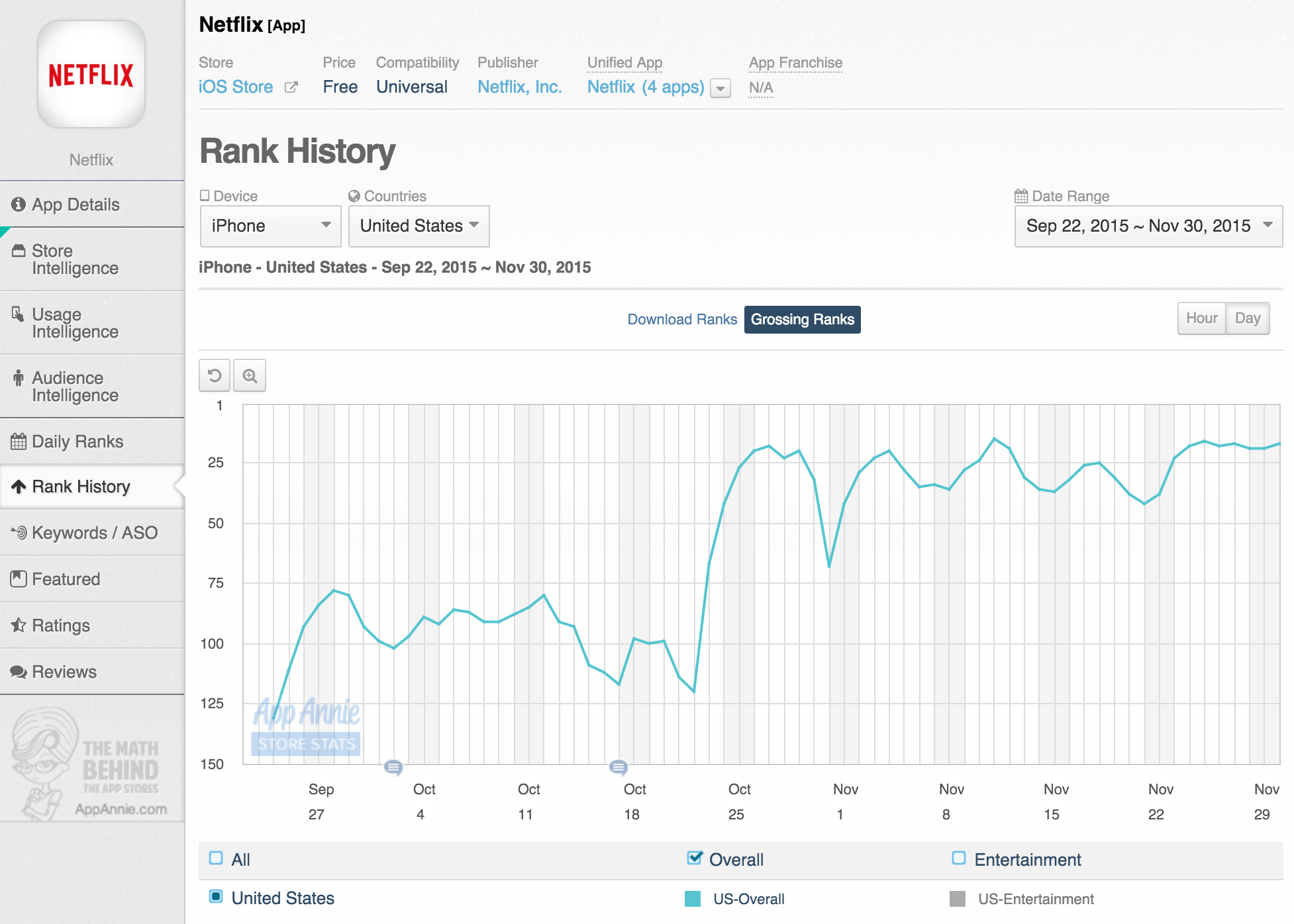 Since releasing in-app purchases on iOS, Netflix has risen steadily through the top grossing ranks in the US.
Video Streaming Drives Tencent's Climb up the Top Revenue Chart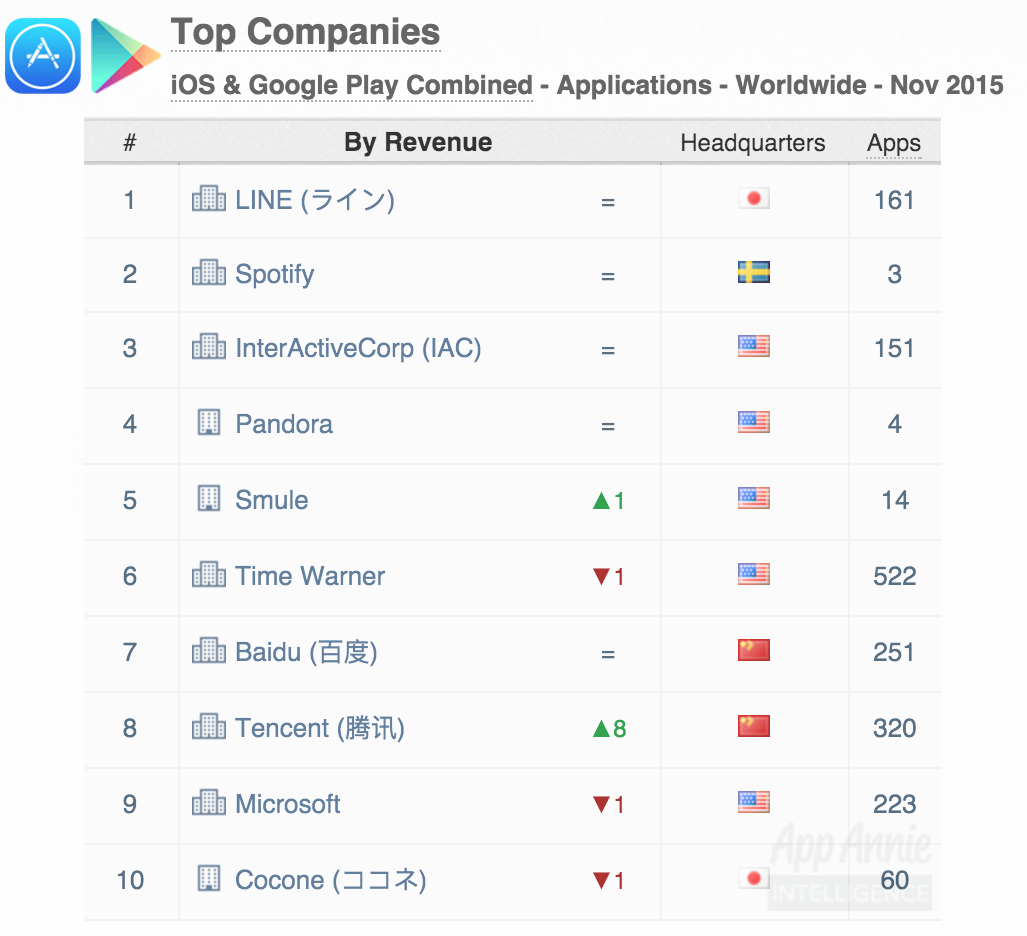 Publisher Tencent rose 8 ranks to #8 for worldwide combined iOS and Google Play revenue, driven largely by its revenue growth in Tencent Video and QQ in China. The NBA and Tencent announced their exclusive partnership for Chinese digital coverage of the NBA for five years. This partnership was rolled out to mobile as Tencent Video released new updates in late October and early November in preparation of the first NBA season beginning October 27th. As a result, Tencent Video saw a large increase in revenue for the month of November. As the NBA season continues, there is a huge opportunity for further revenue growth in China.
WhatsApp Regains its Top Rank in Google Play as Downloads Surge in Emerging Markets
WhatsApp Messenger surged in downloads to regain the #1 rank for worldwide Google Play downloads and worldwide iOS App Store & Google Play combined downloads. This increase is heavily influenced by steady growth in emerging markets such as Brazil, Mexico and India. WhatsApp has historically had a strong hold in these countries, topping the charts in both monthly active users and downloads for the Android-dominant markets.
In Brazil, along with other emerging markets, WhatsApp served as a messaging alternative to SMS — which has historically been expensive. One of Brazil's largest carriers, TIM, has even gone so far as including WhatsApp free of data charges in their postpaid mobile plan.

WhatsApp was the most-used communication app by monthly active users on Android phones in India and Brazil in November 2015.
As mentioned in our recent report, messaging apps' global popularity — both in terms of downloads and usage — paves the way for expanding functionality and monetization opportunities schemes. WhatsApp rolled out free voice calling for Android devices in March and iPhones later in the year. WhatsApp Web was also launched to enable messaging from desktop devices using users' mobile accounts. With WhatsApp's sizable community of 900 million monthly active users it is, an important space to watch.
The Technology Behind the Index
The information contained in this report is compiled from App Annie Intelligence, the leading market data solution for the app store economy. To see how our app store download, revenue, demographic and usage estimates can help guide your critical business decisions, request a demo today.
---

---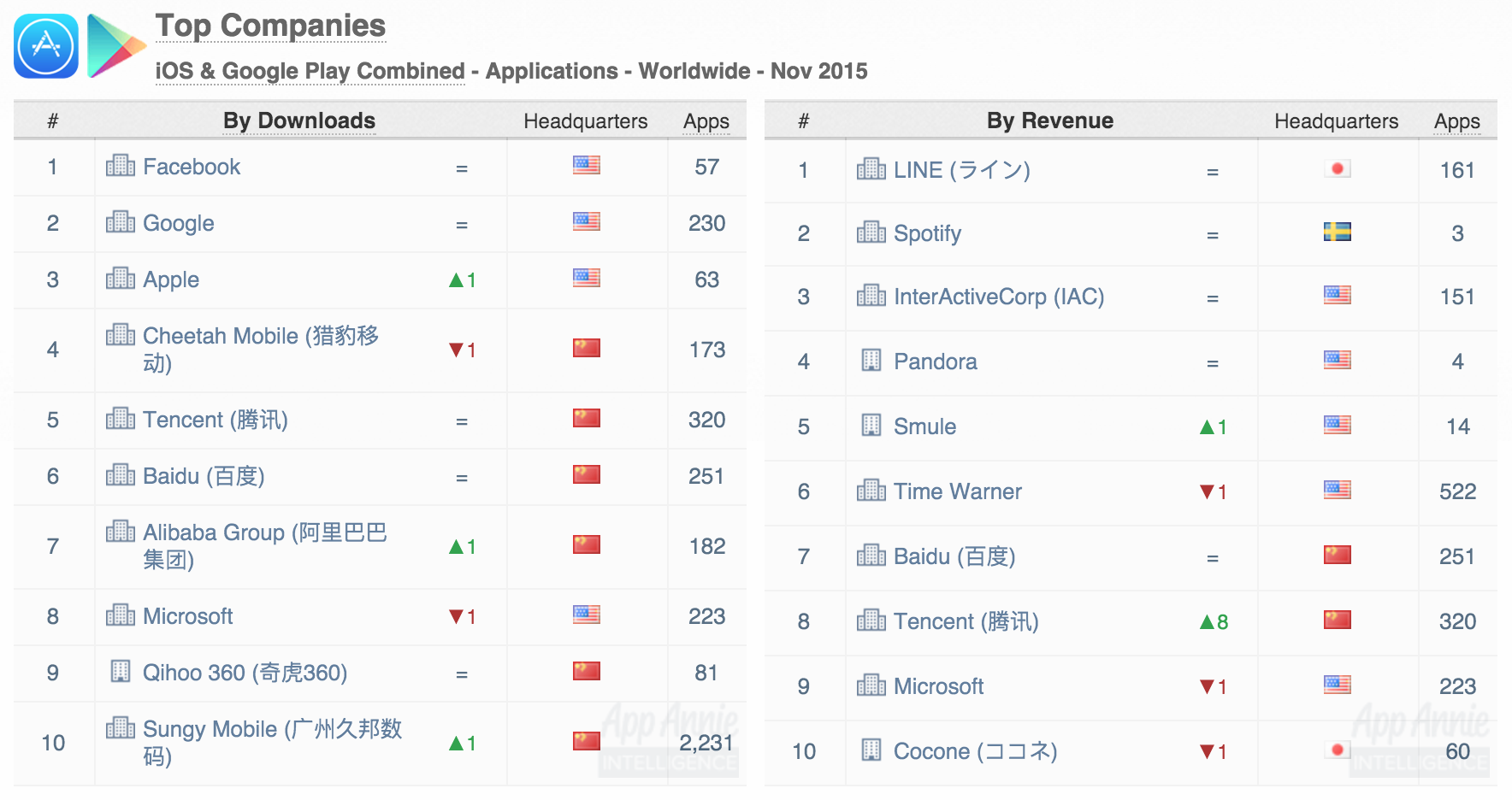 For the complete list of November's top apps and app publishers around the world, click the chart above.
Notes:
The publisher and app rankings reported in the App Annie Index are based on the download and revenue estimates available through App Annie Intelligence. The daily rank history charts and the homepage feature app data are available to all users through App Annie's app tracker solution, Store Stats.
App Annie Intelligence is currently available for the iOS App Store and Google Play. It does not currently provide estimates for other app stores, such as the Amazon Appstore. While iOS and Google Play represent a significant portion of the app market in many countries, that is not the case for some countries. For example, China has a number of sizable third-party Android app stores.

While the Index for Games covers games, the Index for Apps provides app tracking on everything but games. Note that the Top Company rankings in the Index for Games are based solely on the publishers' games downloads and revenue, while the Top Company rankings in the Index for Apps are based on the company's downloads and revenue from apps excluding games.

Company and unified app rankings in the App Annie Index for Games and Index for Apps are based on individual apps that ranked in the Top 1,000.

Download rankings are based on individually downloaded apps and exclude downloads of app bundles. Revenue rankings are based on download revenue from individually downloaded paid apps as well as in-app purchase revenue from both individually downloaded apps and app bundles.

In the first month in which an app becomes unified, its rank change in the Index will compare the unified app that month vs. its highest-ranking individual app in the month prior. As a result, rank changes for newly unified apps may overstate ranking increases from June 2015 to July 2015.

In the iOS App Store, an app can be categorized under a Primary Category as well as an optional Secondary Category. If an app has a Primary Category of Games and a Secondary Category of Entertainment, it is a candidate to be included in this Index for Games. If the app's Primary Category is Entertainment and its Secondary Category is Games, then it will not be included in this Index for Games; it is a candidate for the Index for Apps.

Note that the ranking approach used in the App Annie Index differs from that used in the iOS App Store. In the latter, app rankings for a given category will include all apps whose Primary Category or Secondary Category matches that given category. So an app can appear in the rankings for more than one category within the iOS App Store or in App Annie Store Stats rankings.

In Google Play, an app can be categorized under only one category, so there is no double-categorization.

Occasionally, a publisher may decide to shift an existing app from one category to another category. In these cases, the App Annie Index will rank that app based on its categorization in the subsequent month. Given that the App Annie Index has a Games report and an Apps report, the only scenario where an app's recategorization could shift it from one Index to another is if its category changes from Games to a category other than Games or vice versa.
In the App Annie Index, all apps and publishers are reported under their parent companies, where available; for example, the Plants vs. Zombies™ 2 app is reported under its parent company Electronic Arts, rather than its direct publisher PopCap. Note that if you view the Electronic Arts parent company page on Store Stats, you will see the publishers that roll under the parent company Electronic Arts, including PopCap. The Plants vs. Zombies™ 2 app will be listed under the PopCap publisher page.
Company and app rankings are based on the App Annie DNA relationships at the time of publications. App Annie DNA relationships are subject to change over time.

App Annie Usage Intelligence data for smartphones and tablets were derived from mobile usage data collected from a large sample of real-world users, combined with additional proprietary data sets.

App Annie tracks usage at the device level using a privacy-protective hashed device ID. Data is only reported to third parties in aggregated format.

App Annie Index revenue rankings are based on revenue that the iOS App Store and Google Play earned from paid downloads and in-app purchases. They do not include revenue earned from in-app advertising.

Certain trademarks and/or images used in this report may belong to third parties and are the property of their respective owners. App Annie claims no rights to such trademarks or images.