| | |
| --- | --- |
| Each month, the App Annie Index highlights the top-performing games and apps for the iOS App Store and Google Play. Our analysis covers trends among the leading apps across countries and categories, and is the industry standard for professionals looking to compare leading apps and publishers. | You might also be interested in: |
This Month's Top Performers
APUS Rises Up the Charts on Google Play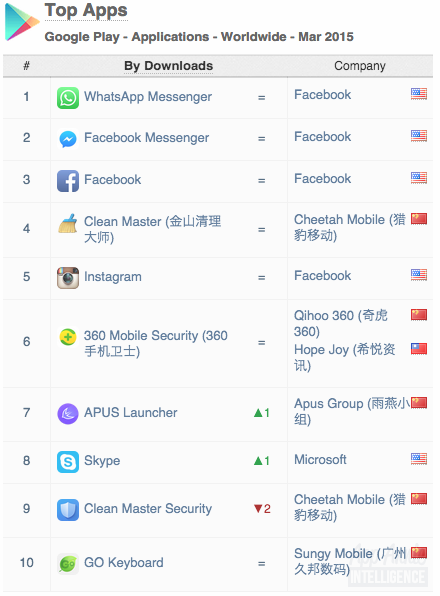 Since its launch in July 2014, APUS Launcher has rapidly climbed Google Play's download charts and grabbed the #7 spot in March. As we mentioned in the November 2014's Apps Index, the popularity of lightweight launchers like APUS have been driven by the large install base of low-end, memory-constrained devices in emerging markets. Thanks to its feature set, APUS Launcher has become very popular in emerging markets like Brazil, Russia and India.
APUS Launcher, in particular, has won over users not only because of its performance, but also its customizability and ease of use. APUS Group, the company behind this innovative app, was founded by Tao Li, a former Vice President at Qihoo 360, a company that appeared in February 2015's Apps Index.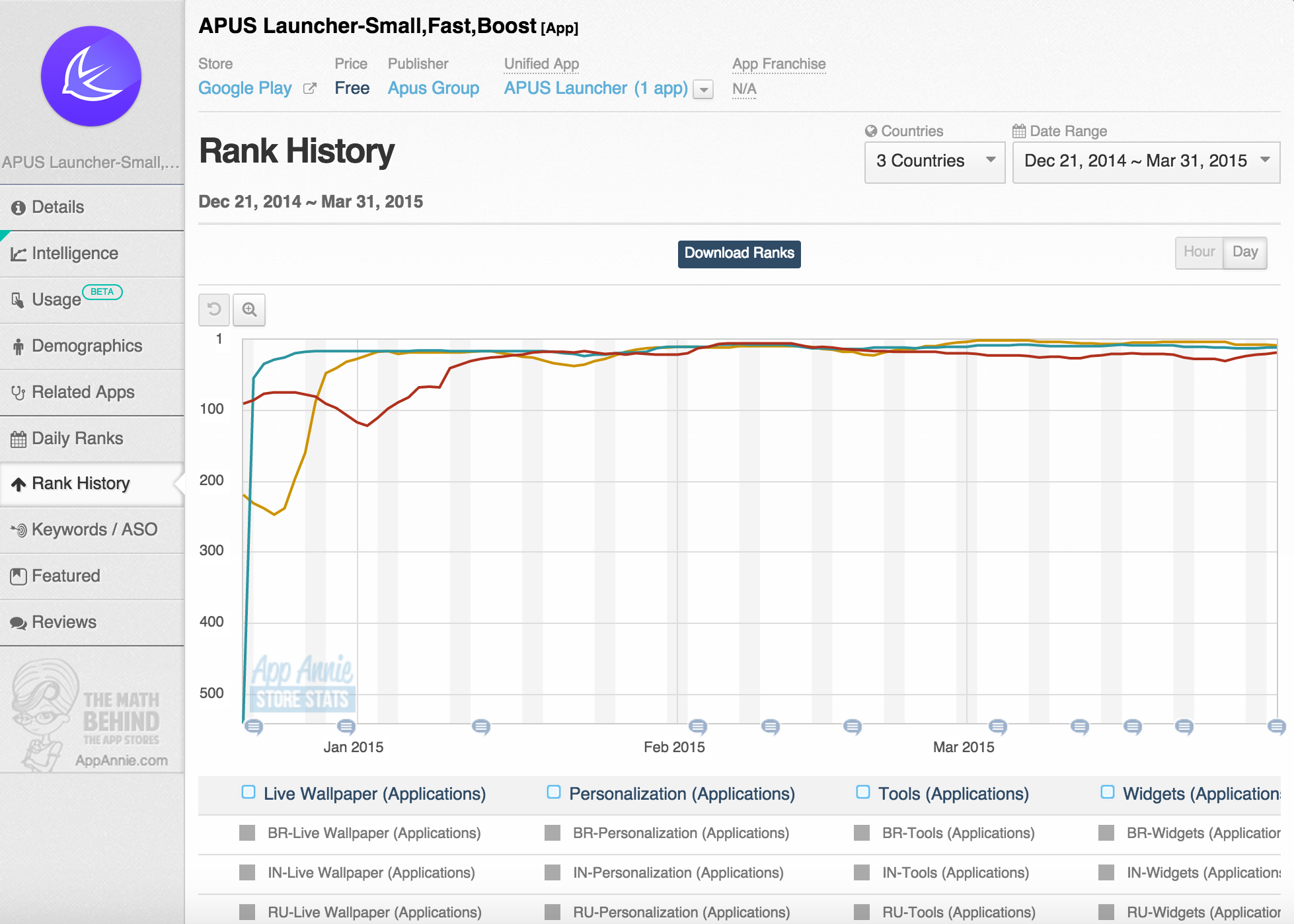 APUS Launcher has found considerable success in emerging markets like Brazil, Russia and India.
APUS Launcher's success in populous emerging markets has helped it accumulate a significantly large user base. APUS' growth also seems to have grabbed the attention of the investor community as the company announced $100 million in new funding. With this cash infusion, APUS seems poised to expand its range of services and continue its growth trajectory.
Japan Drives LINE Manga's Success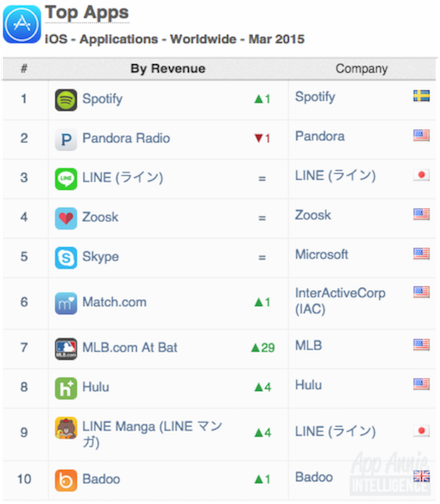 Manga-style comics have always been an integral part of Japanese pop culture. Therefore, it should be no surprise that the demand for manga apps exploded as smartphone penetration in Japan increased. Strong domestic demand, combined with backing from one of the most popular mobile publishers in Japan and well-timed marketing efforts, helped LINE Manga climb the Worldwide iOS revenue charts in March.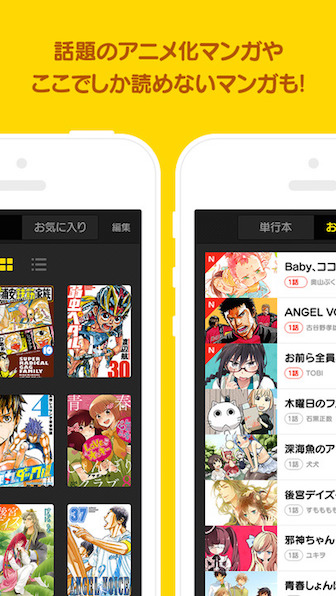 Users can purchase about 80,000 Manga comics from LINE Manga, thanks to LINE's partnerships with major Japanese publishers like Shueisha and Kodansha.
LINE Manga's success in March may have been a result of a huge marketing campaign in collaboration with Attack on Titan. Attack on Titan has been a popular Japanese manga series since 2009, especially among younger readers. It became a social phenomenon in 2013 thanks to the debut of its animated TV series. Its popularity has reached a crescendo as new animated movies and a live-action version are to be released this summer. The campaign was based on a special volume of "Attack on Titan" available on LINE Manga. Readers were given access to exclusive stickers of the manga's characters, which could then be used on LINE. This campaign leveraged one of LINE's unique strengths: its ability to engage and market to users across their apps and services including LINE, LINE Manga, LINE Play, and more.
Tinder's Premium Model Catalyzes Revenue Performance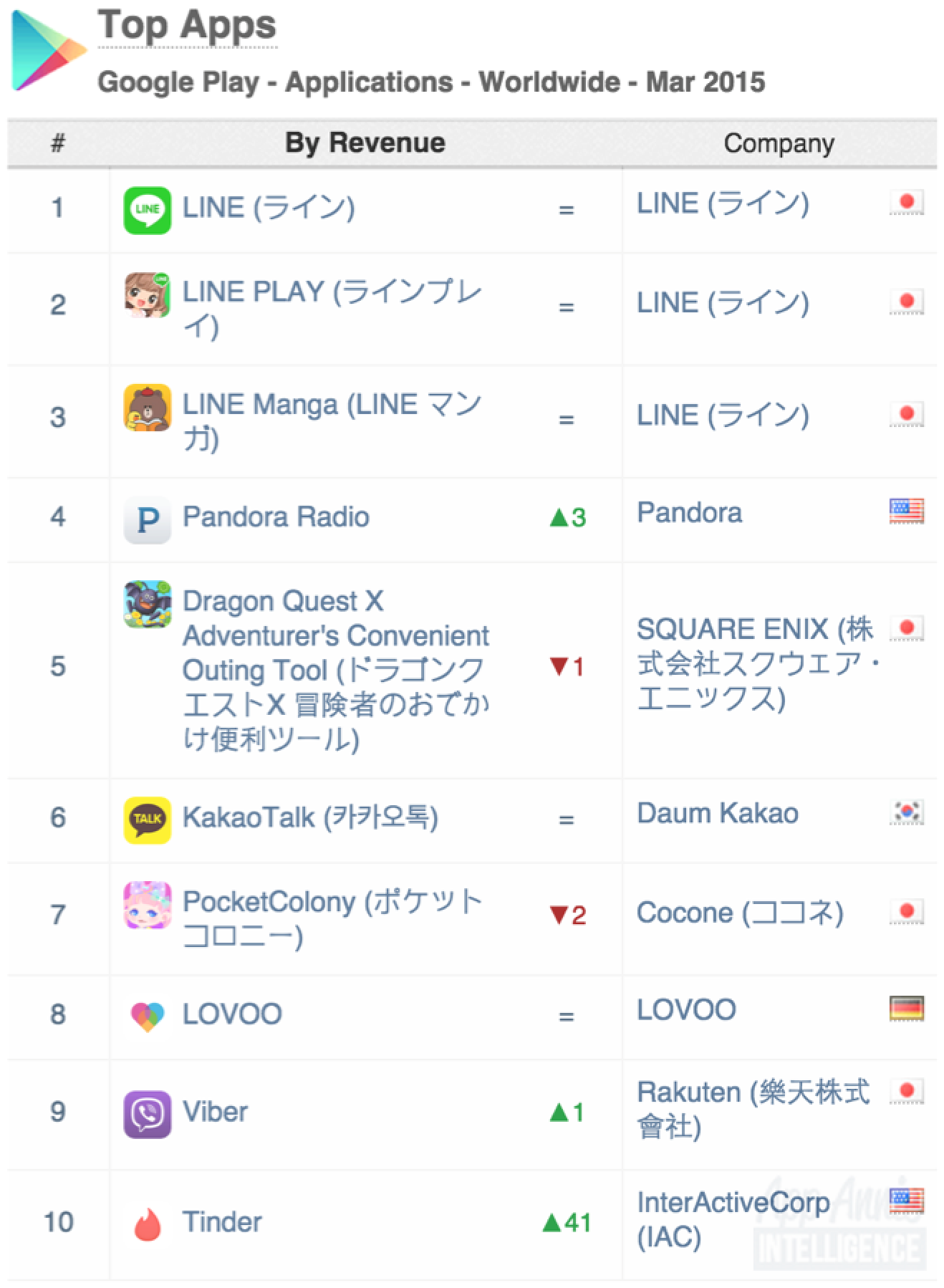 Tinder climbed Google Play's revenue charts in March thanks to the launch of its premium subscription service Tinder Plus. Subscribers gain access to additional features including the option to undo previous swipes and the ability to meet matches in user-selected areas (rather than the default within-X-miles radius). Tinder Plus saw strong uptake in the United States and United Kingdom.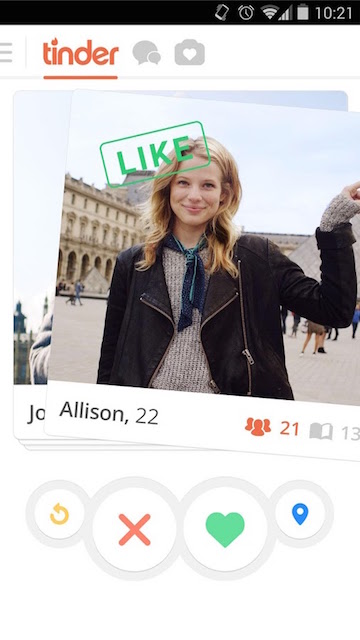 Tinder lets users anonymously like or decline potential partners with ease.
As expected, Tinder's parent company InterActiveCorp (IAC) gained 6 spots on Google Play's revenue charts thanks to the launch of this premium service. According to IAC, if Tinder's ARPU matches other IAC properties, it could generate an EBITDA of $75 million this year. So although Match.com and OkCupid have been IAC's primary revenue growth drivers so far, Tinder could be just as (or more) important going forward.
The Technology Behind the Index
The information contained in this report is compiled from App Annie Intelligence, the leading market data solution for the app store economy. To see how our app store download and revenue estimates can help guide your critical business decisions, take a tour or request a demo today.
---
---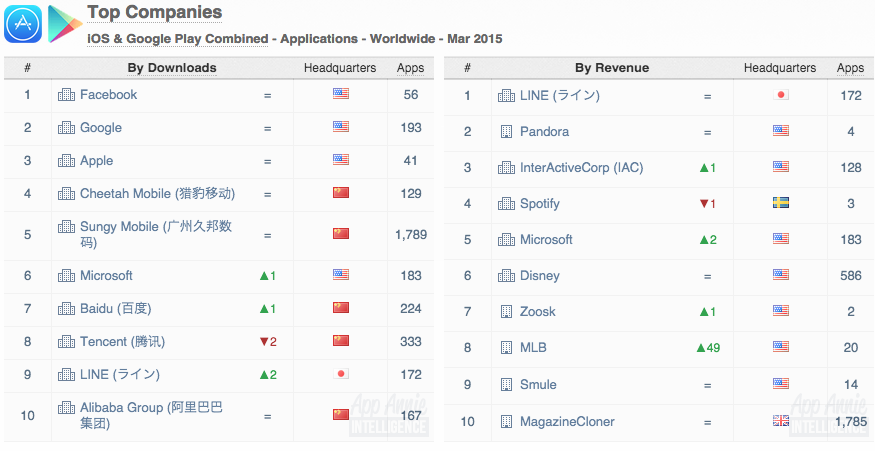 For the complete list of March's top apps and publishers around the world, click the chart above.
Notes:
The publisher and app rankings reported in the App Annie Index are based on the download and revenue estimates available through App Annie Intelligence. The daily rank history charts and the homepage feature app data are available to all users through App Annie's app tracker solution, Store Stats.

While the Index for Games covers games, the Index for Apps provides app tracking on everything but games. Note that the Top Company rankings in the Index for Games are based solely on the publishers' games downloads and revenue, while the Top Company rankings in the Index for Apps are based on the company's downloads and revenue from apps excluding games.

Company and unified app rankings in the App Annie Index for Games and Index for Apps are based on individual apps that ranked in the Top 1,000.

Download rankings are based on individually downloaded apps and exclude app downloads when included in bundles. Revenue rankings are based on download revenue from individually downloaded paid apps as well as in-app purchase revenue from both individually downloaded apps and app bundles.

In the first month in which an app becomes unified, its rank change in the Index will compare the unified app that month vs. its highest-ranking individual app in the month prior. As a result, rank changes for newly unified apps may overstate ranking increases from February 2015 to March 2015.

In the iOS App Store, an app can be categorized under a Primary Category as well as an optional Secondary Category. If an app has a Primary Category of Games and a Secondary Category of Entertainment, it is a candidate to be included in this Index for Games. If the app's Primary Category is Entertainment and its Secondary Category is Games, then it will not be included in this Index for Games; it is a candidate for the Index for Apps.

Note that the ranking approach used in the App Annie Index differs from that used in the iOS App Store. In the latter, app rankings for a given category will include all apps whose Primary Category or Secondary Category matches that given category. So an app can appear in the rankings for more than one category within the iOS App Store or in App Annie Store Stats rankings.

In Google Play, an app can be categorized under only one category, so there is no double-categorization.

Occasionally, a publisher may decide to shift an existing app from one category to another category. In these cases, the App Annie Index will rank that app based on its categorization in the subsequent month. Given that the App Annie Index has a Games report and an Apps report, the only scenario where an app's recategorization could shift it from one Index to another is if its category changes from Games to a category other than Games or vice versa.

In the App Annie Index, all apps and publishers are reported under their parent companies, when available; for example, the WhatsApp Messenger app is reported under its parent company Facebook, rather than its direct publisher WhatsApp Inc. Note that if you view the Facebook parent company page on Store Stats, you will see the publishers that roll under the parent company Facebook, including WhatsApp Inc. The WhatsApp Messenger app will be listed under the WhatsApp Inc. publisher page.

Company and app rankings are based on the App Annie DNA relationships at the time of publications. App Annie DNA relationships are subject to change over time.
App Annie Index revenue rankings are based on revenue that the iOS App Store and Google Play earned from paid downloads and in-app purchases. They do not include revenue earned from in-app advertising.

Certain trademarks and/or images used in this report may belong to third parties and are the property of their respective owners. App Annie claims no rights to such trademarks or images.