| | |
| --- | --- |
| Each month, the App Annie Index highlights the top-performing games and apps for the iOS App Store and Google Play. Our analysis covers trends among the leading apps across countries and categories, and is the industry standard for professionals looking to compare leading apps and publishers. | You might also be interested in: |
This Month's Top Apps
Google Photos Makes a Mark on Google Play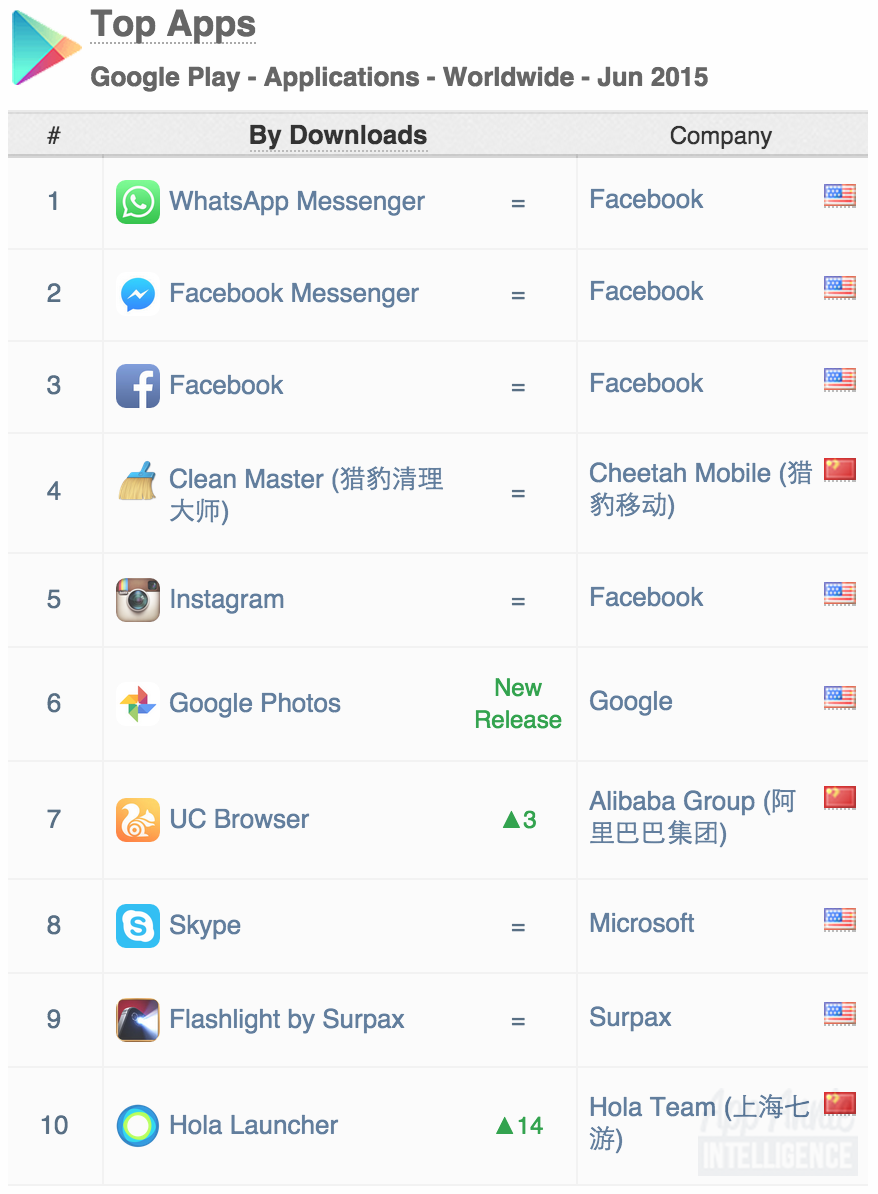 Debuting at #6 on our June Google Play downloads rankings, Google Photos appears to be living up to its hype. Announced at Google I/O 2015, Google Photos gives users free unlimited photo and video cloud storage. The new app is a spinoff from the photo capabilities of Google Plus.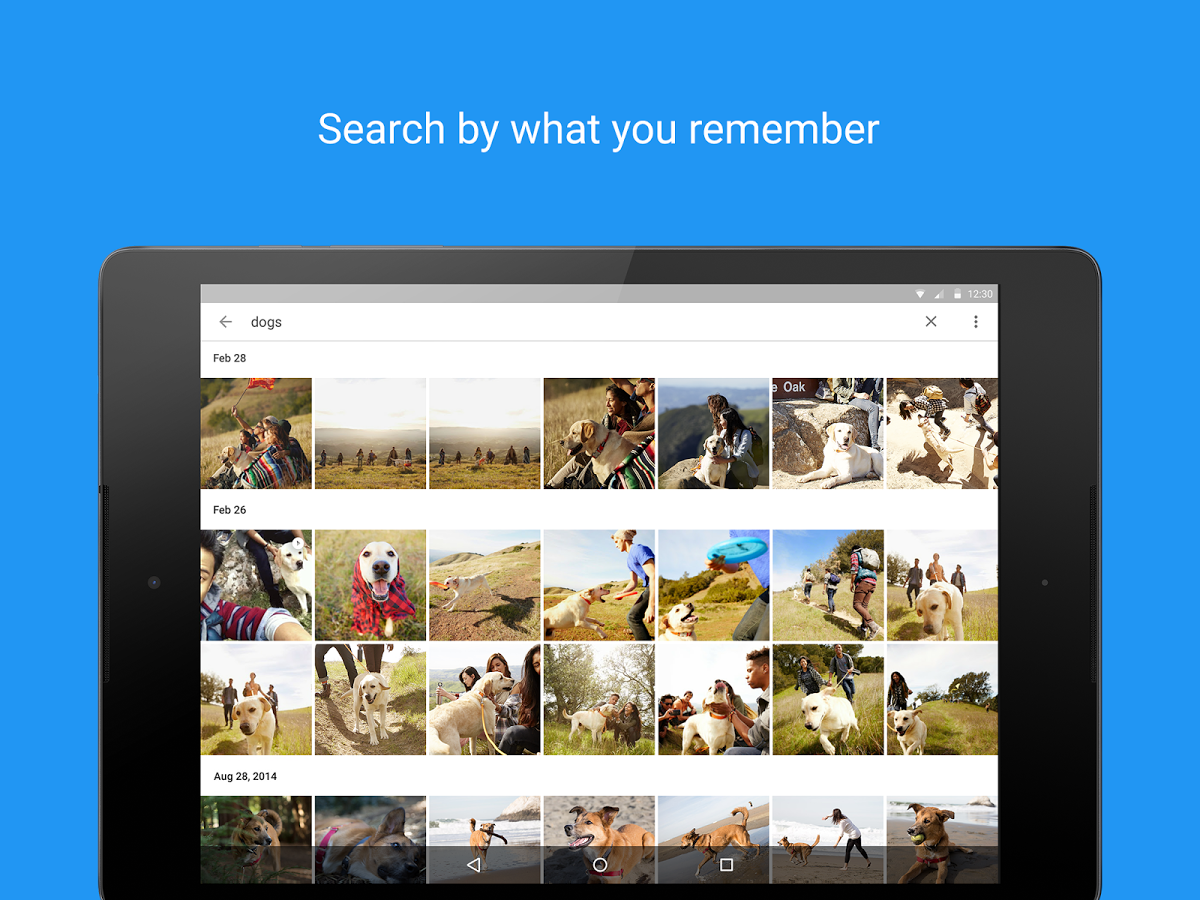 Google Photos allows users to search for photos in their collection using keywords related to what's in the picture.
Google Photos offers more than just storage, however. One of the app's standout features is its image recognition, which allows for automatic grouping of photos by the people and things in them, as well as their location. Users can search for any photo in their collection using keywords related to what's in the picture. The app also automatically combines photos into collages and animations.
The Google Photos announcement now begs the question of what other tech giants will do next for photo storage. Moments is a recent attempt by Facebook to innovate in the photo realm, and may have wondered whether the recent launch of Google Photos on iOS may prompt a response from Apple as well.
LinkedIn Premium Brings in Payday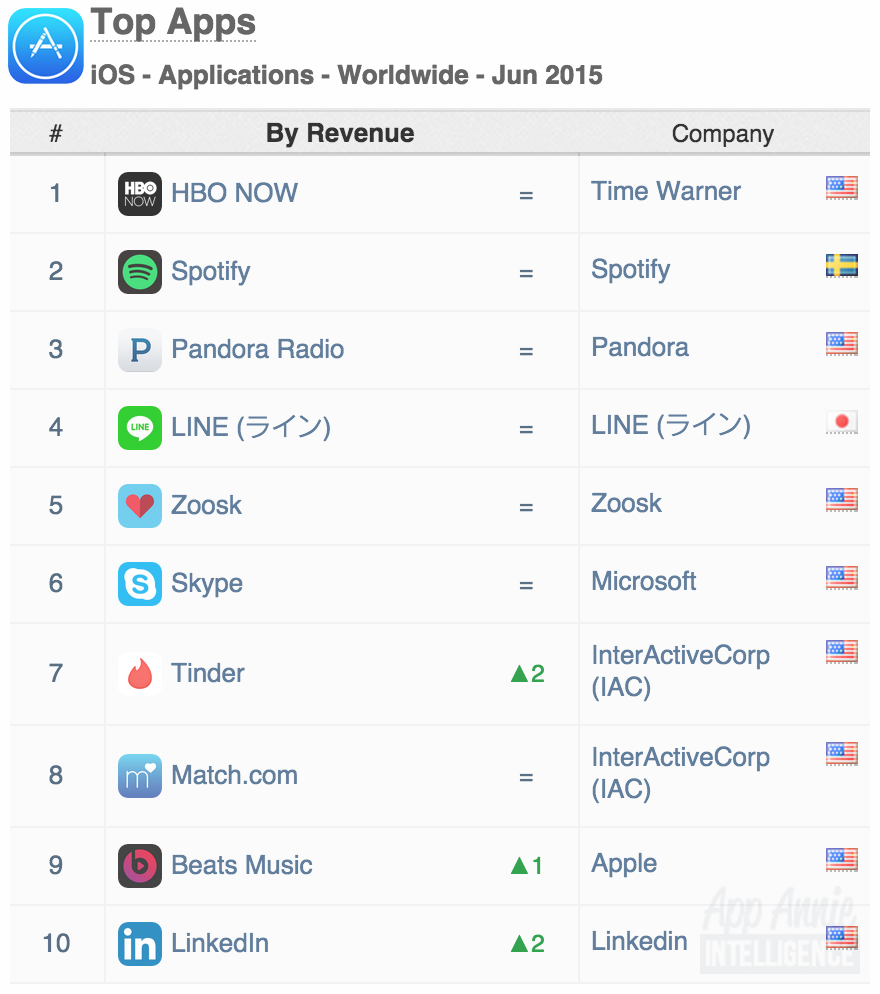 HBO NOW continued to hold #1 on the Worldwide iOS Revenue rankings in June. Meanwhile, LinkedIn made its first appearance on the App Annie Index at #10. Boasting over 350 million members, the professional networking service has been steadily climbing the iOS revenue ranks since it began allowing users to subscribe to its premium offerings through in-app purchases.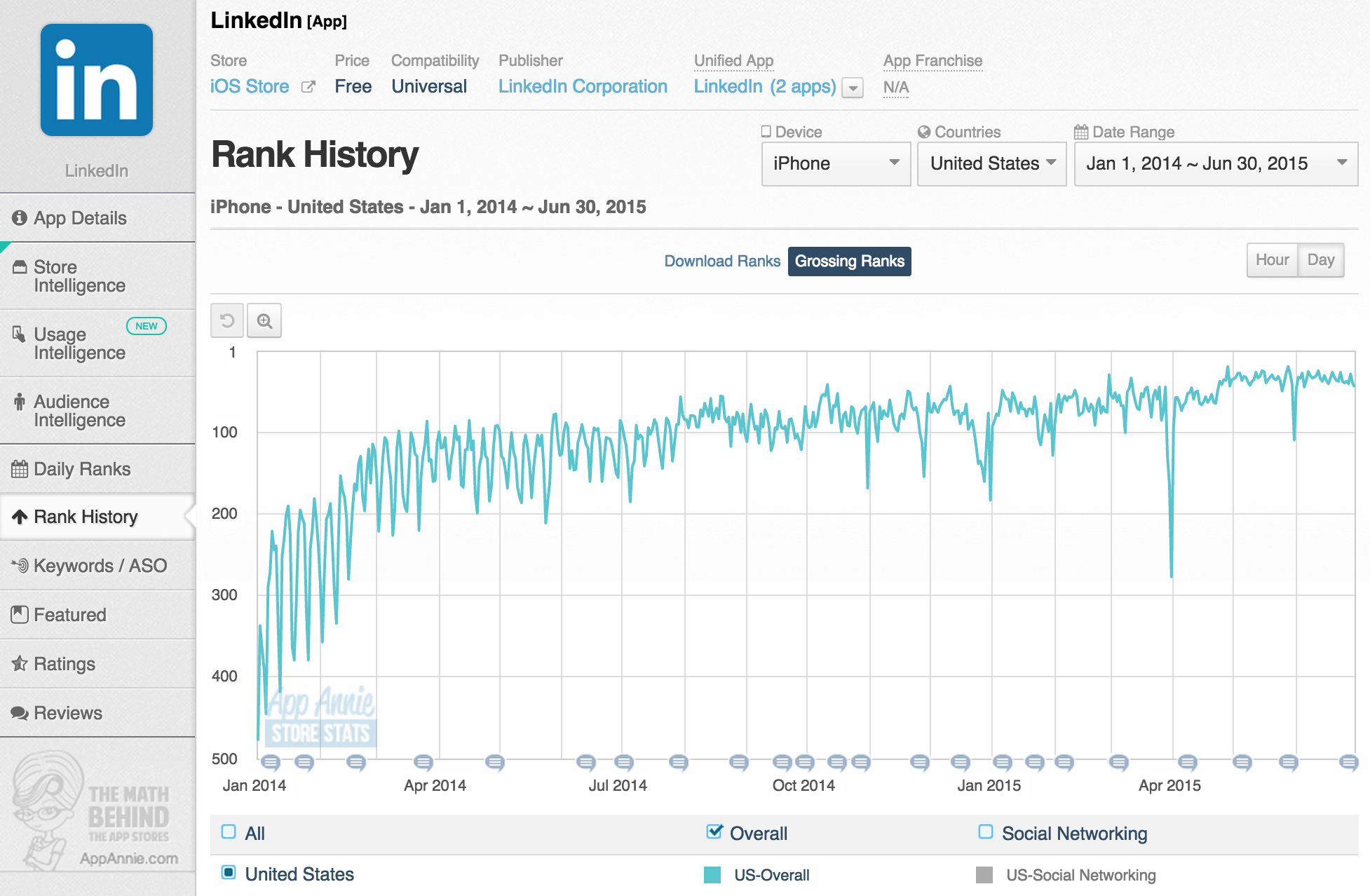 LinkedIn's gradual climb up the US iPhone Grossing rankings.
Users can subscribe through the website or in-app purchases, with the latter costing between $9.99 and $59.99. The different options cater to numerous segments such as job seekers, sales professionals, and recruiters. The specific benefits gained by purchasing a subscription vary as well, but generally include being able to send messages to any user, learn about who has been accessing your profile, and see extended search results.
Unsurprisingly, mobile is a key part of LinkedIn's strategy. In 2014, mobile accounted for more than half of the service's global traffic. We look forward to seeing how LinkedIn's mobile strategy evolves.
The Technology Behind the Index
The information contained in this report is compiled from App Annie Intelligence, the leading market data solution for the app store economy. To see how our app store download, revenue, demographic and usage estimates can help guide your critical business decisions, take a tour or request a demo today.
---

---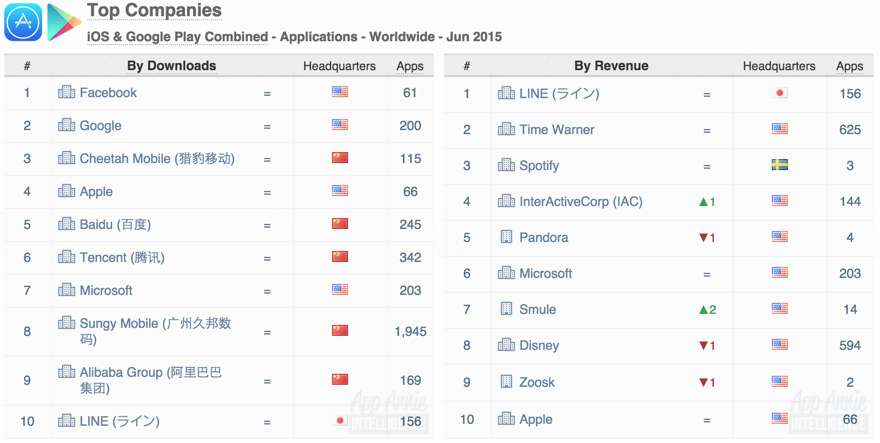 For the complete list of June's top apps and app publishers around the world, click the chart above.
Notes:
The publisher and app rankings reported in the App Annie Index are based on the download and revenue estimates available through App Annie Intelligence. The daily rank history charts and the homepage feature app data are available to all users through App Annie's app tracker solution, Store Stats.
App Annie Intelligence is currently available for the iOS App Store and Google Play. It does not currently provide estimates for other app stores, such as the Amazon Appstore. While iOS and Google Play represent a significant portion of the app market in many countries, that is not the case for some countries. For example, China has a number of sizable third-party Android app stores.

While the Index for Games covers games, the Index for Apps provides app tracking on everything but games. Note that the Top Company rankings in the Index for Games are based solely on the publishers' games downloads and revenue, while the Top Company rankings in the Index for Apps are based on the company's downloads and revenue from apps excluding games.

Company and unified app rankings in the App Annie Index for Games and Index for Apps are based on individual apps that ranked in the Top 1,000.

Download rankings are based on individually downloaded apps and exclude downloads of app bundles. Revenue rankings are based on download revenue from individually downloaded paid apps as well as in-app purchase revenue from both individually downloaded apps and app bundles.

In the first month in which an app becomes unified, its rank change in the Index will compare the unified app that month vs. its highest-ranking individual app in the month prior. As a result, rank changes for newly unified apps may overstate ranking increases from May 2015 to June 2015.

In the iOS App Store, an app can be categorized under a Primary Category as well as an optional Secondary Category. If an app has a Primary Category of Games and a Secondary Category of Entertainment, it is a candidate to be included in this Index for Games. If the app's Primary Category is Entertainment and its Secondary Category is Games, then it will not be included in this Index for Games; it is a candidate for the Index for Apps.

Note that the ranking approach used in the App Annie Index differs from that used in the iOS App Store. In the latter, app rankings for a given category will include all apps whose Primary Category or Secondary Category matches that given category. So an app can appear in the rankings for more than one category within the iOS App Store or in App Annie Store Stats rankings.

In Google Play, an app can be categorized under only one category, so there is no double-categorization.

Occasionally, a publisher may decide to shift an existing app from one category to another category. In these cases, the App Annie Index will rank that app based on its categorization in the subsequent month. Given that the App Annie Index has a Games report and an Apps report, the only scenario where an app's recategorization could shift it from one Index to another is if its category changes from Games to a category other than Games or vice versa.
In the App Annie Index, all apps and publishers are reported under their parent companies, where available; for example, the Plants vs. Zombies™ 2 app is reported under its parent company Electronic Arts, rather than its direct publisher PopCap. Note that if you view the Electronic Arts parent company page on Store Stats, you will see the publishers that roll under the parent company Electronic Arts, including PopCap. The Plants vs. Zombies™ 2 app will be listed under the PopCap publisher page.
Company and app rankings are based on the App Annie DNA relationships at the time of publications. App Annie DNA relationships are subject to change over time.
App Annie Index revenue rankings are based on revenue that the iOS App Store and Google Play earned from paid downloads and in-app purchases. They do not include revenue earned from in-app advertising.

Certain trademarks and/or images used in this report may belong to third parties and are the property of their respective owners. App Annie claims no rights to such trademarks or images.