| | |
| --- | --- |
| Each month, the App Annie Index highlights the top-performing games and apps for the iOS App Store and Google Play. Our analysis covers trends among the leading apps across countries and categories, and is the industry standard for professionals looking to compare leading apps and publishers. | You might also be interested in: |
This Month's Top Apps
Paramount Films Fuel the iQIYI Surge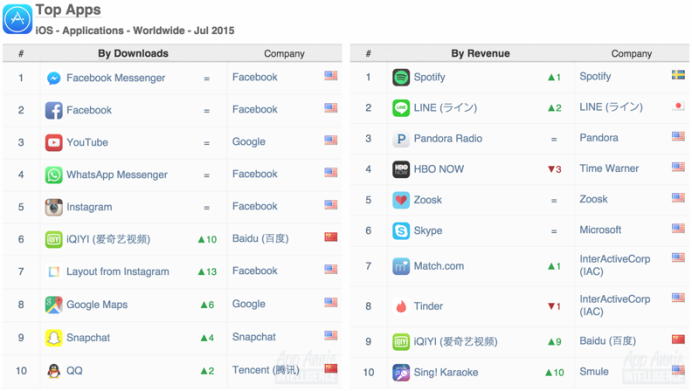 As we mentioned in our Q2 Market Index, video streaming apps in China have been in the midst of an impressive revenue growth cycle headlined by Youku, Baidu's iQIYI and Tencent Video. But in July, iQIYI managed to separate itself from the pack thanks to spectacular growth in both downloads and revenues. iQIYI gained 10 spots by downloads and 9 spots by revenue to rank among the worldwide top charts for both metrics.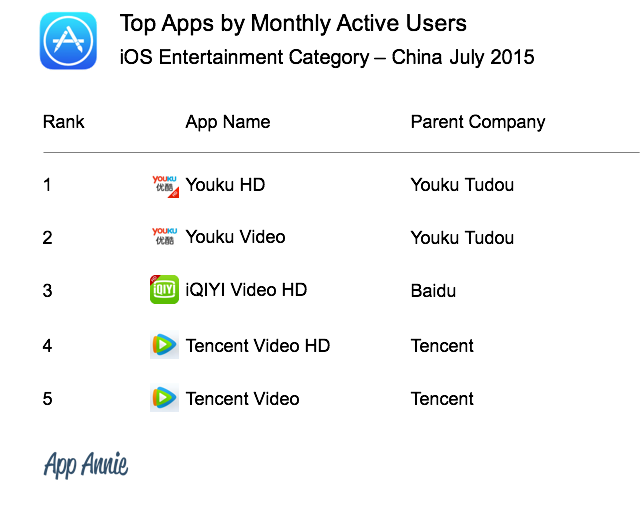 In July 2015, iQIYI Video HD ranked among the top five iOS Entertainment apps in China by monthly active users, with the other four spots all held by apps from Youku and Tencent.
In July, iQIYI Video HD also ranked among the top five iOS Entertainment apps in China by monthly active users. iQIYI also recently announced that its paid subscribers had hit 5 million users. This level of engagement could be a function of iQIYI's massive library of premium content. Furthermore, content may have played a role in iQIYI's July surge as it coincided with two major events. First, summer tends to be peak season for premieres and TV shows like Hua Qian Gu, Notes of Tomb Raiders and Extreme Challenge have proved to be very popular with iQIYI's viewers.
In addition, iQIYI also announced the purchase of broadcasting rights for 800 films from Paramount Pictures. According to iQIYI, this marks the first time one of the "Big Six" Hollywood studios has signed a deal of this magnitude with a Chinese video streaming service. If its performance in July is anything to go by, these events give iQIYI an incredible opportunity to upgrade a meaningful portion of its 500 million user base over to its paid offerings.
360 Mobile Security Rides the Emerging Market Wave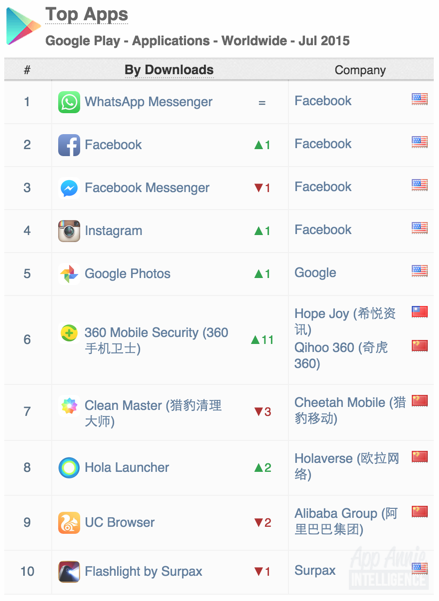 360 Mobile Security jumped up 11 spots to rank #6 in July's Google Play download charts. As we mentioned in our Worldwide Index for Apps for February 2015, 360 Mobile Security is positioned as an all-in-one utility for malware protection, memory optimization and power saving. As a result, it has gained popularity in emerging markets where security apps have seen a higher uptake.
360 Mobile Security has its download ranking rise sharply in emerging markets like India and Indonesia.
In particular, 360 Mobile Security's growth was driven by its performance in India and Indonesia. This appears to be a part of an orchestrated user acquisition campaign, as app downloads began a sharp growth trajectory more than a week before the release of a high profile security report: Android Security Survey 2015 from 360 Mobile Security's parent company, Qihoo 360.
The Technology Behind the Index
The information contained in this report is compiled from App Annie Intelligence, the leading market data solution for the app store economy. To see how our app store download, revenue, demographic and usage estimates can help guide your critical business decisions, take a tour or request a demo today.
---

---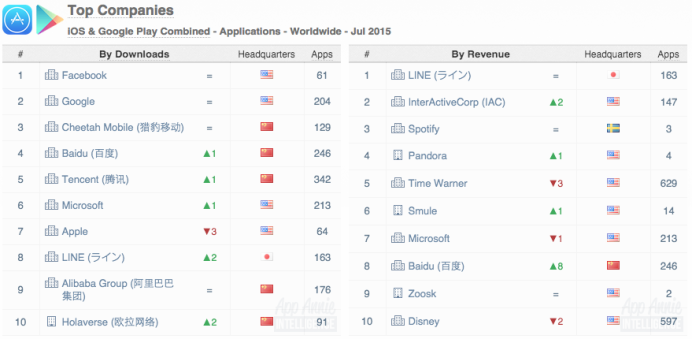 For the complete list of July's top apps and app publishers around the world, click the chart above. 
Notes:
The publisher and app rankings reported in the

App Annie Index

are based on the download and revenue estimates available through

App Annie Intelligence

. The daily rank history charts and the homepage feature app data are available to all users through App Annie's app tracker solution,

Store Stats

.

App Annie Intelligence

is currently available for the iOS App Store and Google Play. It does not currently provide estimates for other app stores, such as the Amazon Appstore. While iOS and Google Play represent a significant portion of the app market in many countries, that is not the case for some countries. For example, China has a number of sizable third-party Android app stores.

While the Index for Games covers games, the Index for Apps provides app tracking on everything but games. Note that the Top Company rankings in the Index for Games are based solely on the publishers' games downloads and revenue, while the Top Company rankings in the Index for Apps are based on the company's downloads and revenue from apps excluding games.

Company and unified app rankings in the App Annie Index for Games and Index for Apps are based on individual apps that ranked in the Top 1,000.

Download rankings are based on individually downloaded apps and exclude downloads of app bundles. Revenue rankings are based on download revenue from individually downloaded paid apps as well as in-app purchase revenue from both individually downloaded apps and app bundles.

In the first month in which an app becomes unified, its rank change in the

Index

will compare the unified app that month vs. its highest-ranking individual app in the month prior. As a result, rank changes for newly unified apps may overstate ranking increases from June 2015 to July 2015.

In the iOS App Store, an app can be categorized under a Primary Category as well as an optional Secondary Category. If an app has a Primary Category of Games and a Secondary Category of Entertainment, it is a candidate to be included in this Index for Games. If the app's Primary Category is Entertainment and its Secondary Category is Games, then it will not be included in this Index for Games; it is a candidate for the Index for Apps.

Note that the ranking approach used in the

App Annie Index

differs from that used in the iOS App Store. In the latter, app rankings for a given category will include all apps whose Primary Category or Secondary Category matches that given category. So an app can appear in the rankings for more than one category within the iOS App Store or in App Annie

Store Stats

rankings.

In Google Play, an app can be categorized under only one category, so there is no double-categorization.

Occasionally, a publisher may decide to shift an existing app from one category to another category. In these cases, the

App Annie Index

will rank that app based on its categorization in the

subsequent

month. Given that the

App Annie Index

has a Games report and an Apps report, the only scenario where an app's recategorization could shift it from one 

Index

to another is if its category changes from Games to a category other than Games or vice versa.

In the

App Annie Index

, all apps and publishers are reported under their parent companies, where available; for example, the

Plants vs. Zombies™ 2

app is reported under its parent company Electronic Arts, rather than its direct publisher PopCap. Note that if you view the Electronic Arts parent company page on Store Stats, you will see the publishers that roll under the parent company

Electronic Arts

, including PopCap. The

Plants vs. Zombies™ 2

app will be listed under the

PopCap

publisher page.

Company and app rankings are based on the

App Annie DNA

relationships at the time of publications.

App Annie DNA

relationships are subject to change over time.

App Annie Index

revenue rankings are based on revenue that the iOS App Store and Google Play earned from paid downloads and in-app purchases. They do not include revenue earned from in-app advertising.

Certain trademarks and/or images used in this report may belong to third parties and are the property of their respective owners. App Annie claims no rights to such trademarks or images.