The Worldwide App Annie Index for Apps highlights the hottest mobile app properties outside of games for both the iOS App Store and Google Play. To find out about current trends in other markets and app categories, please check out our Japan Index for Apps, the Index for Maps & Navigation, the Russia Index for Apps and the July 2014 Worldwide Index for Games.
TABLE OF CONTENTS
1. The Technology Behind the Index
The information contained in this report was compiled from App Annie Intelligence, the leading market data solution for the app store economy. To see how our app store download and revenue estimates can help guide your critical business decisions, take a tour or request a demo today.
---

---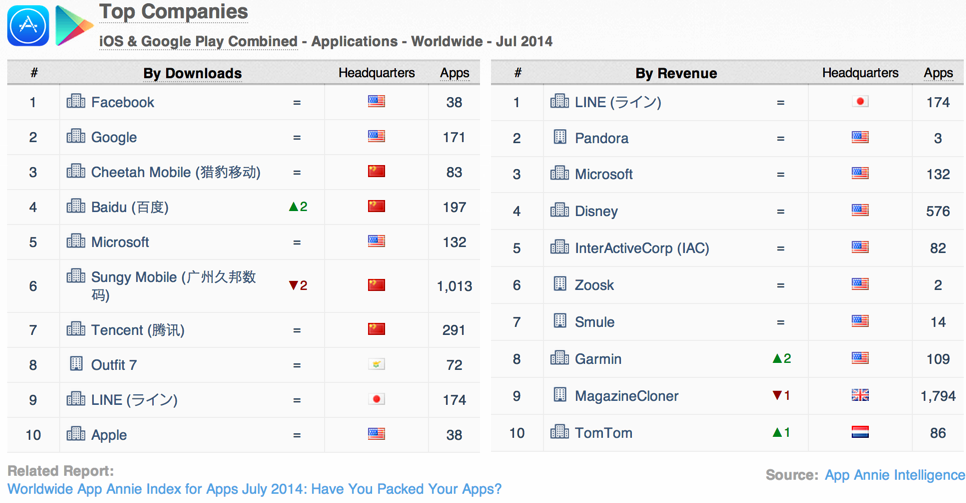 For the complete list of July's top apps and publishers around the world, click the chart above.
2. This Month's Top Performers
Garmin Grabs a Spot in the Top Charts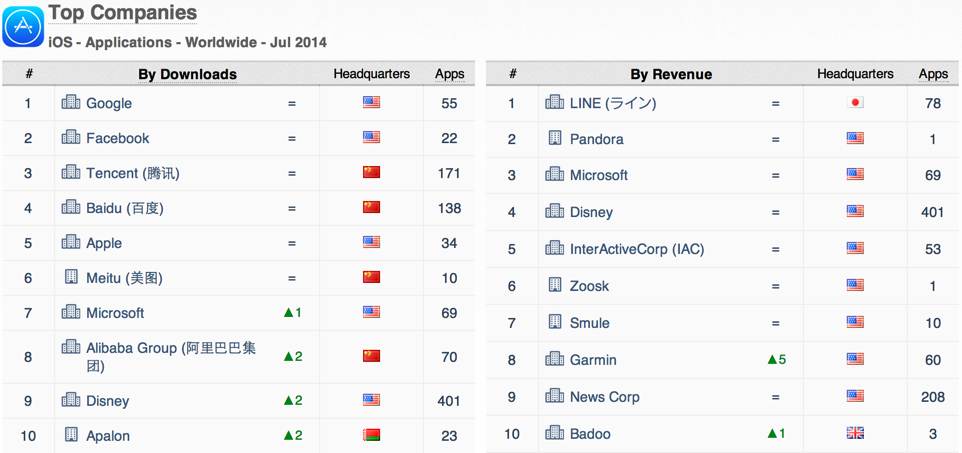 As reported in our June 2014 Index for Apps, Navigation apps were already steering toward the top. In July, Garmin continued its upward move and cracked the iOS top 10 apps outside of games by revenue. Garmin's top-grossing iOS app in July was NAVIGON Europe, which provides a seamless mobile navigation system spanning over 40 countries in Europe. Garmin dropped NAVIGON Europe's price from $99.99 to $64.99 in a limited time promotion, which coincided with increased app downloads, especially in Germany.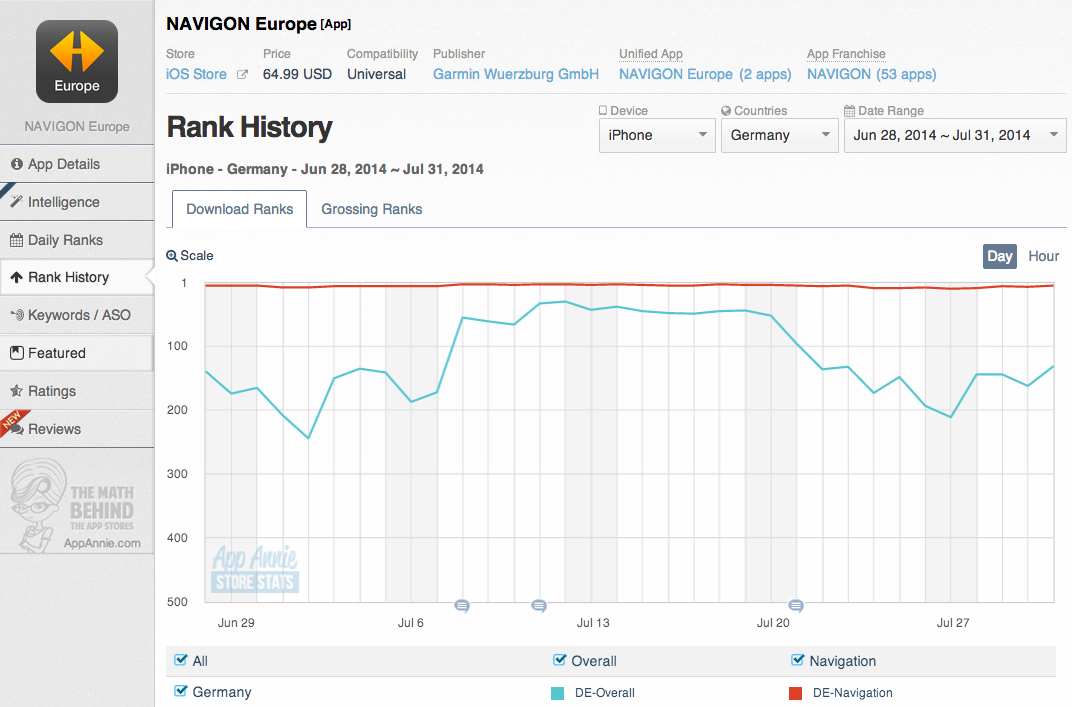 NAVIGON Europe saw a big increase in paid downloads around the same time Garmin ran a 35% promotional discount on the app.
NAVIGON select Telekom Edition also saw significant revenue growth in Germany in July, as Garmin offered a stripped-down version of its popular iOS app NAVIGON Europe for all Telekom Deutschland customers. The app experienced a big spike in revenue around the time a new update released featuring live fuel prices in Germany as part of a premium package users could purchase.
VP of Worldwide Mobile Business Joem Watzke spoke with App Annie about the company's summertime success:
"Summer is a busy travel time with many drivers hitting the road, so we always run special price promotions for our premium navigation apps. This year's campaign was especially successful and the increase in sales shows that our customers value premium navigation. The advanced features of our apps help drivers save time and money and make it easier for them to get around." --Joem Watzke, VP of Worldwide Mobile Business at Navigon
Social Summers: Communication Apps Dominate the Top 10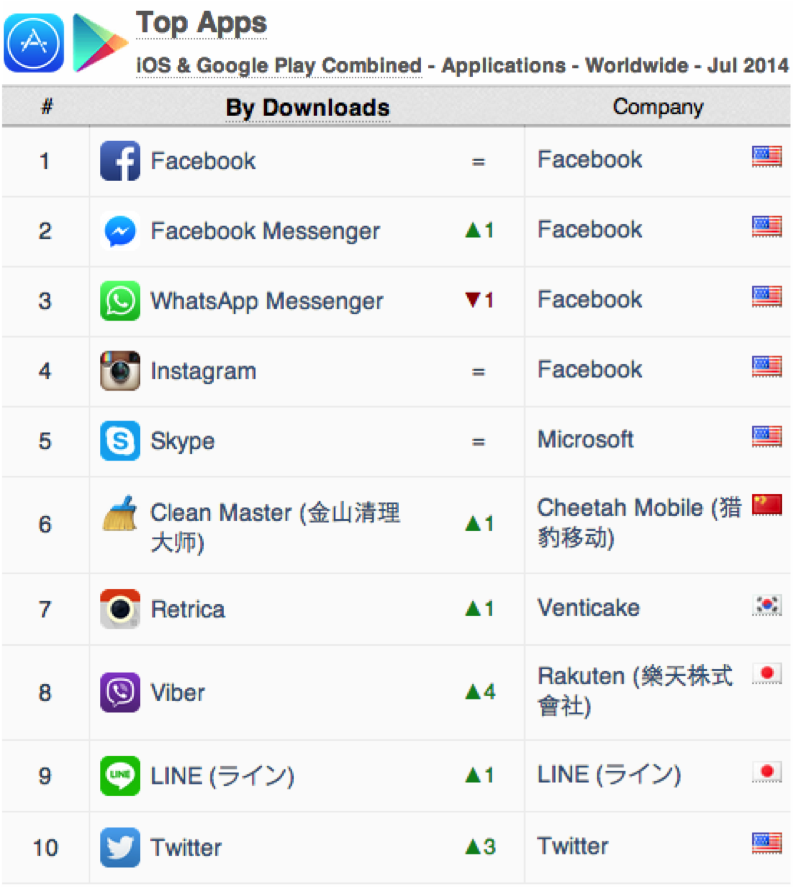 July saw several messaging apps rise in the worldwide app ranks by combined iOS and Google Play downloads, notably Facebook Messenger and Viber. Facebook Messenger saw a large increase in iOS downloads in July thanks to its launch of an iPad version. The update released on July 3 and reached the top spot in iPad download ranks in France and the United Kingdom soon after. United States iPad downloads started strong and then skyrocketed in late July, when parent company Facebook made the strategic decision to move all worldwide messaging functionality from Facebook into Facebook Messenger. This follows the initial test rollout of separating Facebook Messenger from Facebook in Europe early April.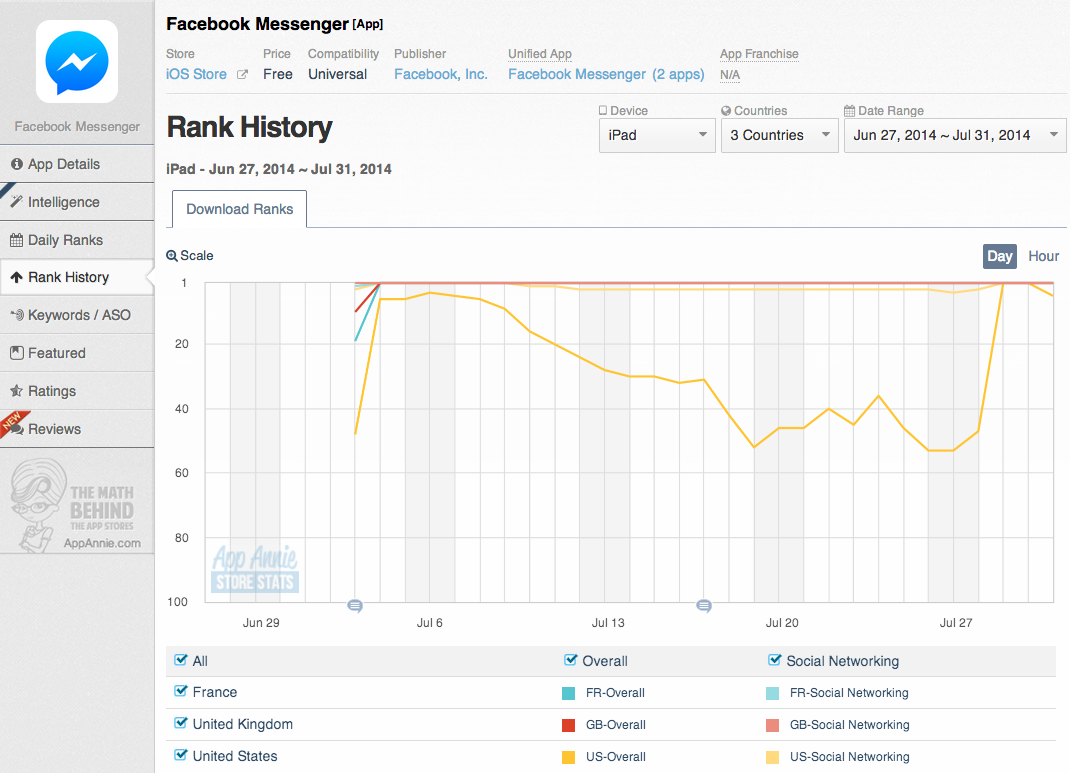 Facebook Messenger iPad downloads peaked later in the United States due to user migration from Facebook's main app.
Viber cracked the top 10 for combined worldwide downloads thanks to significant growth in India, where the messaging app entered the top 5 overall app ranks by downloads in late July. Viber's rise occured around the same time a promotional campaign spanning television and digital platforms launched. The app's established local team and heavy marketing spend has helped it compete in a crowded space filled with global heavyweights such as WhatsApp Messenger, WeChat and LINE, as well as domestic player Hike.
Spotify Provides Summer Vibes On-the-Go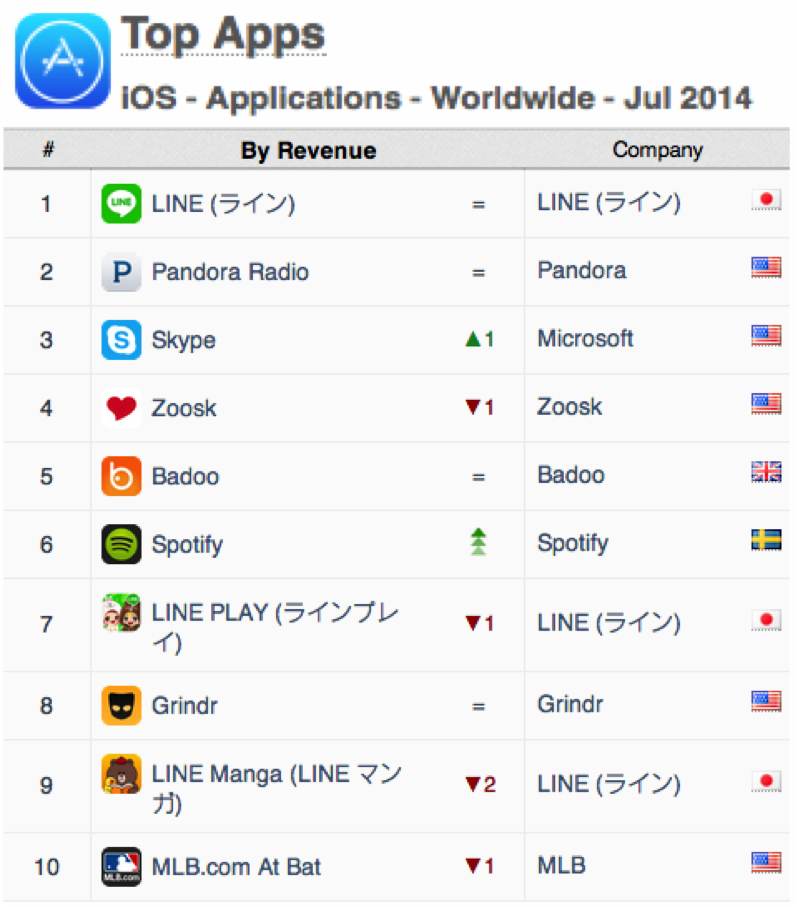 Spotify made major moves in July's iOS revenue charts -- the music streaming service with over 40 million active users updated its mobile app to include in-app purchases at the end of June. Spotify's decision had a direct impact on the global grossing charts, where it joined Pandora as the second music streaming app in the iOS top 10 by revenue.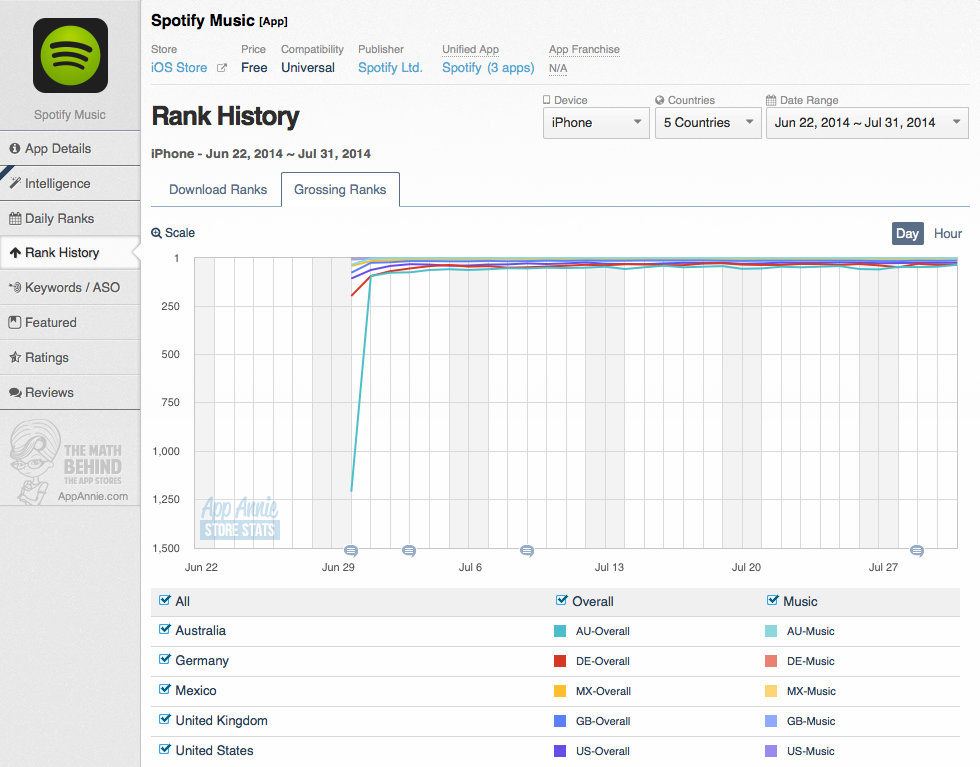 Spotify's new in-app purchase option brought it into the top grossing ranks in several countries.
Spotify has yet to integrate in-app purchases on its Google Play app, which was only released in late May 2014. It'll be interesting to see if Spotify can close the gap on Pandora, which reigns supreme as the top grossing music streaming app worldwide. The music streaming space is getting increasingly crowded from competitive subscription services such as Amazon Music, recent Apple acquisition Beats Music, as well as other music apps like iHeartRadio and Rdio.
3. More Movers and Shakers

QQVideo Rises Quickly
As noted in App Annie June 2014 China Apps Index, Chinese users have a big appetite for streaming mobile video. This trend continued in July, as Tencent's QQVideo made significant moves in the iOS download chart. Two new updates to the app coincided with bumps in download rankings, but the bigger news was Tencent signing a contract that guaranteed exclusive distribution rights to season 3 of hit TV singing competition "The Voice of China". Accordingly, QQVideo jumped up the download ranks on July 19, the same day that "The Voice of China" premiered. Internet distribution of TV content in China is key as content produced by provincial TV stations is only accessible from other provinces via cable subscriptions or internet. Online distribution of popular TV content is popular among Chinese students studying abroad, who rely on internet streaming to stay up-to-date on their favorite shows.
Looking for LOVOO
On Google Play, K2G's German dating app LOVOO entered the worldwide grossing charts. While Zoosk, Badoo and Grindr achieved high placements in Apple's grossing charts, LOVOO was the sole dating app to feature in Google Play's top grossing apps. Updated in late June, the new version allows users to register and log in with a Google account. LOVOO was featured in the "Looking for Love" category on Google Play in July, and saw increased revenue driven by Germany and the United Kingdom.
---
| | |
| --- | --- |
| | Want to get even more advanced with your app store market analysis? Check out our enterprise product App Annie Intelligence. |
---
For those of you who also are looking for an update on top apps in gaming, please check out our July 2014 Index for Games. To keep up-to-date with all the changes at the top of the app and publisher charts, check out the complete set of App Annie Index tables.
Notes:
The company and app rankings reported in the App Annie Index are based on the download and revenue estimates available through App Annie

Intelligence

. The daily rank history charts and the home page feature app data are available to all users through App Annie's app tracker solution,

Store Stats

.

While the Index for Games covers games, the Index for Apps provides app tracking on everything but games. Note that the Top Company rankings in the Index for Games are based solely on the company's games downloads and revenue, while the Top Company rankings in the Index for Apps are based on the company's downloads and revenue from apps excluding games.

Through September 2013, similar versions of the same app with different names (e.g., NYTimes and NYTimes for iPad) were ranked separately. Effective with October data, similar versions of the same app with different names will be unified (e.g., NYTimes and NYTimes for iPad are now aggregated and ranked as a single NYTimes unified app).

Company and unified app rankings in the App Annie Index for Games and Index for Apps are based on individual apps that ranked in the Top 1,000.

In the first month in which an app becomes unified, its rank change in the Index will compare the unified app that month vs. its highest-ranking individual app in the month prior. As a result, rank changes for newly unified apps may overstate ranking increases from June 2014 to July 2014.

In the iOS App Store, an app can be categorized under a Primary Category as well as an optional Secondary Category. If an app has a Primary Category of Entertainment and a Secondary Category of Games, it is a candidate to be included in this Index for Apps. If the app's Primary Category is Games and its Secondary Category is Entertainment, then it will not be included in this Index for Apps; it is a candidate for the Index for Games.

Note that the ranking approach used in the App Annie Index differs from that used in the iOS App Store. In the latter, app rankings for a given category will include all apps whose Primary Category or Secondary Category matches that given category. So an app can appear in the rankings for more than one category within the iOS App Store or in App Annie Store Stats rankings.

In Google Play, an app can be categorized under only one category, so there is no double-categorization.

Occasionally, a publisher may decide to shift an existing app from one category to another category. In these cases, the App Annie Index will rank that app based on how it is categorized in the subsequent month. Given that the App Annie Index has a Games report and an Apps report, the scenario where an app's recategorization could shift it from one Index to another is if its category changes from the Games category to a category other than Games or vice versa.
In the App Annie Index, all apps and publishers are reported under their parent company, where available; for example, the Instagram app is reported under its parent company Facebook, rather than its direct publisher Instagram. Note that if you view the Facebook parent company page on Store Stats, you will see the publishers under the parent company Facebook, including Instagram. The Instagram app will be listed under the Instagram

publisher page.

Company and app rankings are based on the App Annie DNA relationships at the time of publications. App Annie DNA relationships are subject to change over time.

App Annie Index revenue rankings are based on revenue that the iOS App Store and Google Play earned from paid downloads and in-app purchases. They do not include revenue earned from in-app advertising.

Certain trademarks and/or images used in this report may belong to third parties and are the property of their respective owners. App Annie claims no rights in such trademarks or images.