| | |
| --- | --- |
| Each month, the App Annie Index highlights the top-performing games and apps for the iOS App Store and Google Play. Our analysis covers trends among the leading apps across countries and categories, and is the industry standard for professionals looking to compare leading apps and publishers. | You might also be interested in: |
This Month's Top Performers
Emerging Markets Help WhatsApp Take Back #1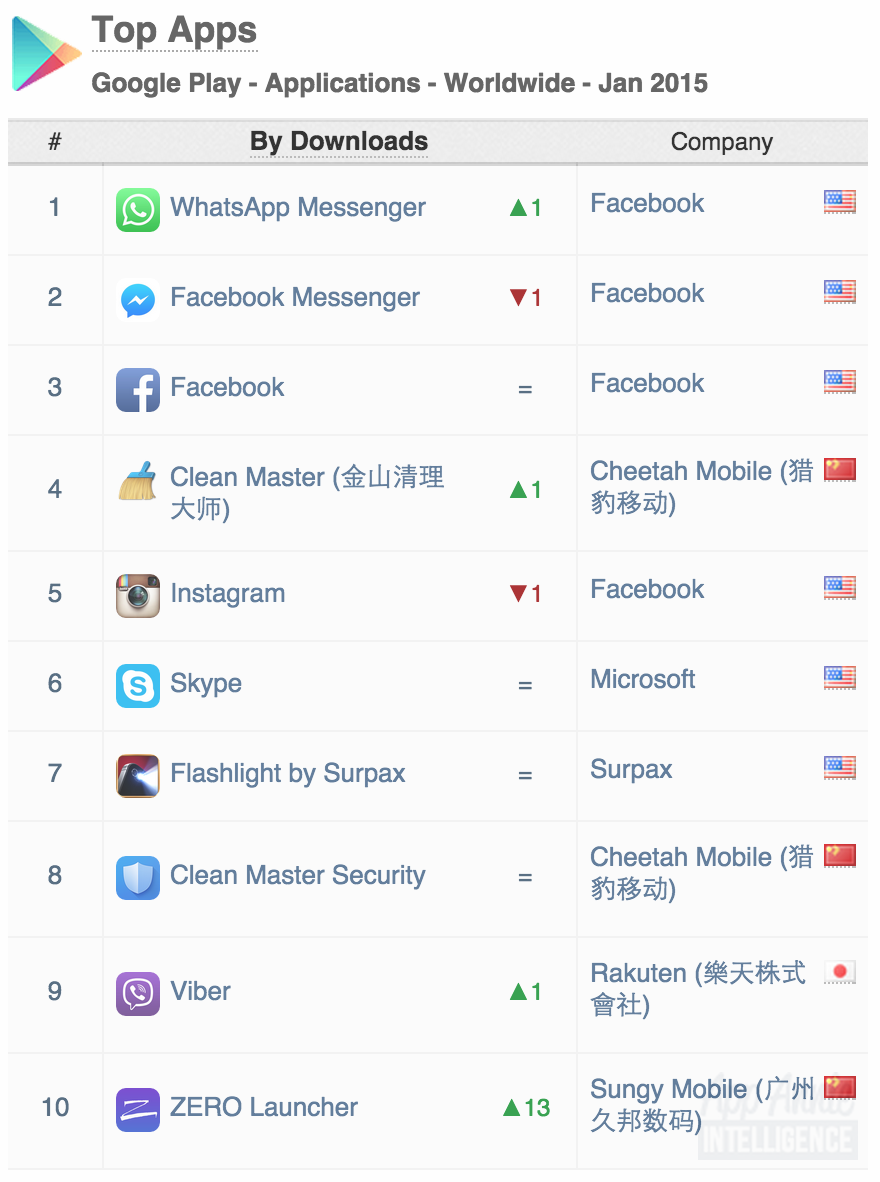 In January, Facebook-owned messaging app WhatsApp Messenger announced that it had reached 700 million monthly active users (MAUs) and that its users send a combined 30 billion messages every day. These staggering numbers were driven by its popularity in fast-growing emerging markets like Brazil and India. Its performance in these markets also helped WhatsApp Messenger reclaim the #1 rank by application downloads on Google Play.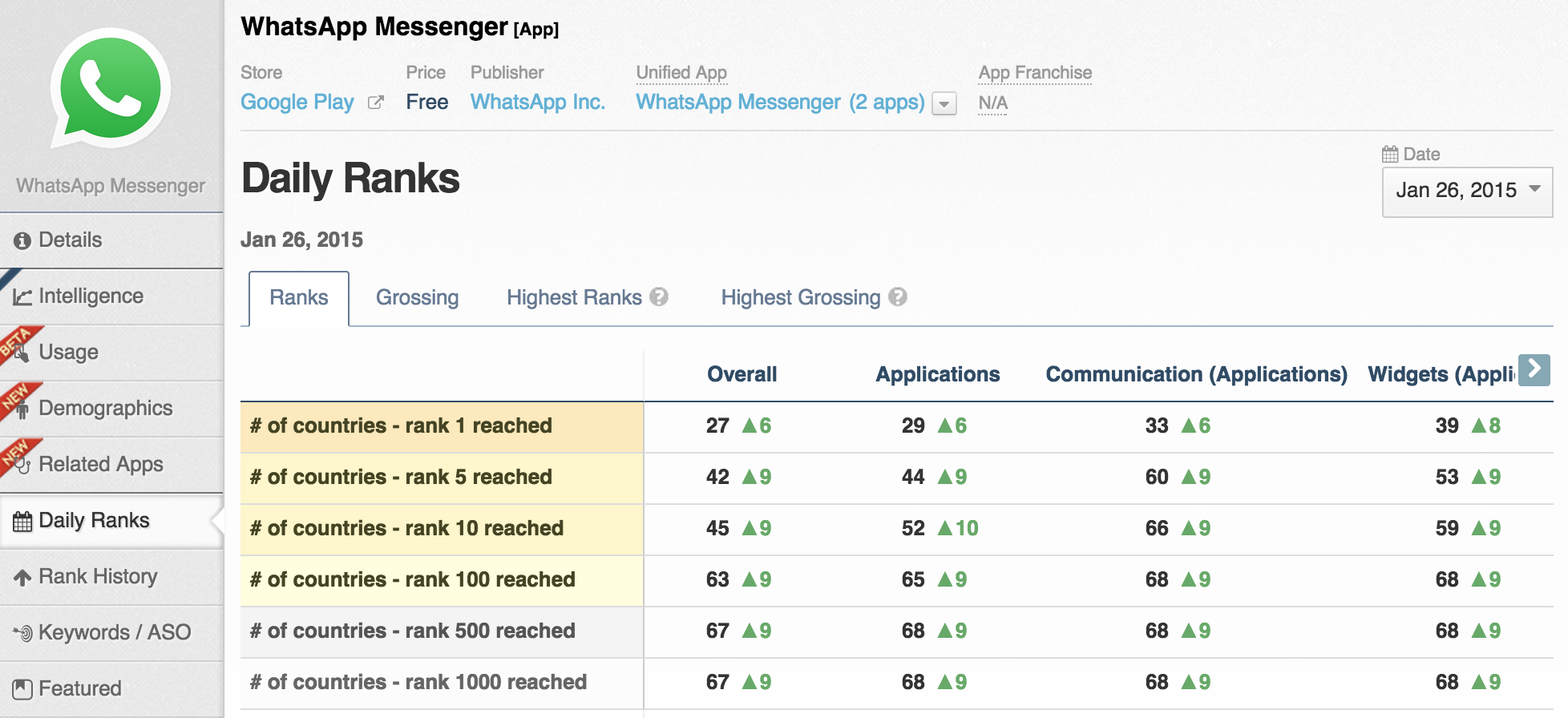 In January, WhatsApp Messenger was Google Play's top-ranked app by downloads in more than 20 countries, including Brazil and India.
While it has clearly enjoyed success in these markets, WhatsApp Messenger is also taking steps to ensure that it retains its leadership position. WhatsApp Messenger is currently testing a free voice calling feature that would work on both 2G and 3G data networks. The feature could help attract more first-time users in emerging markets and stave off competition from local players.
IAC Gets a Revenue Boost From Match.com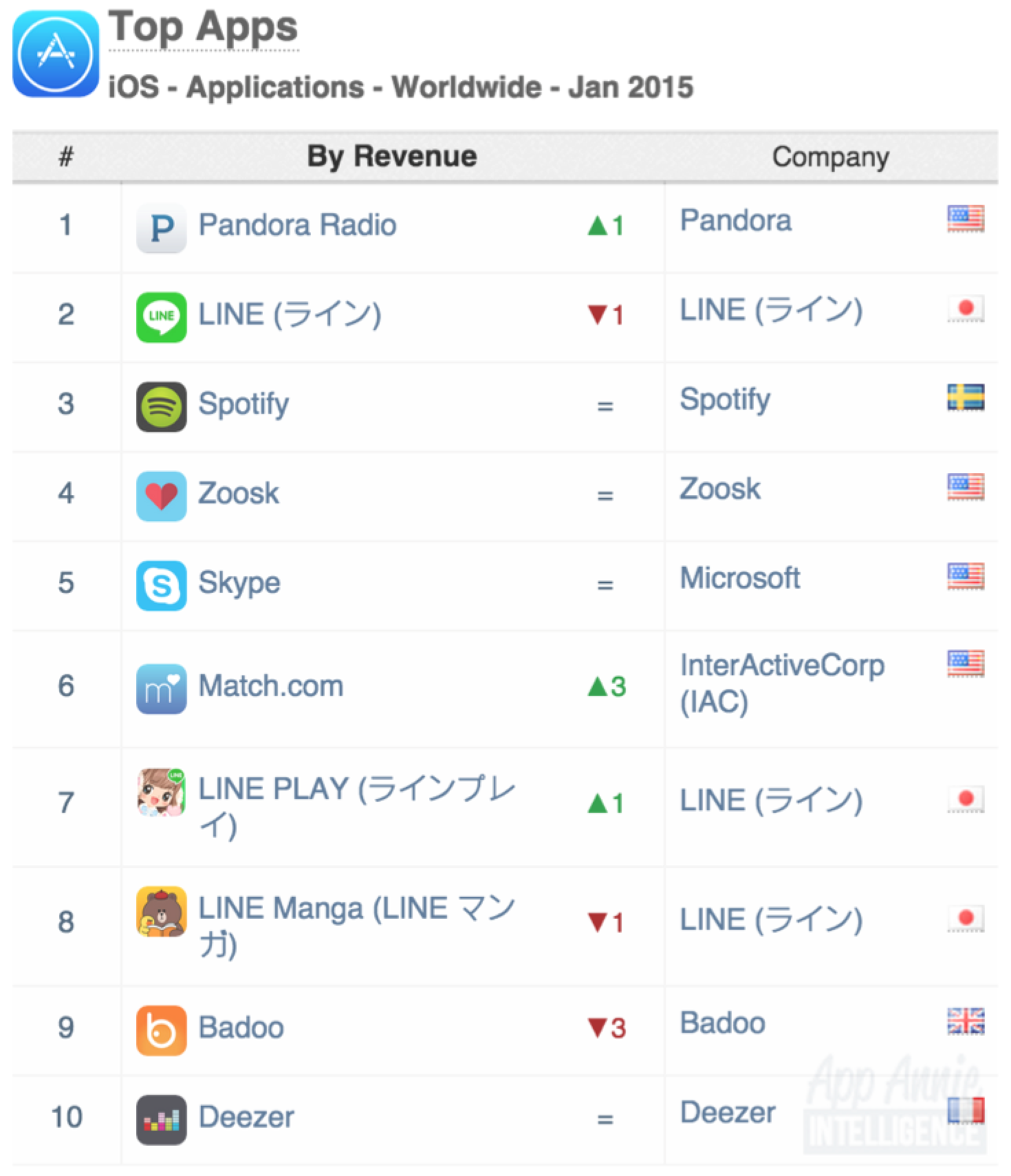 InterActiveCorp (IAC) recently announced that its fourth-quarter revenue grew 15% year-over-year (YoY) thanks to strong performances across its digital business segments. The Match Group, the business unit that operates IAC's dating apps including Match.com, OkCupid and Tinder, also saw its dating paid subscribers grow to 3.5 million. IAC continued its momentum in January as Match.com gained 3 spots on the iOS revenue rankings.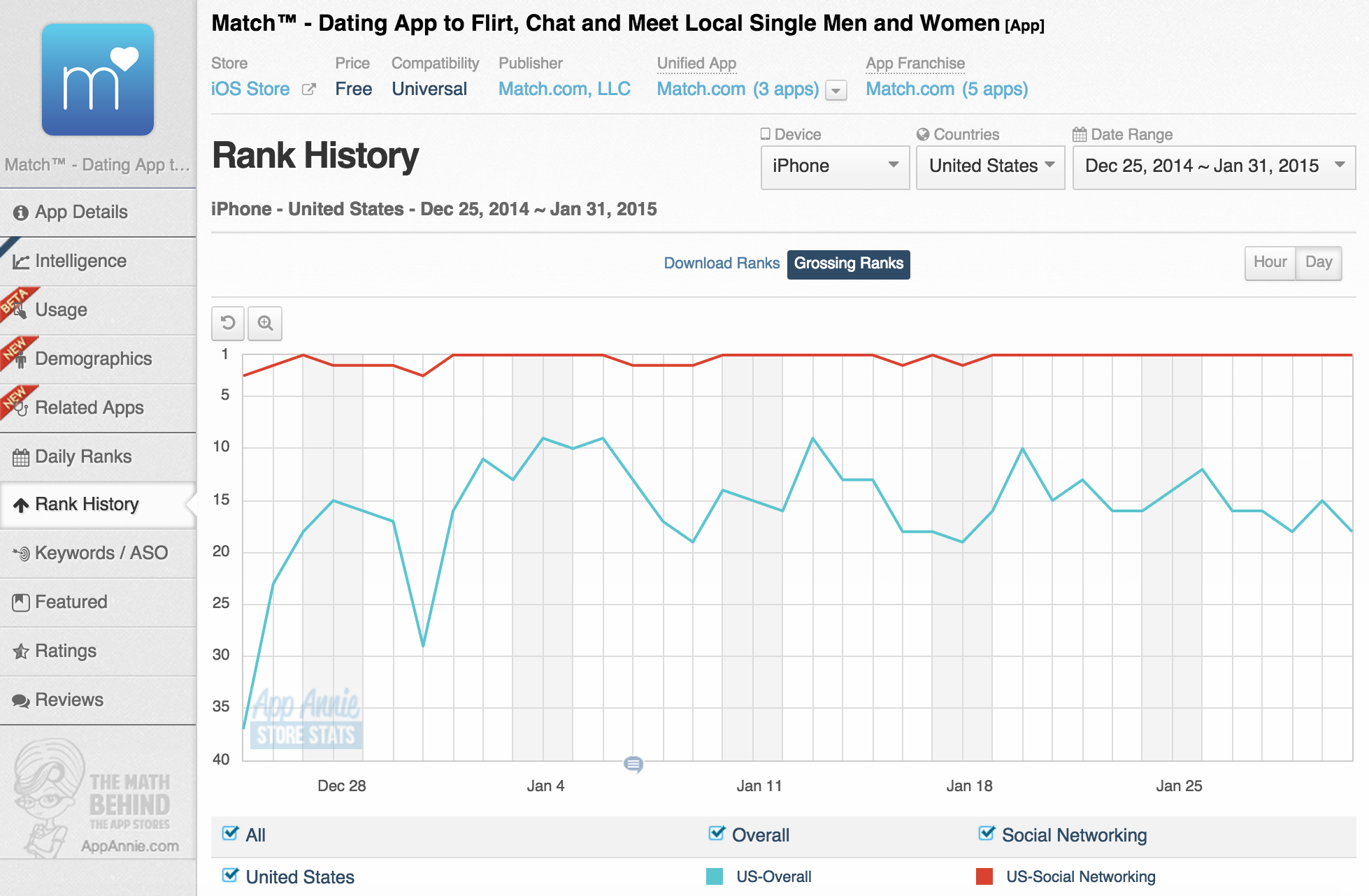 Match.com saw its iOS revenue ranking grow steadily in January.
Match.com's growth was driven by increasing engagement with its mobile app as it saw 35% growth in mobile MAUs and 109% growth in mobile-only MAUs over the past year. This is impressive considering the popularity of IAC's other dating app Tinder, which doesn't have a subscription cost. The company's revenue performance should receive a boost as it continues to build its premium service, Tinder Plus.
Meitu's Camera Apps Are on a Roll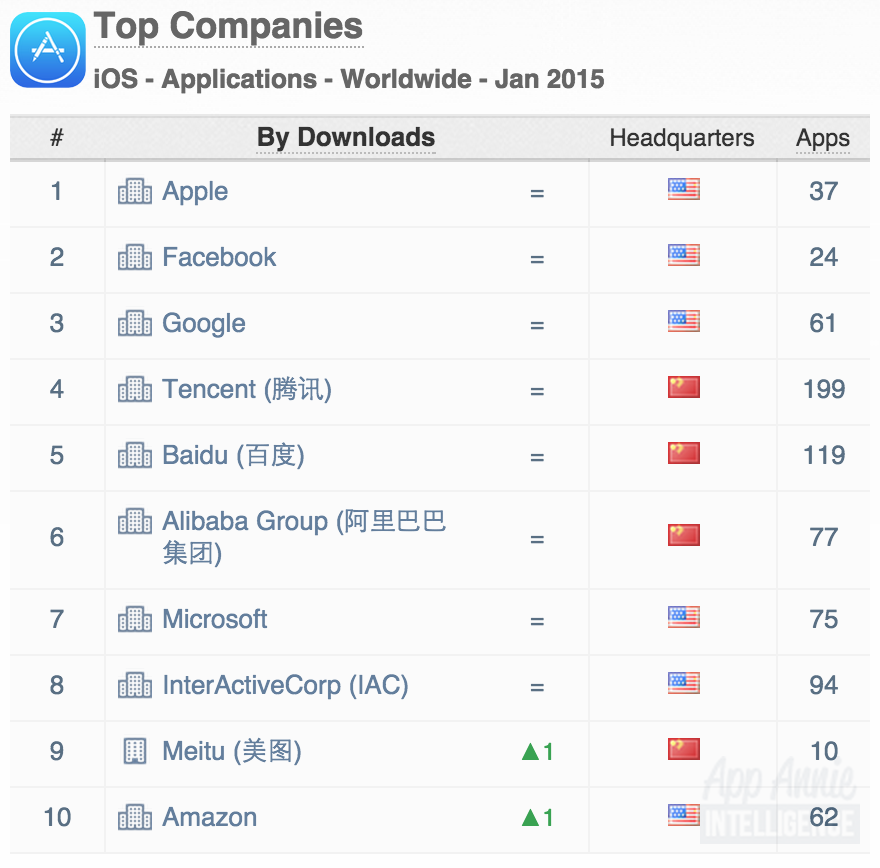 Meitu climbed January's company rankings by iOS downloads as its portfolio of photography apps saw robust growth in China. Beauty Camera's performance over the month was particularly strong as the app's selfie enhancement features proved popular. Many of these features appear to be targeted towards female users, which appears to be in line with the company's strategy.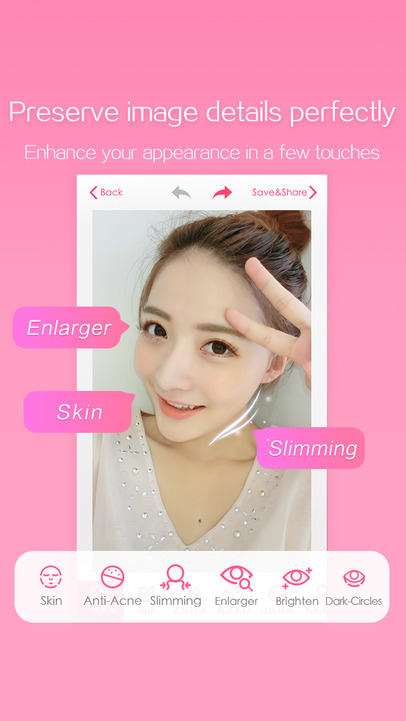 Meitu's Beauty Camera targets the female demographic with its selfie enhancement features.
Meitu's demographic focus can also be seen through its hardware strategy. Its smartphones come with a dedicated selfie button and out-of-the-box integration with its suite of photography apps. As Meitu continues to grow, it will be interesting to watch its business model evolve. Will Meitu use its free photography apps to sell more smartphones or low-priced hardware to attract more users to monetize?
The Technology Behind the Index
The information contained in this report is compiled from App Annie Intelligence, the leading market data solution for the app store economy. To see how our app store download and revenue estimates can help guide your critical business decisions, take a tour or request a demo today.
---

---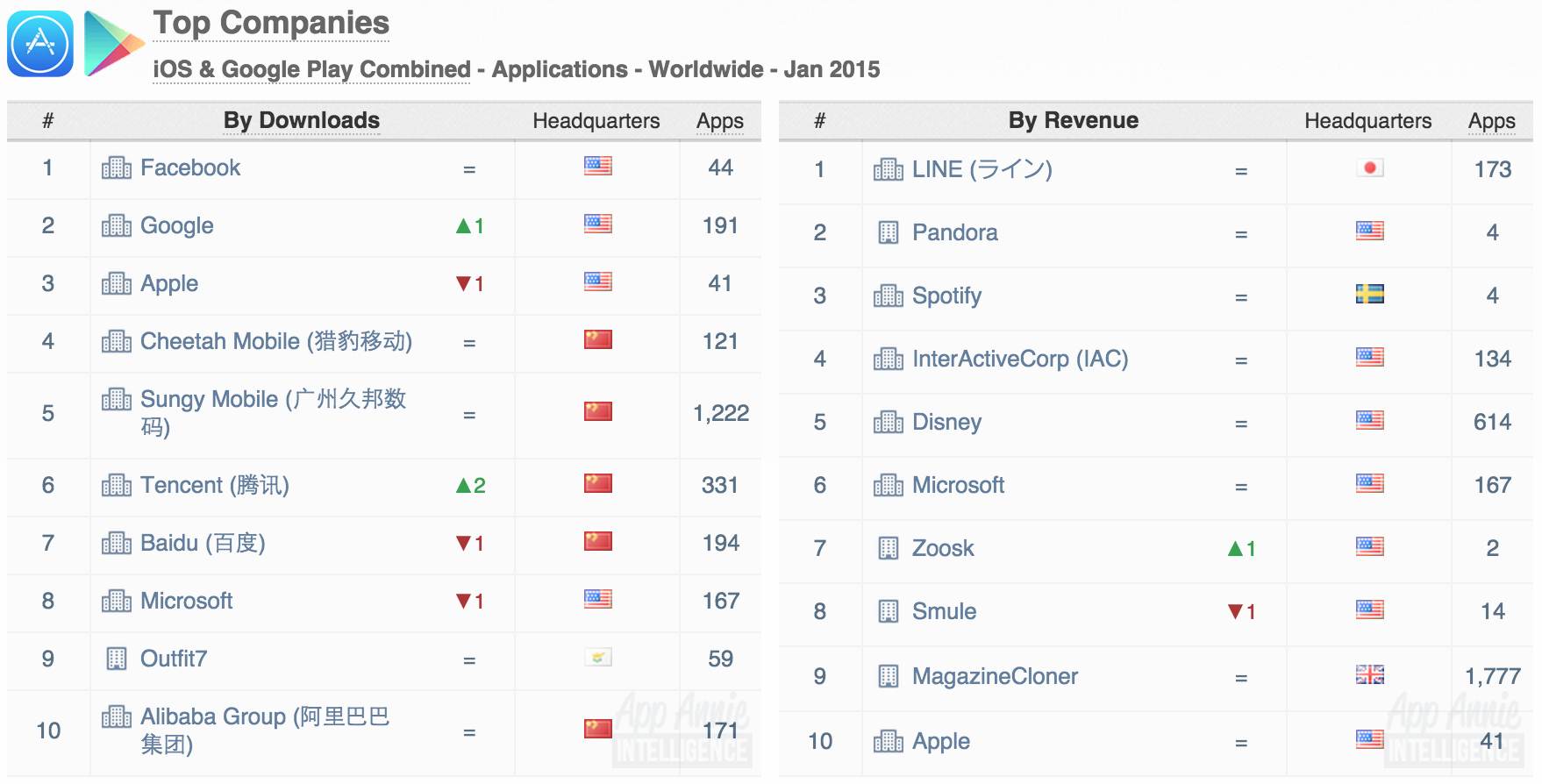 For the complete list of January's top apps and publishers around the world, click the chart above.
Notes:
The publisher and app rankings reported in the App Annie Index are based on the download and revenue estimates available through App Annie Intelligence. The daily rank history charts and the homepage feature app data are available to all users through App Annie's app tracker solution, Store Stats.

While the Index for Games covers games, the Index for Apps provides app tracking on everything but games. Note that the Top Company rankings in the Index for Games are based solely on the publishers' games downloads and revenue, while the Top Company rankings in the Index for Apps are based on the company's downloads and revenue from apps excluding games.

"Through September 2013, similar versions of the same app with different names (e.g., NYTimes and NYTimes for iPad) were ranked separately. Effective with October data, similar versions of the same app with different names are unified (e.g., NYTimes and NYTimes for iPad are now aggregated and ranked as a single NYTimes unified app)."

Company and unified app rankings in the App Annie Index for Games and Index for Apps are based on individual apps that ranked in the Top 1,000.

Download rankings are based on individually downloaded apps and exclude app downloads when included in bundles. Revenue rankings are based on download revenue from individually downloaded paid apps as well as in-app purchase revenue from both individually downloaded apps and app bundles.

In the first month in which an app becomes unified, its rank change in the Index will compare the unified app that month vs. its highest-ranking individual app in the month prior. As a result, rank changes for newly unified apps may overstate ranking increases from December 2014 to January 2015.

In the iOS App Store, an app can be categorized under a Primary Category as well as an optional Secondary Category. If an app has a Primary Category of Games and a Secondary Category of Entertainment, it is a candidate to be included in this Index for Games. If the app's Primary Category is Entertainment and its Secondary Category is Games, then it will not be included in this Index for Games; it is a candidate for the Index for Apps.

Note that the ranking approach used in the App Annie Index differs from that used in the iOS App Store. In the latter, app rankings for a given category will include all apps whose Primary Category or Secondary Category matches that given category. So an app can appear in the rankings for more than one category within the iOS App Store or in App Annie Store Stats rankings.

In Google Play, an app can be categorized under only one category, so there is no double-categorization.

Occasionally, a publisher may decide to shift an existing app from one category to another category. In these cases, the App Annie Index will rank that app based on its categorization in the subsequent month. Given that the App Annie Index has a Games report and an Apps report, the only scenario where an app's recategorization could shift it from one Index to another is if its category changes from Games to a category other than Games or vice versa.

In the App Annie Index, all apps and publishers are reported under their parent companies, when available; for example, the WhatsApp Messenger app is reported under its parent company Facebook, rather than its direct publisher WhatsApp Inc.. Note that if you view the Facebook parent company page on Store Stats, you will see the publishers that roll under the parent company Facebook, including WhatsApp Inc. The WhatsApp Messenger app will be listed under the WhatsApp Inc. publisher page.

Company and app rankings are based on the App Annie DNA relationships at the time of publications. App Annie DNA relationships are subject to change over time.
App Annie Index revenue rankings are based on revenue that the iOS App Store and Google Play earned from paid downloads and in-app purchases. They do not include revenue earned from in-app advertising.

Certain trademarks and/or images used in this report may belong to third parties and are the property of their respective owners. App Annie claims no rights to such trademarks or images.