| | |
| --- | --- |
| Each month, the App Annie Index highlights the top-performing games and apps for the iOS App Store and Google Play. Our analysis covers trends among the leading apps across countries and categories, and is the industry standard for professionals looking to compare leading apps and publishers. | You might also be interested in: |
This Month's Top Performers
360 Mobile Security Climbs Google Play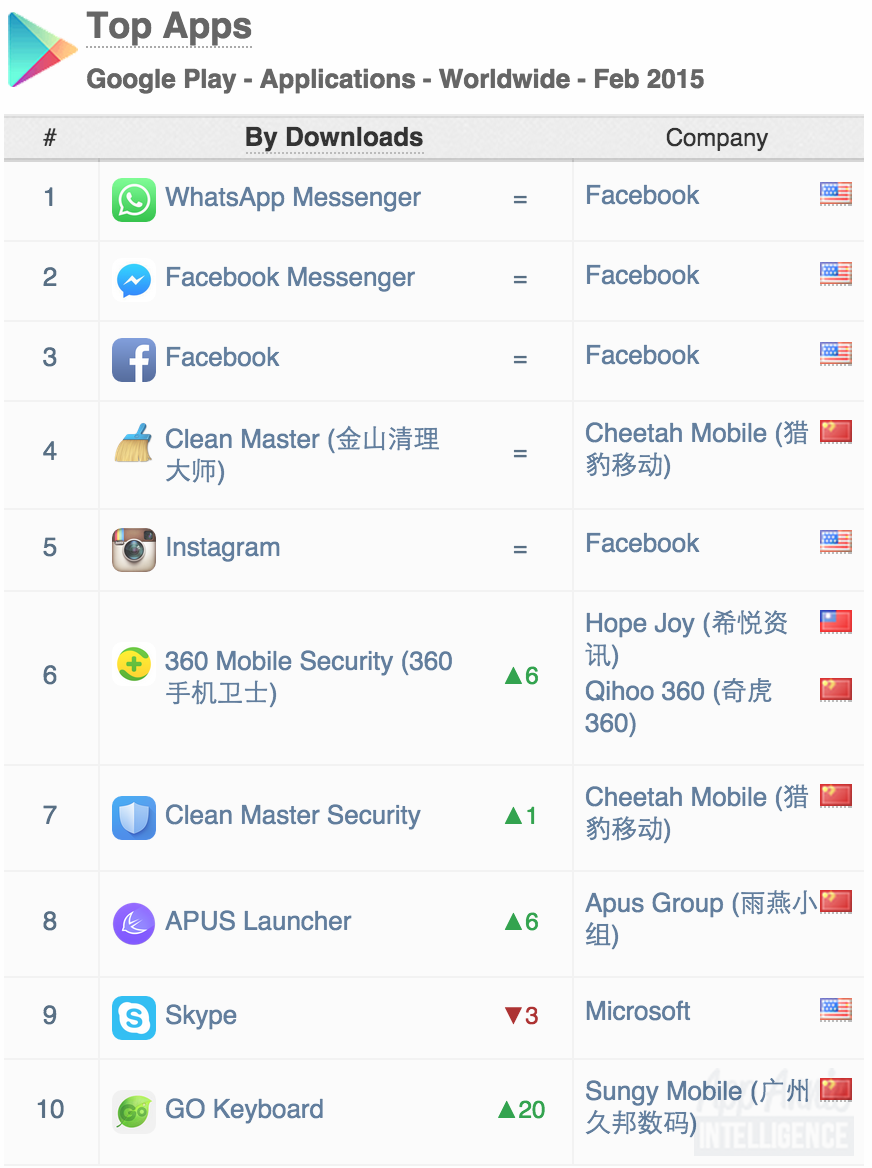 360 Mobile Security — an all-in-one utility for malware protection, memory optimization, power saving, app/file management, remote device location/locking and even privacy locking at the app level — climbed 6 spots on Google Play download charts in February.  These features gave 360 Mobile Security a strong foothold in emerging markets like India, Indonesia and Mexico, where security apps tend to be popular.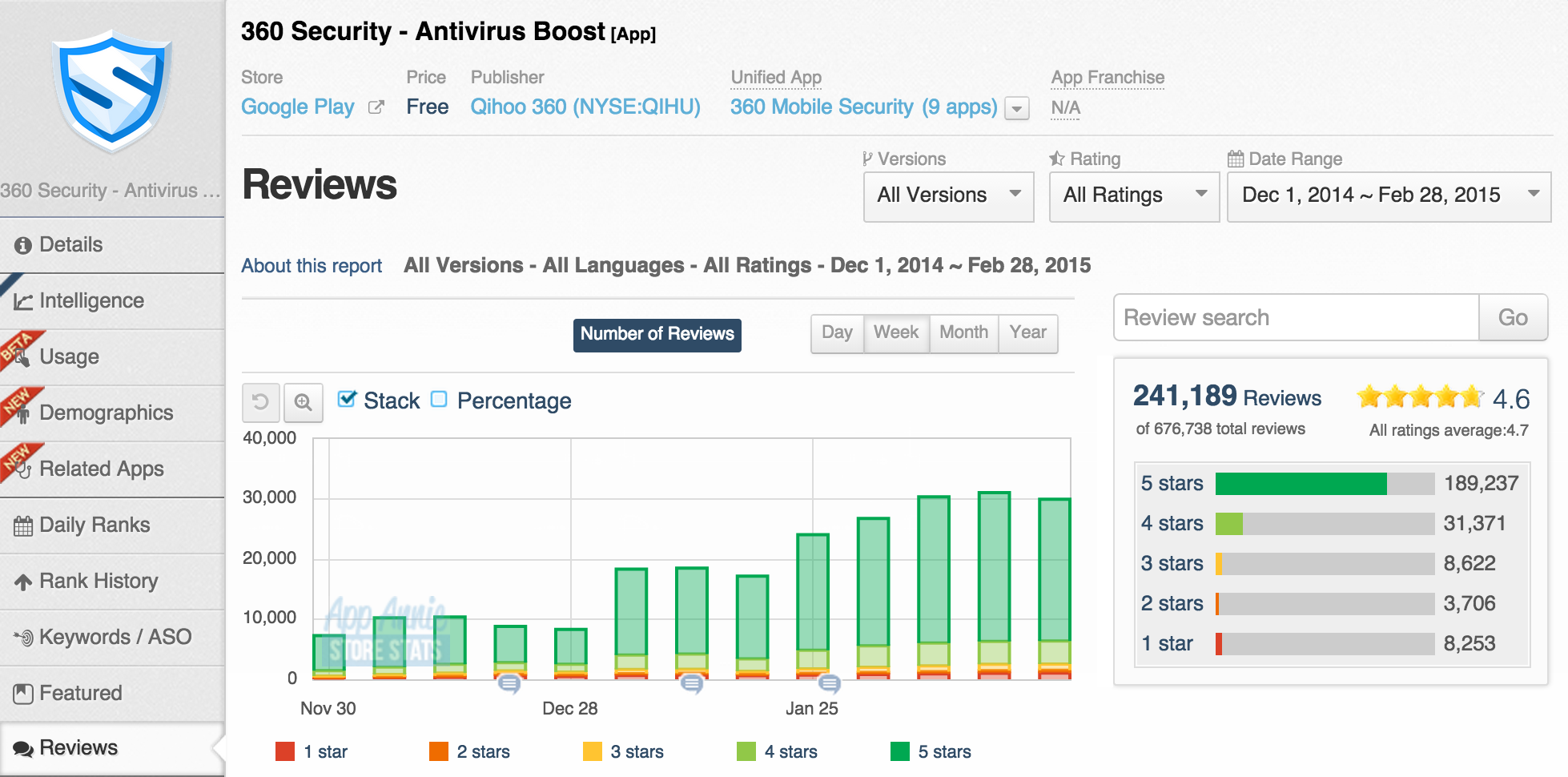 Qihoo 360's mobile security apps have received mostly 5-star reviews, especially from emerging markets.
The strong performance of Qihoo 360's mobile security apps gave it a healthy financial boost as its Q4 2014 revenue nearly doubled year-over-year. Over this period, total smartphone users of its flagship mobile security product jumped by nearly 60% to 744 million. The company also issued strong guidance for Q1 2015. Judging by its performance in February, Qihoo 360 seems right on track.
TurboTax Ushers in Tax Season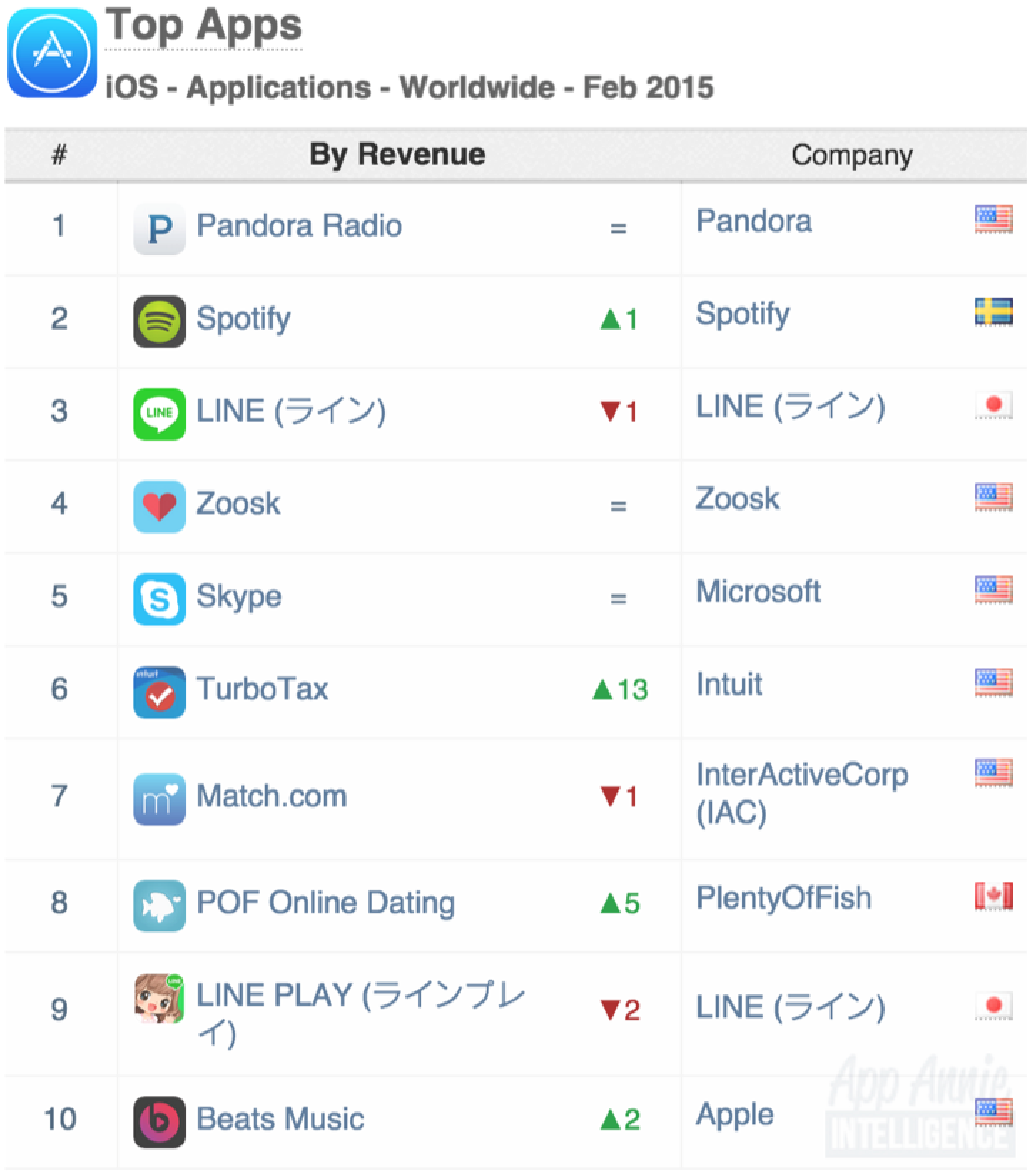 Intuit launched an updated version of TurboTax In December 2014 and saw it climb the revenue charts on both iOS and Google Play as we progressed through this year's tax season in the United States. Historically, February is a big month for TurboTax, but it usually achieves its peak revenue in the days leading up to tax day in the United States (April 15th). TurboTax's strong performance this year helped Intuit crack the list of top 5 companies by combined iOS and Google Play revenue.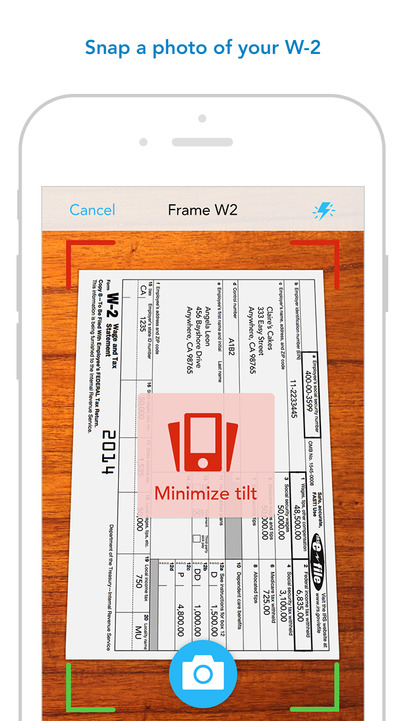 TurboTax allows users to populate their tax return simply by taking a picture of their W-2.
The app makes filing US tax returns simple. It first employs an intuitive question-and-answer format to get personal and financial information about the filer. Repeat users can skip this step as the app retains information from their previous filing. Following this, users can simply take a picture of their W-2 form to fill out their tax return and complete the filing process from within the app. This is another example of apps blurring the lines between the digital and real world.
GO Keyboard Wins Hearts in Emerging Markets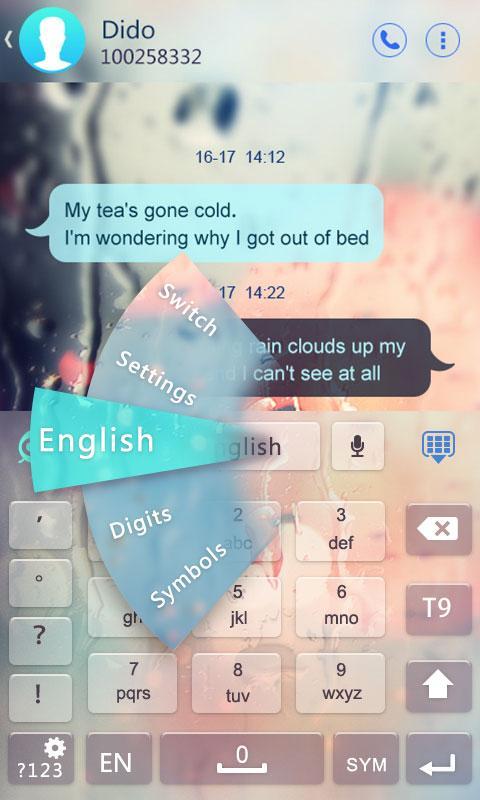 GO Keyboard's personalization features contributed to its growth.
Sungy Mobile's GO Keyboard saw its downloads surge in February as it climbed 20 spots on Google Play's download charts for the month. GO Keyboard's library of over 10,000 themes has helped differentiate it from competitors. This personalization-driven strategy has been very effective in emerging markets, particularly in Brazil, Indonesia and Mexico where it ranked among the top 5 downloads for the Tools category.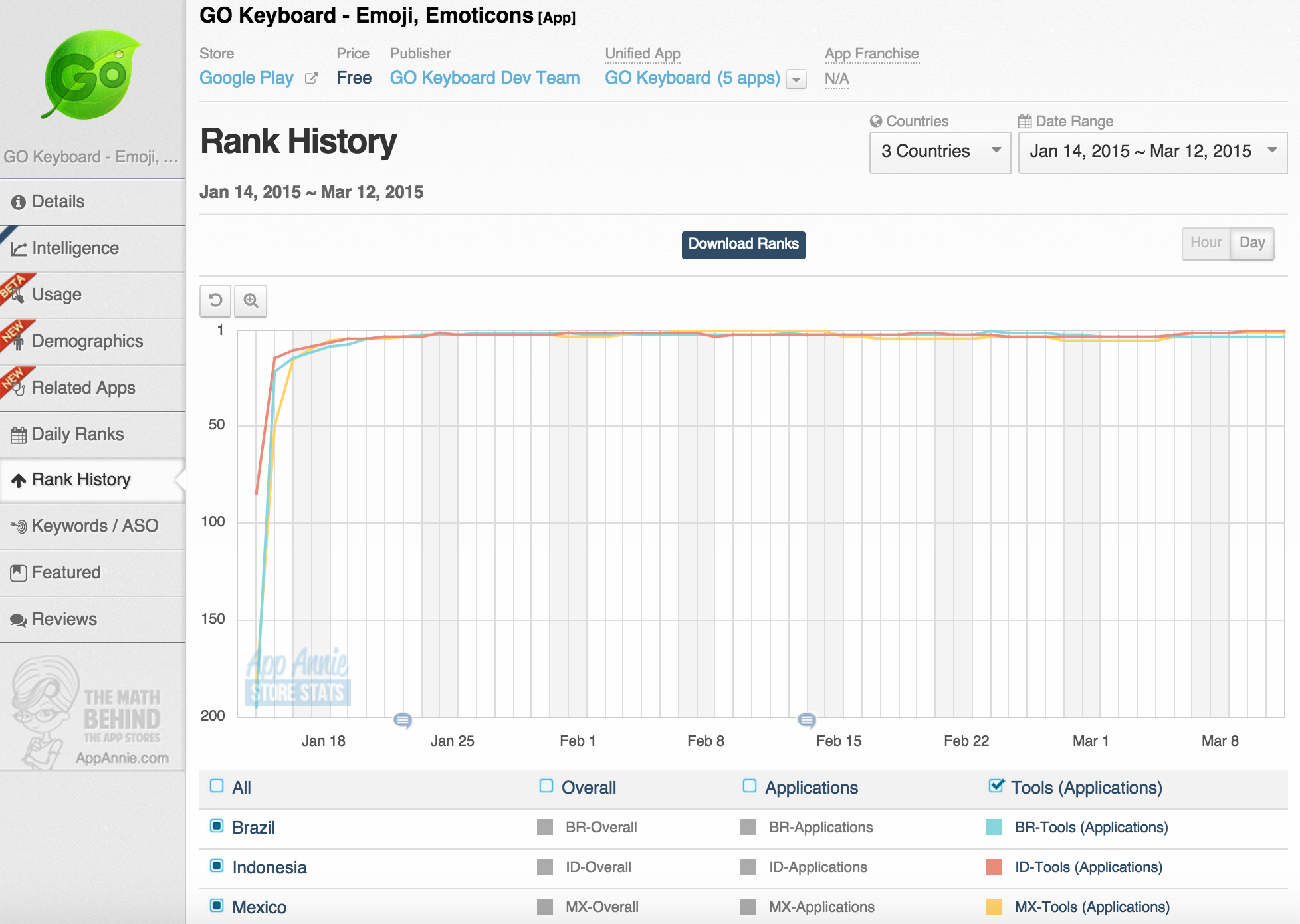 GO Keyboard saw strong growth in emerging markets like Brazil, Indonesia and Mexico.
The long-running success of Sungy Mobile's GO series of products has been a key driver of its growth. According to Sungy Mobile's Q4 2014 results, monthly active users of the GO series of products increased by roughly 18% year-over-year to 111 million. GO Keyboard's download performance in February suggests that this growth could continue in 2015.
The Technology Behind the Index
The information contained in this report is compiled from App Annie Intelligence, the leading market data solution for the app store economy. To see how our app store download and revenue estimates can help guide your critical business decisions, take a tour or request a demo today.
---

---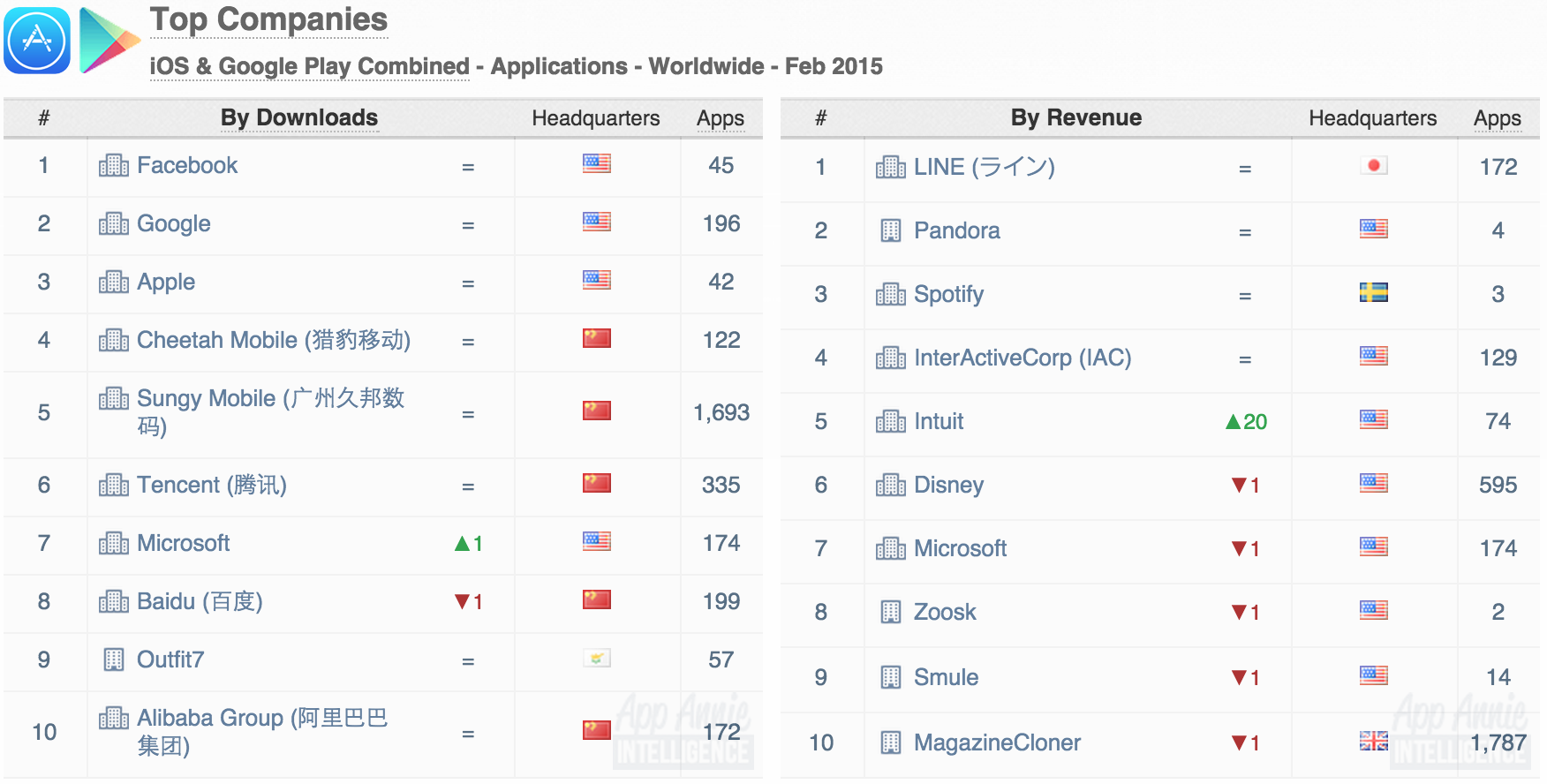 For the complete list of February's top apps and publishers around the world, click the chart above.
Notes:
The publisher and app rankings reported in the App Annie Index are based on the download and revenue estimates available through App Annie Intelligence. The daily rank history charts and the homepage feature app data are available to all users through App Annie's app tracker solution, Store Stats.

While the Index for Games covers games, the Index for Apps provides app tracking on everything but games. Note that the Top Company rankings in the Index for Games are based solely on the publishers' games downloads and revenue, while the Top Company rankings in the Index for Apps are based on the company's downloads and revenue from apps excluding games.

"Through September 2013, similar versions of the same app with different names (e.g., NYTimes and NYTimes for iPad) were ranked separately. Effective with October data, similar versions of the same app with different names are unified (e.g., NYTimes and NYTimes for iPad are now aggregated and ranked as a single NYTimes unified app)."

Company and unified app rankings in the App Annie Index for Games and Index for Apps are based on individual apps that ranked in the Top 1,000.

Download rankings are based on individually downloaded apps and exclude app downloads when included in bundles. Revenue rankings are based on download revenue from individually downloaded paid apps as well as in-app purchase revenue from both individually downloaded apps and app bundles.

In the first month in which an app becomes unified, its rank change in the Index will compare the unified app that month vs. its highest-ranking individual app in the month prior. As a result, rank changes for newly unified apps may overstate ranking increases from January 2015 to February 2015.

In the iOS App Store, an app can be categorized under a Primary Category as well as an optional Secondary Category. If an app has a Primary Category of Games and a Secondary Category of Entertainment, it is a candidate to be included in this Index for Games. If the app's Primary Category is Entertainment and its Secondary Category is Games, then it will not be included in this Index for Games; it is a candidate for the Index for Apps.

Note that the ranking approach used in the App Annie Index differs from that used in the iOS App Store. In the latter, app rankings for a given category will include all apps whose Primary Category or Secondary Category matches that given category. So an app can appear in the rankings for more than one category within the iOS App Store or in App Annie Store Stats rankings.

In Google Play, an app can be categorized under only one category, so there is no double-categorization.

Occasionally, a publisher may decide to shift an existing app from one category to another category. In these cases, the App Annie Index will rank that app based on its categorization in the subsequent month. Given that the App Annie Index has a Games report and an Apps report, the only scenario where an app's recategorization could shift it from one Index to another is if its category changes from Games to a category other than Games or vice versa.

In the App Annie Index, all apps and publishers are reported under their parent companies, when available; for example, the WhatsApp Messenger app is reported under its parent company Facebook, rather than its direct publisher WhatsApp Inc.. Note that if you view the Facebook parent company page on Store Stats, you will see the publishers that roll under the parent company Facebook, including WhatsApp Inc. The WhatsApp Messenger app will be listed under the WhatsApp Inc. publisher page.

Company and app rankings are based on the App Annie DNA relationships at the time of publications. App Annie DNA relationships are subject to change over time.
App Annie Index revenue rankings are based on revenue that the iOS App Store and Google Play earned from paid downloads and in-app purchases. They do not include revenue earned from in-app advertising.

Certain trademarks and/or images used in this report may belong to third parties and are the property of their respective owners. App Annie claims no rights to such trademarks or images.