| | |
| --- | --- |
| Each month, the App Annie Index highlights the top-performing games and apps for the iOS App Store and Google Play. Our analysis covers trends among the leading apps across countries and categories, and is the industry standard for professionals looking to compare leading apps and publishers. | You might also be interested in: |
This Month's Top Performers
Mobile Motion Has a Smash Hit on Its Hands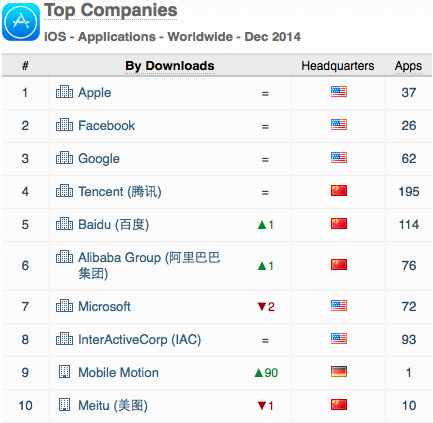 Mobile Motion surged into December's top iOS charts as its lone app Dubsmash, released in late November, received strong downloads. The app allows users to select a well-known song or quote from popular celebrities and record their own rendition. During the holidays in December, Christmas songs were especially popular as "dubbed" playbacks turned into Christmas greetings. Dubsmash's download performance was especially strong in France, Germany and the United Kingdom during the month. On the other hand, the app's Google Play version was most popular in Germany.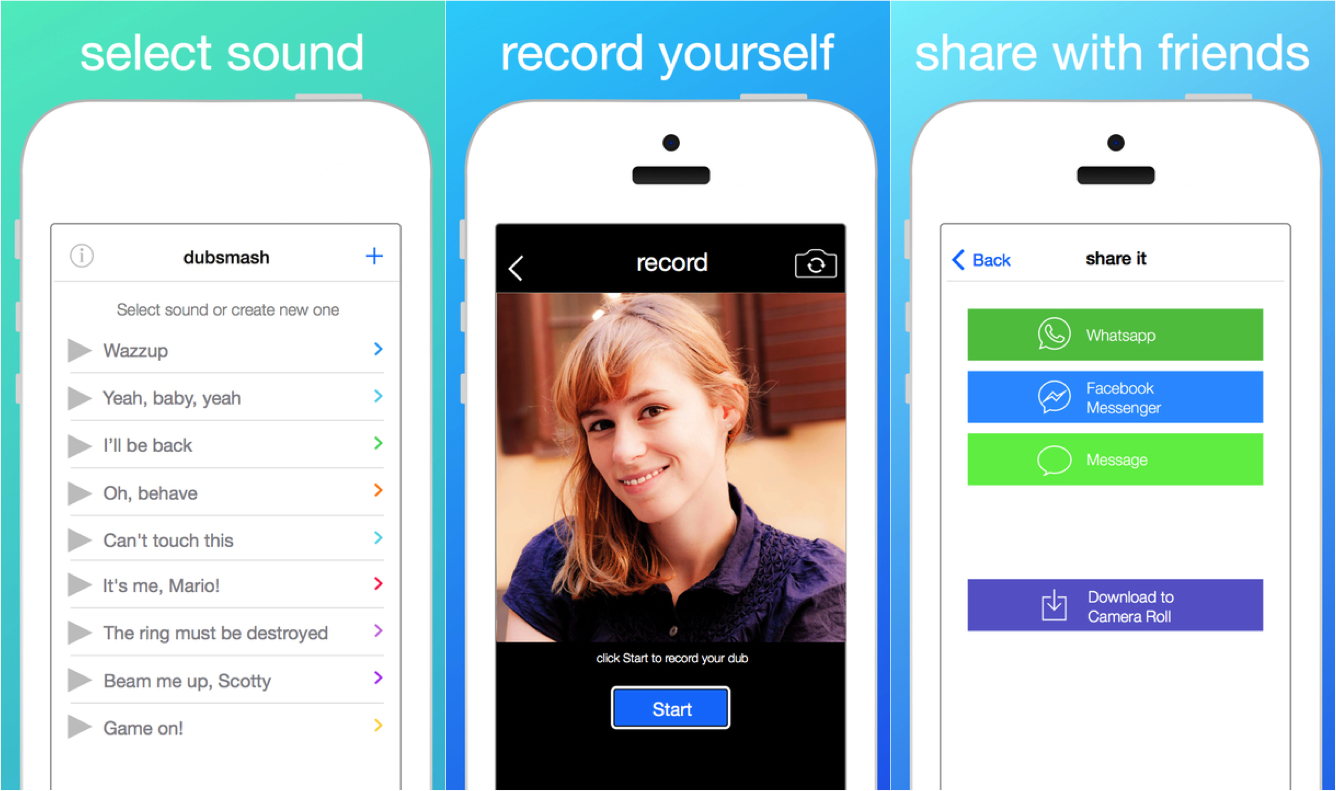 Mobile Motion's Dubsmash lets users record their own video performance of popular songs or sayings.
Dubsmash features a built-in sharing option to messaging apps like WhatsApp Messenger and Facebook Messenger. In addition, user-generated 'video selfies' are also frequently shared on platforms like Instagram or YouTube.
Clean Master Conquers Google Play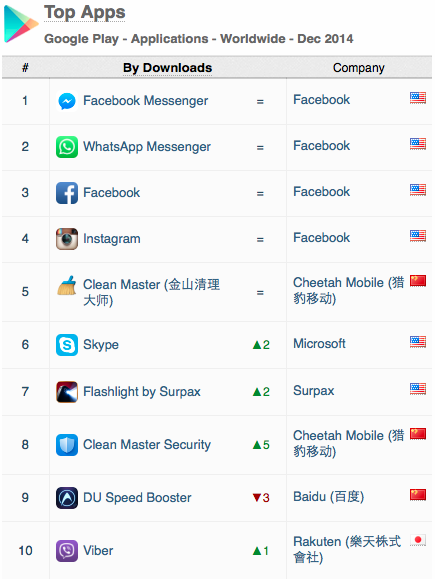 Cheetah Mobile saw two of its apps appear in Google Play's top download charts in December. The China-based company recently reported that it hit 340 million monthly active users across its portfolio, with Clean Master alone pulling in 100 million daily active users. The company's CEO, Sheng Fu, believes the company's success has been fueled by intense competition in the Chinese market, which helped it create free yet high-quality products. In December, Clean Master Security ranked 8, close behind its hit app Clean Master. Clean Master Security includes antivirus and anti-malware packages, privacy features and a phone-finding functionality. During December, Clean Master Security received strong reviews, achieving an overall rating of 4.8 stars.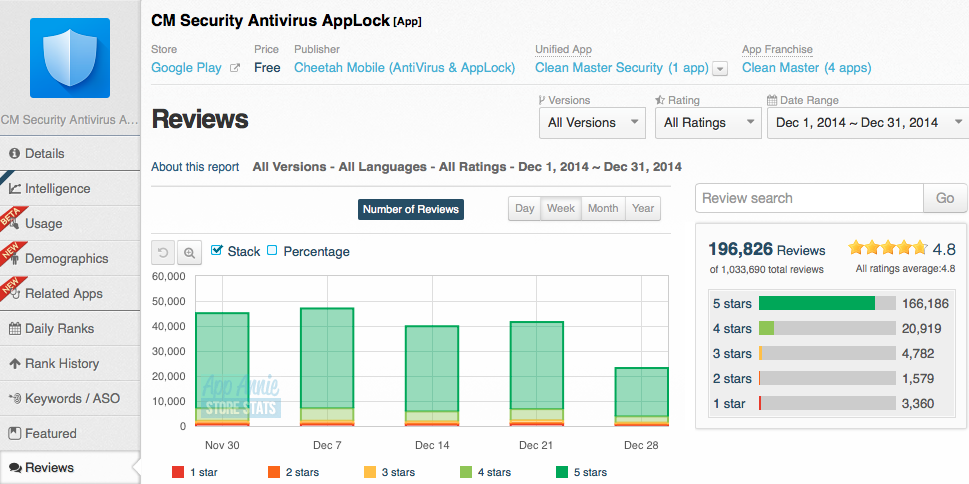 Clean Master Security received overwhelmingly positive reviews from Google Play users.
AVG Brings in Cash Over the Holidays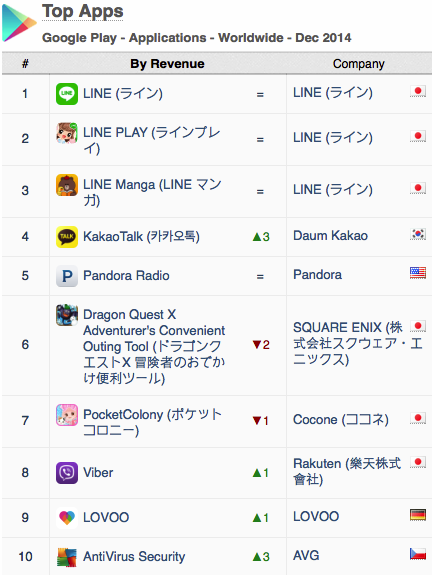 A year ago, AVG's AntiVirus Security climbed into the Google Play top 10 download charts. The app followed last year's success by breaking into Google Play's top revenue charts. AVG's app offers protection from viruses, malware, spyware and online exploitation in real-time, with two versions — Free and Pro. The free version, which offers additional features through in-app purchases, saw strong revenue rank growth over the past month. During the holiday season, AntiVirus Security Pro was offered with a 40% discount off its original subscription price of $14.99. This helped both versions climb up revenue rankings, particularly in the United States, United Kingdom and Germany.
In addition to its solid revenue performance, AntiVirus Security has also received strong user feedback. This was especially true during the week of Christmas, as the app received numerous positive reviews.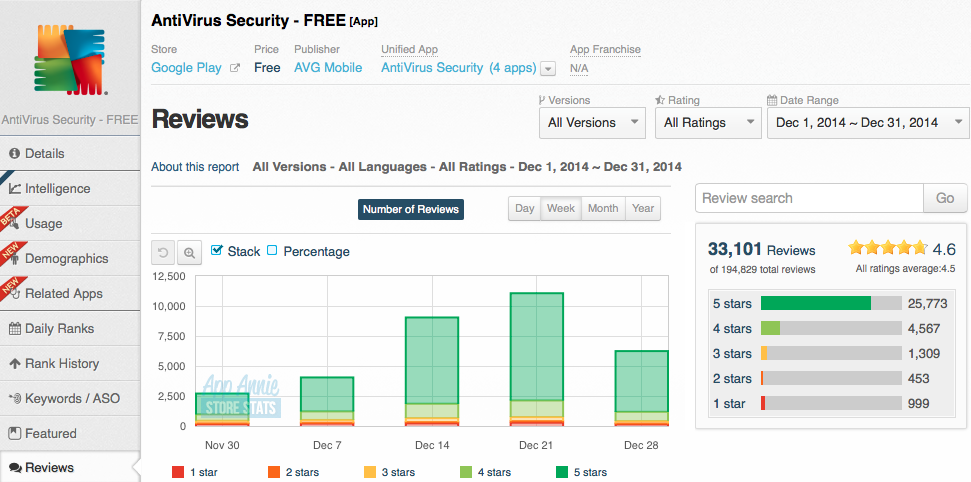 AVG's AntiVirus Security received very positive reviews during Christmas.
The Technology Behind the Index
The information contained in this report is compiled from App Annie Intelligence, the leading market data solution for the app store economy. To see how our app store download, revenue, demographic and usage estimates can help guide your critical business decisions, take a tour or request a demo today.
---

---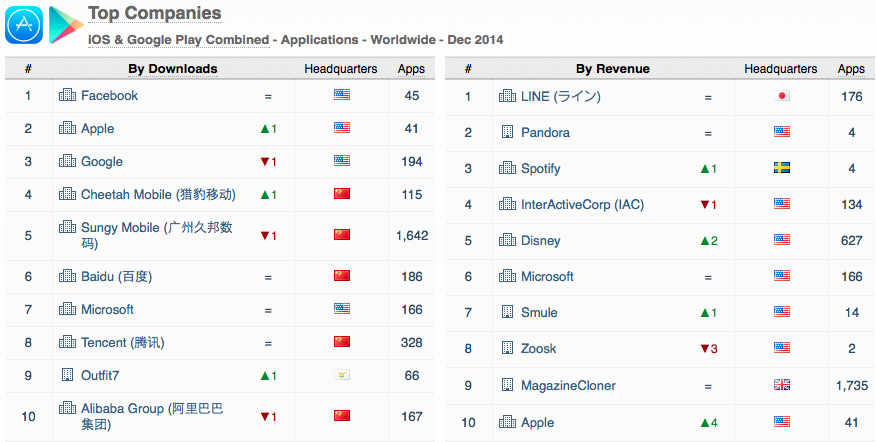 For the complete list of December's top apps and publishers around the world, click the chart above.
Notes:
The publisher and app rankings reported in the App Annie Index are based on the download and revenue estimates available through App Annie Intelligence. The daily rank history charts and the homepage feature app data are available to all users through App Annie's app tracker solution, Store Stats.

While the Index for Games covers games, the Index for Apps provides app tracking on everything but games. Note that the Top Company rankings in the Index for Games are based solely on the publishers' games downloads and revenue, while the Top Company rankings in the Index for Apps are based on the company's downloads and revenue from apps excluding games.

Company and unified app rankings in the App Annie Index for Games and Index for Apps are based on individual apps that ranked in the Top 1,000.

Download rankings are based on individually downloaded apps and exclude downloads of app bundles. Revenue rankings are based on download revenue from individually downloaded paid apps as well as in-app purchase revenue from both individually downloaded apps and app bundles.

In the first month in which an app becomes unified, its rank change in the Index will compare the unified app that month vs. its highest-ranking individual app in the month prior. As a result, rank changes for newly unified apps may overstate ranking increases from November 2014 to December 2014.

In the iOS App Store, an app can be categorized under a Primary Category as well as an optional Secondary Category. If an app has a Primary Category of Entertainment and a Secondary Category of Games, it is a candidate to be included in this Index for Apps. If the app's Primary Category is Games and its Secondary Category is Entertainment, then it will not be included in this Index for Apps; it is a candidate for the Index for Games.

Note that the ranking approach used in the App Annie Index differs from that used in the iOS App Store. In the latter, app rankings for a given category will include all apps whose Primary Category or Secondary Category matches that given category. So an app can appear in the rankings for more than one category within the iOS App Store or in App Annie Store Stats rankings.

On Google Play, an app can be categorized under only one category, so there is no double-categorization.

Occasionally, a publisher may decide to shift an existing app from one category to another category. In these cases, the App Annie Index will rank that app based on its categorization in the subsequent month. Given that the App Annie Index has a Games report and an Apps report, the only scenario where an app's recategorization could shift it from one Index to another is if its category changes from Games to a category other than Games or vice versa.
In the App Annie Index, all apps and publishers are reported under their parent companies, when available; for example, the WhatsApp Messenger app is reported under its parent company Facebook, rather than its direct publisher WhatsApp Inc.. Note that if you view the Facebook parent company page on Store Stats, you will see the publishers that roll under the parent company Facebook, including WhatsApp Inc. The WhatsApp Messenger app will be listed under the WhatsApp Inc. publisher page.
Company and app rankings are based on the App Annie DNA relationships at the time of publications. App Annie DNA relationships are subject to change over time.
App Annie Index

revenue rankings are based on revenue that the iOS App Store and Google Play earned from paid downloads and in-app purchases. They do not include revenue earned from in-app advertising.

Certain trademarks and/or images used in this report may belong to third parties and are the property of their respective owners. App Annie claims no rights to such trademarks or images.