| | |
| --- | --- |
| Each month, the App Annie Index highlights the top-performing games and apps for the iOS App Store and Google Play. Our analysis covers trends among the leading apps across countries and categories, and is the industry standard for professionals looking to compare leading apps and publishers. | You might also be interested in: |
This Month's Top Apps
Karaoke Is Back! Group Video Steals the Show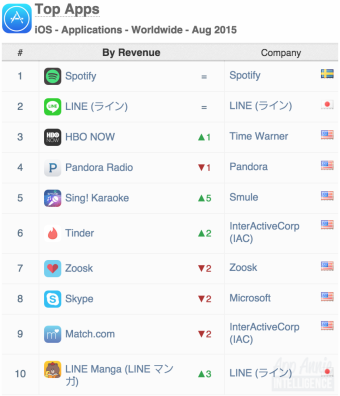 Sing! Karaoke was last highlighted in November 2014's Apps Index thanks to the addition of a video duet feature which triggered strong revenue growth. In June 2015, Sing! Karaoke added another major feature that also appears to have paid dividends – group video. The feature allows users to record their performance, upload it to the Smule network and watch as other users add their own renditions to the evolving group video.
Following this update, Sing! Karaoke saw its revenue soar as the app gained 15 spots on the iOS revenue rankings from June to August 2015.
Sing! Karaoke's grossing rank saw a sharp uptick in the United States after the introduction of a group video feature in June.
Sing! Karaoke's daily grossing ranks in the United States saw an immediate uptick when its group video feature went live. With each new update, Smule has been able to attract and retain an increasing number of subscribers to its music-themed apps. We can hardly wait to see what the company comes up with next.

Another Lip Syncing Hit, This Time in China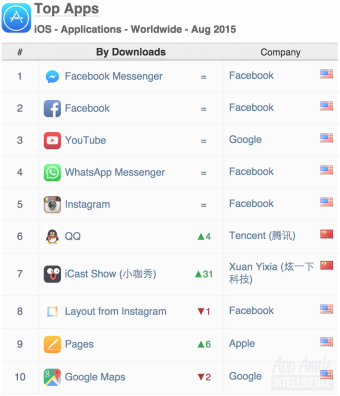 Blending music and video also proved to be a successful recipe in China as iCast Show gained 31 spots on the iOS download charts in August. It was published by Xuan Yixia, which counts Chinese internet giant Sina Weibo among its investors. Following in the footsteps of April's international smash hit Dubsmash, iCast Show allows users to create and share videos of themselves acting out a popular song or phrase.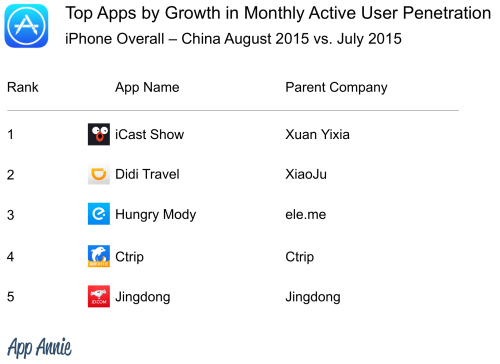 iCast Show saw the greatest change in monthly active users, among all games and apps in China, from July 2015 to August 2015.
iCast Show's performance so far has been impressive to say the least. It saw the largest change in active user penetration from July to August 2015 among all games and apps in China.
iCast Show's stellar performance could partly be the result of a key strategic advantage it holds over competitors: Sina Weibo's backing. By virtue of being China's most popular microblogging platform, videos shared on Sina Weibo may have had a significant impact on word-of-mouth and adoption. This bodes well for its long-term performance.

Tinder Revenue Growth: The Love Story Continues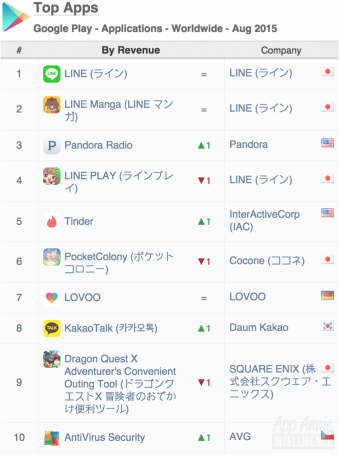 Tinder's revenue growth has been spectacular on both iOS and Google Play ever since it launched its premium subscription service Tinder Plus. After its launch, parent company IAC reported strong growth in Tinder's paid subscriptions in its Q2 2015 earnings statement. IAC may see another solid quarter in Q3 2015 as Tinder continues to climb the revenue charts since the end of Q2 2015. In August 2015, it gained another spot on Google Play's revenue charts.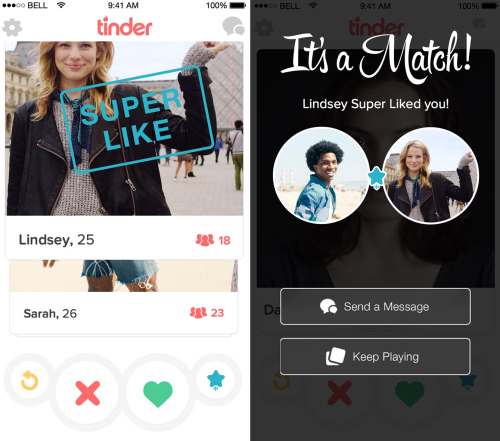 Tinder recently introduced a "Super Like" feature that allows users to communicate their interest in one particular profile. (Image Credit: Tinder Blog)
Tinder's growth is set to receive another boost with the soft launch of its latest feature, Super Like. Instead of simply swiping right, users now have the option to swipe up in order to "Super Like" a particular profile. The liked person would notice this when they come across the other user's profile, but before they can take any action (swipe right or left).
Users are only given one "Super Like" a day and cannot carry them forward, which introduces an element of scarcity. This feature has the potential to trigger deeper engagement and could indirectly contribute to growth in paid subscriptions.
The Technology Behind the Index
The information contained in this report is compiled from App Annie Intelligence, the leading market data solution for the app store economy. To see how our app store download, revenue, demographic and usage estimates can help guide your critical business decisions, request a demo today.
---

---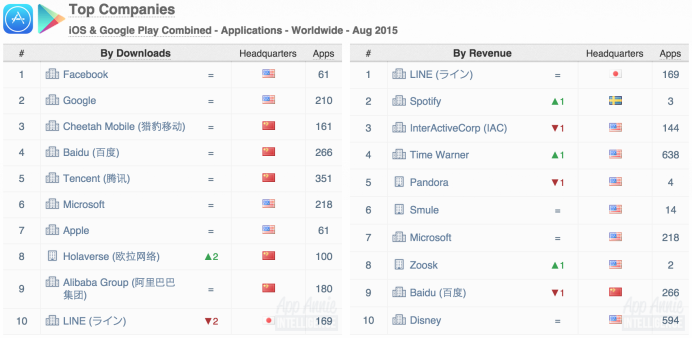 For the complete list of August's top apps and app publishers around the world, click the chart above.
 Notes:
The publisher and app rankings reported in the App Annie Index are based on the download and revenue estimates available through App Annie Intelligence. The daily rank history charts and the homepage feature app data are available to all users through App Annie's app tracker solution, Store Stats.
App Annie Intelligence is currently available for the iOS App Store and Google Play. It does not currently provide estimates for other app stores, such as the Amazon Appstore. While iOS and Google Play represent a significant portion of the app market in many countries, that is not the case for some countries. For example, China has a number of sizable third-party Android app stores.

While the Index for Games covers games, the Index for Apps provides app tracking on everything but games. Note that the Top Company rankings in the Index for Games are based solely on the publishers' games downloads and revenue, while the Top Company rankings in the Index for Apps are based on the company's downloads and revenue from apps excluding games.

Company and unified app rankings in the App Annie Index for Games and Index for Apps are based on individual apps that ranked in the Top 1,000.

Download rankings are based on individually downloaded apps and exclude downloads of app bundles. Revenue rankings are based on download revenue from individually downloaded paid apps as well as in-app purchase revenue from both individually downloaded apps and app bundles.

In the first month in which an app becomes unified, its rank change in the Index will compare the unified app that month vs. its highest-ranking individual app in the month prior. As a result, rank changes for newly unified apps may overstate ranking increases from June 2015 to July 2015.

In the iOS App Store, an app can be categorized under a Primary Category as well as an optional Secondary Category. If an app has a Primary Category of Games and a Secondary Category of Entertainment, it is a candidate to be included in this Index for Games. If the app's Primary Category is Entertainment and its Secondary Category is Games, then it will not be included in this Index for Games; it is a candidate for the Index for Apps.

Note that the ranking approach used in the App Annie Index differs from that used in the iOS App Store. In the latter, app rankings for a given category will include all apps whose Primary Category or Secondary Category matches that given category. So an app can appear in the rankings for more than one category within the iOS App Store or in App Annie Store Stats rankings.

In Google Play, an app can be categorized under only one category, so there is no double-categorization.

Occasionally, a publisher may decide to shift an existing app from one category to another category. In these cases, the App Annie Index will rank that app based on its categorization in the subsequent month. Given that the App Annie Index has a Games report and an Apps report, the only scenario where an app's recategorization could shift it from one Index to another is if its category changes from Games to a category other than Games or vice versa.
In the App Annie Index, all apps and publishers are reported under their parent companies, where available; for example, the Plants vs. Zombies™ 2 app is reported under its parent company Electronic Arts, rather than its direct publisher PopCap. Note that if you view the Electronic Arts parent company page on Store Stats, you will see the publishers that roll under the parent company Electronic Arts, including PopCap. The Plants vs. Zombies™ 2 app will be listed under the PopCap publisher page.
Company and app rankings are based on the App Annie DNA relationships at the time of publications. App Annie DNA relationships are subject to change over time.

App Annie Usage Intelligence data for smartphones and tablets were derived from mobile usage data collected from a large sample of real-world users, combined with additional proprietary data sets.

App Annie tracks usage at the device level using a privacy-protective hashed device ID. Data is only reported to third parties in aggregated format.

App Annie Index revenue rankings are based on revenue that the iOS App Store and Google Play earned from paid downloads and in-app purchases. They do not include revenue earned from in-app advertising.

Certain trademarks and/or images used in this report may belong to third parties and are the property of their respective owners. App Annie claims no rights to such trademarks or images.