Each month, the App Annie Index highlights the top-performing games and apps for the iOS App Store and Google Play. Our analysis covers trends among the leading apps across countries and categories, and is the industry standard for professionals looking to compare leading apps and publishers. To find out about current trends in other markets and app categories, please check out our France App Annie Index, the Germany App Annie Index and the August 2014 Worldwide Index for Games.
TABLE OF CONTENTS
1. The Technology Behind the Index
The information contained in this report is compiled from App Annie Intelligence, the leading market data solution for the app store economy. To see how our app store download and revenue estimates can help guide your critical business decisions, take a tour or request a demo today.
---

---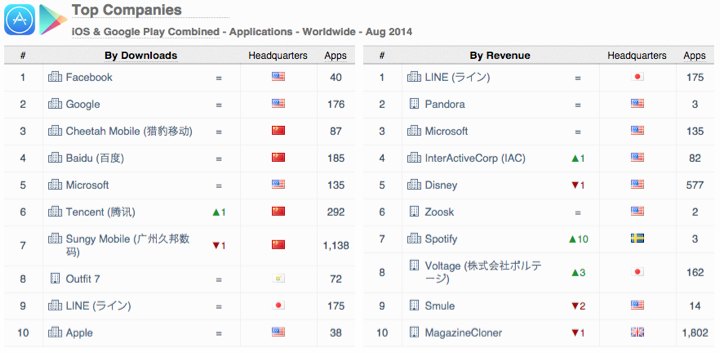 For the complete list of August's top apps and publishers around the world, click the chart above.
2. This Month's Top Performers
Facebook Messenger's Downloads Skyrocket
Facebook Messenger was the most downloaded app outside of games on both iOS and Google Play in August.
As reported in our July 2014 Index for Apps, downloads for Facebook Messenger shot up in late July following Facebook's strategic decision to move all worldwide messaging functionality from Facebook into Facebook Messenger. This trend accelerated in August as downloads across iOS and Google Play significantly outpaced those in July, propelling the app to the top of the combined store rankings.
In addition, Facebook Messenger, as well as its publisher Facebook, swept first place on the download rankings for apps and companies on iOS and Google Play. The app's growth on Google Play was driven by the United States, India and Brazil, countries which are key sources of Facebook's overall mobile user growth.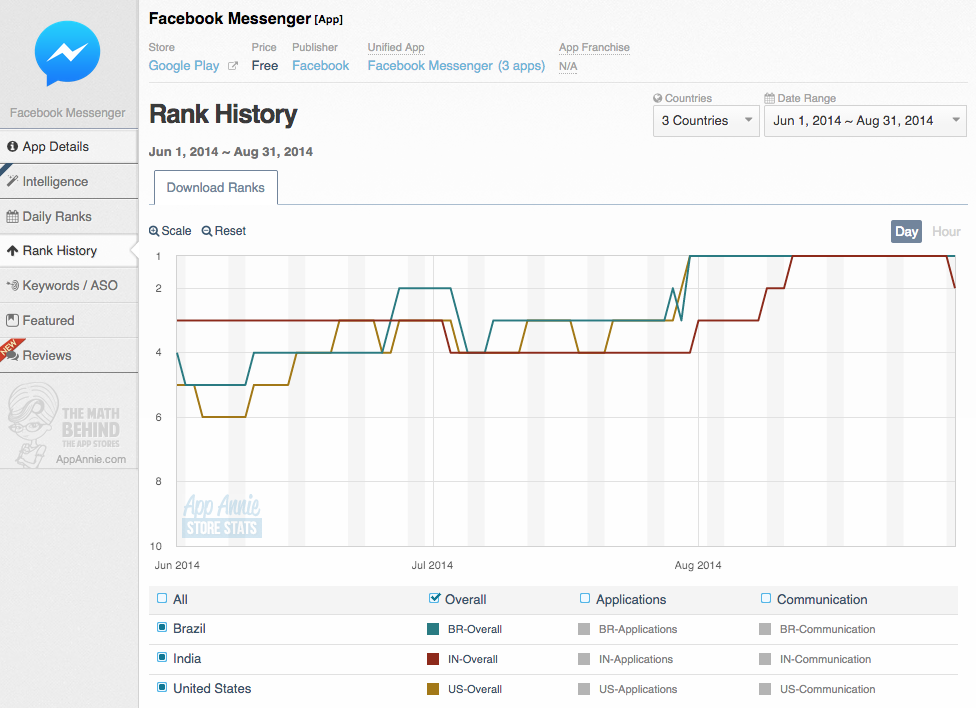 Facebook Messenger took the top spot on Google Play in Facebook's key countries.
Music Apps Ring Up the Revenue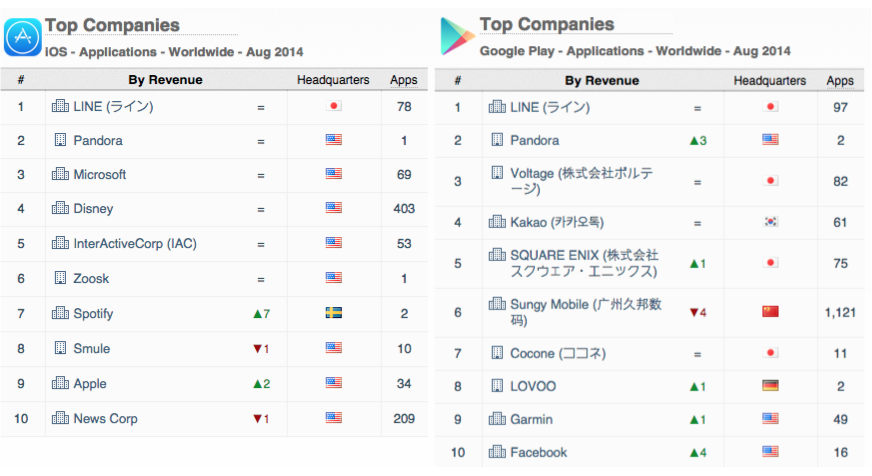 Music streaming apps Beats Music from Apple, Spotify and Pandora drove their publishers up the revenue rankings.
August saw a handful of music app publishers climbing the revenue rankings. Recently acquired Beats Music helped Apple crack the iOS top 10, which coincided with Apple significantly enhancing Beats Music's store visibility. Apple featured Beats Music on the "Apple Apps" list that is shown to owners of new iOS devices when they first go to the App Store, and it also appeared at the top of the "Apps Made by Apple" list on the store's "Featured" page.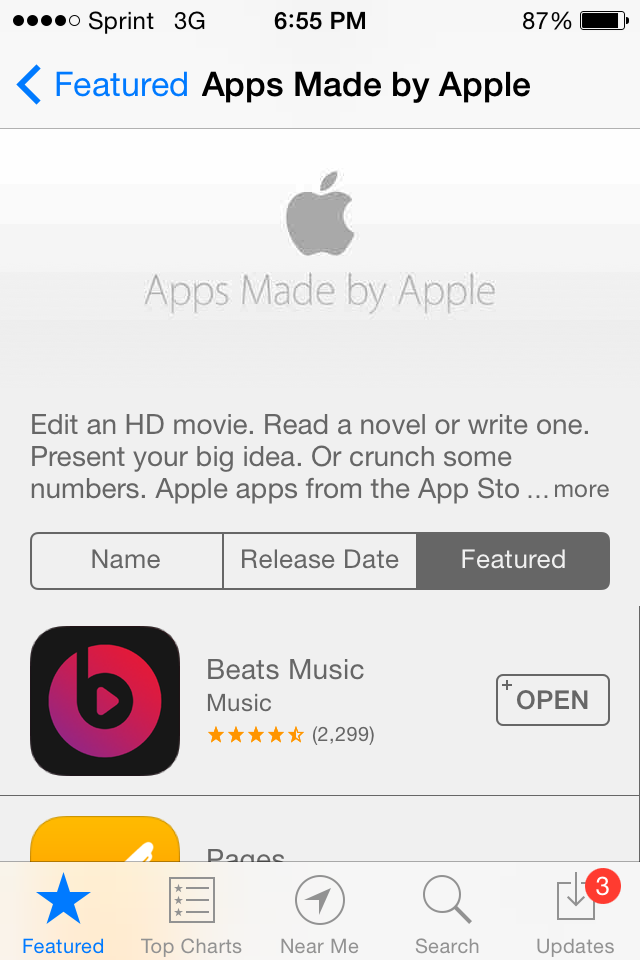 In August, Beats Music was prominently featured in the iOS App Store.
Spotify also entered the iOS App Store's top 10 publisher revenue charts with help from its recent inclusion of in-app purchases on iOS. On Google Play, Pandora moved up to second place in the revenue ranks for publishers. The publisher also signed an agreement with Merlin, the largest organization for independent record labels. It will be interesting to see how this relationship impacts the industry down the line.
Currently, the Beats Music and Pandora user bases are predominantly in the United States, and Spotify does not yet offer in-app purchases on its Google Play app. This leaves plenty of room for all of three of these apps to grow in the future.
"The Voice of China" Helps Tencent Video and TTPod Music Player Strike a Chord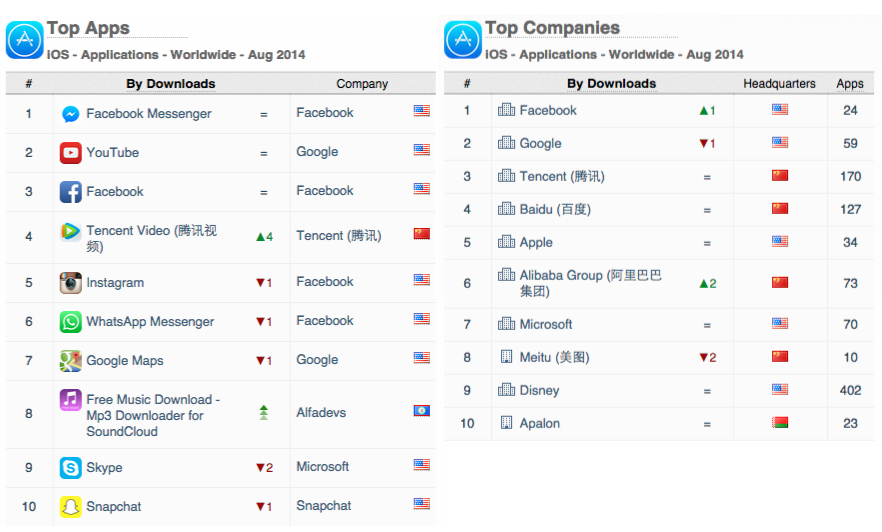 Tencent Video moved into the top 5 for iOS downloads and TTPod Music Player helped Alibaba Group move up the company charts in August.
As reported in our July 2014 Index for Apps, Tencent's exclusive video distribution rights for season 3 of hit TV singing competition "The Voice of China" fueled Tencent Video's big leap into the top 10 of the iOS download charts. In August, the app jumped up four more spots to break into the top 5 as both the iPad and iPhone versions continued to gain momentum. Tencent recently spoke with App Annie about the success of Tencent Video:
"Tencent Video significantly grew its user base and app usage in July and August. This success was driven by our differentiated content strategy focused on TV dramas and entertainment shows, and our ability to attract new users from the entire Tencent ecosystem including WeChat and Tencent News. Our exclusive rights to carry 'The Voice of China Season 3' episodes has been critically important in bringing more users to Tencent Video. We increased engagement through events and promotions, including "shake TV" games co-launched by Tencent Video and WeChat. We look forward to building this app into a new entertainment platform by continuing to grow our broad content library, including native Internet-based content, and a mobile-first strategy that attracts new users to the Tencent Video mobile app." —Tencent
On a similar note, TTPod Music Player, which is published by Alibaba Group, has exclusive audio rights for the popular show. On August 20, the app was updated with new exclusive "The Voice of China" content, and two days later the show's sixth episode featured the final round of blind auditions. These events coincided with a spike in downloads for TTPod Music Player. The app was the largest contributor to Alibaba Group's two-spot rise on the iOS top company charts for downloads.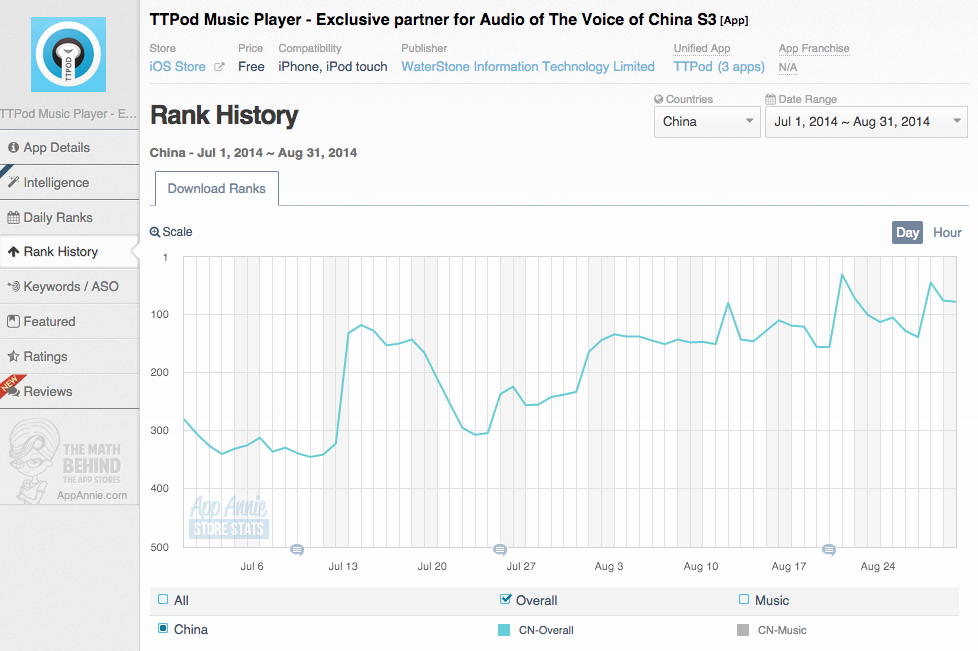 TTPod Music Player's downloads spiked around the same time that new "The Voice of China" content was released on its app and the airing of its final round of blind auditions.
When asked about its partnership with "The Voice of China," TTPod CEO Huang Xiaojie told App Annie:
"TTPod's exclusive integration with 'The Voice of China Season 3' has been great from a marketing perspective. In general, our users have a great experience using our apps and love to share it virally on social media channels, but this partnership with The Voice of China has been great. We've done a lot of work on our marketing and product, and it's helped users associate enjoying 'The Voice of China' with using TTPod. Even after this partnership, we'll focus on creating the ultimate music experience. We'll also keep our content offerings strong with exclusives, user-produced work and a strong recommendation engine collected from users' tastes." —Huang Xiaojie, CEO at TTPod
These trends are in line with Chinese users' relatively high consumption of streaming mobile video, which we discussed in the App Annie June 2014 China Apps Index. Appetite for this content creates significant potential for additional partnerships between publishers and content owners to drive demand for apps in China.
3. More Movers and Shakers

Free Music Download Makes a Smashing Debut
Free Music Download, from publisher Alfadevs, was launched at the tail end of July and quickly climbed the iOS download charts to claim a top 10 spot in August. The app allows users to search, listen to and make playlists with music stored on SoundCloud, a popular audio distribution platform. Free Music Download's key feature is providing users with a simplified way to store tracks directly to mobile devices. The app uses SoundCloud's API, so only officially downloadable content can be locally stored on devices. All other tracks can still be streamed over a data connection through the Free Music Download app.
---
| | |
| --- | --- |
| | Want to get even more advanced with your app store market analysis? Check out our enterprise product App Annie Intelligence. |
---
For those of you who also are looking for an update on top apps in gaming, please check out our August 2014 Index for Games. To keep up-to-date with all the changes at the top of the app and publisher charts, check out the complete set of App Annie Index tables.
Notes:
The company and app rankings reported in the App Annie Index are based on the download and revenue estimates available through App Annie

Intelligence

. The daily rank history charts and the home page feature app data are available to all users through App Annie's app tracker solution,

Store Stats

.

While the Index for Games covers games, the Index for Apps provides app tracking on everything but games. Note that the Top Company rankings in the Index for Games are based solely on the company's games downloads and revenue, while the Top Company rankings in the Index for Apps are based on the company's downloads and revenue from apps excluding games.

Through September 2013, similar versions of the same app with different names (e.g., NYTimes and NYTimes for iPad) were ranked separately. Effective with October data, similar versions of the same app with different names will be unified (e.g., NYTimes and NYTimes for iPad are now aggregated and ranked as a single NYTimes unified app).

Company and unified app rankings in the App Annie Index for Games and Index for Apps are based on individual apps that ranked in the Top 1,000.

In the first month in which an app becomes unified, its rank change in the Index will compare the unified app that month vs. its highest-ranking individual app in the month prior. As a result, rank changes for newly unified apps may overstate ranking increases from July 2014 to August 2014.

In the iOS App Store, an app can be categorized under a Primary Category as well as an optional Secondary Category. If an app has a Primary Category of Entertainment and a Secondary Category of Games, it is a candidate to be included in this Index for Apps. If the app's Primary Category is Games and its Secondary Category is Entertainment, then it will not be included in this Index for Apps; it is a candidate for the Index for Games.

Note that the ranking approach used in the App Annie Index differs from that used in the iOS App Store. In the latter, app rankings for a given category will include all apps whose Primary Category or Secondary Category matches that given category. So an app can appear in the rankings for more than one category within the iOS App Store or in App Annie Store Stats rankings.

In Google Play, an app can be categorized under only one category, so there is no double-categorization.

Occasionally, a publisher may decide to shift an existing app from one category to another category. In these cases, the App Annie Index will rank that app based on how it is categorized in the subsequent month. Given that the App Annie Index has a Games report and an Apps report, the scenario where an app's recategorization could shift it from one Index to another is if its category changes from the Games category to a category other than Games or vice versa.
In the App Annie Index, all apps and publishers are reported under their parent company, where available; for example, the Instagram app is reported under its parent company Facebook, rather than its direct publisher Instagram. Note that if you view the Facebook parent company page on Store Stats, you will see the publishers under the parent company Facebook, including Instagram. The Instagram app will be listed under the Instagram

publisher page.

Company and app rankings are based on the

App Annie DNA

relationships at the time of publications. App Annie DNA relationships are subject to change over time.

App Annie Index revenue rankings are based on revenue that the iOS App Store and Google Play earned from paid downloads and in-app purchases. They do not include revenue earned from in-app advertising.

Certain trademarks and/or images used in this report may belong to third parties and are the property of their respective owners. App Annie claims no rights in such trademarks or images.