| | |
| --- | --- |
| Each month, the App Annie Index highlights the top-performing games and apps for the iOS App Store and Google Play. Our analysis covers trends among the leading apps across countries and categories, and is the industry standard for professionals looking to compare leading apps and publishers. | You might also be interested in: |
This Month's Top Apps
Dubsmash Gets a Boost From Celebrities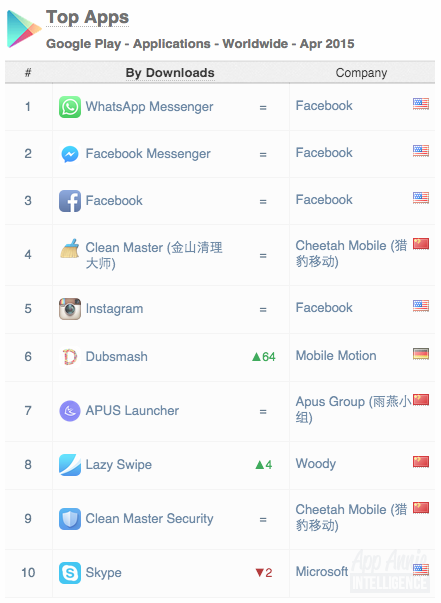 In our December 2014 Index for Apps, we reported the rise of selfie video app Dubsmash, which allows users to record and share videos of themselves mouthing along to well-known phrases and songs. In April, the app saw its second round of explosive growth, reaching #5 on April's combined iOS and Google Play downloads rankings. Starting with a Dubsmash-exclusive tease of Rihanna's new single on March 26, numerous celebrities (including Hugh Jackman, Kevin Hart and Kate Upton) fell in love with the app. This celebrity endorsement helped renew interest in the United States, where it saw a rise in its download ranks.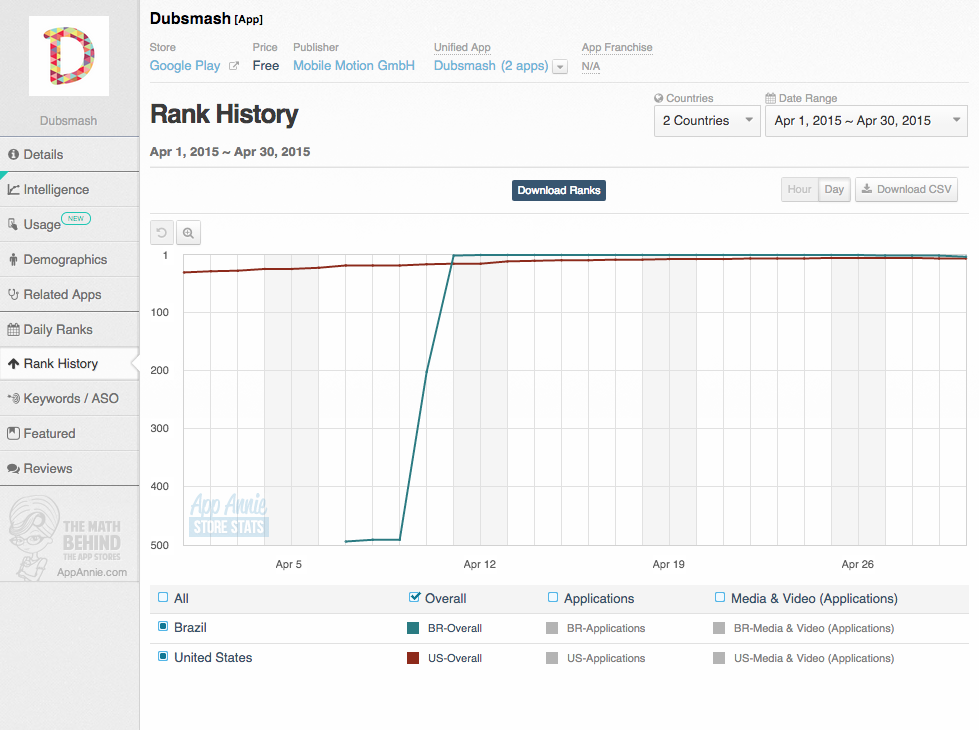 In April, Dubsmash shot up the rankings in Brazil.
However, it was in Brazil where Dubsmash grew at truly neckbreak speeds. The app spent more than a week as Brazil's most downloaded app on both the Google Play Store and iOS App Store. As in the United States, celebrities in Brazil (such as singer Cláudia Leite and soccer star Neymar) used the app to record videos of themselves for their fans' enjoyment. Brazil's attachment to social media (the country has been called the "social media capital of the universe"), combined with the app's focus on sharing through social networking apps, helps explain this remarkable growth.
TurboTax, An April Certainty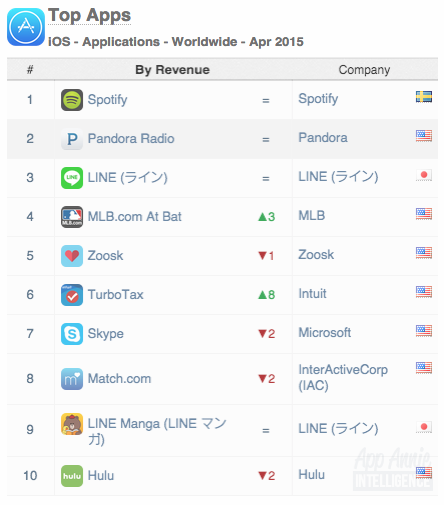 Tax day in the United States has come and gone, and TurboTax leveraged this increasingly mobile-first trend for tax preparation, reaching #6 on our iOS revenue charts. While February is historically a successful month for TurboTax, its biggest spike comes from the mad rush in the last few days leading up to the tax deadline on April 15.
The app offers a simple drag-and-drop interface, integration with the desktop TurboTax software, and the ability for users to take a picture of their W-2 to automatically fill out forms. All said, TurboTax is a prime example of apps blurring the lines between the digital and real world.
The Technology Behind the Index
The information contained in this report is compiled from App Annie Intelligence, the leading market data solution for the app store economy. To see how our app store download, revenue, demographic and usage estimates can help guide your critical business decisions, take a tour or request a demo today.
---

---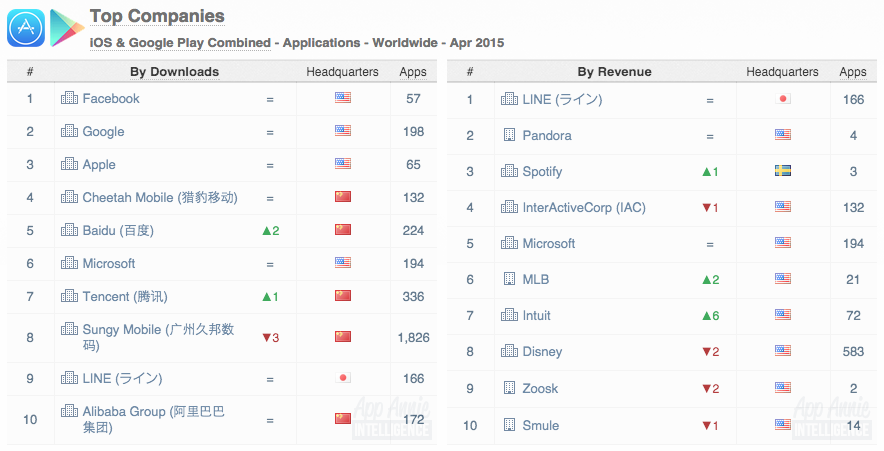 For the complete list of April's top apps and app publishers around the world, click the chart above.
Notes:
The publisher and app rankings reported in the App Annie Index are based on the download and revenue estimates available through App Annie Intelligence. The daily rank history charts and the homepage feature app data are available to all users through App Annie's app tracker solution, Store Stats.

While the Index for Games covers games, the Index for Apps provides app tracking on everything but games. Note that the Top Company rankings in the Index for Games are based solely on the publishers' games downloads and revenue, while the Top Company rankings in the Index for Apps are based on the company's downloads and revenue from apps excluding games.

Company and unified app rankings in the App Annie Index for Games and Index for Apps are based on individual apps that ranked in the Top 1,000.

Download rankings are based on individually downloaded apps and exclude downloads of app bundles. Revenue rankings are based on download revenue from individually downloaded paid apps as well as in-app purchase revenue from both individually downloaded apps and app bundles.

In the first month in which an app becomes unified, its rank change in the Index will compare the unified app that month vs. its highest-ranking individual app in the month prior. As a result, rank changes for newly unified apps may overstate ranking increases from March 2015 to April 2015.

In the iOS App Store, an app can be categorized under a Primary Category as well as an optional Secondary Category. If an app has a Primary Category of Games and a Secondary Category of Entertainment, it is a candidate to be included in this Index for Games. If the app's Primary Category is Entertainment and its Secondary Category is Games, then it will not be included in this Index for Games; it is a candidate for the Index for Apps.

Note that the ranking approach used in the App Annie Index differs from that used in the iOS App Store. In the latter, app rankings for a given category will include all apps whose Primary Category or Secondary Category matches that given category. So an app can appear in the rankings for more than one category within the iOS App Store or in App Annie Store Stats rankings.

In Google Play, an app can be categorized under only one category, so there is no double-categorization.

Occasionally, a publisher may decide to shift an existing app from one category to another category. In these cases, the App Annie Index will rank that app based on its categorization in the subsequent month. Given that the App Annie Index has a Games report and an Apps report, the only scenario where an app's recategorization could shift it from one Index to another is if its category changes from Games to a category other than Games or vice versa.
In the App Annie Index, all apps and publishers are reported under their parent companies, where available; for example, the Plants vs. Zombies™ 2 app is reported under its parent company Electronic Arts, rather than its direct publisher PopCap. Note that if you view the Electronic Arts parent company page on Store Stats, you will see the publishers that roll under the parent company Electronic Arts, including PopCap. The Plants vs. Zombies™ 2 app will be listed under the PopCap publisher page.
Company and app rankings are based on the App Annie DNA relationships at the time of publications. App Annie DNA relationships are subject to change over time.
App Annie Index

revenue rankings are based on revenue that the iOS App Store and Google Play earned from paid downloads and in-app purchases. They do not include revenue earned from in-app advertising.

Certain trademarks and/or images used in this report may belong to third parties and are the property of their respective owners. App Annie claims no rights to such trademarks or images.