It can be surprising which apps rise to the top, there is not one formula or set of rules that apply. We are constantly looking at our data, keeping an eye out for the latest trends taking over the charts. Today we want to touch on the newest mobile gaming app phenomenon, Agar.io. On Monday, it was the #2 iPhone app in the United States Games category based on downloads and ranked in the top 3 overall on iPhone and Google Play in Ireland, New Zealand and France.
Agar.io is a multiplayer strategy action game where players take control of cells. These cell avatars start small but grow each time they devour pellets and other player cells. This creates a competitive nature where players strive to become the biggest cell while avoiding being swallowed by the competition.
A Quick Rise to the Top   
Agar.io has only been live in the App Store and Google Play for three weeks, but has remained a top-ranking game in over 40 countries, including the US, Australia, Canada and the United Kingdom. From July 7th - July 22nd, the game was the #1 download on iPhone and featured multiple times in the Best New Games categories for the US, Canada, Brazil and Turkey. Agar.io also appears as the #1 result when searching for "multiplayer" in the US App Store for iPad.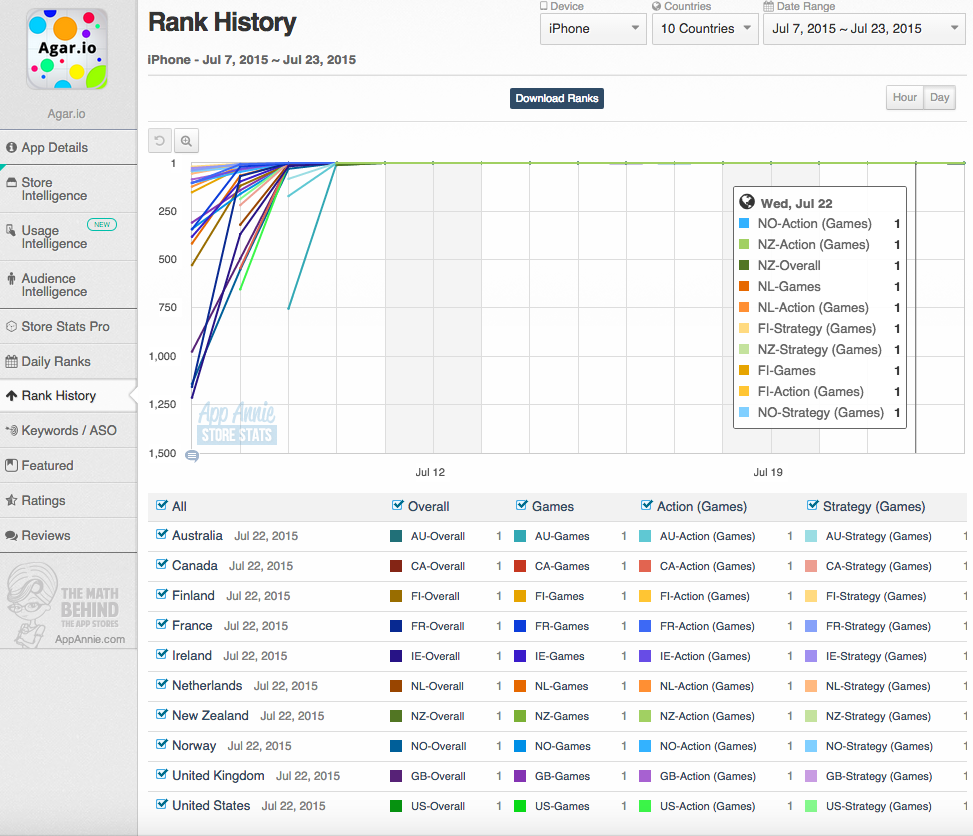 Agar.io jumped to the #1 rank Overall, as well as Games, shortly after its July 7th release.
While many users are discovering Agar.io from store frontpages and searching keywords, others already know that it's a popular game. The mobile version of Agar.io is only weeks old, but was previously released for web browsers back in April.
Agar.io's designer Matheus Valadares (who also goes by the screen names Zeach and M28 on Reddit and Steam, respectively) first launched a Java-based web version of the game among popular online communities, such as 4chan and Reddit. It was through these sites that Agar.io's notoriety grew, eventually being played and recorded by people on video sites such as Twitch and YouTube.
By May, a Steam version was Greenlit by the user community, allowing Valve to work closer with Valadares to publish Windows, Mac and Linux versions. Most recently, in July, Miniclip produced the iOS and Android versions of the game, which quickly reached hit status in its first weekend.
Already a Success
Freely Released on Other Platforms
Agar.io on mobile springboarded from its prior web release. The free web version allowed a broad set of users to test the game. Players that stuck around spread word of the game through social media, online message boards and other channels. Branding was created by the community already engaging with and competing in Agar.io. With millions turning Agar.io on the web viral, it's no surprise it had such a high mobile download rate.
While Agar.io reached high numbers quickly, re-releasing on mobile isn't new. The puzzle game Snood was a continually downloaded freeware PC game during the late 1990s. It was later distributed by Electronic Arts for their Pogo.com online gaming site and eventually released on iOS. Snood has since enjoyed a healthy place on the App Store, still ranking in the top 100 US Puzzle games years later.
What's also interesting about Snood is that its gameplay is inspired by past games, borrowing aspects from Taito's Puzzle Bobble, first released in 1994 for arcades and on iOS since 2009. This isn't completely surprising, as other mobile games are influenced by traditional gaming predecessors on web or console. The ever-popular Angry Birds has mechanics similar to the free flash game Crush the Castle, but replaces the latter's trebuchet with a slingshot. Crossy Road, released last year on iOS and currently ranked as the #3 Family game on iPhone in the US, is at its core a spruced-up Frogger.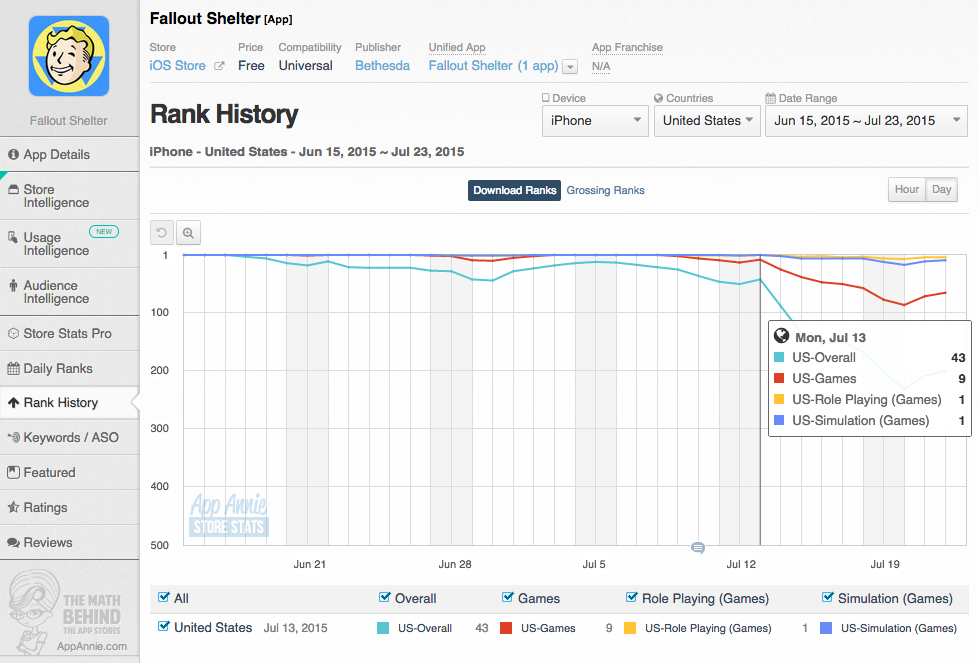 Released shortly after the E3 Fallout 4 trailer, Fallout Shelter has been the top-ranked iOS Role-Playing and Simulation game app for almost a month.
There are other times when a mobile game already has a strong brand. Fallout Shelter received an impressive growth rate in downloads thanks to being part of the popular role-playing game (RPG) series. Riding on the heels of the Fallout 4 announcement, Fallout Shelter stayed the #1-ranked US Role Playing and Simulation iOS app for nearly a month, from its June 14th release to July 13th, and was the #4 iOS Game worldwide in our June 2015 Games Index.
What's intriguing about Agar.io is it doesn't have the long history of branding or gameplay that these examples possess. Those foundations took others years, whereas Valadares and Miniclip amassed a staggering following in a few months.
Simple, Addictive Gameplay
Even as a new game, Agar.io's gameplay was a breeding ground for social interaction and community building. As mentioned earlier, all players take the role of cells. At first, each cell is small and quick but gets bigger by eating pellets. With each pellet or enemy cell eaten, the player cell gains mass, making them larger but also slower. This may seem like a complete detriment, but cells can shoot out half their mass to attack at range or split into a group of smaller cells. When a cell loses all of their mass, it's game over and they must restart as a new cell. It's that simple… and addicting.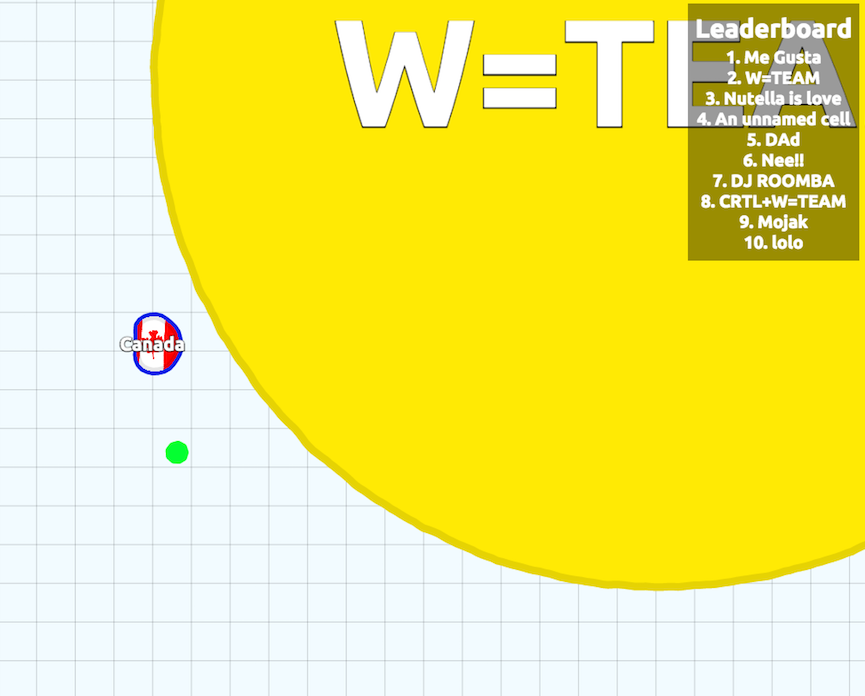 Players can name their cells and use it as a way to form teams, leading to rivalries.
Finally, all players can freely name their cells. Some use this as a way to form de facto teams or clans with other players. Certain set names also give cells identifiable skins. Naming your cell after countries like Japan or Canada will make your cell appear as that nation's flag. There are even Reddit meme skins, such as Doge and Wojak. All of this helps provide a sense of teamwork, familiarity or even rivalry.
These simple mechanics make Agar.io a very easy competitive multiplayer game to get into. The user base is further enticed to reach the largest mass by the game's leaderboard, which displays the 10 largest cells in the game. Conversely, some players will actively help others by feeding them their own mass.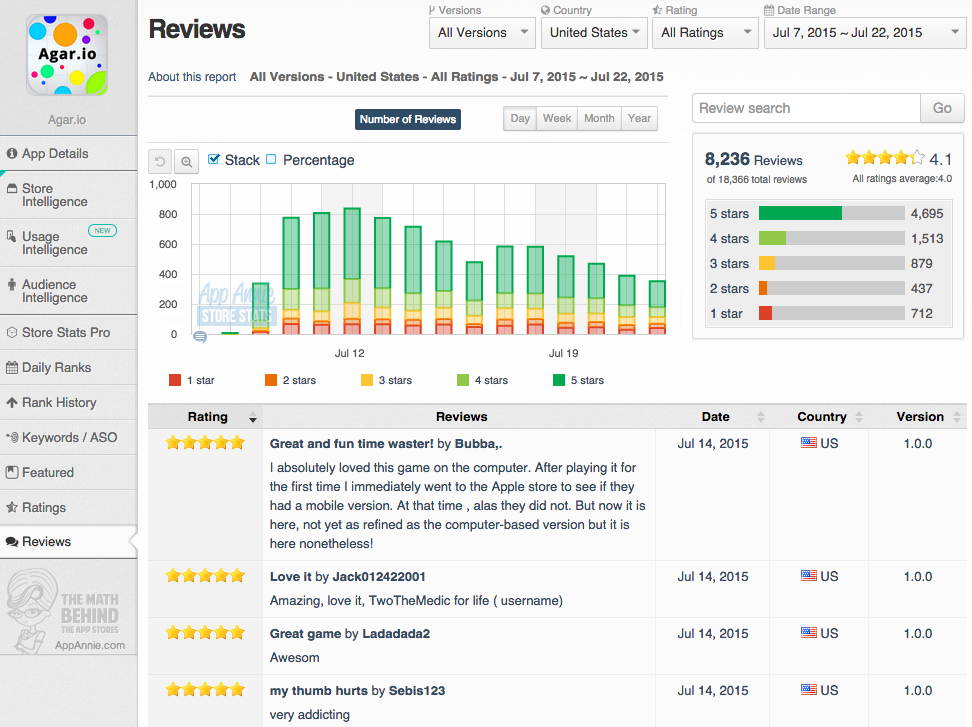 Agar.io has received 5,472 5-star user reviews on the App Store, many of whom loved trying the gameplay from the original web release.
Over half of Agar.io's 8,000 iOS user reviews have praised the addictive and fast mechanics.
Socially Trending
Agar.io was born on message boards, Reddit and 4chan. It was there that the player base could interact with each other (and even directly with the developer). This soon flooded over to social media websites like Facebook and Twitter, where Agar.io spread via word of mouth. From there, Agar.io was broadcast by popular YouTube personalities, such as PewDiePie and Markiplier, whose video series garnered millions of views and likes. The video streaming site Twitch has dozens of channels featuring or dedicated to promoting Agar.io, showcasing influential gamers' daily reactions to the game.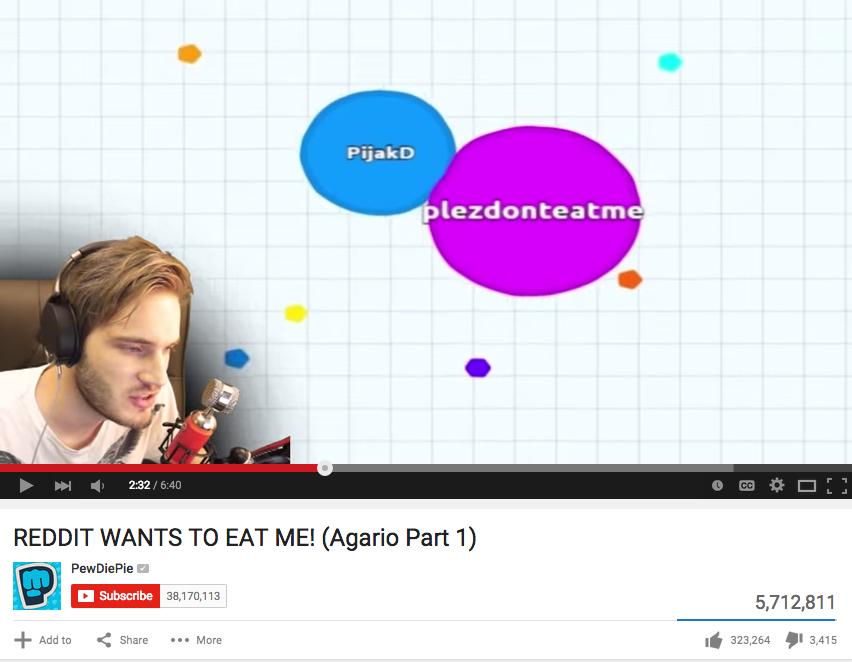 YouTube personality PewDiePie recorded a series of Agar.io playthroughs. Each video received millions of views, furthering its publicity.
Agar.io first existed and bolstered on large online communities, making it a perfect project for Miniclip. This isn't the first web game the publisher brought to mobile, having ported many of their own web games to iOS and Android.
What It Means for Other App Developers
Agar.io's story of becoming popular through social communities is fascinating, but it doesn't have to be unique. Other devs looking to make interesting apps can learn a lot from Matheus Valadares, Miniclip and all of the aforementioned games. Instead of pouring resources right into iOS or Android development, you could start on web browsers to gauge interest and test mechanics. Agar.io has simple and addicting multiplayer gameplay that was easily tested and tweaked in web format.
Prototyping on the web will foster important community feedback. Reddit is a great place to get quick exposure and user input. If that frontier seems too daunting, start with other developer communities such as GitHub and Stack Overflow. That way you'll have an even tighter product before it goes live to the public. As your app becomes more popular, push further branding with Twitter and other social media channels. With time, your app's notoriety could pick up among influential users who will share it with their large community base.
By creating a great web app or game first, when your game hits mobile, you'll already have user backing and marketing in place. Future apps can recreate the success of Agar.io, reach top ranks and have millions of installs in their first month.
Want More? App Annie Has It
Subscribe to our blog to see more app industry reports, conference updates and product news. We love hearing from our readers, so share your questions and comments below or on Twitter.
Want to perform your own analysis? Create a free Store Stats account or request an Intelligence demo today.