Yesterday's acquisition of WhatsApp by Facebook has caused a whirlwind of activity in cyberspace, and rightly so. In its press release, Facebook declared the deal to be valued at $4 billion in cash and $12 billion in Facebook shares, plus an extra $3 billion in restricted stock units to vest over the next four years. As App Annie CEO Bertrand Schmitt discussed with Bloomberg, the question is: how will this change the industry?
While pundits go back and forth on the pros and cons, we wanted to present some of the data that led up to this event and congratulate the WhatsApp team. As a note, WhatsApp and App Annie shared an investor, Sequoia Capital.

Enter: The Suitor
It will come as no surprise that Facebook has been the clear leader in the social networking category for some time. Its dominance and stickiness has allowed it to grow to a massive size internationally.
Facebook's User Base

1.23 billion monthly active users as of December 31, 2013
945 million monthly active users who used Facebook mobile products as of December 31, 2013
Source: Facebook Newsroom
As with any high-growth company, it must innovate on a regular basis. That innovation can come from within, or through acquisition. In the case of Facebook, acquisitions have been a key part of its strategy, as shown by the 45 acquisitions it has completed in the history of the company. WhatsApp is the latest in that string, and very likely one of their most strategic to date. While Facebook is certainly a part of the social networking space, including its Instagram and Facebook Messenger apps, it gains a significant presence in new markets with an active user base.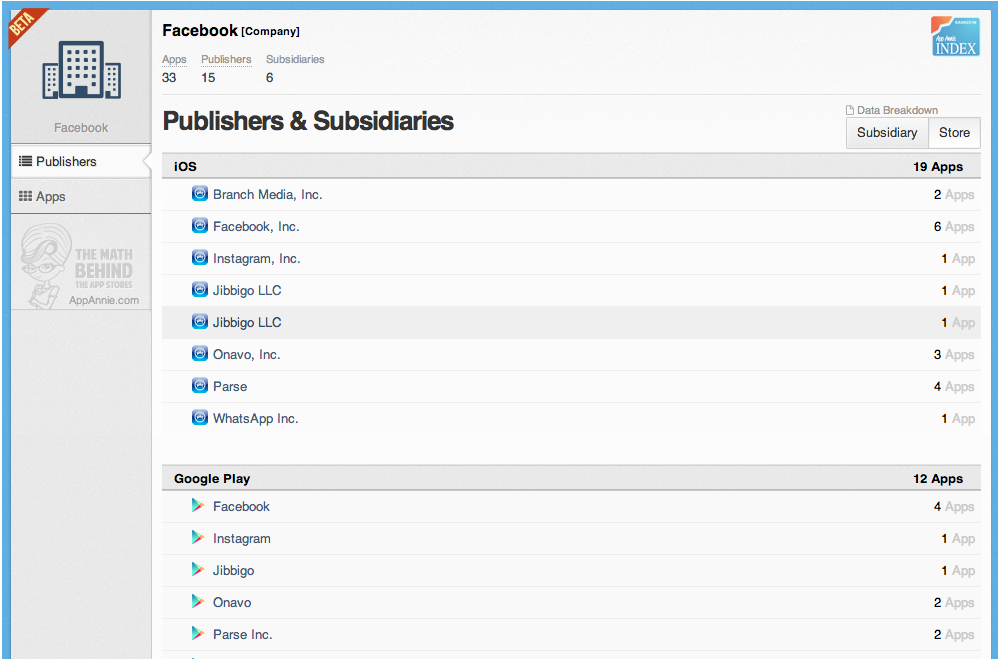 Facebook's portfolio of apps includes its dominant social network app, its own messaging service, image capture and sharing apps, and the recently-released Paper reader.

450 Million Reasons to Want WhatsApp
Now to the second part of this power couple. WhatsApp was formed five years ago and has seen continuous growth, reaching a reported 450 million users, of whom 70% are active on a given day. That's a massive number, and shows not only the importance of social messaging apps, but equally their move into a top-tier mobile app.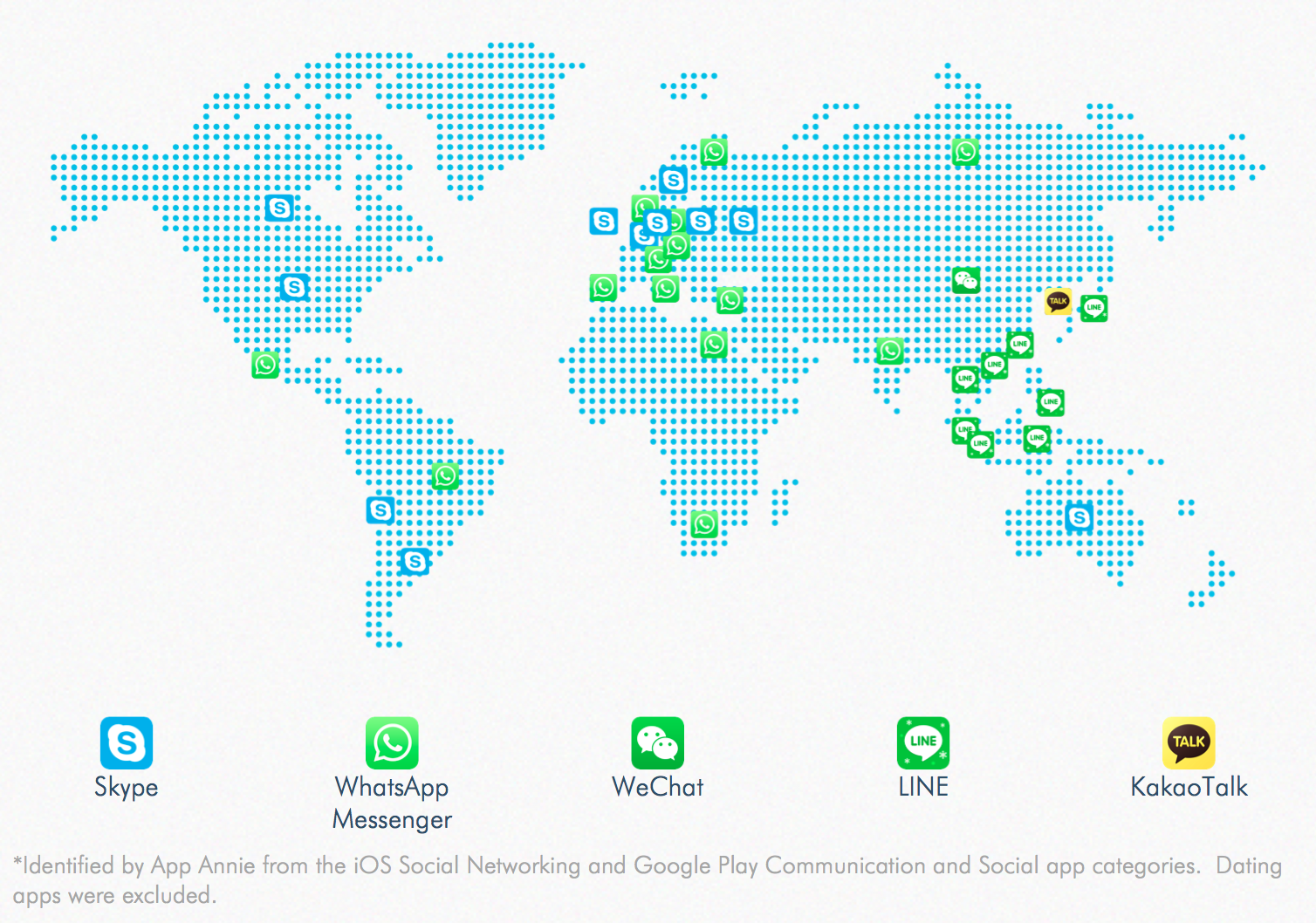 * Source: App Annie Intelligence
Top Messaging* Apps by Country Based on Combined 2013 iOS App Store & Google Play Revenue, taken from the App Annie Index: 2013 Retrospective.
WhatsApp Messenger has a strong presence in many countries in Europe, the Middle East, South Africa, South America and India.
While the above graphic gives a representation of where WhatsApp is used, it doesn't show its relative strength in these countries. WhatsApp has historically had significant presence in Western countries, especially in Europe, but a good portion of the recent growth is coming from emerging countries such as Brazil, India and Mexico.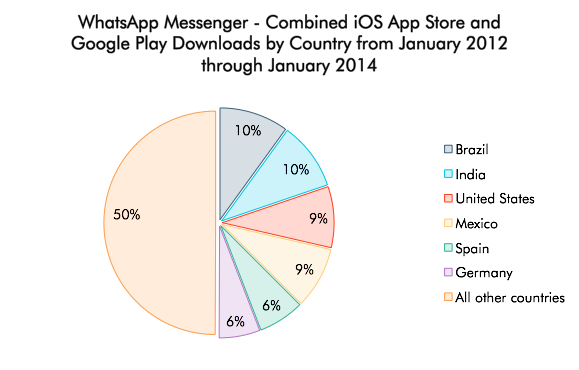 * Source: App Annie Intelligence
Already successful in Western markets, WhatsApp Messenger has had increasing success in emerging markets such as Brazil, India, and Mexico since 2012.
This growth is further amplified by a recent dramatic uptick in WhatsApp users. In the last four months of 2013 alone it added 100 million active users to its service. In order to best show this hockey stick growth, we've used App Annie Intelligence to create an indexed chart showing growth over the last two years.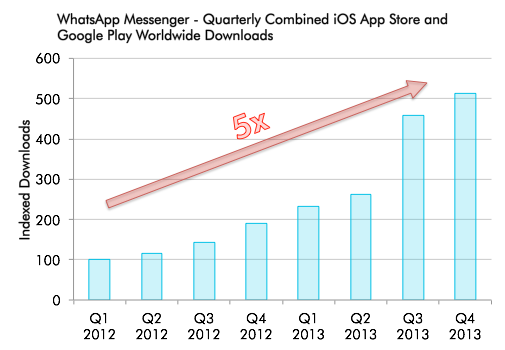 * Source: App Annie Intelligence
WhatsApp Messenger was already showing strong quarterly growth before downloads skyrocketed in the second half of 2013.
WhatsApp Messenger's growth in these emerging markets over the last two years is also reflected in the distribution of its downloads between the iOS App Store and Google Play. WhatsApp Messenger has seen the majority of its growth in downloads occurring on the Google Play platform, and a considerable proportion of this growth in countries that are rapidly emerging in Google Play, such as Brazil and India.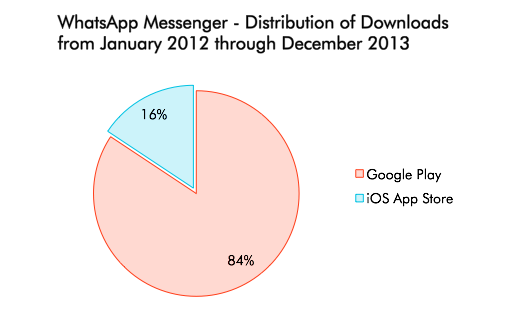 * Source: App Annie Intelligence
WhatsApp Messenger's recent growth has come primarily from Google Play.
What's It All Mean?
The acquisition has already paid dividends for WhatsApp, with its United States iPhone App Store ranking rising in the hours soon after the announcement was made: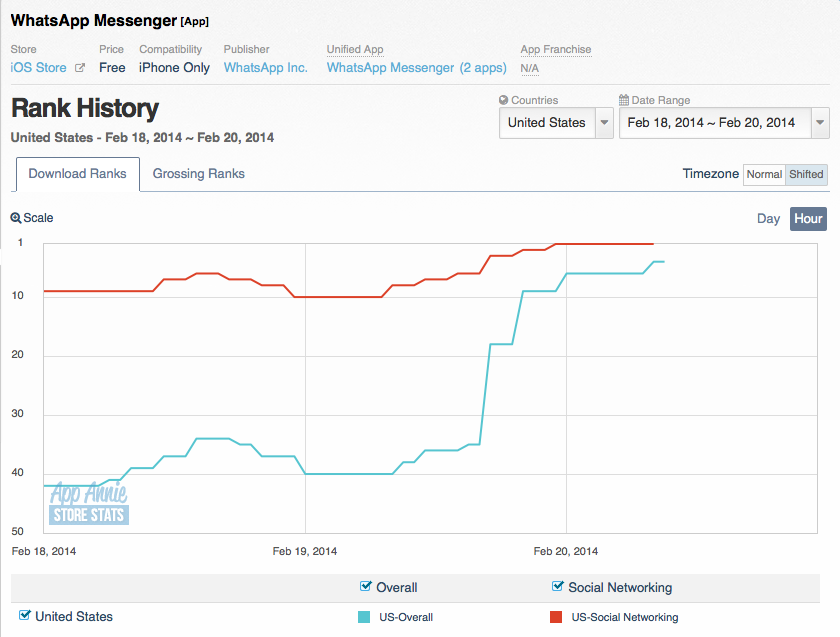 WhatsApp Messenger's download rank in the United States iOS App Store jumped considerably after news of the acquisition broke on February 19.
Even more impressive is that WhatsApp also saw major ranking boosts in China, Japan and South Korea, where fellow messaging platforms WeChat, LINE and KakaoTalk have strong footholds.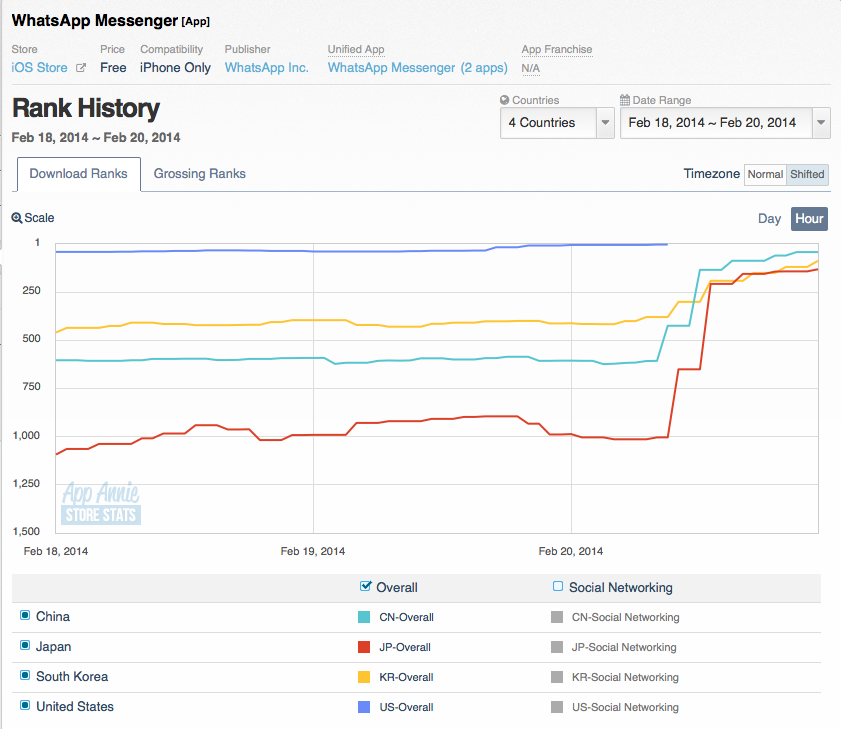 The day following the acquisition announcement, WhatsApp Messenger's rank also began to climb in the iOS App Store in markets such as China, Japan and South Korea.
Setting the Stage for a Global Offensive
Throughout 2013, WhatsApp Messenger made gains in the monthly download ranks, reaching #2 on Google Play and #8 in December 2013 on the iOS App Store for apps outside of games. This also propelled it to become the most downloaded messaging app worldwide in 2013.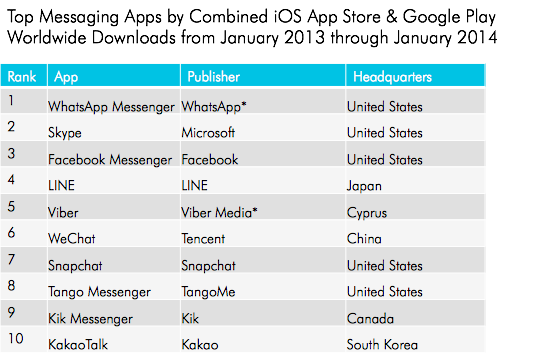 * Source: App Annie Intelligence
* WhatsApp and Viber Media were both acquired in February 2014. They are displayed as independent publishers here, as rankings for this table were determined from downloads accrued prior to the acquisitions.
We observed WhatsApp's global rise throughout 2013 (read more in last month's App Annie Index 2013 Retrospective report), where its messaging app climbed into the Top 10 non-game app charts by downloads and revenue on iOS App Store and Google Play. It has performed exceedingly well in Europe and parts of Asia, positioned as the top grossing messaging app in the United Kingdom, Germany, and even Russia.
We're very excited by all this news as it confirms a trend we seen for some time, namely that in addition to gaming, the social messaging platform space is the hottest space when it comes to mobile. To perform your own research on the space, we encourage you to open an App Annie Store Stats account for free today.
Regards,
The App Annie Team

Notes:
The publisher and app rankings reported in the App Annie Index are based on the download and revenue estimates available through App Annie 

Intelligence

.  The daily rank history charts are available to all users through App Annie's app tracker solution, 

Store Stats

.

Similar versions of the same app with different names are unified and ranked as a single app (e.g., Skype for iPhone and Skype for iPad are aggregated and ranked as a single Skype unified app).
All apps are reported under their parent publishers, where available; for example, the Skype app is reported under its parent publisher Microsoft, rather than its direct publisher Skype. Note that if you view the Microsoft parent publisher page on Store Stats, you will see the publishers under the parent publisher Microsoft, including Skype. The Skype app will be listed under the Skype

publisher page.

Any non-App Annie trademarks or images used in this report are the property of their respective owners.  App Annie claims no rights in those trademarks.