Consumer behavior is driving the growth of retail apps. Our latest report covers global trends and best practices for retailers.
Mobile has disrupted how retailers do business, changing how consumers research and make purchases and giving retail brands new ways to connect with customers. Leading retailers are taking an omni-channel approach and incorporating mobile apps to meet consumer demand and expectations.
Going mobile is a smart play. As of a year ago, half of mobile users used their phones as part of the purchase process.
Savvy retailers are using sophisticated mobile technologies to engage customers via apps. Beacons may be used to trigger push notifications with special offers once a patron enters a store. Store layouts are incorporated into the app experience to pinpoint where a specific item is located. And multiple mobile payment options like Android Pay and Apple Pay make checking out a breeze.
These innovations are a few of the ways retailers are making the shopping experience easier (and faster) for consumers. Complementary retail apps like RetailMeNot — which can enhance the shopping experience by helping shoppers discover and organize coupons across several retailers — are giving consumers more options than ever, and helping shape the future of retail.
Our latest report, The Growth of Retail Apps — What Retailers Can Learn From Top Apps, takes a closer look at retailers in the United States, South Korea, Japan, the United Kingdom, Germany and France. We examine the impact of mobile apps over the past 12 months to identify trends influencing each market.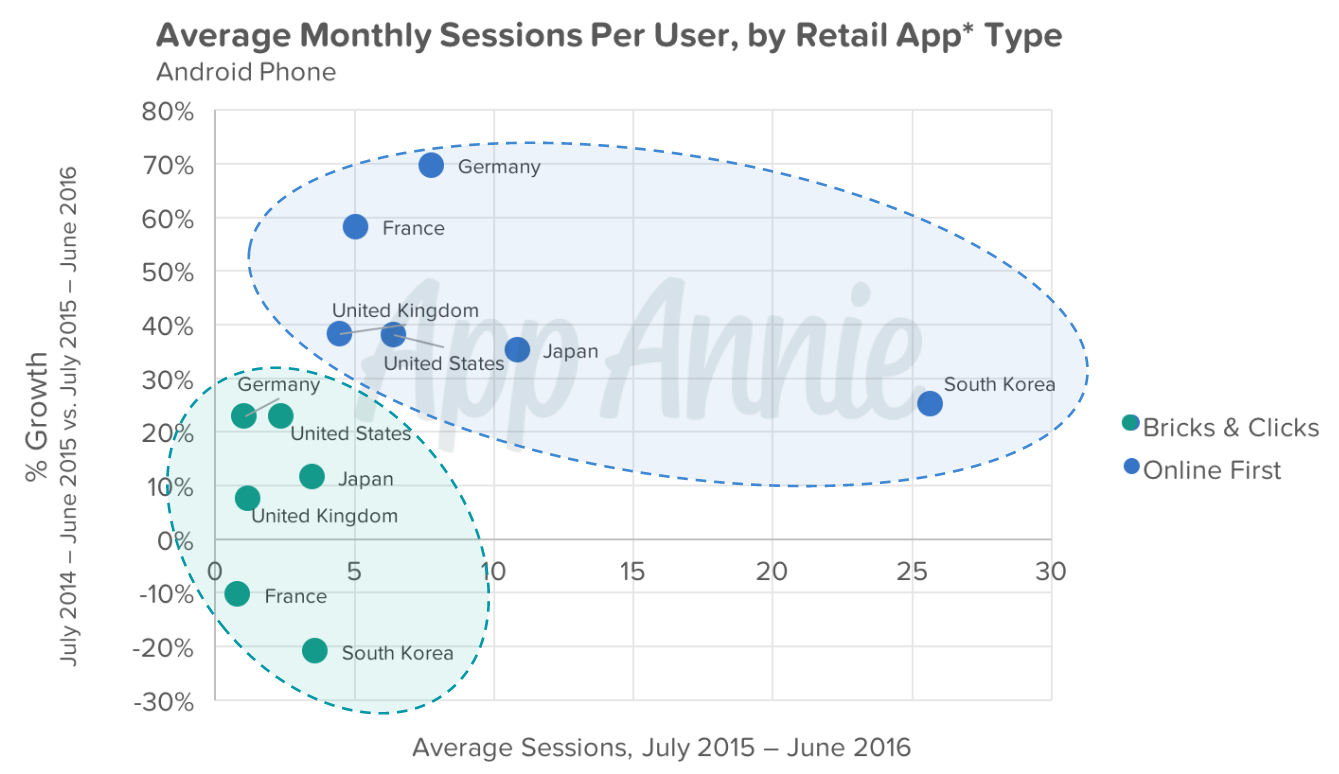 Download to discover:
The growth of total time spent and average monthly sessions in bricks-and-clicks retail apps, and how this compares to online-first retailers
The most-used retail apps across key markets in North America, Europe and Asia
What brick-and-mortar retailers need to know to successfully make the transition to mobile
The four best practices top retail apps must embrace
To get the full report, click the download button below:
Learn how to perform analyses like this and deepen your understanding of the app market. Request a free demo of App Annie Intelligence.