As governments and businesses step up their efforts to stop the coronavirus pandemic, consumers on lockdown at home are finding novel ways of using mobile.
As the scale of the Coronavirus outbreak becomes clear, governments and businesses have stepped up their responses, which include more stringent social distancing protocols. Meanwhile, consumers on lockdown at home continue to explore new ways to leverage mobile to do their shopping, manage their finances, stay fit, be productive and stay entertained during this trying time.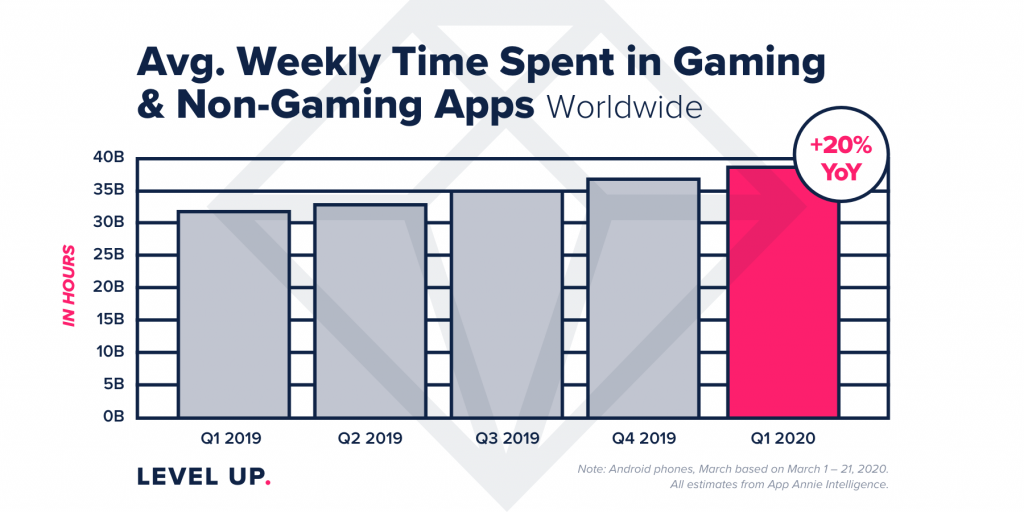 Daily time spent in mobile grew across the world as the outbreak expanded in Q1 2020. In China, the first country to deal with the impact of Coronavirus, daily time spent grew 30% to 5 hours per day on average from 2019. Italy, the next most affected market, had the second highest jump at 11%. Worldwide, average weekly time spent in apps and games on Android phones grew 20% year-over-year in Q1 2020.
As China begins to recover, markets like France, Germany, Italy, UK and the United States are continuing to work to control the outbreak. Time spent in apps in Italy grew 30% in March from Q4 2019, while France, Germany, and the US have all had 15%, 10% and 10% growth respectively. With governments across the world implementing more stringent measures, we expect to see time spent further increase globally.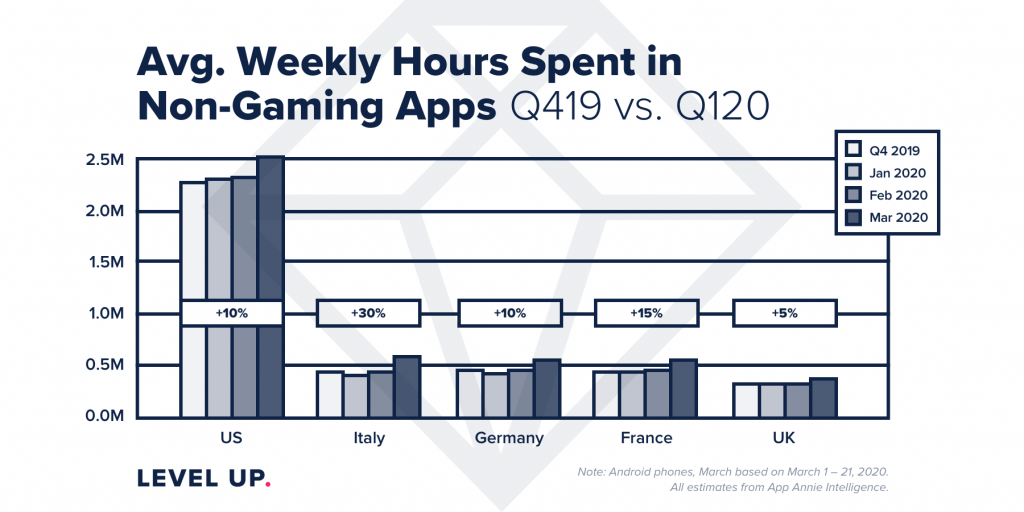 We have also seen growth in Consumer Spend and Downloads. In Q1 2020 Consumers spent over $23.4B through the app stores, the largest quarter ever in terms of consumer spend. There were also over 31B new app downloads, a 15% increase from Q4 2019. 
Consumers Downloaded 22.5 Billion New Apps on Google Play  in Q1 2020
Google Play downloads grew 5% year over year to 22.5B, while iOS downloads grew 15% year over year to over 9B new downloads for the quarter. On Google Play non-gaming apps accounted for 55% of all downloads, while on iOS the figure was slightly higher at 65%. For a deep dive into the gaming category check out our gaming analysis.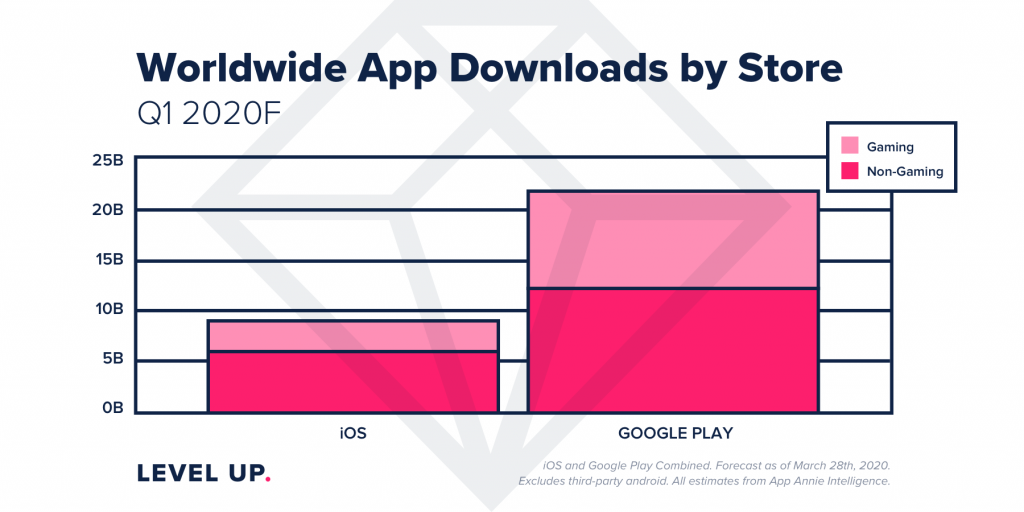 On Google Play, India and Brazil were the two largest markets by downloads in Q1 2020. In terms of growth, Brazil, India and Vietnam were the biggest drivers of change from Q4 2019. Meanwhile, on iOS, China and the United States were the two largest markets by downloads, as well as the main drivers of download growth quarter over quarter. 
Italy, with a 15% quarter-over-quarter growth in downloads on both Google Play and iOS, has been the focus of Europe when it comes to the Coronavirus outbreak. Having been one of the first markets outside of Asia to enter lockdown, it will be important to watch as a leading indicator for the effects we can expect to see in other markets like the UK, France, Germany and the US in the coming weeks. 
On a category level, Games, Tools and Entertainment were the largest by downloads on Google Play. While the Games category was the largest driver of download growth quarter over quarter on Google Play, changing consumer behaviors are translating to strong growth in often overlooked categories. Health & Fitness, Education and Business have all seen strong quarter-over-quarter growth in downloads of 40%, 35% and 30% respectively. As working from home becomes the norm, and more schools and gyms begin to close, we've seen an increase in downloads of apps that allow consumers to maintain normality while staying at home. Conferencing and collaboration tools such as ZOOM, Google's Hangouts Meet, and Microsoft Teams have seen strong adoption. These companies have seen the current demand for their product and many are offering varying versions of free access for consumers to trial.
On iOS, Games, Photo and Video and Entertainment remained the largest categories by downloads. The Games category was also the largest driver of download growth. Similar to Google Play, Education, Business and Health and Fitness all had strong quarter-over-quarter growth of 40%, 35% and 30%. Health and Fitness apps like 30 Day Fitness, Calorie Counter by YAZIO and Keep were the most downloaded during Q1 2020 on iOS.
Consumers Spent $15B on iOS in Q1 2020
Consumer spend on iOS grew 5% year over year to $15B in Q1 2020, and 5% year over year on Google Play to over $8.3B. Non-gaming apps accounted for 35% of consumer spend on iOS and 15% on Google Play.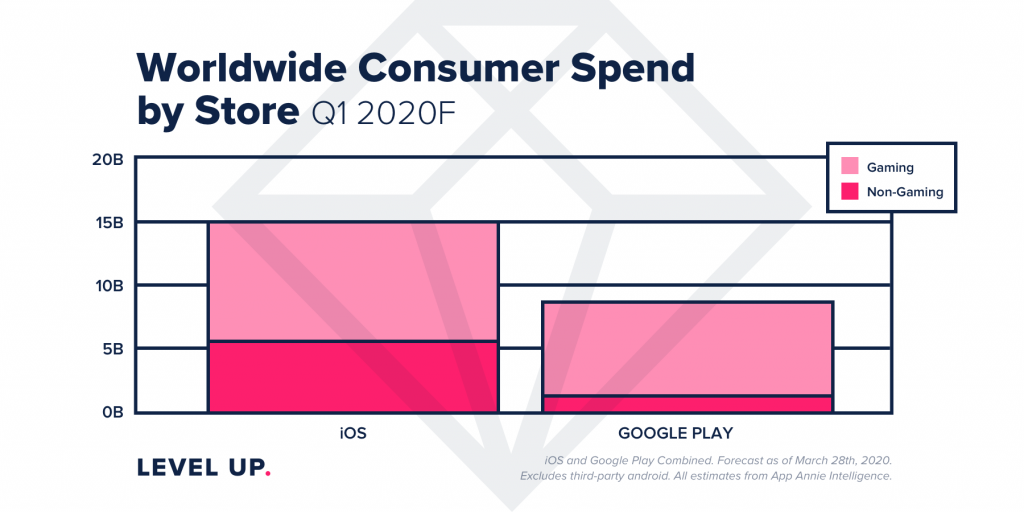 The United States and China were the biggest contributors to consumer spend on iOS in Q1 2020, as well as the largest drivers of quarter over quarter growth. On Google Play, the US, Japan, and South Korea were the three largest markets, with the US and South Korea driving the largest growth in consumer spend from Q4 2019. 
On Google Play, Games, Social and Entertainment were the largest categories by consumer spend. The Games, Entertainment and Social categories had the strongest year-over-year growth in consumer spend. Growth in the Entertainment category was driven by Disney+ and Twitch. Disney+ recently launched in a number of markets in Europe, so we expect to see continued growth in consumer spend, especially after many consumers complete their free 7-day trial. We've also seen the popularity of Discord rise. Traditionally a communication app for gamers its popularity in France skyrocketed to 7th among all apps and games by daily iPhone downloads on March 30th, up from 91st on March 1st. Discord has seen similar growth in Spain and Germany.   
On iOS, Games, Entertainment and Photo and Video were the 3 largest categories by consumer spend. Photo and Video has seen strong year-over-year growth, with consumer spend doubling since Q1 2019. TikTok's meteoric rise in 2019 is a key driver of this. 
Top & Breakout Apps of Q1 2020
Disney+, originally launched in the United States on November 12th, has seen strong adoption throughout Q1 2020. It launched in Europe on March 24th, and generated about 5 million downloads across the 7 new European markets including the United Kingdom and Germany, on the first day. 
ZOOM Cloud Meetings, has become a household name during the current period of social distancing. Primarily used as a remote calling service, it has now expanded past its professional purpose to board game nights, and even supporting a social network for playwrights. As of March 31st, 2020 ZOOM is the top ranked business app by iPhone daily downloads in 141 markets, up from just 1 market at the end of Q4 2019. 
Houseparty has seen explosive growth, filling the gap created by social distancing. While apps like ZOOM and Microsoft Teams are increasingly being used in personal life, Houseparty focuses on socializing. The ability to play a number of games during calls is what really sets the app apart. In the week starting March 15th, Houseparty downloads globally grew 735x from the week prior.
The Coronavirus outbreak has caused seismic shifts in the way consumers and businesses interact. It's more important than ever for brands to have a strategy in place to help them win on mobile. To stay up to date, sign up for our webinar on April 8th at 11 am PT/ 2 pm ET or 2pm BST / 3 pm CET for our readers in Europe. 
To explore the latest mobile trends that will help you win on mobile, sign up for a free App Annie account: 
Update: We have temporarily removed the ranks from our blog post containing the ranking of Pinduoduo and Taobao to do additional data checks needed for these two apps.