When Apple introduced the Apple Watch, the company showed an introductory video that brimmed with grand imagery — majestic sweeps of planet Earth viewed from space displayed on its face, slow-motion closeups of hypnotically undulating bands, and a deliberately advancing field of tumbling timepieces showcasing the variety of designs. For an encore, Apple shared narrated clips dramatically capturing the manufacturing essence of the watch's gold, steel and aluminum editions, all suitable fanfare for what Tim Cook described as "the next chapter in Apple's story."
Yet the company's recent TV spots that have led up to it promoting its wearable in an iPhone bundle deal could not be more different. Warm, playful and personal, their vignettes offer only glimpses of Apple's and third-party apps, yet enough to hint at the range of scenarios in which the device can integrate into consumers' lives and offer practical experiences. Indeed, a look at the progress of Apple Watch reveals what has been a steady path toward a robust and diverse library.
iOS Influence and Device Optimization
This contrast — between unique device and extended application — is reflected in the state of the watchOS catalog. Back in June when Apple first announced native app capability for Apple Watch, App Annie noted that there were 6,352 total Apple Watch apps with the leading categories being Utilities, Games, Productivity, Lifestyle and Health & Fitness. The leading contributions came from dominant iOS category crossovers as well as from categories optimized for the device. Games, for example, leads all iOS app categories while Health & Fitness ranks much higher in the watchOS category rank (#3 after a steady rise) than it does for iOS (#9).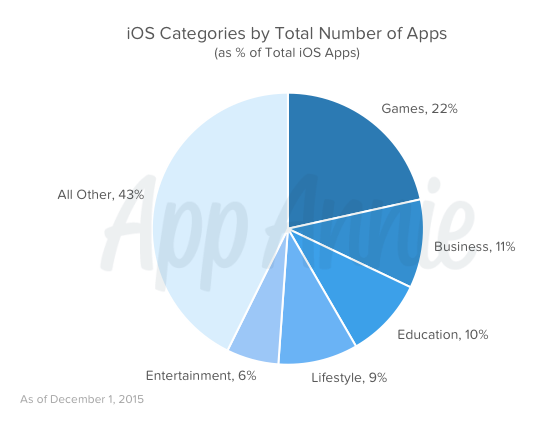 As of December 1, the number of Apple Watch apps has more than doubled and is approaching 15,000. And it's not just the number of apps that has changed. The evolution hearkens back to third-party iPhone apps, which started as websites hosted elsewhere, but exploded when created natively for the platform. Most notably, this has helped Games overtake Utilities as the leading category, reflecting stronger parallels with iOS.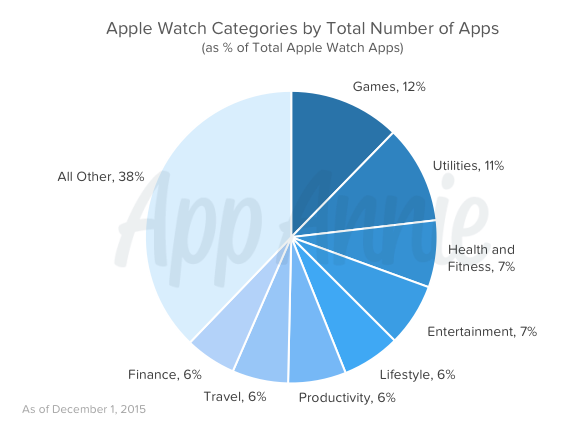 When compared to iOS category share, the Apple Watch app library shows lower concentration at the top. The top five watchOS categories command 44% of the total app count while the top five iOS categories represent 57% of the total. That's largely due to Games which, while growing rapidly, still represents less than half the share on watchOS as it does on iOS. Only one category — Catalogs, which wouldn't play well to the watch's sub-2" display — has less than 1% share of the watchOS total whereas three categories (Catalogs, Weather and recently launched Shopping) claim less than 1% of the iOS total.
The proliferation of Weather apps, incidentally, also illustrates the combination of category crossover (in this case of a small category) and Apple Watch target usage, placing four spots higher in the category rankings on watchOS than on iOS and garnering the highest ratio of watchOS to iOS apps.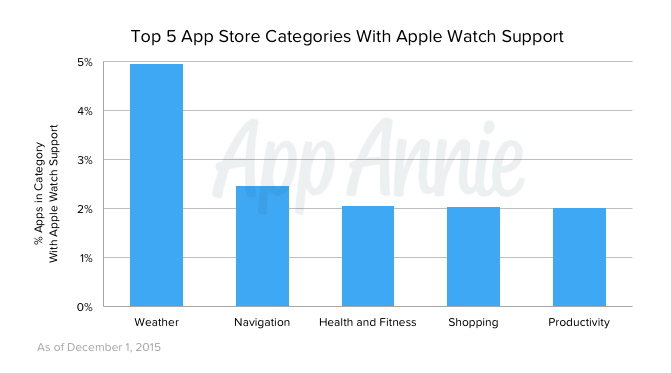 Platform Expansion and Category Skew
With the Apple Watch platform being less than a year old, the number of watchOS apps represents a small fraction of the massive iOS catalog. Many early apps have come from successful iOS developers that have a retention incentive and financial resources to risk, yet they minimize that risk with app brand recognition and a large installed base for promotion.
A recent example of this is the Vine app update released by Twitter at the beginning of the month. Twitter debuted the Apple Watch app alongside a new feature that allows users to remix the audio in a Vine clip. The feature is supported on the Apple Watch app along with the ability to get updates from favorited Vine users. Twitter gets to promote a new feature via the Apple Watch app, which draws upon the large user base of Vine (a Top 150 iPhone app in the US according to Store Stats).
Still, the Apple Watch category mix will and should show variation versus iOS apps. The wearable's hardware constraints stand unique among Apple products. Moreover, iOS developers face unprecedented choices in terms of where to expand beyond their current iPhone apps. In addition to Apple's CarPlay iOS extension and game-friendly tvOS platform, there are always a bevy of new iPhone-relevant technologies such as HomeKit and Metal to consider.
Still, as the Apple Watch installed base continues to grow, more developers from large categories will jump in inspired by Apple's track record in app monetization. A greater percentage of iOS games can find a wearable hook. Business and Education are also poised for expansion given the size of their iOS categories and the many ways they lend themselves to glanceable notifications and expedient input. As new developers build out a broad and balanced array of watch apps, whatever new capabilities Apple rolls out for the maturing watchOS will be capturing the attention of the first movers.
| | |
| --- | --- |
| | Ross Rubin is Senior Director of Industry Analysis at App Annie. |