Driven by heightened demand for groceries amidst COVID-19 pandemic, Walmart Grocery hits record high in downloads, surpassing Amazon by 20%.
As social distancing and quarantines continue across the world, retailers and grocers are experiencing increased consumer demands both in-store and online for groceries, cleaning supplies and medicine. 
Walmart Grocery Surges in Demand From Shelter In Place Policies During Coronavirus Pandemic
This has driven significant growth within mobile shopping apps, and on April 5, 2020 rankings reached an inflection point when Walmart Grocery saw an all time high in downloads — obtaining the #1 ranking position for Shopping apps in the US, surpassing Amazon by 20%. Walmart retained the #1 ranking to date (April 7, 2020).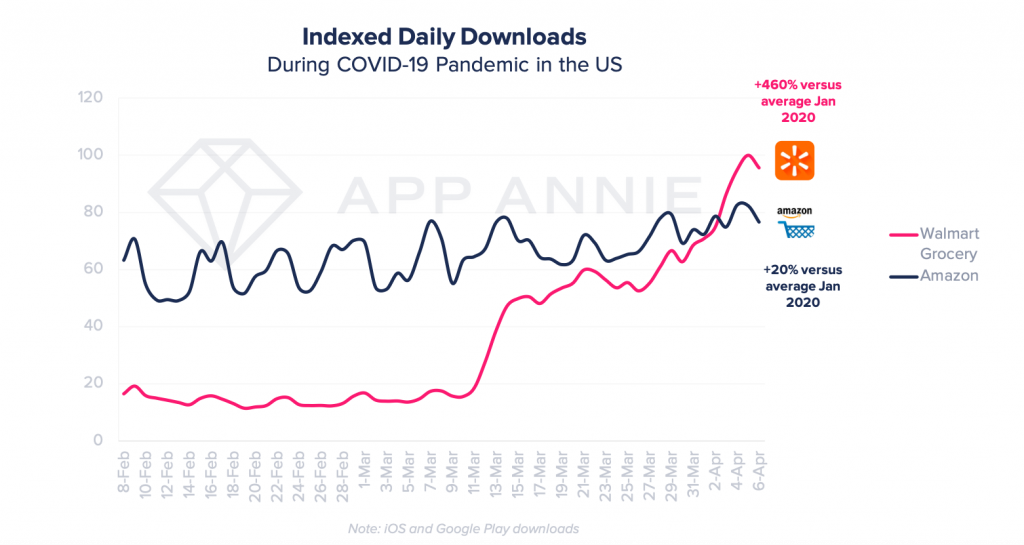 Overall, demand for retail delivery is high across the board — with Shopping app downloads hitting 106 million globally during the week of March 29 - April 4, 2020 (up 15% from the weekly average for Jan 2020), and 14.4 million in the US (up 20% versus the same time period). As of April 5, 2020 Walmart Grocery experienced a 460% growth in average daily downloads in comparison to its January 2020 performance. Similarly, Amazon also saw a 20% growth in average daily downloads compared to the same time frame. 
In addition to its customer-facing apps, Me@Walmart, an app for associates using the Walmart scheduling system, has seen 220% growth in time spent on Android phones during the week of March 22 compared to 4 weeks prior — a reflection of increasing demand for in-store workers. 
While it's important to note that Amazon already has an incredibly high existing install base, this growth from Walmart Grocery shows that mobile is a key component to its brick-and-mortar and digital strategy for addressing accelerated consumer demands in response to the ongoing coronavirus pandemic.
Looking for More on COVID-19's Impact on Mobile: 
For more information on the impact of the virus on the mobile economy, please see our blog post here: The Impact of Coronavirus on the Mobile Economy.
To hear more from our panel of mobile experts — including a special guest from Snap, Inc. — on the impact of coronavirus on the mobile economy, watch our webinar. 
Get access through the link below: