In the US, UK and China, revenue for the top 3 video streaming apps on iOS more than doubled in 2016.
The war between the major mobile video streaming services is in full swing, and revenue has exploded as a result. According to App Annie's 2016 Retrospective, video streaming services — including sports and live streaming apps — gained both in users and engagement, and helped drive increased revenue.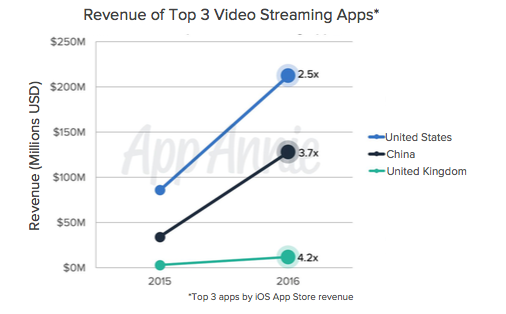 In the United States, United Kingdom and China, the top three streaming apps on the iOS App Store experienced massive revenue gains. In the US, revenue increased 2.5x, from $85 million to $210 million in 2016.
This rise in video streaming app revenue shows consumers' willingness to use in-app purchases to pay for subscription services. Even when presented with the choice of paying for a service outside of the app stores (e.g., with a credit card on a streaming service's website), many users prefer in-app purchases given the convenience.
By active users, YouTube was by far the leading video streaming app in the US and UK (see our report on video streaming in Europe). In terms of iOS App Store revenue, however, Netflix led the way in both countries thanks to its introduction of in-app subscription purchases in late 2015. Sports streaming apps also took a few of the top spots in the US and UK (see our 2016 sports streaming report to find out why).
In the UK, revenue for the top three streaming apps on iOS App Store grew an impressive 4.2x in 2016. Though the UK's overall growth netted out lower than in the US and China, this region is picking up the pace to meet consumer demand.
In China, Youku barely edged out iQIYI for the top spot by active users (though iQIYI held the #1 spot in App Store revenue). Although Youku and iQIYI are roughly China's counterparts to YouTube and Netflix, the Chinese video streaming landscape won't necessarily imitate the West in the long run.
User-generated videos and live streaming apps, like Inke, continued to gain momentum in 2016, and are poised to shape the future of mobile video streaming in China and the rest of Asia. You can learn more about this in our Asia video streaming report.
For a complete overview of the world's changing mobile landscape, sign up for our webinar and download App Annie's 2016 Retrospective. You'll uncover insights on trends shaping mobile retail, banking, social and gaming in 2016 that can be applied to your 2017 plans.