Increased demand for Houseparty, ZOOM, Hangouts Meet and Microsoft Team surfaces due to work from home policies, social distancing measures and government lockdowns during the coronavirus pandemic.
We've seen the world order, and consequently our day-by-day lives, shift rapidly over the last three months during the COVID-19 pandemic. Now more than ever before, we are relying on mobile to do our jobs, stay informed and keep connected. Countries affected early on in the pandemic have recorded surges in daily time spent on mobile, and everything from dating to gaming to finance is seeing coronavirus's impact on mobile. As we enter into a new wave of the pandemic, with the US and Europe at the center of rising cases, lockdown and home quarantine measures increase in efforts to flatten the curve. As a result, Europeans and Americans turn to video conferencing apps for work collaboration and keeping in touch with family and friends. 
Business Apps See Record Growth in Demand, Fueled by Conferencing Apps 
Business apps topped 62 million downloads across iOS and Google Play during the week of March 14-21, 2020 worldwide — its biggest week ever. This was up 45% from the week prior — the highest growth among any category across the app stores combined that week — and up 90% from the weekly average of Business app downloads in 2019. Record-levels of consumers demand work connectivity and accessibility from their mobile as the COVID-19 pandemic intensifies in Europe and the US.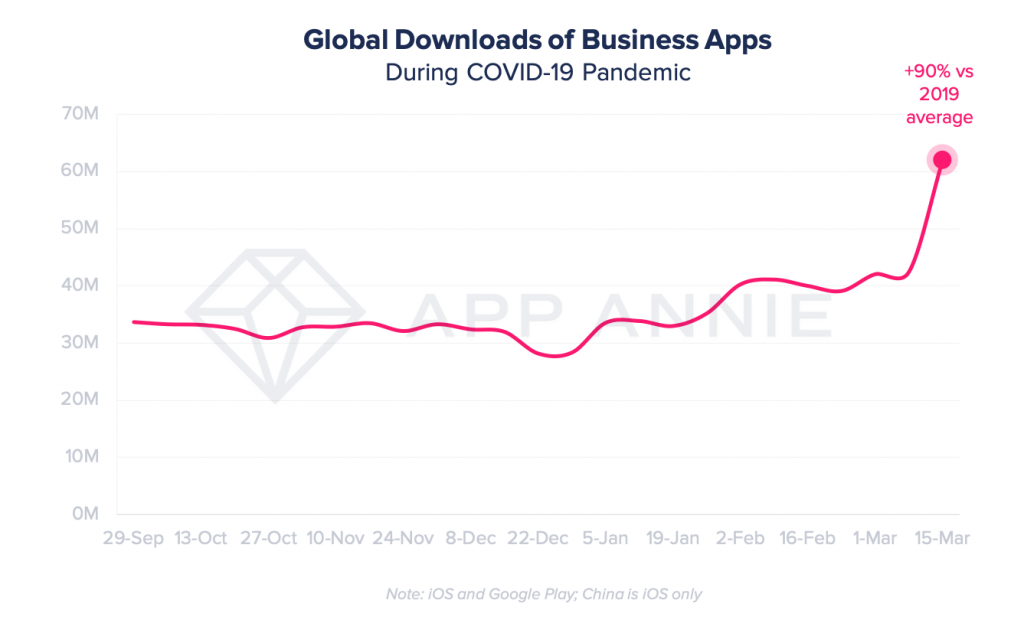 Google has opened up its premium paid features of Hangouts Meet for free, ZOOM is offering K-12 students free access and Microsoft is offering a free 6-month subscription to Microsoft Teams as a result increasing working from home policies. As more employees work from home globally, we are seeing strong demand for tools that enable people to feel connected and foster collaboration. Given their free tiers, these apps could also be good tools for businesses that haven't ordinarily paid for these services. 
ZOOM Cloud Meetings topped downloads charts globally throughout February and March, and downloads continue to see elevated downloads through the US, UK and Europe. During the week of March 15-21, ZOOM Cloud Meetings was downloaded 14x more than the weekly average during Q4 2019 in the US, 20x more in the UK, 22x more in France, 17x more in Germany, 27x more in Spain and an impressive 55x more in Italy.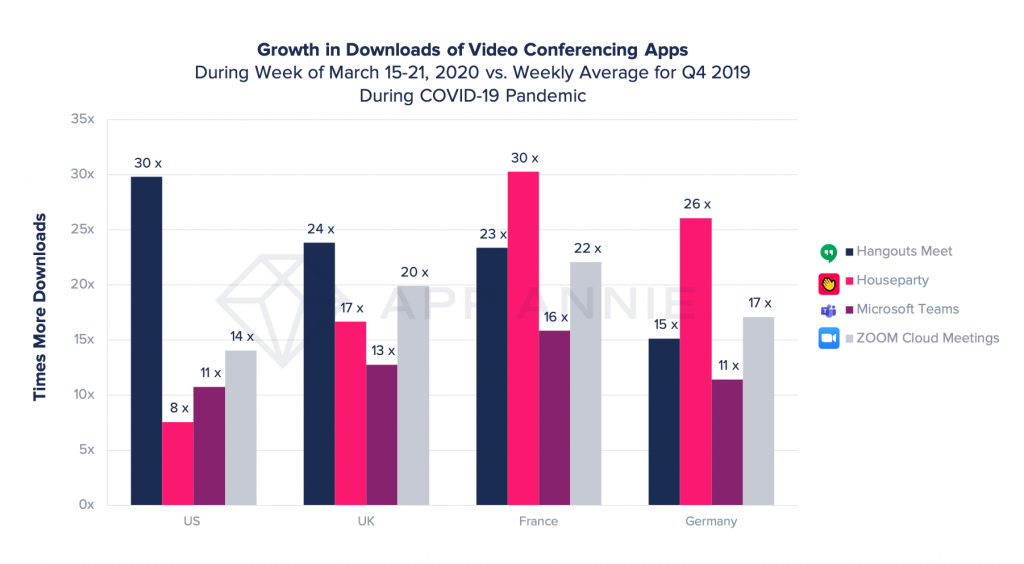 During the same time frame, Hangouts Meet saw particularly strong growth in downloads in the UK, US, Spain and Italy at 24x, 30x, 64x and 140x the average weekly downloads in Q4 2019, respectively. Microsoft Teams also saw notable growth in Spain, France and Italy at 15x, 16x  and 30x the weekly level of downloads seen on average in Q4 2019.
Houseparty Finds New Success in Italy and Spain
Video conferencing is not limited to business use cases. Amidst coronavirus-induced lockdowns and home quarantines, people are turning to social networking video conferencing apps to stay connected to family and friends, while at a safe distance. Houseparty, a video conferencing app, particularly popular among Gen Z, has seen phenomenal growth in Europe. Social networking apps tend to benefit greatly from the network effect, where the value for a user increases as more of their friends and family use the app. The more people you invite to the calls and use it, the stickier the app becomes. In Italy, weekly downloads during March 15-21 surged at 423x the level of average weekly downloads in Q4 2019. In Spain, Houseparty skyrocketed in popularity from a relatively low base of downloads by 2360-fold during the week of March15-21 — establishing a strong foothold in a market previously without wide-scale penetration.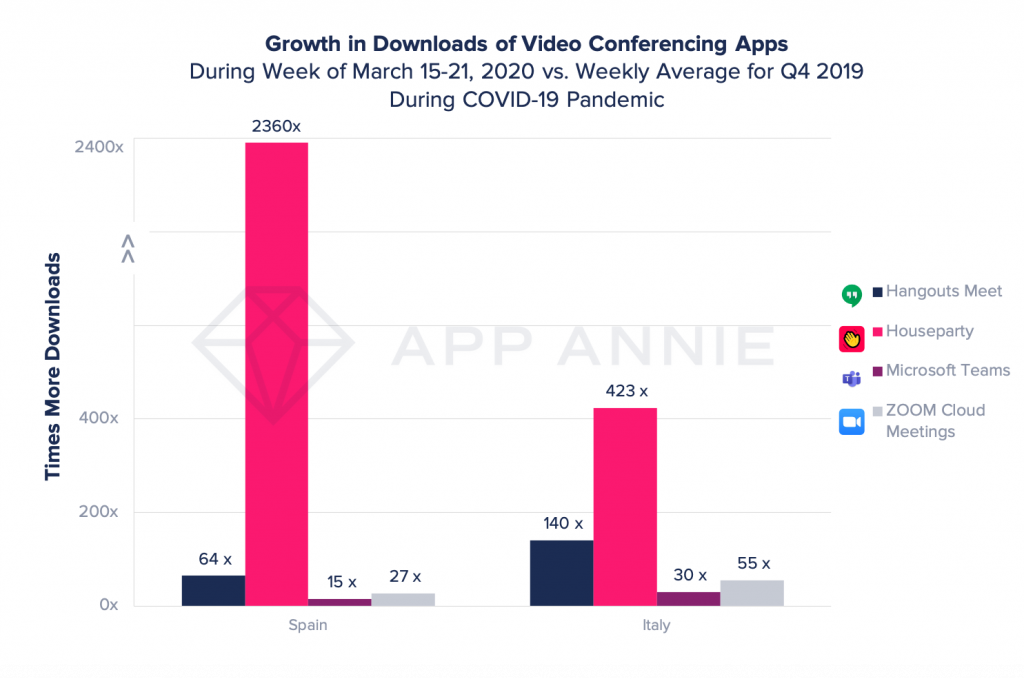 Video Conferencing Apps Have the Ability to Reshape our Habits
As people face uncertain timelines for the length of social isolation, video conferencing apps have the potential to vastly influence our daily habits — breaking down geological barriers and fostering the ability to work and socialize relatively seamlessly. 
It is an unprecedented time for the world and an incredibly dynamic time for mobile — we are seeing shifts in consumer behavior surface daily across virtually every sector. We will continue to report on the vast impact coronavirus is having on the mobile economy as it charts a new path forward for our mobile habits. 
To hear more from our panel of mobile experts on the impact of coronavirus on the mobile economy, join us for a free webinar on April 8th at 11 am PT, 2 pm ET. We will also be taking questions from the audience. Sign up through the link below: