Bricks-and-clicks retailers in the US lead other countries in the total time users spend in app. We look at five top apps.
Snap a photo of an outfit to get directions to the clothes on the rack. Hunt for clues and prizes using in-store QR codes. Earn cash for checking your blood pressure with a pharmacy's monitor. Find every sale item with one click, and use a smartphone to complete the purchase.
Retail apps in the United States are working hard to attract new shoppers and keep existing ones spending money in their stores. In our report, The Growth of Retail Apps — What Retailers Can Learn From Top Apps, we look at how retailers are capitalizing on the benefits mobile can bring to their existing businesses. Unsurprisingly, the US is leading the way in total time users spend in bricks-and-clicks apps, which are from retailers with an extensive physical store presence.
US Leads in Total Time in Bricks-and-Clicks Apps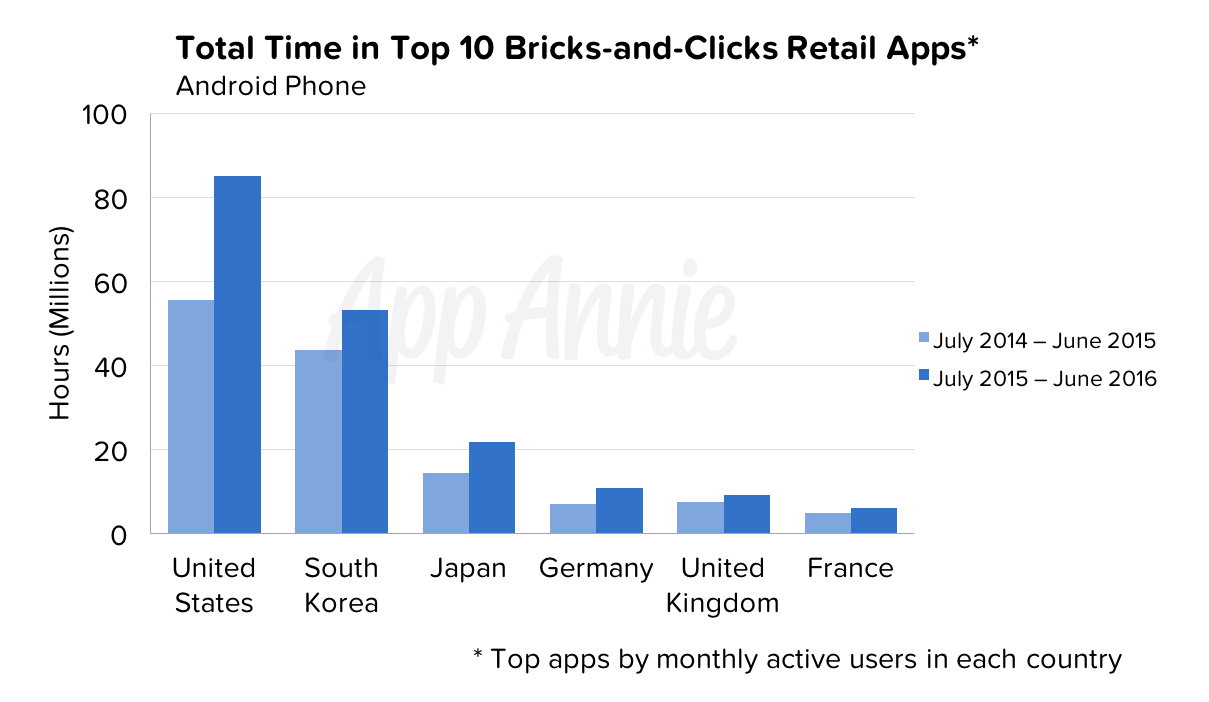 Even when compared to mobile-heavy Asia Pacific users, US users are spending millions of hours in their retail apps. This is likely due to a large population size and a comparably large mobile install base. Rapid growth in time spent within both bricks-and-clicks (+55%) and online-first (+60%) apps over the past 12 months indicates retailers' successful deployment of their mobile apps.
There's a reason for this amount of time spent in app — retailers know it drives more purchases. According to Walmart, its app users spend 40% more and are making twice as many trips to the store. Since Walmart is the #1 bricks-and-clicks app in the US based on monthly active users (MAU), that's a powerful platform. The Walgreens app, #2 based on MAU, is designed to help people spend less time in store — and more time in the app. Two different strategies, both with impressive results.
US Retailers Check Almost All of the Boxes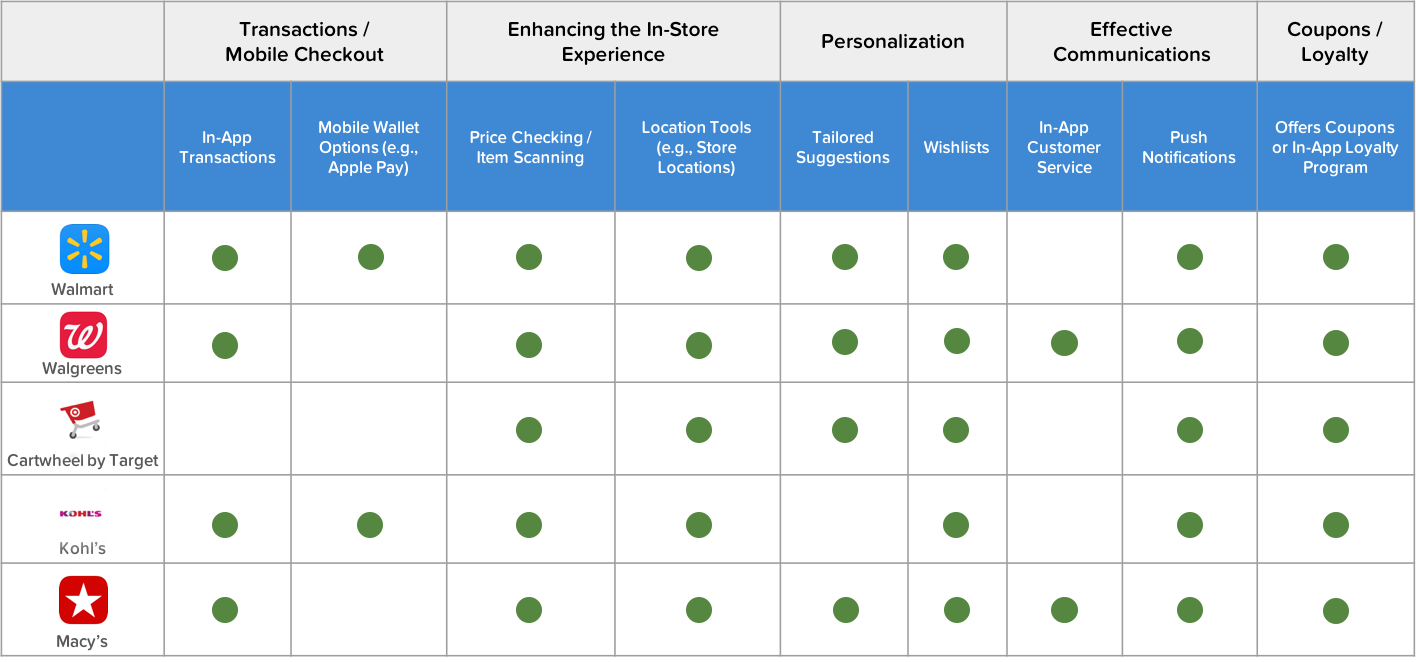 When we look at top ranking apps in the US, most essential features are in place, including push notifications, location services and wishlists. (It's a different story in Europe, where retail apps have more opportunity to expand.)
Here's a closer look:
Walmart brings the brand promise of low costs to the forefront, with a colorful UI and a prominent "savings showcase." Scan a receipt for any Walmart purchase and if a competitor is advertising a lower price, you'll automatically receive the difference. With Walmart Pay, users can scan their smartphone to pay at the register; this branded service uses most major payment sources.
Walgreens makes it simple to fill prescriptions, print photos and make purchases — reducing time spent in the store. Customer service operates only through Twitter: questions are posted to a dedicated customer support account and tagged with a store ID. Walgreens Connect is a separate a health-monitoring app that rewards users with store points for using a Walgreens blood pressure monitor and other health devices.
Cartwheel by Target, a savings compilation app, is ranked #3 in MAU, while the Target app is #6 — proof that discounts are a big driver for usage in the retail space. All discounts found in store or through the app are loaded into one barcode to scan at the register. There's also a gamification element, where users earn badges the more they save.
Discount department store Kohl's simplifies payments and savings in one place. With the new Kohl's Pay feature, a QR code is scanned at the register to automatically apply discounts. Organize multiple wishlists, earn rewards points, and track returns and exchanges. The only in-app payment option is a Kohl's credit card, making it potentially less desirable than Walmart Pay.
At #7 in the US, Macy's is the only store in the top 10 that doesn't lead with a savings message. Users can upload a photo to find "similar products" in store — positioned as a way to get "styled in no time." And in certain markets, the retailer is experimenting with an in-store shopping assistant powered by artificial intelligence called Macy's On Call. It answers spoken questions in both English and Spanish.
In the US, stores that have successfully embellished the store experience through an app — and added a strong savings message — are being rewarded with more active users.
Apply Best Practices to Your Retail App Business
To learn other inventive ways that retailers around the world are keeping users in their apps, don't miss our latest report. Download The Growth of Retail Apps today.
Want more? Check out our look at bricks-and-clicks retailers in Europe and Asia.