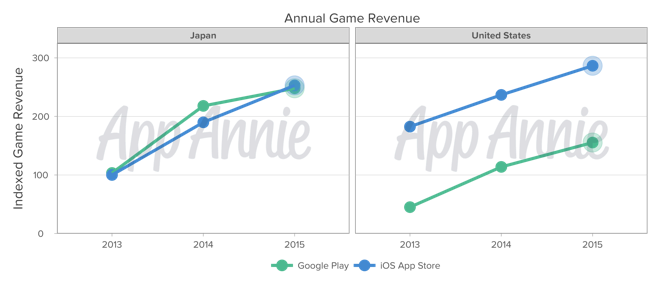 Below are some key highlights from this report:
Mobile gaming in Japan has a key unique feature: Google Play monetizes just as much as iOS. While revenue grew approximately 25% between 2014 and 2015, (demonstrating just how well publishers are able to monetize their users), it can have big implications on your app development strategy.
However, a lot of that monetization is concentrated at the top gaming publishers. In 2015, the top 10 games took almost 50% of all gaming revenue.
There's a definite home team advantage. More than 90% of mobile gaming revenue generated in Japan in 2015 went to Japanese companies. Localizing your app will help, but having a holistic localization strategy that extends to game mechanics and UI/UX is critical for success.
Role-Playing Games (RPGs) are a highly successful genre in Japan and present the biggest opportunity for monetization when compared to other game genres.
To get the full report, click the download button below:
Japan is a massive opportunity for those in mobile gaming. Despite intense competition, the Japanese mobile gaming market is generating a significant level of revenue across iOS and Google Play and has demonstrated 15% year-over-year growth last year and has one of the most engaged user bases.
But having your app present in Japan's app stores isn't enough to ensure success. There are many characteristics unique to the Japanese mobile gaming market that publishers need to take into consideration when entering the country. While Japanese gamers are a highly engaged, highly monetizable audience, they show a strong preference for culturally relevant art styles, game mechanics and storylines. This is evidenced by the fact that more than 90% of mobile gaming revenue generated in Japan in 2015 went to Japanese companies.
App Annie has partnered with Dentsu, Japan's largest marketing agency, to create an overview of Japanese mobile gaming to help you maximize your chances for success in this extremely lucrative market.
Download our free report and start working on your mobile development and marketing strategy for Japan.
Looking for More?
Special thanks to co-author Naoya Tamura