As apps continue to eat the world, one type of app seems to be taking a bite out of the app ecosystem itself: messaging. Messaging is by no means a new concept: SMS has been around for more than 20 years and desktop messaging applications such as AOL's AIM and ICQ reached prominence in the late 1990s. But Skype's success driving voice over IP (VoIP) and the launch of modern-day app stores sowed the seeds for mobile messaging's boom, leading to today's ubiquity of messaging apps. However, many of today's messaging apps are much more than that; they have capitalized on their enormous base of users to become platforms themselves, expanding their functionality to include money transfers, municipal services, gaming, commerce and much more.
We used App Annie Intelligence to get a closer look at which messaging apps are the most popular with different groups of users. We recently enhanced our Intelligence offering, enabling App Annie users to examine the usage statistics of slices of the population. These slices can be constructed either by behavioral segments (i.e., the subset of users that engage with a certain app) or demographics (i.e., age and gender).
Messaging Apps Around the World
From a global standpoint, how popular are messaging apps? Penetration varies throughout the world, but they are most widely used in APAC. In both South Korea and China, well over 90% of iPhone users have been monthly active users since at least the beginning of 2014. Note that by messaging apps we are excluding native apps, such as Hangouts on Android and Messages on iOS.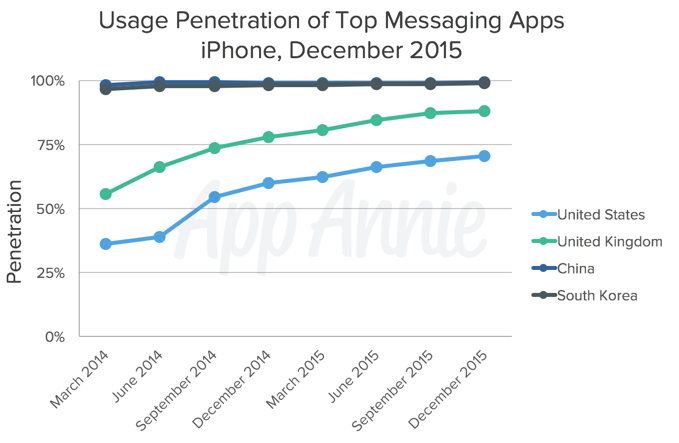 The US has historically lagged far behind Asian countries in terms of messaging app penetration. This is largely due to the prevalence of unlimited SMS messaging plans and native Android and iOS apps in the US. Indeed, the popularity of messaging apps throughout the world has generally been a result of the high cost of SMS in many countries. However, even as SMS remains prevalent in the US, messaging apps have been gaining traction for a number of years.
Penetration of messaging apps on iPhone has more than doubled in the US since the start of 2014. This is largely thanks to Facebook Messenger, whose presence was immediately felt after July 2014 when Facebook made the strategic decision to move all messaging functionality from Facebook to Facebook Messenger (see the jump leading up to September 2014 in the above graph).
While messaging app penetration is uniformly high, the amount of time spent in messaging apps varies widely among countries. Consider Malaysia and Japan — in both countries, roughly 99% of Android smartphone users actively used at least one of the top messaging apps in December 2015. However, users in Malaysia spent nearly an hour a day in these messaging apps, which is twice the amount of time that users in Japan spent.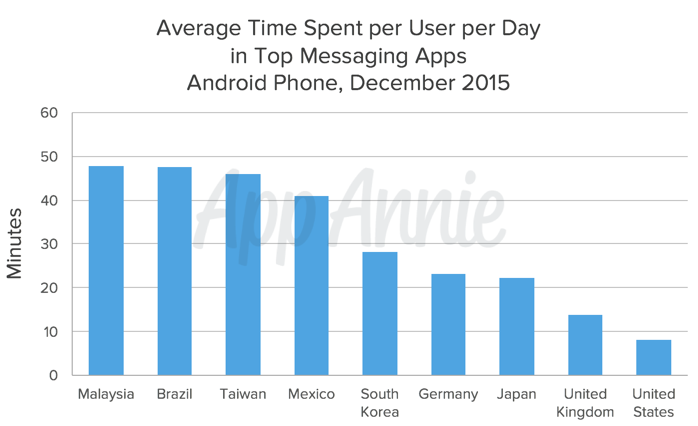 Differences in messaging app usage between countries partially reflects the considerable diversity in messaging app functionality throughout the world. In APAC, the "messaging as a platform" model is dominant, in contrast to the West where messaging apps are still focused on communication. Asian messaging platforms like WeChat and LINE have found success in delivering a range of services to local consumers, meeting a range of their needs and preferences. Western messaging platform players have lagged behind the integration of multiple services, as apps have tended to disaggregate functions over the past couple of years to serve Western consumers needs and preferences.
However, Facebook's Messenger Platform — where developers can easily build apps that integrate with Messenger — is a clear first step in closing this gap and to serving the needs of the company's growing base of users across the globe — especially outside of Western markets. Furthermore, we anticipate this trend of expanding functionality to slowly continue in the West over the next few years as consumers' preferences and expectations evolve. As mentioned in our 2016 Top App Predictions Report, a logical next step is for Facebook to enable mobile payments and expand B2C functionality (in both Messenger and WhatsApp). We also expect the usage of younger consumers to be leading indicators of this shift and a key demographic segment to watch. As young users are often the most open to new ways of using technology, we believe the messaging apps with the strongest presence among under-25s to be well poised to pivot from simple messengers to functioning platforms.
What Other Apps Do Messaging Users Gravitate To?
As one example of behavioral segments, we looked at the messaging apps that iPhone users of Lyft in the United States were likely to engage with. In December 2015, US iPhone users of Lyft were seven times more likely to use enterprise communication app Slack than the overall population of iPhone users, suggesting that professionals are over-indexed in the Lyft user base. Uber users were also more likely than the general population to use Slack, though considerably less so than Lyft users, using Slack at four times the general population. Another interesting example is the US iPhone user base of Airbnb. In December 2015, Airbnb users in the US were around three times as likely to use WeChat and more than twice as likely to use WhatsApp Messenger as the general population of US iPhone users.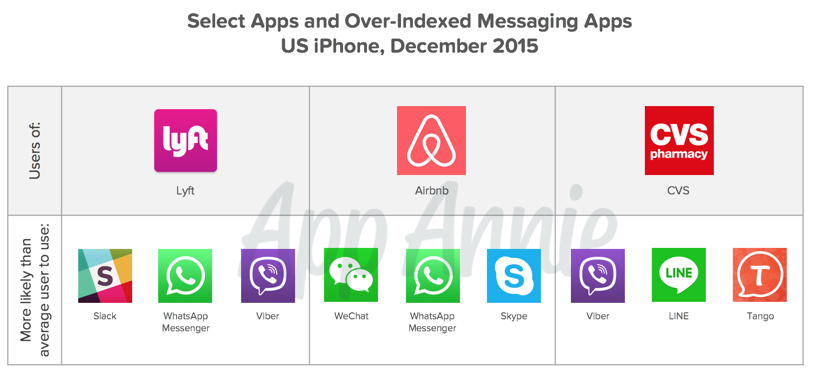 Understanding these types of relationships is becoming increasingly important for publishers, advertisers and other stakeholders. In the context of messaging apps and their increasingly broad scope, understanding which messaging apps already have strong overlap might reveal lucrative partnership opportunities, such as the recent partnership between Uber and Facebook enabling users to order a ride from within Facebook Messenger.
Your Instincts Are Right: Young People Spend the Most Time Chatting
We also looked at messaging apps by demographic segments. In December 2015 in the United Kingdom, users averaged 13 daily sessions combined across the top 5 messaging apps by MAU, though it varied considerably among the demographic segments. For both males and females, the 13–24 age group opened messaging apps at around four times the rate of the 45+ age group, and at around twice the rate of the 25–44 age group. Unlike average number of sessions, average time per session was largely equivalent between demographic groups at around one minute per session.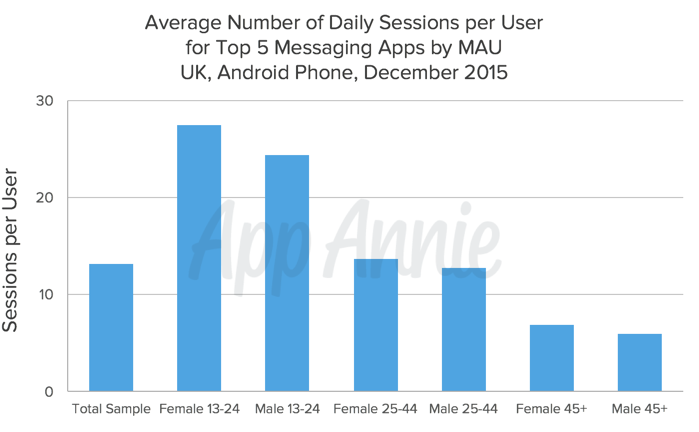 As with behavioral segments, demographic segments have strong applications for app marketers — particularly when allocating ad spend. Advertisers, publishers and networks have an incomplete picture without knowledge of the usage patterns and most popular apps of different demographics. As we see in the messaging app sessions data, age and gender groups vary widely enough in usage patterns that considerations such as these are likely to be of prime importance to stakeholders.
Start Building a Better App Business
Subscribe to see more app industry reports, conference updates and guides. Have something to add? Share your questions and comments on Twitter.
Want to take your app business to the next level? Create a free account to dive deeper into Store Stats or request an Intelligence demo.
Notes:
App Annie Usage Intelligence data for smartphones were derived from mobile usage data collected from a large sample of real-world users, combined with additional proprietary data sets.
App Annie tracks usage at the device level using a privacy-protective hashed device ID. Data is only reported to third parties in aggregated format.
Certain trademarks and/or images used in this report may belong to third parties and are the property of their respective owners. App Annie claims no rights to such trademarks or images.
Data underlying the third and fourth images excludes video and picture messaging apps.