Around the world, app markets show no sign of slowing down, a sign of good things to come for both emerging and mature app economies
Let's begin with an essential question - how many mobile apps does the average smartphone owner in the United States use per month? Would you believe that it's over 35? Furthermore, on average the top 20% use over 45 apps per month. If those numbers surprise you, it's because apps have become so seamlessly integrated into our lives that we often don't realize just how frequently we turn to them each day.
Seemingly always with us and constantly connected, our mobile devices provide access to a wealth of information and utilize cutting edge technology. Together, these factors have created the strong foundation that has made mobile apps an essential tools for most people. From playing games, watching videos and connecting with others to shopping for goods, booking travel and managing finances, it's hard to think of a daily task that hasn't been transformed and improved by mobile apps. But as pervasive as apps has become, the actual metrics about the app economy's overall size and its potential for explosive growth are jaw dropping.
Let's begin with app usage. Total time spent in apps worldwide in 2016 reached 1.6 trillion hours, an increase of more than 50% year over year. Across mature markets, users on average are spending two hours per day — which equates to one month out of every year — in apps.
As impressive as the current level of usage is, the app economy is nowhere near its peak. We forecast that time spent in apps will more than double to 3.5 trillion hours in 2021.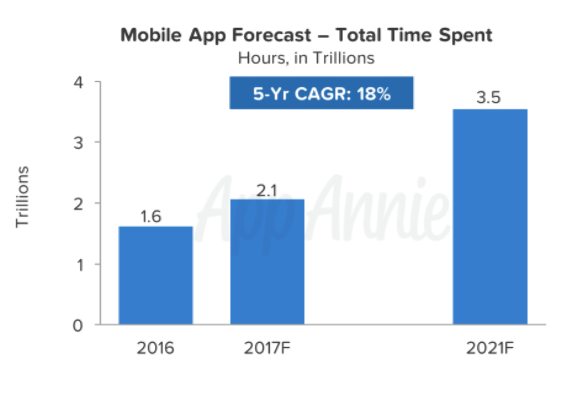 App markets across the globe show no signs of slowing down, with even the most mature app economies just scratching the surface of their overall potential. This is particularly apparent for monetization, especially in-app advertising, which is poised for dramatic growth in the coming years. In addition, a huge number of new apps continue to be released each month, which will no doubt continue as nascent technologies and platforms unlock a diverse set of new use cases and business models. This potential was demonstrated by 2016's smash hit Pokémon GO which capitalized not only on its beloved IP but also its ability to bring augmented reality (AR) to the masses, bringing in nearly $1 billion in consumer spend by the end of 2016.
Massive Growth Opportunity for Mature and Emerging App Markets
In previous reports, we discussed our App Market Maturity Model, which illustrates how app markets evolve over time. In a market's early stages, downloads grow rapidly, fueled by mobile device adoption. In this stage, people are experimenting with various apps and beginning to build their app collection. Over time, usage begins to take off as users form habits around the apps they regularly use. As engagement with these various go-to apps continues to expand, their value is realized, which then leads to revenue growth across all channels: store, advertising and commerce.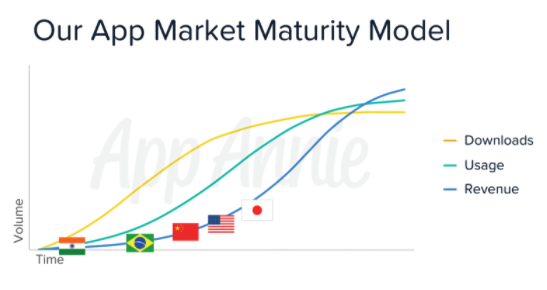 This model not only explains the current state of the app economy, and how it got there, but it also points to the massive opportunity that still lies ahead. For example, in mature economies like Japan and the United States, downloads remain strong even as they transition to usage and revenue growth phases. In addition, these markets have plenty of runway for steady increases in the amount of time and money that users will spend in apps. Publisher and technological innovation will help fuel this trend by creating new use cases as well as enriching existing ones.
Meanwhile, China is an interesting case that tells a tale of two markets. In its tier one cities, app activity outpaces nearly every other country. Meanwhile, China's lower tier cities resemble emerging countries that are at the earlier stages of smartphone adoption and app market maturity with plenty of room left to grow. Overall, China is poised for massive growth and we forecast that its combined app store and in-app advertising spend will grow at a 28% CAGR to exceed $114 billion in 2021.
Among emerging markets, Brazil, Mexico and Turkey, have stood out and driven growth on Google Play for more than two years. These markets still have tremendous upside that will be fueled by decreasing handset prices and increasing footprints for mobile networks. These factors will drive an influx of first-time smartphone owners who will in turn generate further growth for the app economy.
Finally, there is the next set of markets, like India and countries throughout Southeast Asia, that are still at the earliest stages of market maturity. India is particularly notable due to the stark contrast between its current size and potential for further expansion. In 2016, it surged past the US to become the largest country by Google Play downloads. Despite reaching that impressive milestone, its smartphone penetration is below 30% leaving room an astonishing amount of growth.
Across the globe, a combination of innovation, business model transformation and increased access to mobile devices and networks is set to propel the app economy in the years to come.
In-App Advertising to Take Off as Ad Dollars Go Mobile
As discussed above, when an app market matures, app usage increases pave the way for monetization growth. This has already led worldwide mobile app store and in-app advertising combined spend to exceed $134 billion in 2016.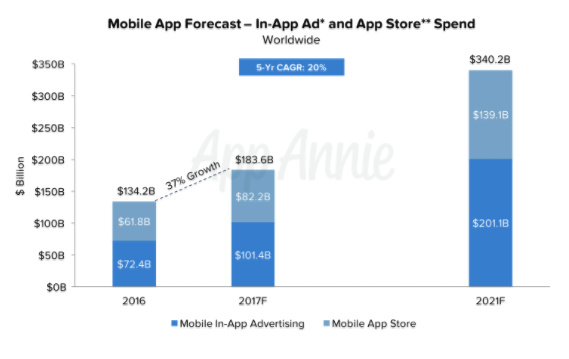 * Gross advertiser spend within apps, ** Gross consumer spend
Given that the app economy as a whole is still at the relatively early stages of maturity, these numbers are poised for explosive growth. App Annie forecasts that worldwide mobile app store and in-app advertising combined spend will grow at a 20% CAGR to exceed $340 billion in 2021.
In-app advertising spend, in particular, is expected to grow at a 23% CAGR, outpacing mobile app store growth, to exceed $200 billion in 2021. This amount alone will be larger than the total combined spend for in-app advertising and mobile app store that we forecast for 2017.
A number of factors will drive the enormous growth of in-app advertising spend. First, in-app advertising will continue to be an attractive business model to app publishers because ad revenue allows them to make their app available for free download, in turn broadening their app's appeal and user base while creating ongoing revenue streams.
Also, compared to other media channels, mobile has not received its proportionate share of advertising spend relative to the amount of consumer engagement it generates. This creates a massive opportunity in the future for in-app advertising as advertisers rationalize their spend across channels.
Furthermore, as in-app ad formats continue to evolve, they will be become even more effective, and in turn drive more value to advertisers, app publishers and consumers. Hybrid monetization techniques provide just one example of how this will happen. For example, rewarded video ads, where users are given an option to watch ads in return for in-app rewards, is one of the fastest growing ad formats. Game publishers using rewarded video have been able to monetize non-spending users while also increasing ad effectiveness, boosting in-app purchase revenue and maintaining a positive user experience. Looking ahead, vertical video is an example of a format that is expected to gain more traction with advertisers and app publishers as advertising becomes more optimized for mobile apps.
Finally, advances in ad tech will allow advertisers to better target their in-app ads as well as measure their overall effectiveness. For example, Google is providing marketers with sophisticated tools to build more effective campaigns by using machine learning to analyze a wealth of real-time data. Innovations like this will also help attract more advertising spend to mobile apps.
New Apps and New Technologies Will Fuel the Future of the App Economy
There is already a staggering number of apps available to consumers. By the end of July 2017, the iOS App Store and Google Play had more than 2 million and more than 3.5 million apps available, respectively. Between existing publishers continuing to create new games and services, traditional businesses making the transition to apps and new mobile-first companies bringing unique experiences to consumers, the number of apps continues to increase at an astonishing rate. During the month ending July 31, 2017, roughly 50,000 new apps launched on the iOS App Store and over 150,000 were added to Google Play.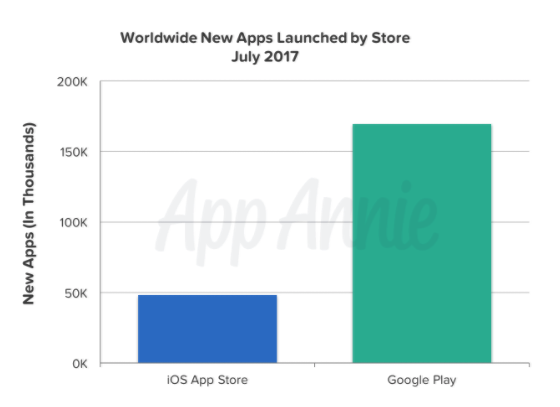 Again, Pokémon GO provides a salient example of how quickly technological innovation can dramatically impact the app economy. Released in July 2016, the game popularized AR and in less than a year Facebook, Google and Apple announced major initiatives related to camera and computer vision technology that blends the real and virtual worlds. These efforts open up the possibilities for a number of new use cases ranging from AR gaming to visual search.
In the future, technological innovation, across a number of fronts, will continue to transform and broaden the opportunity for apps to entrench themselves into daily life. Everything from payments, mobile wallets, virtual reality (VR) and connected homes and cars to new platforms not yet conceived will create fertile ground for app publishers to deliver new user experiences. These new apps will create a virtuous circle in which the additional value delivered to consumers will drive increased engagement with apps overall which will in turn further grow the monetization opportunity for the entire app economy. If the average smartphone user in mature markets is already spending one month out of every year in apps, imagine how much time, and money, they will be spending in 2021.
Report methodology and updates are available here.