As smartphones become an increasingly important part of daily life we forecast that people will spend a staggering 3 trillion hours in apps by 2021.
With billions of smartphones in circulation around the world, apps are increasingly integral to daily life. People pick up their phones dozens of times a day, and before long all of that time in apps will add up to trillions of hours. This level of engagement with apps represents enormous opportunity for businesses to reach and engage existing and new users, and build a level of customer loyalty that is often fundamental to success.
App Annie recently published a report on consumer app usage. Here's what you need to know now about the increase in time users spend in apps.
The total time spent in apps will continue to grow dramatically
In 2016, users across regions spent a total of about 1.5 trillion hours in apps — about 400 billion hours each in the Americas and EMEA and 750 billion hours in APAC. But in 2021, that global figure will be 3.5 trillion hours. That's an enormous amount of time and represents a continued shift towards heavy mobile use. If brands want to build profitable relationships with consumers, they need to meet them where they are now, and where they will be - in apps.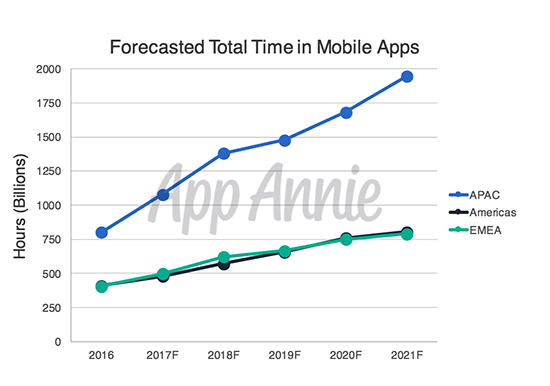 Time spent in apps is growing at a different rate in APAC
In EMEA and the Americas, time spent in apps will grow at about the same rate and wind up at about the same place by 2021 — just over 750 billion hours in each, up from around 400 billion hours each in 2016. In APAC, however, time spent in apps is truly skyrocketing: it's going to jump from just over 750 billion hours in 2016 to nearly 2 trillion hours in 2021. That's a increase of more than 150%.
Factors fueling the growth of time spent in apps varies by region
The forces spurring the increase in the total time spent in apps depends on the region. In the US, for example, smartphone ownership rates are already high among young adults, but there's an increase in ownership among older Americans.
Then there's the fact that many people's screen attention has drifted to their devices. In APAC, the increase is largely attributable to the smartphone boom among China's 1.4 billion population. There, the combination of falling device prices, infrastructure improvements, and a growing middle class with more disposable income makes conditions ripe for smartphone adoption on a massive scale. The same is true in countries like Indonesia. But it's also the case that for many people across Asia, smartphones are their only device and only access to the internet — they skipped desktops and laptops by going straight to mobile. That means their attention is on a single screen rather than fragmented among multiple screens, concentrating engagement with handheld, smart devices.
Smartphones and apps are already a way of life in much of the Americas and EMEA. We see it every day in our homes, on the street, and on our way to work, and if anything users in those regions will spend more time in apps over the next few years. APAC's enormous population is now catching up and embracing the defining paradigm shift of our time. Smartphones and apps radically change how people spend their time, which means that businesses have to change how they serve their customers.
Read our full report on consumer app usage for more information on variations among countries and categories.